5 of the Best Matcha Cafes in Osaka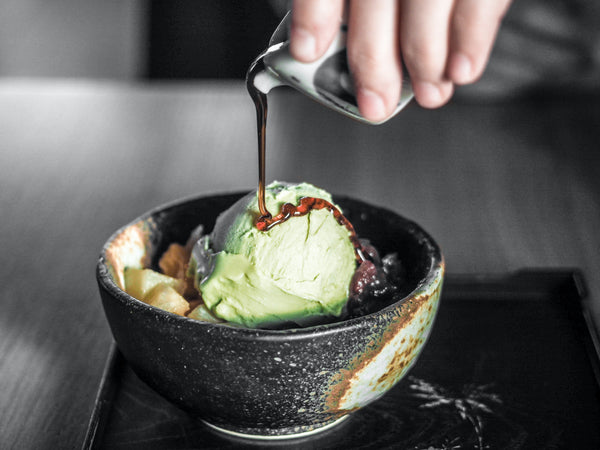 Jump to:
Matcha is a must try food when you come to Japan. While it is a well known fact that Kyoto is famous for cultivating high-grade matcha, that doesn't mean that you can't experience tasty matcha in other places. 
If you're visiting Osaka, one of the biggest cities in Japan and the biggest city in the Kansai area, you can surely enjoy many different Japanese matcha treats there as well. Osaka is known as the kitchen of Japan, so you can be sure that there are plenty of delicious matcha goodies. 
Today we're going to introduce of the top 5 matcha cafes you need to visit when you come to Osaka. Be sure to add one (or all) of these cafes to your list when planning your next trip to Japan!
Teahouse Yuri
Saryou Yuri is a Japanese teahouse that specializes in matcha green tea desserts. Teahouse Yuri is located near JR Osaka Station, on the 11th floor of the Umeda Daimaru Department Store building. 
Daimaru department store of Umeda was renovated and reopened in 2011 and consists of 15 floors full of shops and restaurants. Like any other department store in Japan however, the dining section of Daimaru is located on the top floor of the building (14th floor in this case). However, be aware that Teahouse Yuri is located on the 11th floor (right near the bridal salon).
What to eat at Teahouse Yuri
As commented, teahouse Yuri specializes in Japanese desserts and specifically in matcha (finely milled green tea powder) flavored desserts. On this occasion, we tried the matcha parfait and matcha kakigori.
The Matcha Parfait at Teahouse Yuri consists of green tea jelly on the bottom followed by corn flakes, vanilla ice-cream, anko (sweet azuki beans paste), matcha flavored ice-cream and matcha warabi mochi. The parfait is topped with green tea pudding and a triangle-shaped cookie.
The Matcha Kakigori from teahouse Yuri comes topped with anko and regular warabi mochi covered with kinako (roasted soy bean flour). Kakigori is a shaved iced dessert, a summer favorite in Japan since it is a very refreshing dessert especially good to eat on hot days!
Both desserts were served with Japanese tea, which is normally a free complement in Japan but definitely always appreciated.
Saryou Yuri (茶寮 有里)
Address: 3-1-1, Umeda, Kita-ku, Osaka-shi. Daimaru Umeda Department Store 11F
Tel: 06-6453-8777
Hours: 10:00 ~ 20:00
CAFE Osaka Chakai 
CAFE Osaka Chakai is a Japanese tea cafe situated in the heart of Osaka city. Located in Japan's longest shopping street, the bustling Tenjinbashisuji, you can really feel a sense of tranquility at this modern yet traditional Japanese cafe.
The cafe specializes in four different types of Japanese green tea, but they offer a variety of beverages and sweets for matcha lovers. While many matcha cafes use matcha powder straight from Uji in Kyoto, CAFE Osaka Chakai differentiates itself by using freshly ground green tea powders from Shiga, Hyogo, Wakayama, and Kagoshima prefectures. Each variety of green tea has its own unique flavor and umami.  
The interior of this cafe is warm and welcoming. CAFE Osaka Chakai strives to make customers feel at home by allowing them to choose their own cup when ordering a beverage. 
What to eat at CAFE Osaka Chakai
This first dessert is the most recommended item on the menu, it is a sweets plate called Kanmi Sweets Grande. It is a dessert sampler of rich matcha soft cream, green tea panna cotta filled with chestnuts, green tea daifuku mochi, and delicious whipped cream, all dusted in a luxurious green tea powder. 
On the side, we decided to pair this dessert with a hot matcha green tea. This special beverage uses matcha powder cultivated in Shiga prefecture. It is a very rare type of matcha powder that only a few select shops use.  
To enjoy the earthy notes of the matcha, freeze dried azuki beans are paired alongside. 
 Another rare but delicious treat that isn't found in matcha cafes often is this bread toast matcha soft cream dessert! If you're familiar with the brick toast dessert, this is a similar concept. 
A thick piece of Japanese milk bread is topped with a luxurious matcha soft cream, and is then again dusted in matcha powder to deliver an extra boost of rich matcha flavor, and is finally topped with sweetened azuki red beans. 
The warm and soft bread soaks up the flavorful matcha soft cream which pairs so perfectly with the red beans. It is a truly a unique experience that you won't be able to experience in other matcha specialty cafes. 
CAFE Osaka Chakai
Address: 1F Osaka, Kita Ward, Tenjinbashi, 2 Chome−1−25 JP 530-0041
Tel: 06-6755-4789
Hours: 13:00~18:00 
Website: http://www.osakachakai.jp
Note: CAFE Osaka Chakai has English speaking staff and English menus. They also have an English version of their website. You don't have to worry even if you can't speak Japanese as the staff is very kind, helpful, and welcoming. 
Ujien Kissako
Ujien is a specialized matcha company based in Osaka, Japan. They have several shops and cafes mainly in the Kansai area but also in other metropolises like Tokyo and Shanghai.
For a complete list of their branches you can check Ujien's website here (in Japanese):
Today we will talk about Ujien Kissako (宇治園喫茶去), one of their tea houses located at Hankyu Sanbangai in Umeda, Osaka. Hankyu Sanbangai is a shopping center annexed to the Hankyu Umeda Railway Station. Ujien Kissako is situated in the basement floor of this mall and looks like this from outside.
What to eat at Ujien Kissako
At Ujien Kissako they use the very fresh matcha directly brought from Uji (the renowned town near Kyoto mainly famous for the Byodoin Temple and the production of superior green tea).
Definitely using the freshest matcha from Uji as the main ingredient for your products makes the difference. In that sense, here one can feel the intensity and purity of the real matcha.
One of the best selling desserts and our recommendation is the matcha parfait. This six-layer dessert consists of green tea ice-cream, anko, dango, corn flakes for added crunch, matcha sponge cake, matcha jelly and a tea leaf shaped cookie. Really consistent parfait, not too sweet and with real rich matcha taste!
Besides the parfaits they have other green tea related desserts in the menu. For example, the matcha kakigori (shaved ice) is the best choice in the summer. It comes with shiratama dango, azuki and plenty of matcha! So refreshing and tasty!
This tea house is definitely a good choice if you are around Osaka and want to try real matcha desserts at a fairly price.
Ujien Kissako [宇治園喫茶去]:
Address: 1-1-3 Shibata [Hankyu Sanbangai Shopping Center] Kita-ku, Osaka, Japan
Tel: 06-6376-0234
Hours: 10:00 ~ 21:00
Yanoen Tea Shop
Recently, we discovered a historical tea shop and cafe called Yanoen just in the middle of Osaka city. Established as a store in the current location in 1959, and operating as a production and trading tea company since 1836, Yanoen has been run generation after generation by the same family.
One of the things that impact the most, it is that this shop is located in a former granary or storehouse (蔵) which was used before the II World War. Luckily, this building was not destroyed by the air raids that collapsed other parts of the city and now it can be enjoyed as a Cafe. From outside, it is not that obvious that the place was used to store food: 
To go to the former granary, we had to cross the shop where one can purchase high quality tea and other related items. Inside the cafe, you can see a wood made space filled with tables and comfortable seats. Also, there is a large counter where some more guests can sit.
Both businesses, cafe and shop, are run by the same owner so the same high quality tea sold in the shop can be ordered at the cafe.
What to eat at Yanoen Teahouse
On this occasion we had a matcha sponge cake filled with cream and sweet azuki beans, a matcha parfait consisting of soft green tea ice-cream, sweet azuki beans, matcha jelly and some green tea sponge cake as well. The matcha parfait comes with three pieces of mochi as a side dish; one of them flavored with hojicha (roasted green tea), another with matcha and a plain one. 
Everything was delicious! One of the things that matters when enjoying matcha is its freshness. Matcha should always be consumed as fresh as possible to enjoy its rich taste to the fullest.
How to get there:
Yanoen is located just between Honmachi and Shinsaibashi, in a street parallel to Yotsuhashi-suji and Mido-suji avenues. Easy access from Shinsaibashi, Yotsubashi or even Honmachi stations.
Yanoen Teashop (矢野園):
Address: 1 Chome-9-11 Shinmachi, Nishi-ku, Osaka, Japan
Tel: 06-6648-8686
Hours: 9:00 ~ 17:30
Nana's Green Tea Osaka Umeda 
Nana's Green Tea is a contemporary and modern cafe specializing in all things green tea, especially matcha. From matcha drinks, matcha ice cream, matcha parfaits and more, it is the perfect place to get your matcha fix. 
The most convenient point about Nana's Green Tea is that it is a chain cafe that not only has locations across Japan, but even has some overseas locations. The Osaka Umeda location of Nana's Green Tea is especially convenient for those to check out while visiting Osaka, because it is located directly across from JR Osaka station. 
You can also enjoy the relaxing yet modern environment that Nana's Green Tea strives to provide. It's a perfect place to come alone to or with friends and family. As it is located in the heart of Umeda, you can feel a sense of Osaka's bustling city culture. It's especially beautiful at night because of all of the city lights.
What to eat at Nana's Green Tea 
A must try item at Nana's Green Tea is definitely one of their matcha parfaits. They have a variety of different matcha parfaits to choose from, but in this case, we went with the Matcha Nama Chocolate parfait. 
This special matcha parfait features a matcha pudding base, milk-flavored soft cream, crunchy corn flakes, anko, matcha ice cream, whipped cream, matcha "raw chocolate", and is finished topped off with a rich matcha sauce. Using only high quality and authentic matcha powder from Uji, this parfait is definitely not lacking in matcha goodness! 
The item that sets this matcha parfait apart from its competitors is that matcha nama chocolate. Nama chocolate, or raw chocolate is a ganache-like chocolate that melts in your mouth when you eat it. The matcha nama chocolates featured in this parfait are bursting with matcha flavor and are not overly sweet. 
Another great point is that the matcha flavor is balanced and not overpowering, making it easy to finish the entire thing! Of course, the best feature of parfaits is their multiple layers, and with so many flavors and textures, you truly do get the real-deal matcha experience with this one. 
Tel: 06-6485-7078
Address: 530-0011 Osaka, Kita Ward, Ofukacho, 4−20 Grand Front Osaka South Building 4F
Hours: 11:00 ~ 21:00
Website: http://www.nanasgreentea.com