An Introduction to Japanese Incense – Getting Started with Kodo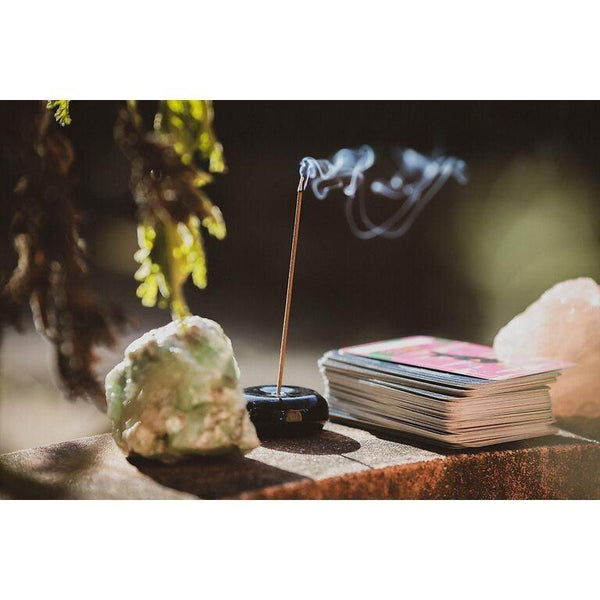 Jump to:
Japan's deep appreciation for incense can be traced back to the early days of Buddhism in Japan more than 1,000 years ago, from its introduction from China to the Edo period when samurai used incense to practice mindfulness before battle, through to modern-day Japan.
The appreciation of incense is known as kōdō in Japanese, and alongside sadō – the tea ceremony, and shodō – Japanese calligraphy, it is a well-known Japanese art form.
Japanese incense doesn't contain a bamboo core, so its aroma is subtler and less potent than other kinds of incense. Read on to discover everything you need to know to get started with your own kōdō appreciation including:
A brief history of Japanese incense

What Japanese incense is used for

Types of Japanese incense

Incense shops and experiences in Japan

How is Japanese incense made?

Popular Japanese incense brands

Japanese incense burners

Where to find Japanese incense online
A Brief History of Japanese Incense 
In an essay for the Department for Asian Art at the Metropolitan Museum of Art, writer Monika Bincsik tells us that incense was first imported to Japan in 595, during the reign of Empress Suiko, shortly after Buddhism was first introduced into Japan. 
Inspired by the use of incense in Buddhist rituals, courtiers began to burn incense in their homes to add perfume to the air, and their clothes and hair. Back then incense was mixed into balls, rather than the sticks we are familiar with today. 
During the 12th century, Zen Buddhism arrived in Japan from China and a new way of appreciating incense grew among the Japanese aristocracy. A popular pastime was a ceremony in which guests took turns to enjoy different pieces of incense wood rather than the incense balls seen in previous centuries. Incense games, where guests compared different woods were also organized.
During the Muromachi period (1392–1573), kōdō, or "the way of incense" developed at the same time as the tea ceremony. Along with incense games, people also began to collect famous incense wood pieces, and the burning of expensive incense woods increased their value to make it a more special experience. 
Around the beginning of Japan's Edo period (1615–1868), kōdō grew in popularity again as a way of preserving the aristocracy's cultural identity. Kōdō is still considered a classical Japanese art form even today and if you visit cities such as Kyoto you can find incense shops that have been around for hundreds of years and even participate in ceremonies yourself.
What is Japanese Incense Used For? 
Japanese incense is used in kōdō ceremonies to improve mental well-being. Some of the benefits believed to come from participating in kōdō include purifying the mind and body, sharpening the senses, and promoting alertness. These benefits were defined during the 16th century in what is known as the ten virtues of kōdō.
Outside of Japan, it's also believed that burning incense can help to increase calm and focus, reduce stress and anxiety, and it can be used to complement a meditation or yoga practice. Burning incense in a quiet room allows for a moment of introspection and mindfulness.
In traditional Japanese culture, one of the many benefits and uses of incense is to reduce loneliness, with the incense serving as a companion when sitting alone. A kōdō ceremony can also be a social experience with games involved where participants pass around different fragranced incense and must guess what kind they are. This traditional practice is called monko, or incense listening, the purpose of which is to learn how to tell the many varieties of incense apart from each other. 
In addition to incense ceremonies, incense is used in a range of other everyday activities in Japan, such as religious ceremonies, aromatherapy, or simply for relaxation. 
Types of Japanese Incense 
Japanese incense can be purchased either as pieces of fragrant wood known as kunko in Japanese or incense sticks, known as shoko. Japanese incense is split into categories: Kyara, Rakoku, Manaka, Manaban, Sasora and Sumotara. These categories are called rikkoku-gomi, referring to the six ancient East Asian countries where the fragrant woods originate. The rarest and most expensive of these is kyara, the highest grade of agarwood, which is more expensive than gold! 
In addition to these six categories, there are five further classifications of incense – sweet, bitter, spicy, sour, and salty. It takes many years of practice to be able to correctly identify each type of aroma by their different elements.
Below is a list of some popular Japanese incense fragrances and their meanings.
Agarwood
 Often used to purify a space, cleanse negative energy, and bring peace and tranquillity to the environment. Also good for complementing a yoga practice, calming the nervous system, and relieving anxiety. In Ayurveda, it is believed to bring energy to calm the mind and spirit.
Cedar
This type of incense can be used for meditation because it's said to have spiritual properties that help with stress relief, relaxation, and mental clarity. 
Cinnamon
This type of incense has been shown to increase focus levels and boost moods due to its uplifting effects on the brain's neurotransmitters.
Frankincense
This is a popular option for meditation as it can help with stress relief, relaxation, and mental clarity.
Cherry Blossom 
The sweetness of cherry blossoms is uplifting and positive, reminiscent of Japanese springtime. Cherry blossoms have a deep philosophical meaning in Japanese culture due to their short-lived appearance – symbolizing the fleeting nature of life as well as new beginnings. 
Plum
The plum tree's early blossoms symbolize the end of winter and arrival of spring, and this warm and romantic scent represents regeneration and revival.
Incense Shops and Experiences in Japan
In Kyoto there is an incense store called Yamada-Matsu which dates back more than 200 years. Its exterior is a traditional wooden shop front with noren curtains, whilst inside you'll find a treasure trove of incense tools and materials available to purchase and take home, where you can recreate your memories of Kyoto!
You can also participate in three different types of incense workshops at Yamada-Matsu. One workshop teaches participants how to 'listen to incense', whilst the others focus on teaching people how to make scented drawer sachets or kneaded incense balls. 
Owariya is a cozy incense store located on Kyoto's Shinmonzen Street that specializes in making colorful incense balls designed to be placed in drawers to keep your clothes smelling fresh.
At the Kunjyukan near Kyoto's Imperial Palace, you can view exhibitions on incense production & culture, including a scented walk & artwork, and there is a shop where you can buy Japanese incense. You can also make reservations here to do a guided tour of the incense workshop.
Over in Uji, Kyoto, the center of Japan's matcha production, you can learn how to make matcha scented incense sticks at the historical Agata Shrine with an incense-making expert.
How is Japanese Incense Made?
Awaji Island, situated in Japan's Inland Sea between Honshu and Shikoku is widely considered to be the home of Japanese incense, with more than 70% of incense manufactured here. 
Koh-shi or master of fragrance is the name of the craftsmen on Awaji Island who developed the way to turn scented wood into stick incense. This is done by blending natural ingredients with water to create an aromatic paste, which is then rolled by hand into exquisite incense sticks before being left to dry. These traditional methods have been preserved on Awaji Island since 1850, which is said to be a particularly good place for making incense thanks to its mild climate and westerly wind, perfect for drying the incense.
The base of Japanese incense is made from a tree called tabu no ki, also known as the Japanese bay tree and whose bark is used to make makko – a powder mixed with water that forms a paste which is then rolled into incense sticks. The sticks are then left out to dry before being packaged and sold.
Japanese incense sticks are usually made from sandalwood and agarwood – fragrant woods which are unique to Japanese incense, and it also secretes a resin unique to the aroma of the stick. Essential oils are also added to Japanese incense to create different fragrances. 
Nippon Kodo is one of Japan's most famous incense producers with a history that dates back more than 400 years. They create products with unique fragrances using traditional and modern techniques. They have a wide range of incense sticks and cones with best-selling products including their Morning Star incense sticks. 
Morning Star is a daily-use incense that has been a best-selling product since it launched in the 1960s that has a powerful aroma of floral essences and fragrant wood, ideal for creating a relaxing morning atmosphere for meditation and yoga.
Another Japanese incense producer from Awaji Island who has been producing incense sticks since 1850 is Baikundo. They pride themselves for developing a product with great regard for nature and wellness and combining traditional methods and innovative technology. In this regard, some of their products include the Binchotanrei series made with charcoal which has a deodorant effect or the Ensho Byakudan Hatsuume which generates minimal smoke.
This Kyoto-based company has roots dating back to the early 18th century and has been run by generations of the Hata family ever since. A member of the third generation of the family who was involved in incense making began using methods he learned whilst working at the Imperial Palace in Kyoto and incorporating them into the business. These secret traditional methods of blending incense had only previously been enjoyed by royalty, and 300 years later Shoyeido is still considered to be one of the highest-quality producers of incense.
Shoyeido's premium collection of incense is handmade by highly skilled artisans using centuries-old recipes and containing high-quality ingredients such as the best fragrant agarwood. 
Shoyeido's wide range of daily use incense features products inspired by the beautiful Kyoto landscape, such as Kyonishiki, a sandalwood fragrance that is inspired by the autumn leaves in Arashiyama, and Kinkaku, influenced by the famous Golden Pavilion.
Baieido dates back to Japan's Muromachi period when founder Kakuuemon Yamatoya became a wholesaler of medicinal herbs in Sakai city. Sakai was a well-known trading port in ancient Japan in which incense trading was in high demand. In 1657, the founder named himself "Jinkoya Sakubei" and specialized in selling incense ingredients and incense sticks. Since then, the method and recipes for making incense have been handed down from generation to generation in secret.
Among Baieido's most popular products are their Kobunboku range – an expression of the plum tree. This particular incense is popular for use in meditation practices and contains a traditional mix of ingredients including sandalwood, borneol, clove, cinnamon, and medicinal herbs.
Kungyo Kodo is Japan's oldest incense supplier based in Kyoto that has been producing premium quality incense for over 420 years. Their goal is to continue bringing fragrances that blend well with modern-day life whilst preserving the tradition of Japanese incense making. 
Some of their best-selling products include their Shiko Shu assortment of six incense fragrances inspired by the scenery of Kyoto, and their Uji Matcha incense, which has a rich earthy scent of matcha from Japan's premium quality green tea growing region. 
Japanese Incense Burners 
You can find a wide range of Japanese incense burners made from varying materials such as ceramic or metal. A Japanese koro or burner is useful because, unlike an incense holder, a koro will hold incense and contain the ash whilst burning so you don't need to worry about ash making a mess or any safety issues.
Usually, bowl-like in appearance, the downside of these elegant Japanese incense burners is they tend to be more expensive than other types of incense holders. It also requires the bowl to be filled with rice chaff ash which serves as a base material to support the burning incense stick.

One alternative to the traditional koro burner is to buy a set that includes the incense holder and an incense plate to catch any falling ash like this one.
Where to Buy Japanese Incense Online
Whether you want to try holding your own kōdō incense ceremony at home or are looking to simply add some incense to your own meditation or yoga practice, you can find a unique selection of high-quality Japanese incense in the Japanese Taste online store. Some of our favorite products include this Sandalwood Incense from Nippon Kodo, a Japanese incense producer with more than 400 years of history, and this sakura incense inspired by an ancient cherry blossom tree located in Gifu, Japan. 
Check out the full range of Japanese incense here.