Japanese Superfoods & Secrets For Anti-Aging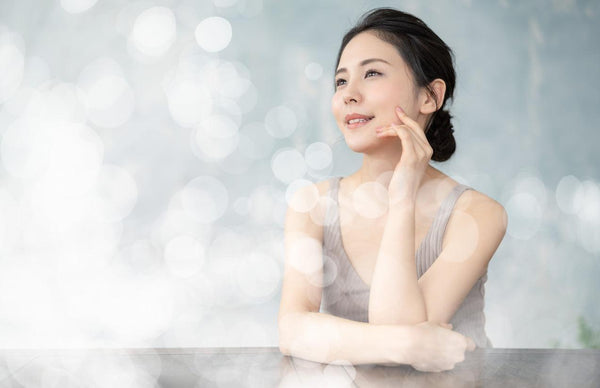 Jump to:
Aging is a natural process that every human will go through in their lifetime. Some experience the effects of aging earlier than others, but that doesn't mean it's not possible to slow the effects of aging. In fact, the Japanese are notorious for having beautiful and radiant looking skin well into their 40s and even 50s. 
Why is it that Japanese people are known for having youthful looking skin well into their middle ages? Of course, it's no secret that Japan is well known for having excellent and effective anti-aging skincare products. A lot of developmental research, trial and error, and technological advances have allowed for the creation of high quality Japanese anti-aging skincare products that actually deliver results. However, while using good anti-aging skincare products is important for delaying signs in aging, living a healthy lifestyle is equally if not more important. 
The Japanese diet is well known for being quite healthy and well balanced, especially in comparison to the average Western diet. Many of the foods that Japanese people eat also have excellent anti-aging effects. In this article, we'll cover some foods that Japanese people eat on a daily basis that actually have the ability to slow the process of aging. We'll also share some other non-skincare related tips that Japanese anti-aging specialists recommend for maintaining beautiful skin. Read on to learn about Japanese beverages & foods, as well as insider tips that aid in anti-aging. 
Beverages
While it may seem tempting to grab a sugary beverage, the added artificial sugars in these drinks may actually speed up aging of the skin. Instead, try replacing these beverages with Japanese options like green tea or aojiru which are packed with vitamins and antioxidants.  
It's no secret that Japanese beverages such as green tea and particularly matcha are superfood beverages. Green tea is rich in catechin, a polyphenol which slows aging and boosts immunity. Green tea is also a caffeinated beverage, so try consuming it in place of your morning cup of coffee. 
Aojiru is the Japanese version of green juice, which is said to have been consumed in Japan since the 1940s. Since it is made up of many different vegetables, it is rich in plenty of vitamins, minerals, and even fiber. It is especially rich in antioxidants, which is directly linked with anti-aging properties in the body. Aojiru is sold in Japanese grocery stores and convenience stores, and is also sold in powder form which can be purchased online. 
Aojiru has the typical healthy taste of green juice, so you can drink it as is if you enjoy the flavor of green juice. For those who are not a fan of green juice's distinctive taste, try adding aojiru packets to your morning bowl of yogurt or oatmeal, or even into your smoothie to hide its flavor. 
Vegetables
Vegetables, seaweed, and mushrooms are full of vitamins and minerals such as vitamin A, vitamin C, and vitamin E which all heavily aid in preventing aging in the body. Dr Saori Tobita, an anti-aging specialist in Tokyo recommended that females should aim to consume 200g of light colored vegetables, 100g of dark leafy green vegetables, and 50g of mushrooms and seaweed on a daily basis. This way, you can take advantage of different vitamins, minerals, and antioxidant properties that vegetables offer for anti-aging. 
Seaweed may be one of the most prominent foods in a Japanese diet. It is full of natural polysaccharides that are beneficial to both our bodies and skin, and it has also been proven to increase moisture retention in the skin. Seaweed is also high in vitamin C, which is directly linked to supporting the body's natural collagen production. There are plenty of ways to consume seaweed, whether it's by adding it to miso soup, wrapping sushi rolls in it, or even adding it as a topping to rice bowls. 
Komatsuna 
This Japanese dark, leafy green vegetable is rich in many vitamins, especially vitamin A, vitamin C, calcium, and iron. The large quantities of vitamin A & C help to reduce the appearance of wrinkles and dark spots on the skin. Enjoy this nutrient-dense dark leafy green raw, or even by steaming it and topping it with sesame seeds or ponzu sauce. 
Mushrooms are loaded with antioxidants which are especially beneficial for anti-aging. By consuming more antioxidant-rich foods, you are providing more moisture to your body and skin, which will in turn help to decrease and slow down wrinkle production. It is said that among all of the mushrooms, shiitake mushrooms are notably high in antioxidants. 
Animal-based Proteins
Animal-based protein contains collagen, which is what keeps the skin firm and aids in anti-aging. It is recommended to consume an adequate amount of protein (up to 100g for women) in your diet to reap the benefits of anti-aging. 
Salmon
This fatty fish is rich in astaxanthin, a component found in many Japanese anti-aging products. Astaxanthin is an antioxidant which suppresses oxidative stress, one of the main causes of aging in the skin.  
White fish 
White fish, such as sea bream or halibut are also high in astaxanthin and collagen. White fish is also much lower in fat, making it easy to consume on a regular basis. 
Plant-based Proteins
The plant-based protein, soybeans, are rich in anti-aging nutrients such as vitamin E and isoflavones. Vitamin E has an effect in promoting blood circulation as well as regulating skin turnover. Isoflavones provide the body with antioxidants, which provide moisture to the skin and hair. Soy products also contain estrogen, a major sex hormone. The production of estrogen is said to start decreasing when women reach their late 30s. By adding soy products into your diet, the soy isoflavones will help fight against aging effects. 
Tofu 
This protein-packed soy superfood is high in soy isoflavones. It is also low in saturated fat and is not calorically dense. Japanese people often consume tofu on a daily basis, whether eating it plain and topping it with soy sauce and green onions, or enjoying it in a bowl of miso soup. Since tofu is relatively flavorless on its own, you can jazz it up in any way you like to enjoy its anti-aging benefits. It is recommended to consume ½ of a block daily to take full advantage of its anti-aging properties. 
If you're not familiar with natto, they are fermented soybeans consumed by many Japanese for breakfast on a daily basis. If you're interested in consuming natto or don't know how to prepare it, check out our natto article. It is recommended to eat 1 pack everyday (approximately 40 grams) for anti-aging purposes. 
Grains
Consuming a balanced diet, rich in whole foods and including grains is also important. Since grains are carbohydrates, many people seem to think that they should avoid eating them. However, this is far from the truth. While eating refined versions of grains may not be the most helpful for anti-aging, eating grains in their whole form is very beneficial for anti-aging. 
Rice
Rice, which is a staple food in the Japanese diet, is also regarded as a beneficial food for anti-aging. Rice is rich in nutrients such as vitamin E and phenolic acid antioxidants. If consuming rice, it is recommended not to eat too much of it in its refined form (aka white rice). Instead opt for brown rice, or other wild grain rice options, which are more nutritionally balanced. More recently, using rice water as a skincare treatment has been becoming popular too as rice water is loaded with amino acids, vitamins, and minerals.
Some General Food Tips
While what you put into your body is important for preventing aging, the order in which you eat, and how much you eat are also just as important. Many Japanese follow specific eating patterns to slow the process of aging. Here are some common tips: 
Eating until you're 80% full

– This is a Japanese term which originates from Okinawa, originally called

hara hachi bu

. Adopting this eating pattern is said to lead to a longer life expectancy and also benefit anti-aging. 

Reducing normal calorie consumption by 25%

– Another way to activate longevity genes and slow aging is by reducing your normal calorie intake by 25%. When the longevity gene is activated, cell regeneration begins functioning at an accelerated speed, and is linked with preventing aging spots and wrinkles on the skin. 

Eating the contents of your meals in a certain order

– Maintaining a conscious order of eating also has an effect on aging. Eating fiber rich vegetables first, followed by protein, and then finished with a carbohydrate is said to be the ideal way to eat to slow aging. Ba

sically, by following this method, your blood sugar will not suddenly spike. 
Foods to Avoid
Many Japanese researchers have suggested that consuming sweeteners in excess amounts lead to aging of the body and skin. In fact, it was suggested by Dr Takuji Shirasawa, an anti-aging specialist doctor, that consuming soft drinks that contain many artificial sweeteners causes signs of aging to occur 10 times faster than consuming beverages that contain regular table sugar. While it is not recommended to consume any beverage that contains an excessive amount of any sugar, it is especially recommended to stay away from those that are made with artificial sweeteners. Shirasawa also mentioned that snacks made with an excess of sugar, flour, and oil that are eaten in excessive amounts will ultimately lead to accelerated aging. In fact, Shirasawa recommended avoiding mindless snacking of these types of foods as much as possible. 
Other Tips to Consider
Since anti-aging prevention is a holistic process, it is extremely important to take care of your inner as well as overall health. There are some simple practices that you can implement into your routine that many Japanese tend to follow as well that will help to extend your youthfulness. Try including these following tips into your daily routine: 
Wearing sunscreen – If you're familiar with skincare, then you've probably heard that sunscreen is the most important product to use in your skincare routine. Sunscreen protects the skin from sunburn and blocks UV rays. It is recommended to wear sunscreen everyday (yes, everyday. And even in the winter too!) to maintain healthy and youthful skin.   
Getting quality sleep

– Not getting enough hours of sleep or quality sleep accelerates aging. Try to get at least 7 to 8 hours of sleep a night and have a regular sleep schedule. 

Regularly exercising

– Exercising, even in moderate amounts, promotes the metabolism to run at a normal or accelerated pace. Once your metabolism begins to slow, signs of aging may begin becoming more noticeable. Even just light exercise, like going for a walk, is good for your metabolism so try to be active whenever possible. 

Eliminating stress

– We've all heard that living with too much stress is not good for our health. Dealing with too much stress may also lead to sped up signs of aging, so try to keep stress to a minimum as much as possible. 

Avoiding alcohol and tobacco

– Alcohol and tobacco place a burden on your liver and lungs, so it is recommended to avoid them. It is especially recommended not to use either of these as stress relief.