The Enchanting Japanese Camellia: Ancient Beauty Secrets You Need To Know About!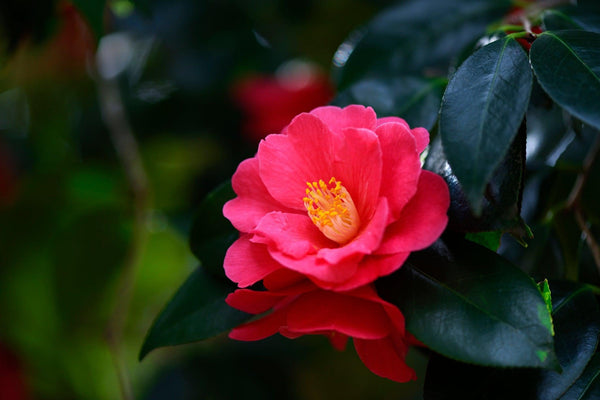 Jump to:
Nestled in the rich cultural tapestry of Japan is the captivating Japanese Camellia, an emblem of beauty, tradition, and elegance. Also known as Tsubaki in Japanese, Camellia is known for its stunning blooms and versatility in the beauty world. The Japanese Camellia holds a cherished place in the hearts of both the Japanese people and nature enthusiasts worldwide. 
Hearing about just how stunning the Japanese Camellia actually is, you might be more curious about how multifaceted it actually is. This article aims to explain all about the Japanese Camellia, including its importance in Japanese culture and the beauty benefits that this botanical plant holds. We'll also recommend some of the best tsubaki oil-packed products that you can purchase from Japanese Taste. 
What Is A Camellia?
The Japanese Camellia, scientifically known as Camellia japonica, is a flowering plant native to East Asia, including Japan. This evergreen shrub thrives in temperate climates and can be found blossoming throughout Japan, particularly in regions with milder winters. If you happen to find yourself traveling in Japan during the winter months, you might find camellia blooming in the snow! The plant boasts glossy, dark green leaves that provide a vivid backdrop to its exquisite flowers. Camellia flowers themselves also have a plump, rose-like appearance. 
Camellia has long been recognized and cherished as a familiar and useful plant by Japanese people not only for its beauty but also for its multifunctional properties. In fact, camellia oil specifically can be used for beauty purposes, while the plant wood can be used as firewood. 
What Does A Camellia Flower Look Like?
As previously mentioned, the camellia has quite an elegant appearance that resembles a plump rose. The pistil, or center part of the flower is also golden yellow in color. The petals of the camellia flowers themselves come in a diverse range of colors. Pink and red varieties may be most commonly found in Japan, but white camellias or variegated combinations of camellia can also be found blossoming throughout the country. Camellia flowers can vary in size, from delicate and petite to larger and more voluptuous.
When Is Camellia Flower Season?
The camellia flower is a winter plant in Japan with the blooming season starting in November and ending in April. When temperatures in Japan reach peak coldness, usually around February, the flowers take a break from blooming and resume again in March. 
There are also some varieties of camellia known as early-blooming camellia which begin blossoming around September. These types of camellia tend to have a longer blooming season and are in bloom until the early months of spring. 
Popularity and Uses Of Camellia Oil In Japan
The Japanese Camellia's popularity is not only due to its visual allure but also its versatile uses. One of its primary uses is undoubtedly in beauty. Camellia oil is valued by many Japanese as well as those in the beauty community for its beauty properties, especially for the hair and skin. 
Camellia oil is rich in oleic acid, a fatty acid that is quite compatible with our skin and helps to nourish and hydrate it. Its molecular weight is also similar to our skin's natural sebum, making it easily absorbable and non-clogging into the skin. It can be used to achieve shiny, smooth, hair and glowing skin. 
Camellia Beauty Benefits And Japanese Beauty Rituals
The Japanese have long recognized the beauty-enhancing properties of Camellia oil. In Japanese beauty rituals, Camellia oil is used for various purposes, including:
Skin Care – Camellia oil is applied to the skin to moisturize, soften, and protect against environmental stressors. It is believed to promote a smooth complexion and a youthful glow.
Hair Care – The oil is used to nourish and condition hair, making it a staple in Japanese hair care routines. It can be applied as a leave-in treatment to tame frizz and enhance hair's shine and manageability.
Scalp Health – Camellia oil's lightweight texture makes it an ideal choice for use on the scalp. It can be used as a hair treatment to help improve circulation and even promote healthy hair growth.
Massage – The oil's smooth glide and skin-friendly properties have made it a preferred massage oil, aiding in relaxation and providing additional skin benefits.
Popular Japanese Camellia Oil Products
Now that we've covered all of the uses and benefits of camellia oil, you may want to include it in your beauty routine. In this section, we'll recommend some of our favorite Japanese beauty products packed with camellia oil. 
Perhaps one of the best-selling camellia oils in Japan, this Tsubaki Oil from Oshima only contains 100% natural camellia oil. The reason why this particular camellia oil is such a beloved beauty product in Japan is because it can be used on the hair, face, and body. 
Because camellia oil has excellent moisturizing and anti-aging properties, it can stimulate skin cell regeneration, moisturize dry skin, and even prevent and/or soften wrinkles on the skin. Camellia oil also does not clog the pores, despite it being an oil making it a suitable skincare product for those with clogged pores. 
In regards to hair, camellia oil helps the hair to retain moisture and become softer. It's also great for preventing dandruff and treating itchy scalp. The best part about this camellia oil from Oshima is that it is scent-free, meaning that anyone can use it! We carry this tsubaki oil from Oshima in two sizes – 40ml and 60ml. 
Oshima Tsubaki Pure Natural Japanese Camellia Oil 60ml
$16.95
For those who prefer a cream type of hair treatment over an oil, we highly recommend this premium camellia hair treatment from Oshima. This hair treatment is packed with real tsubaki oil, meaning that your hair will obtain the same benefits as if you were using the oil. 
The difference between this treatment and the tsubaki oil from Oshima lies not only in the formulation of the two products but also in the fact that this treatment contains camellia ceramide, camellia flower extract, and camellia leaf in addition to camellia oil. This is a great and moisturizing treatment to add to your haircare routine after shampooing and conditioning your hair. Using this hair treatment a couple of times a week in your haircare routine will make a world of a difference! 
Oshima Tsubaki Camellia Premium Hair Treatment 180g
$14.95
Shiseido has a few different lines of Tsubaki-packed haircare products, but the Moist & Repair series is by far the most popular, both in Japan and with Japanese Taste customers. This particular shampoo is formulated with real camellia oil and moisturizing ingredients to repair dry and damaged hair. The result is hair that is left feeling moisturized, shiny, and nourished. 
Many Japanese Taste customers have noted that they experienced positive results such as softer hair only after a few uses. For best results, we recommend pairing this shampoo with the matching conditioner which can also be purchased on our website. 
Shiseido Tsubaki Shampoo Premium Moist & Repair 490ml
$14.95
If you're looking to spruce up your haircare with a simple product that can be used before blowdrying your hair, then this rinse-free tsubaki hair oil is perfect! This hair oil actually has multiple functions, mainly acting as a hair oil, leave-in conditioner, and heat protectant all in one. Use of this unique Japanese hair oil will leave your hair feeling soft and smooth. It features real camellia oil and has a faint scent of its aroma, which is great for floral lovers. In addition, it can be used on either damp or dry hair. 
Shiseido Tsubaki Oil Perfection Japanese Rinse-Free Hair Oil 50ml
$19.99
Another Japanese camellia oil-based shampoo option, but this time vegan! This is a great tsubaki shampoo option for those particularly searching for cruelty-free hair products. In addition to being plant-based, this shampoo's formula is free of silicone, chemical aromatics, colorants, mineral oil, paraben, and UV absorbents. It of course features plenty of real camellia oil (and rose oil too!) meaning that your hair will reap the benefits of the botanical oils. We recommend using this shampoo with the matching hair treatment for best results. 
RinRen Shampoo Rose & Tsubaki Vegan Hair Repair Shampoo 480ml
$28.95
This is another camellia oil that you shouldn't miss out on! This camellia oil from Toshima is 100% organic and is made from naturally pressed camellia seeds from Toshima Island camellia flowers. The oil has a non-sticky texture that can be used on the scalp, hair, face, and body. It can be used as a heat protectant before styling, as a finishing oil after heat-styling, or even as a luxurious skincare treatment. However you decide to incorporate it into your beauty routine, we're sure that you won't regret it!
Toshima Pure Organic Camellia Oil 50ml
$24.99
What do you think about Camellia Flowers? Did we inspire you to purchase one for your home or try out a Japanese camellia oil-based product? Let us know your thoughts about Camellia in the comments below.