Tojiro, Tojiro Pro, and Fujitora – What's the difference between these Japanese knife brands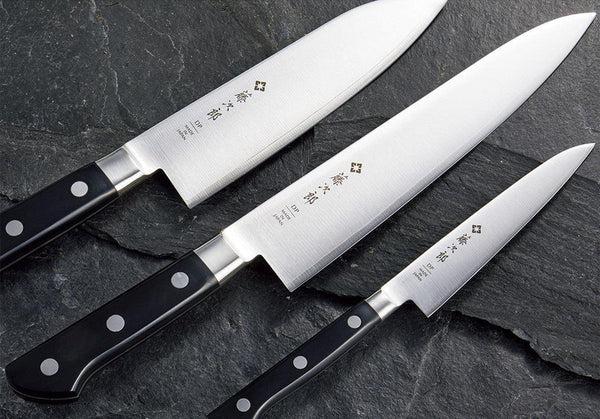 Jump to:
Tojiro, a Japanese cutlery manufacturer, is one of the most famous Japanese kitchen knife brands among consumers and professionals around the world. It is said that there is nobody familiar with kitchen knives who does not know Tojiro, indicating the size of its reputation. However, did you know that Tojiro's products can be briefly categorized into three sub-brands: Tojiro, Tojiro Pro, and Fujitorasaku (hereinafter "Fujitora")? Although these are all produced by the same manufacturer, it is essential to understand the difference between these sub-brands to properly select the right knife according to your needs. In this article, you will learn more about Tojiro's sub-brands.
What is Tojiro - why are they well-known?
Tojiro's kitchen knives are products that have demonstrated quality and reliability for nearly 20 years. Although their original business was the production of agricultural machines, they subsequently shifted to supplying cutlery because it can be marketed all year-round while farming equipment did not sell well in winter.
What Tojiro values most in its cutting tools is sharpness. It is said that Tojiro is a pioneer of the development of a process called "warikomi", which means cladding in English. Most of their kitchen knives have multi-layered blades: they use hagane (carbon steel) as a core material, and both of their ends are cladded with stainless steel. As a result, their cutting tools combine the fine cutting ability of hagane steel and the anti-corrosion benefits of stainless steel, making them both versatile and convenient.
Another noteworthy feature of this Japanese brand is good cost vs performance. Normally, kitchen knives that have the same quality as those from Tojiro cost more than 10,000 JPY (around 70 USD), but Tojiro can market cutlery at such high quality in the 7,000~8,000 JPY range, although this price varies according to the type of blade (for example, Damascus blade knives tend to be pricier). This means that Tojiro allows you to own high-quality kitchen knives at a relatively reasonable price.
Tojiro sub-brands - what are the differences between them?
In this section, you can learn about Tojiro's sub-brands in more depth. As mentioned earlier, there are three main product lines:
Tojiro
The Tojiro series is the manufacturer's official product line and is their standard selection. Products from this sub-brand normally consist of a metallic blade and wooden handle and have a diverse range of variations in terms of blade length and material of the handle. No matter which type of cutting tools you purchase from the Tojiro series, you find their sharpness highly satisfactory.
Tojiro Pro
Tojiro Pro is another official product line of this brand and was originally developed for professional users. Their cutlery features a fully-metallic, integrally-molded design that allows you to cleanse the whole knife to ease any concerns you may have about dirt accumulation. Tojiro Pro has unique products including the "ecoclean" series, which applies a special antifouling coating to the entire knife to strengthen its hygienic features; and the "Service en Salle" series, which was created for servers who perform traditional French table service.
Fujitora
The Fujitora series is regarded as a sister brand of Tojiro; however, it is not actually an official product of this manufacturer. The difference between Tojiro and Fujitora is that whereas there is no difference between the sub-brands in terms of quality, Fujitora knives are cheaper than those from Tojiro. There are also some all-metal kitchen knives marketed under this sub-brand.
Pros and cons of each sub-brand
Tojiro
Consumers who purchase their kitchen knives from Tojiro's official online store can apply for after-sales services including resharpening, repair, parts exchange, rust removal, and others. What is more, consumers can send them directly to the manufacturer, so they can receive the repaired knife without any extra delay.
The drawback of the Tojiro series is that it tends to be more expensive than most average knives. Additionally, the repair/resharpening services are basically for consumers residing in Japan, and you may not be able to use this service if you purchase the Tojiro knife from other than their official stores.
Tojiro Pro
Tojiro Pro's all-stainless steel knives can be washed easily; you can even sterilize the whole knife using hot water. Also, Tojiro Pro products have an attractive design including a unique tornado-patterned handle, making you feel that you are owning a piece of art. Furthermore, the manufacturer's after-sales service is also available with the Tojiro Pro series.
However, like other all-metallic knives, as their handles are colder than wooden handles, you will sense an unwanted and inconvenient coldness during the winter. Also, their metallic handles become slippery when you grip them with wet or greasy hands. Lastly, you should also bear in mind that Tojiro does not recommend washing Tojiro Pro knives with a dishwasher because of significant advancements in dishwasher detergents: their ingredients may cause corrosion to the blade.
Fujitora
Fujitora series is the best option for consumers who wish to obtain a high-quality knife at an affordable price. In addition, Tojiro distributes Fujitora cutlery to a large number of resellers, so it is easier to purchase than the Tojiro and Tojiro Pro products. For these reasons, the Fujitora series is a gentle introduction for beginners in Japanese kitchen knives. If you're new to Japanese knives, Fujitora is a great place to start. If you'd like to learn about the different types of Japanese knives, we've written about the most popular ones on our blog.
However, the Fujitora series is not included in Tojiro's official shopping site. This means that Fujitora is not included in the scope of Tojiro's maintenance services (as mentioned above, Tojiro basically only provides these services for cutlery bought at their online store), so if you wish to resharpen your Fujitora knife, you need to contact the store where you bought it. This is sometimes a risk as not all these non-official stores offer similar services - some may not offer any such service. In such a case, if your Fujitora knife is badly damaged, a replacement purchase would be your only solution.
What is Fujitora? - the story behind this unofficial brand and Tojiro's intention
It is said that Tojiro sells their products to only a few stores nowadays. The reason for this limited distribution is they are attempting to restructure their brand. They witnessed some of their distributors selling Tojiro knives at prices far cheaper than the intended market price and without sufficient after-sales service. Such practices are contrary to Tojiro's business model, and they are concerned about the possibility that this may eventually deteriorate their brand value. To protect their credibility, they decided to limit distribution for third-party sellers.
After this occurred, however, Tojiro was contacted repeatedly by sellers who previously purchased their products, requesting them to supply alternative merchandise. These requests got greater day by day; as a result, they decided to distribute the Fujitora series as a cheaper version of Tojiro and Tojiro Pro.
In this respect, perhaps Fujitora is the result of Tojiro's dilemma between brand value and sales. If Fujitora knives sell well due to their inexpensiveness and wide availability, consumers may disregard the manufacturer's official products. Meanwhile, if Tojiro becomes too particular and exclusive about the brand by limiting its sales channels, this may lead to a loss of sales opportunities.
Other sub-brands - are these also from Tojiro?
In this section, we will introduce two more brands that are apparently related to Tojiro. One is the Tojiro Bessaku (written as "藤次郎別作" in Kanji). Although it is said that the Bessaku version is available in some foreign markets, Tojiro clearly mentions that the Tojiro Bessaku knives are neither their products nor are they manufactured in Japan.
According to Tojiro, when some rival manufacturers obtain the trademark of the Tojiro brand in third-world countries before the Tojiro itself does, they add the word Bessaku, which literally means "different work" or "another piece", to avoid overlapping of the trademark when Tojiro also starts selling its products in the same market afterward. The manufacturer claims that the Tojiro Bessaku series has no connection with the Japanese Tojiro, so if you find products with the term "別作" printed on their blade or package, as shown in the following images, these are very likely the fake Tojiro knives. Be careful!
On the other hand, you might find kitchen knives that are called "Fujijiro" or "Fujijirou" - rather than Tojiro nor Fujitora. You may wonder whether they are fake models of Tojiro. However, unlike the Bessaku series, Tojiro admits that knives from Fujijiro and Fujijirou are made by its artisans.
What is the reason for this change in their brand name? Tojiro explains that at the time when Tojiro acquired the trademark, there was a different cutlery brand called "東次郎": although it has the same pronunciation of "Tojiro" its Kanji is different from the Tojiro you are familiar with. To prevent consumers from being confused between these brands, Tojiro temporarily changed its trademark to Fujijiro or Fujijirou. When the antecedent Tojiro discontinued its production, they changed the brand name to its original name, and the brand's trademark got certified officially. Although Fujijiro/Fujijirou knives have now been discontinued, rest assured that these are genuinely produced by Tojiro in case you find any such knives.