All About Japan's Beloved Chocolate Snack Pocky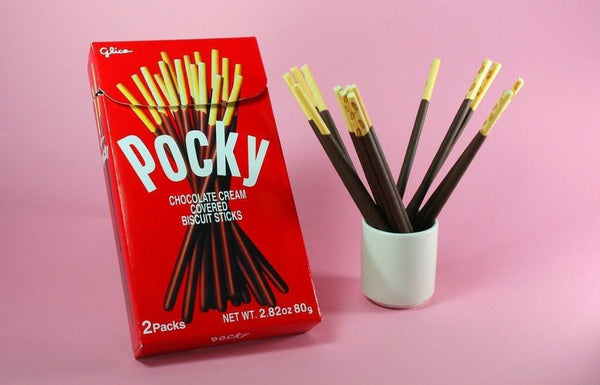 Jump to:
Pocky are crunchy stick-shaped biscuits wrapped in a luscious chocolate coating. They are easily one of Japan's most popular snack foods. The clever design of Pocky sticks features a unique biscuit handle, allowing consumers to easily eat the chocolate-coated part of the biscuit without dirtying their hands. Read on to learn everything you should know about these tasty and innovative biscuits! 
History
Pocky was first introduced to consumers in the 1960s by the Osaka-based Glico corporation, with the original Chocolate Flavor making its appearance in 1966. The inspiration of Pocky came from its older sibling Pretz, another snack with a similar concept but in a savory version from Glico. During that time, the idea of Pocky was quite genius as the mission of this snack was to become the world's first stick chocolate. Once Pocky launched to the public, it became an instant hit among everyone, so much so that the idea of releasing new flavors promptly caught on. 
Manufacturing Pocky in the early days, however, was quite a sticky situation. When Glico first started producing Pocky sticks, workers had to individually dip each stick into chocolate manually, so maybe you can easily see how this quickly became a disaster. Not only was this a sanitary violation, but it was also plain messy. These days, with machines implemented in manufacturing facilities, there is no need for workers to waste time or effort dipping pocky sticks into chocolate by hand.  
Pocky Day
As Pocky has become such a beloved snack around the world, Glico has marked November 11th as Pocky Day. While it is not a national holiday by any means, it is still a fun occasion to enjoy a box of Pocky with your friends and family! 
Glico declared this holiday on November 11th 1999 for their Pocky and Pretz series, actually officially declaring it as Pocky and Pretz Day. However, with the overwhelming rise in popularity of Pocky in and outside of Japan, November 11th is known as just Pocky Day by many. This particular date was chosen not only because the shape of Pocky sticks resemble the number 1, but November 11th 1999 also marked Heisei 11, or the 11th year of the Heisei era.   
Pocky Game
The Pocky Game is a game played among friends where pocky is eaten "Lady and the Tramp" style. In other words, two participants place a single pocky stick in their mouths at the same time, and continue taking bites until they reach the center, which often results in a kiss. While this can be an enjoyable game to try with close friends, you should be sure to choose a person who you would not mind kissing. 
Pocky Flavors
Now that we've covered the basics of Pocky, let's dive into the world of Pocky flavors! With Pocky being not only a popular snack in Japan but also in many other countries, Glico has had to think outside the box to come up with flavors suitable for the Japanese market, as well as other countries' markets. In fact, it is said that there are more than 50 different flavors of Pocky that have been created! Unfortunately, many of these flavors are seasonal and are quite difficult to find outside of Japan. However, some popular Pocky flavors include the classic chocolate flavor, strawberry, matcha, almond chocolate, cherry, melon, and even sweet potato.  
Flavors available at Japanese Taste 
Here at Japanese Taste, we also offer a variety of Pocky flavors that can be delivered straight to your door from Japan. From fan favorite beloved flavors like the original chocolate or strawberry, to special flavors suited for adult palettes to pair with alcohol, everyone can find their favorite flavor in our shop. 
Glico Pocky Chocolate Biscuit Sticks 8ct.
$6.97
Starting with the original Pocky, the one that started it all, Chocolate Pocky sticks feature a biscuit-like stick coated in a creamy chocolate. The chocolate coating is not too sweet yet is still satisfyingly tasty. Chocolate Pocky are made using a simple recipe that has been left unchanged since the product launch in 1966.
Chocolate Pocky taste delicious eaten alone as a snack or paired with coffee, tea, milk, or even wine. 
Glico Strawberry Pocky Strawberry Chocolate Biscuit Sticks 8 ct.
$6.97
This variation of Pocky features the original buttery stick biscuit and is coated in strawberry-flavored chocolate. Similarly to the original Chocolate Pocky, Strawberry Pocky sticks are also not too sweet but carry the flavor and aroma of fresh strawberries. 
Glico Pocky Almond Crush Chocolate Sticks Snack 46.2g (Pack of 5)
$14.97
These Pocky Sticks come coated in a delicious and rich milk chocolate, and are then coated again in crushed up roasted almonds. They are much more luxurious compared to the original Chocolate Pocky. 
Glico Pocky Giant Chocolate Sticks Snack 17 Sticks
$14.99
For those who are a fan of the original Chocolate Pocky, you can now enjoy these stick-shaped snacks in a jumbo size! The giant size of these Pocky Sticks are perfect to share as a snack with your friends or even gift to a special someone. 
Glico Pocky Tasty Special Chocolate Coated Biscuit Sticks (Pack of 3)
$11.98
These are another luxurious version of Pocky. The biscuit sticks are made with ingredients such as whole wheat flour and fermented butter, making them crispier and richer tasting compared to regular Pocky sticks. 
The chocolate as well has a richer and nuttier flavor compared to the original Pocky. This is due to the fact that the chocolate used in this snack contains roasted milk. 
Finally, this high-end Pocky snack contains a greater amount of fiber compared to other flavors. It may be described as a miracle snack because not only is it tasty, but it is also a bit healthier! This Pocky flavor is a perfect option for those who love delicious snacks but are looking for a more nutritious option. 
Glico Strawberry Pocky Double Coated Strawberry Cocoa Sticks (Pack of 3)
$11.98
As another strawberry flavored Pocky option from Glico, this version's biscuit base is made with whole wheat and cocoa powder. It is then finished with a coating of strawberry-flavored chocolate. However, the strawberry chocolate used in this Pocky contains real strawberries that have been hand-picked and cultivated naturally. The use of real fruits not only gives the strawberry flavor a bit of a sweet-sour kick, it also adds a little boost of vitamin C! 
Extra special flavors of Pocky
As Glico has strived to create flavors of Pocky that everyone can enjoy, they have also recently started focusing on more adult-curated flavors. They want to create snacks that appeal to adults who like snacking with style. In order to do this, they have released two editions of Pocky that pair well with alcohol. These products are also only limited to the Japanese market. 
Glico Pocky Megami no Ruby Chocolate Sticks for Red Wine Pairing
$16.00
This is a special flavor of Pocky called "Megami no Ruby" or "Goddess Ruby" which has been made to enjoy alongside a glass of red wine.
Cheese, black pepper and clove have been blended into the Pocky biscuit dough to achieve a special aroma and taste that complements the aroma and full-bodied flavor of red wine.
In addition, three kinds of berry aroma and a bit of salt have been added around the chocolate coating in order to enhance the companionship with wine.
Glico Pocky Otona no Kohaku Adult Amber Chocolate Sticks for Whiskey
$16.00
This particular flavor of Pocky is called "Otona no Kohaku" or "Adult Amber" and is made to pair perfectly with whiskey.
Malt extract has been blended into the Pocky's biscuit dough to create an aroma and taste that pairs best with whiskey. 
In addition, whisky aroma and a bit of salt have been added to the surface of the Pocky to create a better chemistry with the whiskey. This is a flavor that whiskey lovers definitely cannot miss out on!