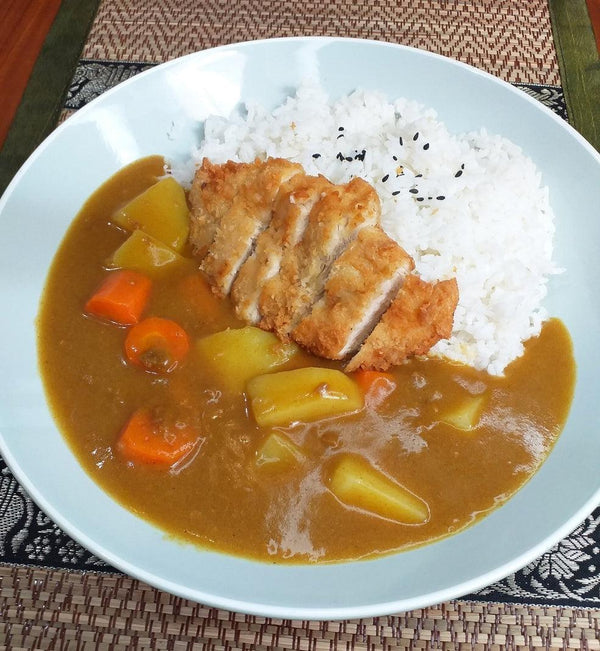 Easy Homemade Japanese Curry with Crispy Chicken Katsu
Japanese Curry is a dish made of stewed onions, carrots, and potatoes that have been simmered in a delicious, flavorful curry roux sauce. Chicken, beef, or pork are also commonly added. It is usually served over cooked rice and is a dish that is very regularly eaten in Japanese households. Both children as well as adults love Japanese curry! 
Originating in India, curry was later introduced to England where modifications were made to suit the taste of the English, and was once again introduced to Japan at the end of the Edo period.  While Indian curry tends to have a soupier texture and is spicy, 
Japanese curry is a bit thicker and has a sweeter flavor to pair well with sticky rice.
Japanese curry is eaten as a main dish at home. Japanese families usually make a lot at once and eat it over several days. It is also a major item served for school lunches and in cafeterias. There is even a curry flavor for baby food in Japan! Furthermore, many restaurants in Japan specialize in serving their own uniquely crafted curry rice. Since Japanese curry is loved by many people and is easy to make, many people even bring or cook it during their camping trips. 
While Japanese curry is of course usually served with rice, pickled garnishes such as rakkyo (pickled scallion) or fukujinzuke (Sweet and Salty Sliced Vegetable Pickles) are also often eaten alongside. These types of pickles add additional layers of saltiness, sourness, and of course umami. 
These days, fried toppings such as chicken katsu (cutlet), pork katsu, and croquettes are especially popular to eat with Japanese curry, Especially among the younger generation. However, you can of course serve Japanese curry as is, simply with rice and even pickles if you like. 
This time, we will introduce a simple Japanese curry recipe that can easily be made at home. We will use an instant curry roux sauce, a product that is sold in every Japanese supermarket and can be found in other Asian and major supermarkets. We will also serve it with fried chicken katsu, which we will show you how to make in the next post, to demonstrate a way this dish can be enjoyed. 
Enjoy typical and comforting Japanese curry with crispy texture from chicken katsu!
Overview
Prep time: 10 mins
Cook time: 35 mins
Total time: 45 mins
Total servings: 6
Difficulty: Easy
Ingredients
2 Small Onions (brown or white)
1 Large Carrot
3 Medium Potatoes
1 box of Curry Roux (we used S&B Foods Golden Japanese Curry Roux Sauce Medium 198g)
900g Cooked Rice
Optional: Chicken Katsu (for serving)
Optional: Japanese pickles such as rakkyo or fukujinzuke (for serving)
Expert's Tip
Curry roux is made of flour, oil, meat and vegetable extracts, curry powder, other spices, and salt. It is easy to make curry sauce by simply adding curry roux to stewed meat and vegetables, as it contains all of the ingredients that provide flavor, umami, and thickening for curry.
Shapes of curry roux vary from brand to brand. While boxed curry roux that comes in solid form is most commonly sold, there are also versions of curry roux that come in flake, and powder forms. The level of spiciness can be selected from sweet, medium, and hot.
Instructions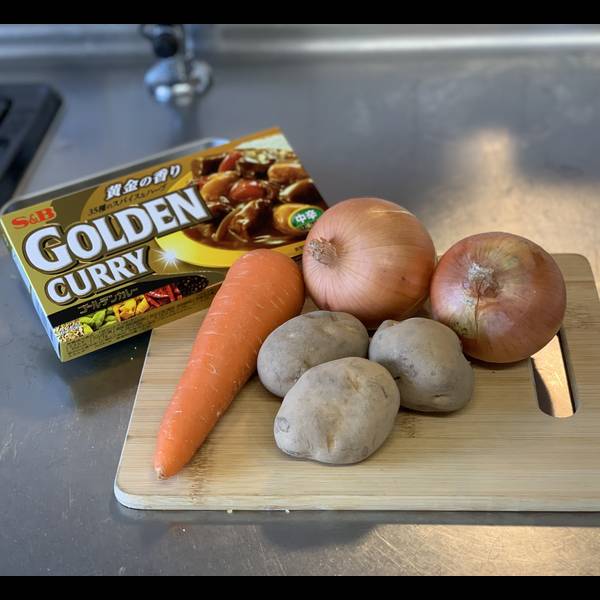 1) Gathering the Ingredients
Gather your vegetables. Wash and peel off the skins of the carrots and potatoes with a vegetable peeler. Peel the skin off of the onion as well.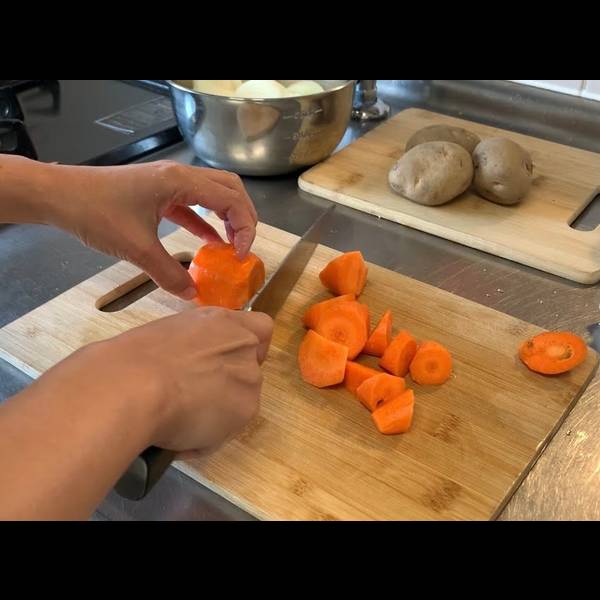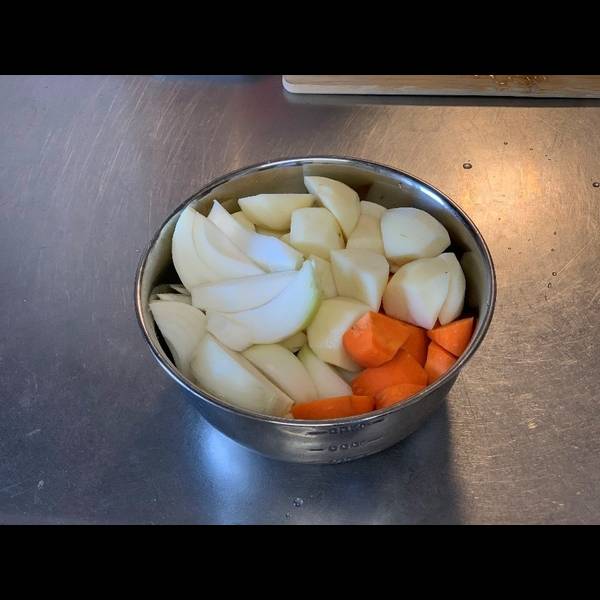 2) Chopping the Vegetables
Cut onion, carrots and potatoes into one bite sized pieces. Soak potatoes in the water for 5 min to prevent them from oxidizing and turning brown. Once they are done soaking, be sure to fully drain them.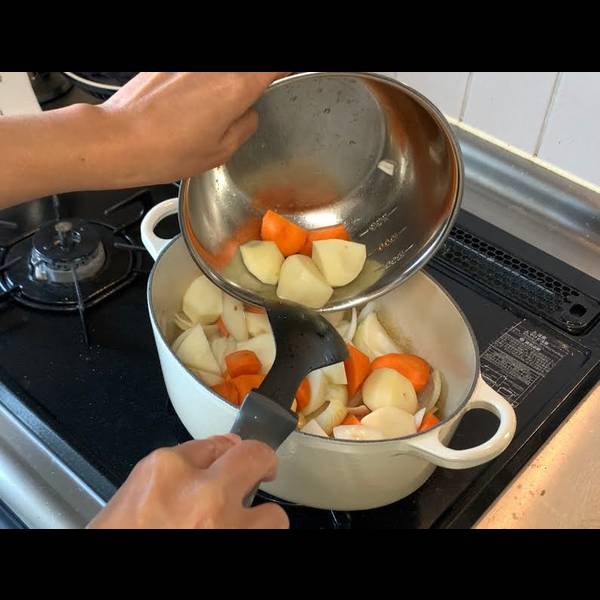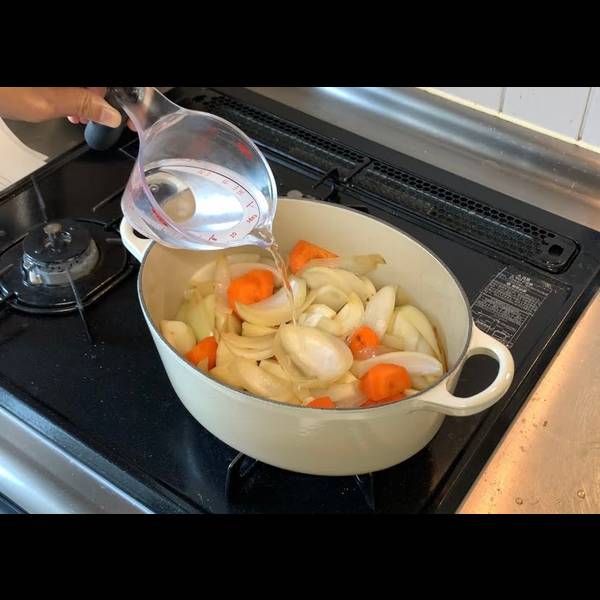 3) Cooking the Vegetables
Add oil to a big pot over medium heat, and begin to cook the onions. You want to make sure that they become translucent and even a little brown. After 2-3 minutes, add carrots and potatoes and saute them for about 1 minute. Then add water and boil the vegetables over medium heat until they become tender, about 15 to 20 minutes.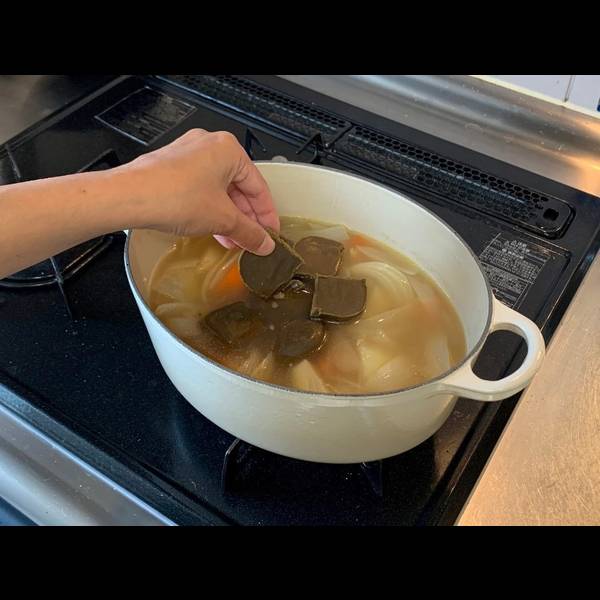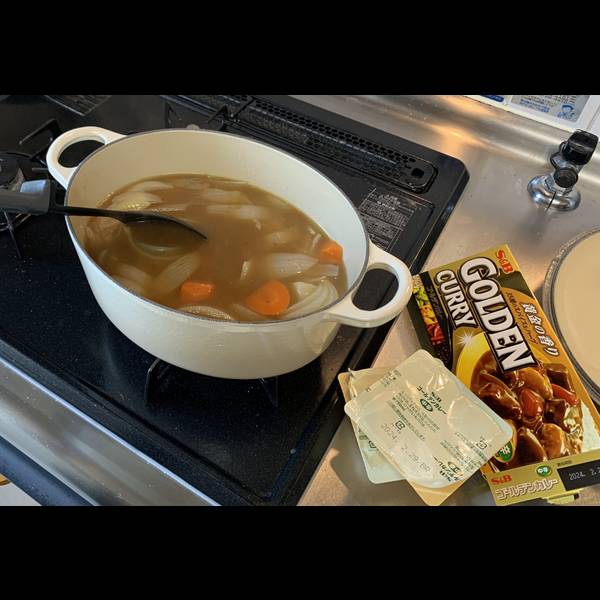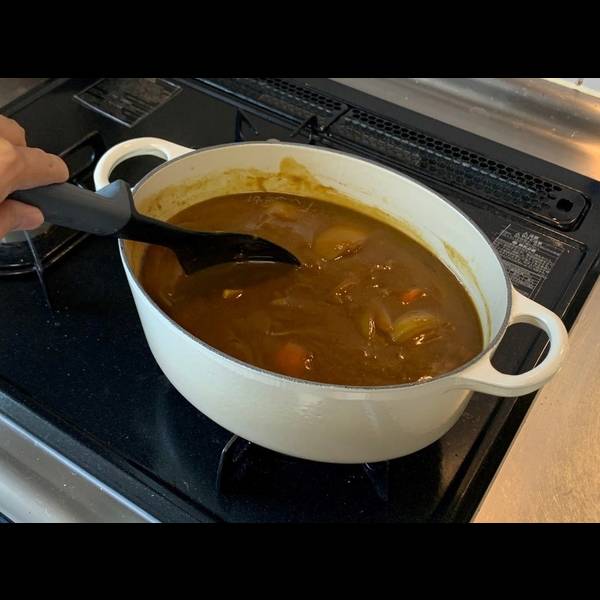 4) Adding the Curry Roux
Once the vegetables are tender and/or cooked to your liking, turn off the heat, add curry roux and mix well to incorporate. Once the roux has fully melted, simmer over low heat for another 5-10 minutes until the curry gets thicker.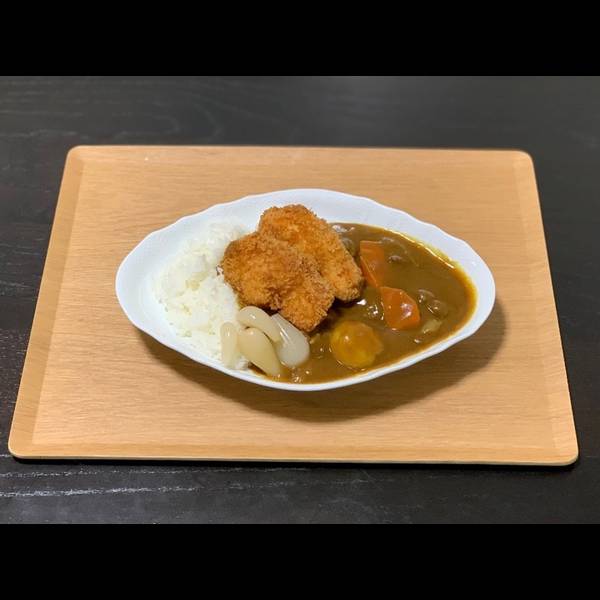 5) Serving the Curry
To serve, add some cooked rice, curry, and chicken katsu on a plate, and done! Additionally, top with Japanese pickles such as rakkyo or fukujinzuke if you like!