How To Make Soft & Chewy Matcha White Chocolate Chip Cookies With Macadamia Nuts
Dessert
Matcha
White Chocolate
Make Ahead
Sweets
Freezer-friendly
There are so many Matcha flavored sweets available in Japan. From traditional sweets like mochi to Western sweets like cake, you can find a matcha flavor for just about any dessert in Japan. However, did you know that matcha cookies are one of the most popular sweets in Japan?  
Japanese cookies usually have a shortbread texture and are made with minimal ingredients, but we're going to share a matcha cookie recipe with you that has a similar texture to the American chocolate chip cookie. These matcha cookies are crispy on the outside, and soft and chewy on the inside. 
Matcha powder gives these cookies a nice vivid green color and matches nicely with the chunks of white chocolate dotted throughout the cookies. The flavor of the white chocolate also pairs perfectly with the aroma and bitterness of matcha. 
Why is matcha such a popular flavor for sweets anyways? There are many theories as to why matcha became a go-to flavor choice for desserts, but one theory is that the matcha-flavored ice cream from Haagen-Dazs became so popular when it was first released in 1996 and that it started the "Matcha flavored sweets" movement in Japan.

The flavor of matcha matches very well with milk products, so that is why we are using white chocolate instead of milk or dark chocolate in these cookies. Milk products mellow the natural bitterness of matcha, making it easier for people to consume. It might sound surprising, but macadamia nuts also work really well in these cookies.  
When baking cookies with matcha powder, it is important to sift it before adding it to any batter to prevent pockets of clumps from forming and for its color to spread evenly. 
Additionally, resting the dough in the fridge is essential for giving the cookies a chewy and soft texture. Letting the dough chill in the fridge allows the butter in the dough to firm up, preventing the cookie dough from melting too quickly. If the butter in the dough melts quickly, the cookies will spread out too much and become more crispy.
These cookies can be stored at room temperature in a container for up to 3 days. You can also store it for up to a week in the fridge or for 2 months in the freezer.

You can find matcha cookies pretty much everywhere, but not like these soft-style cookies. Plus, making them at home is so much more special! Enjoy sharing these cookies with your family and friends!
Overview
Prep time: 50 mins
Cook time: 12 mins
Total time: 1hr 2mins
Total servings: 16
Difficulty: Easy
Ingredients
100g Unsalted Butter (Room Temperature)
100g Brown Sugar
50g Granulated Sugar
1 Egg (Room temperature)
Few Drops of Vanilla Essence
150g All-Purpose Flour
1/2 Tsp Baking Soda
8g Matcha Powder
70g White Chocolate, chopped
70g Macadamia Nuts (optional)
Expert's Tip
When baking with matcha, choosing a matcha powder that is high quality is important. This multipurpose matcha powder from Morihan is perfect for baking but also for being used in drinks, making it the best choice for all-purpose matcha. It will also give your confections a beautiful and vibrant green color.
Instructions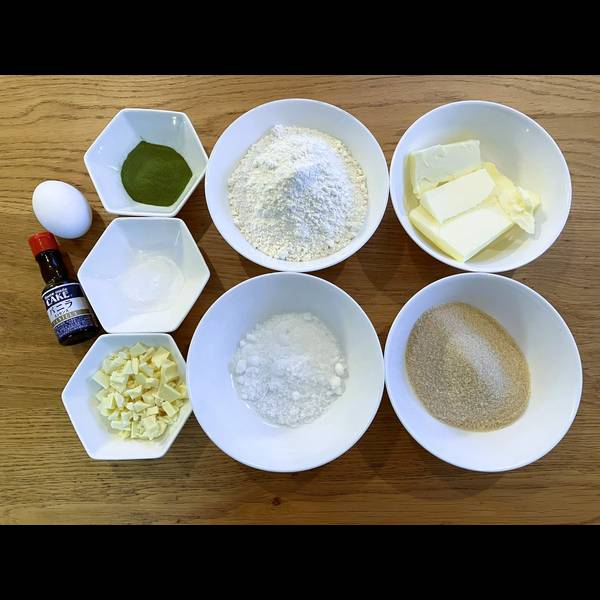 1) Gathering the Ingredients
Gather all of the ingredients together.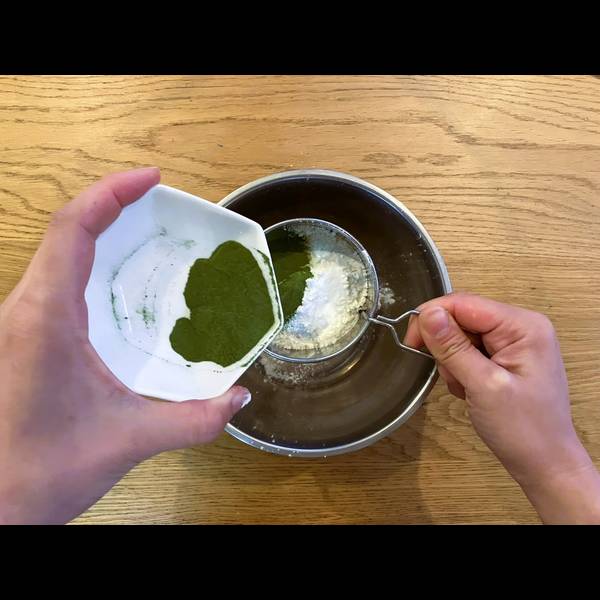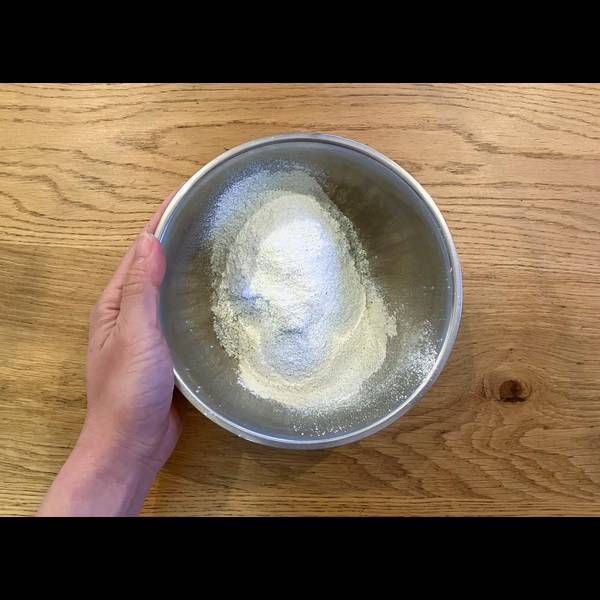 2) Sifting the Dry Ingredients
Combine the matcha powder, all-purpose flour, and baking soda together and sift them into a bowl using a sieve to get rid of any lumps.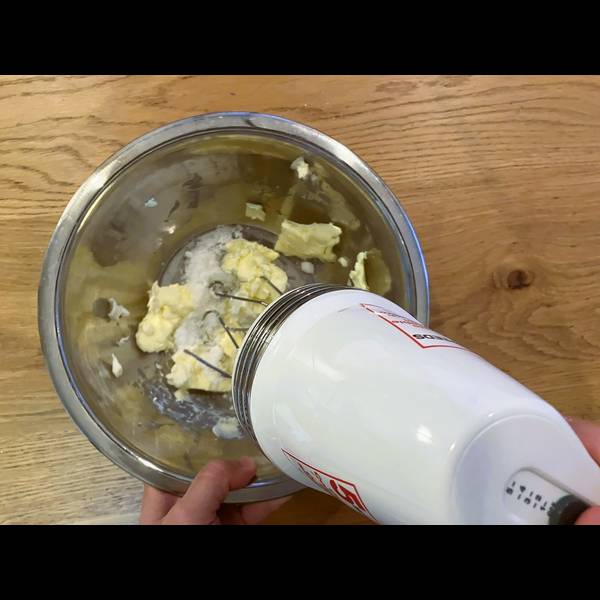 3) Mixing the Wet Ingredients
In a separate bowl, beat the butter and sugar using a hand mixer. Just mix them until they are well combined together.
Tip: We are using a mixture of white and brown sugar to add moisture to the cookies as well as give them a chewy texture.
Notes: You can whisk these cookies by hand if you like.
*If you have a food processor, you can mix everything that we list until step 5 excluding the white chocolate and macadamia nuts.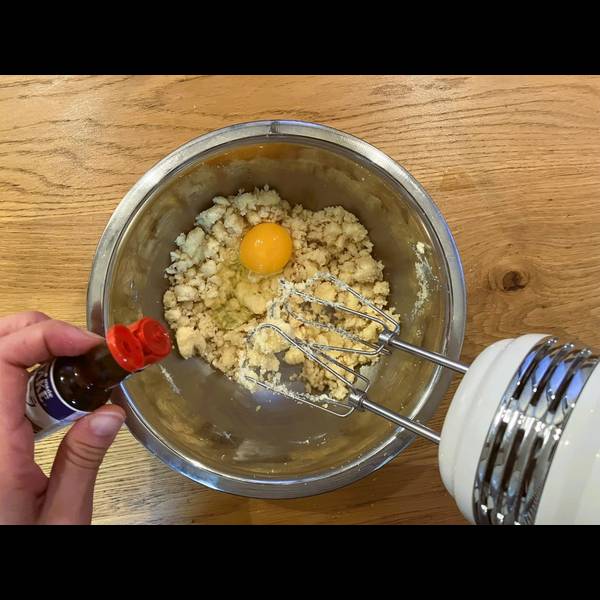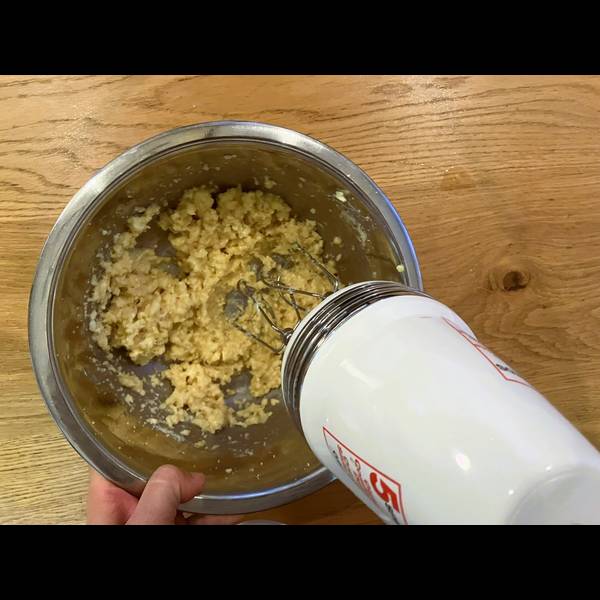 4) Adding the Egg and Vanilla Essence
Add the egg and vanilla essence and mix it again. Mix until all the ingredients are evenly incorporated.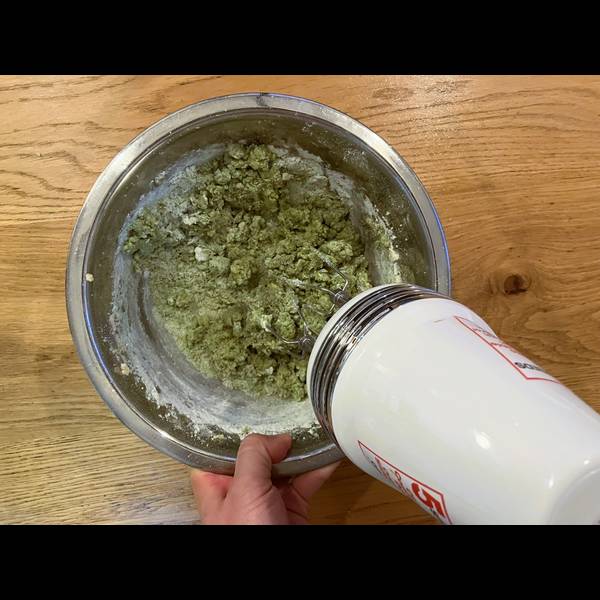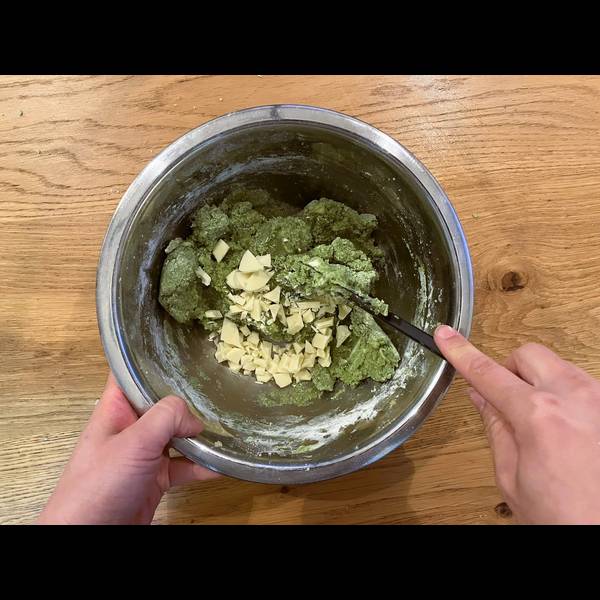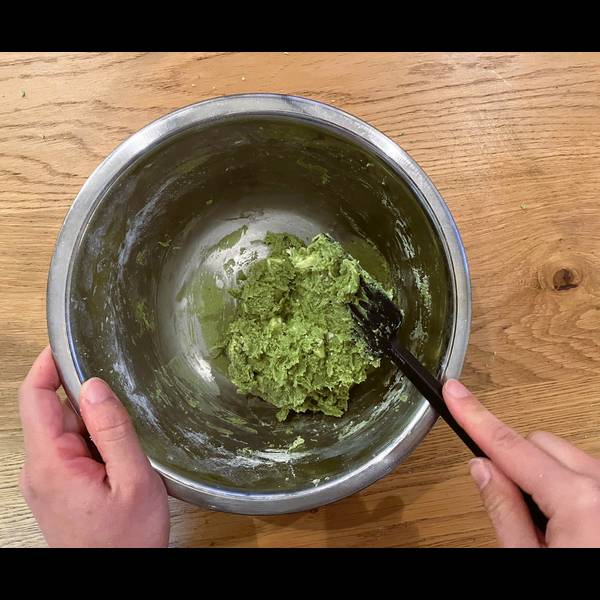 5) Combining the Wet and Dry Ingredients
Add the flour to the wet ingredients and mix it slowly until all of the ingredients are well combined. Add the white chocolate and mix well. At this point, you can add any other ingredient you'd like (like macadamia nuts) to these cookies.
Rest the dough in the fridge at least for 30 minutes to up to 24 hours.
Note: We recommend mixing in the white chocolate by hand to prevent overmixing the dough.
Tip: Resting the dough will allow the cookies to develop a tastier texture when baking.