What You Need To Eat At Costco Japan's Food Court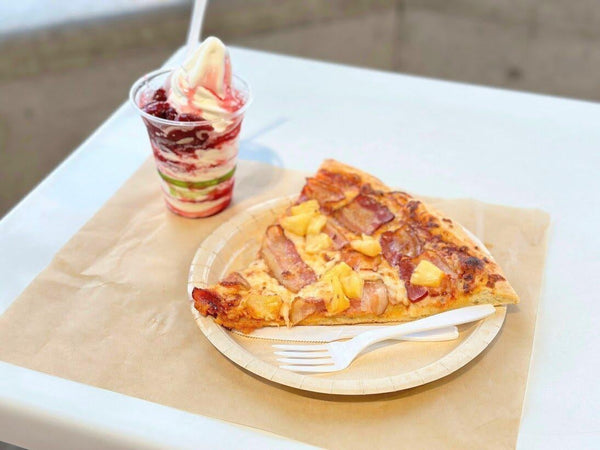 Jump to:
If you've taken a trip to Costco, then you know how essential eating at the food court is to the entire Costco experience. Costco food courts are famous for items like their pizza slices and hotdogs because of their size and affordable prices. If you find yourself at a Costco in Japan, you'll also find these foods as well as unique-to-Japan items that you won't be able to find anywhere in other Costco food courts. 
What is Costco Japan's food court like? How are the foods different? What are the must-try items there? The Japanese Taste team was also curious about these questions, so we took a trip to Costco Japan and tried everything in their food court so that we could report back to you. In this article, we'll introduce you to Costco Japan's food court as well as cover all of the foods you need to try there. 
Pizzas
One of Costco's most famous food court items is undoubtedly their pizzas. The same goes for Costco Japan. Costco Japan always carries pizza in 3 flavors. Cheese & Combo are the standard flavors that they always have, and the third flavor is seasonal. On this occasion, the seasonal pizza was Hawaiian. Whether you're a lover of pineapple on pizza or not, we can't deny that the seasonality aspect of Costco is definitely something unique to Japan! Depending on the time of year you visit Costco, you might find other options like Margherita pizza or mushroom porcini sauce pizza instead of Hawaiian pizza. 
Similar to Costcos in other countries, you can also purchase whole pizzas for 1980 yen ($13.79 at the time of writing this article). 
Bulgogi Bake
A unique-to-Japan Costco food court item is the bulgogi bake. This Korean-fusion item features bulgogi, a type of Korean marinated beef tucked inside Costco's famous pizza dough. The top of the bulgogi bake is also crusted with savory parmesan cheese. This is definitely a must-try item when you visit Costco Japan's food court. The sweet and savory flavors of the juicy beef, paired with the soft pizza dough, and the crusty parmesan cheese topping is an absolute match made in foodie heaven. You don't want to miss it! 
Smoothie
Following the seasonality theme of Costco Japan comes the smoothie. The smoothie flavor at Costco changes depending on the time of year, and this time it was mango! A great aspect of Costco Japan smoothies is that they are refreshing, not overly sweet, and taste like real fruit. 
Hokkaido Soft Cream
Another food court must at Costco Japan is undoubtedly the soft cream. While Costcos in other countries also carry soft serve ice cream, what sets Costco Japan's soft cream apart from other Costcos is two things – Hokkaido dairy & seasonality. Yes, Costco Japan uses Hokkaido dairy products to make their soft cream, taking their flavor and creaminess to a whole new level! Costco Japan offers their soft cream in milk, fruit, and half & half flavors. This time, the fruit flavor option was pineapple. Delicious! Similar to the smoothie and the pizza, the flavor of the soft cream will depend on the time of year you visit Costco Japan. 
Clam Chowder
If you're a soup lover, then Costco Japan has you covered. While the type of soup on offer will depend on the time of year (seeing any commonalities here?), when we visited, the seasonal soup was clam chowder. Costco Japan's clam chowder is packed chock full of clams and diced potatoes. The soup itself is creamy, rich in umami, but does not have an overwhelming seafood flavor. 
Falafel & Hummus Salad
If you fancy something a bit healthier or lighter, then Costco Japan has got you covered with this Falafel & Hummus salad. While this salad is not very Japanese at all, it features falafels, hummus, pickled carrots, and romaine lettuce. It is served with an oil-based tomato dressing. 
Some Costco Food Court Advice & Tips
In this section, we'll recommend some tips to keep in mind when eating at Costco's food court in Japan. 
Costco Japan's food court only takes cash, so be prepared!

There is no menu at the front counter, so decide what you want while waiting in line before placing your order. 

There is a space between the cash register section and the food court to place your shopping cart at. You're not allowed to take your shopping cart into the food court. 

Foods purchased at the food court can be eaten inside or outside of the store in the designated dining areas.

Costco Japan's drink station offers 5 choices of Pepsi, Pepsi Zero, Mountain Dew, Nacchan Orange Juice, and Oolong Tea. 
Have you been to Costco Japan's food court before? What did you try? If you haven't been yet, which Costco Japan food court item do you want to try? Let us know in the comments below.