10 of the Best Japanese Shampoos for Dry and Damaged Hair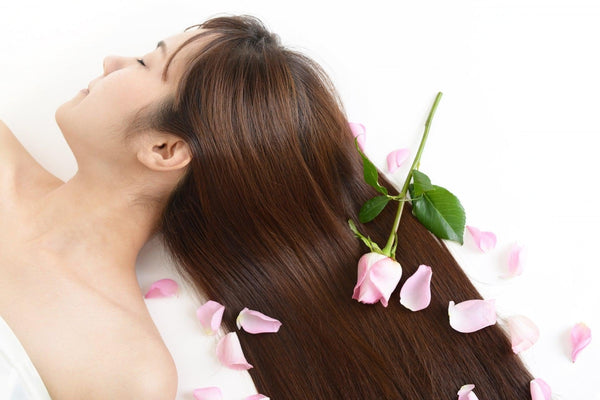 Jump to:
Hair is undoubtedly an important part of our appearance and that's why many people pay so much attention to taking good care of it. Just like skin, each hair type requires different kinds of products, so using the right kind of shampoo makes all the difference when you're looking to improve your hair's condition. 
Japanese shampoos are a great choice not only because they are affordable but also because they use high-quality, carefully selected ingredients. Not to mention, Japanese shampoos can be easily purchased online or at any drugstore in Japan.
If you are struggling with dry or damaged hair, continue reading on because we'll introduce you to the 10 best Japanese shampoos that you might want to try out!
For dry, damaged hair with split ends or hair that has experienced damage from chemicals used in perming or dyeing, Tsubaki Premium Moist from Shiseido works to soften and moisturize dry hair by deeply repairing it from the roots. 
With a rich composition of camellia oil, amino acids, and proteins, Tsubaki Premium Moist shampoo protects your hair against external harmful effects, while providing nutrients to restore and recover damage from the inside out. 
Red camellia known as Tsubaki in Japanese is rich in oleic acid and linoleic acid, which are well known to be easily absorbed into the hair and help increase moisture while repairing the damage.
In addition, anyone who wants to maintain healthy hair can also benefit from using this line. This Tsubaki shampoo has a fresh floral fruity scent that is said to last for up to 36 hours, bringing you a comfortable and confident feeling every time you use it. 
In fact, Shiseido - Japan's leading cosmetic brand, is the manufacturer of this shampoo so don't miss out on this renowned Tsubaki shampoo. 
Shiseido Tsubaki Shampoo Premium Moist 490ml
$14.95
Botanist Botanical Moist Shampoo is a popular Japanese shampoo that is highly recommended by major Japanese beauty magazines like Cosme. If you are looking for a shampoo that contains only natural ingredients and will do good for both your hair and the environment, Botanist Botanical shampoo is the ideal choice. 
This shampoo's ingredients are made up of 90% natural plant and herb extracts that are carefully researched and selected to do the best for your hair and scalp without using strong chemical ingredients. 
This organic shampoo is also silicone-free and is suitable for anyone, especially those with sensitive scalps. 
The most popular shampoo from Botanist Botanical is definitely this Apricot and Jasmine moist shampoo. All the moisturizing ingredients are from sugarcane, white birch, licorice, soybean, soap nut, and soapwort, all of which will help your hair stay hydrated. It is also rich in Ceramide, Hyaluronic Acid, and Phytosterol - which are well-known ingredients for creating a glossy and shiny finish.
Botanist Botanical Hair Shampoo Moist Apricot & Jasmine 490ml
$26.00
&honey is currently a very popular domestic shampoo brand in Japan. Their Deep Moist Shampoo has been voted as the best-selling shampoo for 2 consecutive years (2019 and 2020) in Japan according to Cosme.
True to its name, the ingredients that make up &honey Deep Moist shampoo are selected from the best kinds of honey in the world, containing top nutrients to ensure smooth hair. &honey shampoo is made up of over 90% natural ingredients including honey, beeswax, royal jelly, argan oil, hyaluronic acid, and shea butter. What makes Deep Moist so special is that it contains 3 types of selected honey: Manuka honey from New Zealand, Acacia honey from Hungary, and pure honey from Japan.
It is also free of alcohol, parabens, silicones, and mineral oil, making it suitable for everyone. If you often experience split ends and have dry hair, &honey Deep moist shampoo ensures smooth and bouncy hair, helping restore and deeply moisturize your hair. 
ViCREA &honey Organic Deep Moisture Shampoo 1.0 (Japanese Honey Shampoo) 440ml
$24.95
You must have heard of Lux outside of Japan, but this Luminique shampoo series is a special edition by Unilever Japan that focuses on the concept of "non-silicone" hair care products that use only natural plant-derived ingredients.
This Luminique Damage repair shampoo has a special formulation of natural ingredients and beauty serums to give intensive repairing effects to severely damaged hair. Hydrolyzed Keratin and Collagen water solution work to care for each hair cuticle from the inside out, while natural ylang-ylang essential oil serves as the main moisturizing component. 
This shampoo is also rich in squalane oil, leaving the hair feeling effortlessly soft and smooth.  
Lux Luminique Damage Repair Non-Silicone Shampoo 450g
$15.95
Another shampoo that takes advantage of natural ingredients is Dear Beaute Himawari. The main ingredients of this shampoo are fermented sunflower oil, seeds, and sprouts that are extremely rich in Omega fatty acids, Vitamin E, and other beneficial nutrients for restoration and nourishment. 
Apart from the so much familiar jojoba oil, sunflower oil is a component that everyone should introduce into their hair care routine. It will help in solving all of your hair's problems from dry, and damaged to dandruff, frizz, or thinning hair. Additionally, sunflower oil is extremely rich in antioxidant properties and vitamins. Therefore, this oil provides your scalp and strands with the nutrients needed for healthy and strong hair. It also acts as an emollient to hydrate with a light texture that is enough to retain moisture without weighing down your hair.
In particular, Kracie Dear Beaute Himawari does not contain silicon and sulfate (foaming agent) so if your hair is weak or even heavily damaged, you can still use it with ease.
Along with sunflower extract, this shampoo also contains honey, which is a great ingredient for moisturizing dry hair. If you are also particular about the fragrance of shampoo, this Kracie shampoo is a great option because it has a pleasant fruity aroma of a blend of apple, peach, jasmine, rose, and musk. 
Kracie Himawari Dear Beauté Oil In Shampoo Rich & Repair 500ml
$19.99
A special ingredient that you might not have heard of - horse oil, is also used in Japanese shampoo. Since the main characteristic of horse oil is the ability to keep moist and temperature, it has a noticeable and quick absorption effect to keep your hair moisturized for a long time. Horse oil has long been used for many purposes including the treatment of skin wounds, as well as soothing dry skin. 
To much surprise, horse fat causes zero irritation and has no negative side effects on the scalp or hair. The reason is that its constitution is very similar to the human body's natural fat constitution. So, if you are looking for a shampoo to help prevent dryness and dandruff that causes itching and scalp inflammation, a horse oil-infused shampoo is all you'll need.
Additionally, Kumano horse oil shampoo can provide your hair with amazing nourishment because it is also rich in camellia oil, Hyaluronic Acid, Ceramide, and Amino Acid.
This shampoo is also free of silicones and strong chemical agents so anyone in the family, including expecting mothers can also use it with peace of mind.
Kumano Yushi Horse Oil Shampoo 600ml
$17.99
If you are struggling to find the right solution for your hair among Japanese shampoos, Kracie Ichikami shampoo is a great product to start with. This is a plant-based hair care product that uses herbal ingredients hand-selected by Kracie and does not contain any harsh or harmful chemicals. Kracie conducted many studies to make sure that the chosen ingredients are effective, yet friendly for everyone including pregnant women.
The most popular line of Ichikami is the smoothing Ichikami shampoo that is enriched with pure Japanese botanical extracts: Japanese grass, rice bran oil, apricot oil, camellia oil, seaweed, and blackberry lily.
This is the perfect product for those who are prone to hair loss or who have severely damaged hair due to chemical exposure. With countless tiny bubbles, Ichikami shampoo cleans and protects hair from friction when washing, caring for each strand of hair from root to tip. 
Moreover, Ichikami also focuses on using quality scents in its products to ensure that consumers have the most comfortable and relaxing experience.
Kracie Ichikami Japanese Plant Based Moisturizing Shampoo 480ml
$16.95
Another great Japanese damage repair shampoo option from Lux, which is especially useful in repairing damage caused by coloring or perming. Lux Super Rich Shine Damage Repair Shampoo works to repair your damaged hair, from the inside out to create stronger and healthier hair strands. Additionally, this shampoo also will help your hair become more shiny and glossy. 
Formulated with moisturizing ingredients such as hyaluronic acid oil, shea butter, and argan oil, this Japanese shampoo will bring your dry and damaged hair back to life. 
Lux Super Rich Shine Damage Repair Shampoo 430g
$15.95
Tsubaki - camellia extract is definitely the holy grail hair care ingredient that will bring back the vitality and shininess that your dry or damaged hair is missing. Camellia extract is popular in the Japanese beauty world and has been used since ancient times because of its amazing moisturizing effects. 
This product is made from plant-derived ingredients: seeds, leaves, and flowers of the camellia and also free of mineral oils, and silicone so anyone can rest assured while using it. We have mentioned above the amazing effects of camellia, so if you're experiencing extreme dryness, especially during the winter, and are looking for a simple yet effective solution, this Oshima Tsubaki shampoo is worth a try!
Oshima Tsubaki Camellia Premium Hair Shampoo 300ml
$14.95
The final product we'll introduce in this article is from Milbon - a professional hair care brand that is trusted by many hair salons all over the world. 
In addition to salon-exclusive products that can be purchased at beauty salons, Milbon is a commercially available product that is sold at drugstores, so you can easily experience salon-quality hair care at home.
This Milbon serum shampoo is an age-defying shampoo that repairs, rejuvenates, and nourishes weak and broken hair strands. Milbon product is widely known for its CMADK technology - a Keratin-derived protein that is said to restore hair's strength by binding inside the hair via disulfide bonds.
Together with jojoba oil as an active ingredient, the shampoo also assists in bringing back smoothness and softness in hair texture while reinforcing the resilience of each hair strand. It is also rich in antioxidants such as soybean extracts which repair damaged hair follicles. 
Milbon Plarmia Hairserum Shampoo M 500g
$48.00
The Japanese shampoo market has so much to offer with so many choices. Have you ever used any shampoos that we listed above? Let us know your thoughts in the comments below!