How To Properly Maintain Japanese Knives: Your One-Stop Shop For Knife Maintenance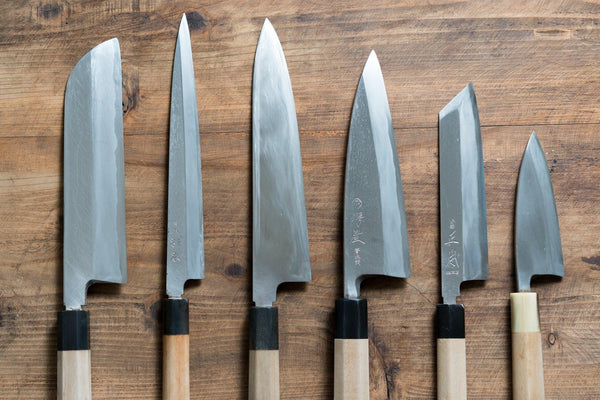 Jump to:
A well-maintained knife not only enhances kitchen efficiency but also ensures safety during food preparation. This guide will teach you how to properly care for your Japanese knives. Follow these steps to keep your knives in optimal condition for years to come.
Caring For Japanese Knives
Follow these steps to adequately take care of your Japanese knives at home. 
Regular Cleaning:

Wash knives by hand immediately after use with mild soap and warm water. Avoid abrasive scouring pads or harsh detergents that can damage the blade.

Proper Drying:

Dry knives promptly with a clean, dry cloth to prevent corrosion. Store knives in a knife block, magnetic strip, or on a magnetic rack to allow air circulation.

Hand Washing Only:

Never put your knives in the dishwasher as the harsh environment can damage the blade, handle, and overall integrity of the knife. Always hand wash your knives 
Storing Japanese Knives
It is recommended to store knives in a designated block, on a magnetic strip, or in blade guards to protect the edges and prevent accidents. Avoid tossing knives in drawers with other utensils, as this can cause damage and dulling.
Sharpening Japanese Knives
If you are noticing a decrease in performance from your knives or find the edge to be dull, it's time to sharpen your knife. If you've never sharpened a knife at home before, no problem! We wrote a dedicated guide to sharpening knives on our sister site, Daitool. 
Using The Right Chopping Surfaces
Use cutting boards made of wood or soft plastic to prevent premature dulling. Avoid cutting on hard surfaces like glass, granite, or ceramic to preserve the blade's sharpness.
Knife-Specific Usages
Not all knives serve the same purposes. Make sure to use the right knife for the right task to avoid unnecessary stress on the blade. For example, avoid using chef knives to cut through bones or frozen items, as this can damage the blade. If you're unsure about which knives you need in this kitchen, this article gives an in-depth look at different Japanese knife types. 
Knife Handles
Clean knife handles regularly to remove any food particles or grease. Wooden handles may benefit from occasional oiling to prevent drying and cracking.
Knives & Acidic Foods
Acidic foods can corrode the blade over time. Wipe the blade immediately after cutting acidic ingredients like citrus fruits or tomatoes.
Can Serrated Knives Be Sharpened?
Serrated knives such as bread knives can be sharpened, but the process is different from sharpening straight-edged knives. Serrated knives have teeth along the edge, and instead of honing the entire edge, you'll need to focus on each individual serration. 
While serrated knives can be sharpened at home, it can be a bit more challenging than sharpening straight-edged knives. If you're uncertain or uncomfortable doing it yourself, consider taking your serrated knife to a professional knife sharpener. They have the expertise and tools to properly sharpen serrated blades without compromising their integrity.
Beneficial Products For Taking Care Of Japanese Knives?
If you're looking for particular products that can prolong the life of your Japanese knives, here are some recommendations. 
Tsubaki oil, also known as Camellia oil, can be beneficial for caring for knives. Tsubaki oil is a traditional Japanese oil derived from the seeds of the Camellia plant. It has been used for centuries in Japan for various purposes, including the maintenance of blades and tools.
As previously mentioned, using an appropriate cutting board will help to prevent premature dulling of the blade. If you don't know where to start, we recommend this one as it is easy to cut on and is antibacterial. 
Whetstones
In order to prolong the life of your knife and keep it at pique sharpness, then a whetstone will definitely be necessary. We recommend this whetstone for your knife sharpening needs as it is meant to sharpen household knives. For repairing chipped knives, this whetstone is the way to go!
By incorporating these practices into your routine, you can extend the life of your knives, ensure optimal performance, and maintain a safe kitchen environment.
Curious about how to maintain your other Japanese kitchenware items? We have articles dedicated to caring for iron, copper, and stainless steel.