What is Yuzu? Everything You Need to Know About this Fragrant Japanese Fruit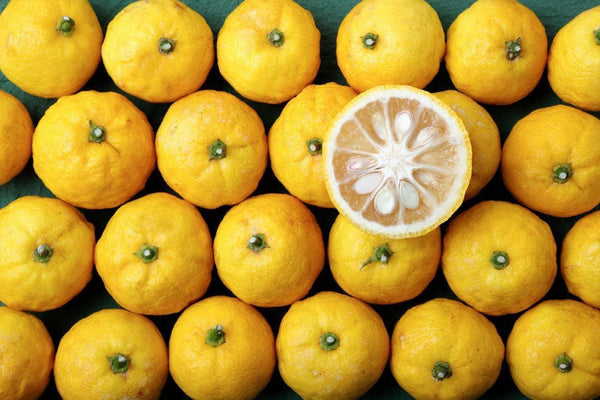 Jump to:
What is Yuzu?
Yuzu is one of the major citrus fruits in Japan. It is similar in size to a lemon or tangerine but has a tougher and thicker skin. Yuzu is well known for having a unique aroma, which comes off as distinctively refreshing when used in cooking and is also relaxing to use in the bath. Yuzu belongs to the Rutaceau or citrus family, along with other similar fruits like mandarin oranges, lemons, grapefruits, sudachi, and kabosu.  
Yuzu History
The history of yuzu dates back over 1000 years ago. Yuzu, which is written as 柚子 in Kanji originated in China somewhere along the upper basin of the Yangtze river but has been cultivated in Japan for centuries. In fact, yuzu is believed to have been introduced to Japan during the Nara period. 
Initially, the cultivation of yuzu was strictly for medicinal purposes in Japan, but as time went on and people realized how aromatic and delicious yuzu was, they started implementing different ways such as culinary and relaxation purposes to use it. 
Up until the 1940s, yuzu cultivation mostly took place in Saitama located near Tokyo, but this changed in the 1960s when the Shikoku region situated in the southwest, specifically Kochi prefecture became the dominant producer. To this day, Kochi remains to be the biggest producer of yuzu in Japan. 
What does Yuzu taste like?
Yuzu can be described as having a strong, sour taste but being very fragrant. It is too sour to eat on its own but is often included in dishes for its ability to create a refreshing aroma. For this reason, yuzu appears in a lot of Japanese winter dishes like nabe. Even though yuzu has its own distinct flavor, many people describe it as tasting somewhere in between a lemon and a grapefruit. 
Is Yuzu the same as Lemon? 
Since yuzu and lemon are both yellow, sour citrus fruits, it may be easy to confuse them with each other. The biggest difference between these two is their aroma. Yuzu has a very distinguishable aroma that cannot go undetected once you smell it. While lemons also have their distinct flavor and aroma, they simply cannot be characterized as being the same as yuzu. 
Where is Yuzu cultivated?
Every year, more than 27,000 tons of yuzu are produced in Japan. Over 80% of this amount takes place in the Shikoku region of Japan, specifically in Kochi prefecture. In Kochi alone, over 50% of Japan's yuzu (13,500 tons) is produced there. The other 30% of yuzu cultivation in Shikoku takes place in Tokushima and Ehime prefectures. Outside of Shikoku, other prefectures such as Aichi and Shizuoka also grow yuzu, but not nearly to the same level as that of Kochi. 
Kochi has the ideal climate for cultivating delicious yuzu fruit because it is covered in lush forest and terrain. Therefore, there are plenty of great areas within Kochi for growing yuzu. 
When is Yuzu cultivated? 
Unlike other citrus fruits, which are usually grown in warm climates, yuzu thrives in colder climates. Is resistant to the cold, so cultivation thrives during the fall and winter months unless the temperature drops below -5°C. 
While yuzu can be purchased in supermarkets in Japan year-round, the peak harvest season takes place during the beginning of winter, in November and December. Yuzu blossoms bloom during the early summer and unripe (green) yuzu is available from the end of July to early September 
Yuzu varieties
There are 4 main varieties of yuzu available in Japan. They are known as Hon Yuzu, Seedless Yuzu, Hanayuzu, and Yukou.
Yuzu (hon yuzu) 
Yuzu also called hon yuzu or real yuzu in Japanese is the most typical type of yuzu that you may already be familiar with. It is characterized by its strong aroma, in both the peel and juice of the fruit. They are also usually around 110-130g in weight and about 8cm in diameter. The yuzu peel and juice are ideal for being used as a flavoring agent in cooking and baking, as well as for making jams and marmalades. 
Seedless Yuzu
Seedless yuzu is not as sour as regular yuzu, making it a popular choice for being used in cooking and baking in Japan. Contrary to its name, seedless yuzu does contain seeds but not as many seeds as regular yuzu. It is also a bit smaller in size compared to regular yuzu, coming in at around 80-100g.  
Hanayu (Yuzu flower)
Hanayu, which means Yuzu flower represents a variety of yuzu fruit as well as the flower of yuzu which blooms during the spring. It is small in size, about 40-50g, and has a much thinner skin than regular yuzu. 
It has a much more mild scent than regular yuzu but is still quite fragrant. When used in cooking, hanayu is great at flavoring soups and dishes, without being too overpowering.  
Yukou 
Yukou, which is also called Yuzuka or Yuzukan in Japanese is a variety of yuzu that was made by crossbreeding different kinds of citrus that belong to the yuzu family. It has fewer bumps on its skin than regular yuzu and has a mellow sweet and sour flavor. The flavor of Yukou works phenomenally well in flavoring sauces, so manufacturers of ponzu sauce often seek out Yukou to flavor their ponzu sauce with. 
Shishi Yuzu 
This is a bit of a wildcard yuzu because it is not technically a real yuzu fruit. Shishi yuzu, which translates to lion yuzu is actually a type of pomelo but tastes similar to yuzu. Shishi yuzu is also sometimes called oni yuzu, or demon yuzu. This type of pomelo has tough, thick skin as well as a strong sour taste, making it a great choice for making yuzu jams and marmalades. 
Yuzu health benefits
Yuzu is full of many vitamins and nutrients useful for our bodies like vitamin C, potassium, dietary fiber, and calcium. In fact, yuzu is said to have the most vitamin C out of all Japanese citrus fruits and even contains 3 times more vitamin C than lemon. 
The yuzu peel contains aromatic substances such as limonene and pinene, which are said to have a relaxing effect on the mind. Yuzu is also full of citric acid since it is a citrus fruit. The citric acid is the source of yuzu's intense sour flavor, but citric acid is also said to help reduce fatigue and increase appetite. 
How to use Yuzu?
The juice, skin, and fruit itself are used in a variety of ways in Japanese cuisine and recently in other countries' cuisines too such as in French cuisine. Yuzu is rarely enjoyed as is because it is so sour. It is usually added to a dish to enhance its flavor or give it a certain aroma. 
Another popular way to enjoy yuzu in Japan is by adding it to the bath. In Japan, many people celebrate the Winter Solstice by taking a yuzu bath. When yuzu floats in the hot water of the bath, their natural aroma and fragrant scent are released at their peak, making it an ultimately relaxing experience. Some people also use yuzu bath salts or yuzu essential oil to get a similar effect. By adding yuzu to the bath on the day of the Winter Solstice, it is believed that you won't catch a cold for the entirety of winter. Not to mention, yuzu in combination with hot water helps to treat rough skin and warm the body.    
If you want to use yuzu in your cooking, baking, or even beverages, we'll outline some ideas below of how you can use it. 
Cooking and Baking
If you want to use yuzu in your cooking, try adding the zest of the yuzu peel to add a nice aroma to dishes. For making stir-fries, you can use both the zest and juice of yuzu to add a unique flavor. If you only want the aroma of yuzu to be present in your dishes, try adding the zest to flavor vegetables or steamed fish. If you make pickles, you can also add chopped yuzu to your pickles to make yuzu-flavored pickles. Finally, you can add the zest or the juice (or both!) of yuzu to your salad dressing to elevate the flavor. 
For baking with yuzu, you can use it the same way you would use lemons for baking cakes, cookies, and more. Both the zest and juice of yuzu complement desserts nicely, so feel free to use yuzu in your baking to give it a bit of Japanese flare. 
Drinks 
There are many ways to add yuzu flavor to your daily beverages. For example, try squeezing a few drops of yuzu juice into fresh or carbonated water the same way you would with lemon.
You can also try drinking fresh yuzu juice straight as is in a shot glass (about 30ml) in the morning. By doing this, your body will absorb 3 to 4 times more vitamin C than by drinking lemon juice. Its intense sour flavor may also help you to wake up in the morning! The high amount of vitamin C is especially beneficial in helping to prevent you from catching a cold.
Alcohol/Cocktails
The refreshing and tart flavor of yuzu also works extremely well in alcoholic beverages. Yuzu pairs very well with gin, vodka, and rum so it can be used when making cocktails. You can also turn yuzu into a syrup by cooking it with equal parts of sugar and water to use in cocktails. If you're a fan of beer, add a bit of yuzu juice to it and it will become a yuzu-flavored beer cocktail. 
In Japan, there is also a yuzu liqueur called Yuzu shu which is widely available in Izakaya restaurants and bars. This refreshing yuzu liqueur is commonly enjoyed on the rocks or in soda form. Additionally, if you're familiar with lemon chuhai or sour, you can find many restaurants and bars selling a yuzu version in Japan. 
How to choose Yuzu
When it comes to choosing a good yuzu, there are a few indicators that you can follow. Choose yuzu fruits that have firm skin and are bright in color. Try to avoid ones that have a little brown or discoloration on the surface as they might not be as fresh. A good rule of thumb for picking citrus fruits in general is to pick ones that are heavier in size. This is usually a good indication that the fruit is full of juice. This same principle can be applied to yuzu as well. 
Yuzu condiments
If you can't get your hands on some fresh yuzu but still want to experience its refreshing flavor and aroma, there are certain Japanese yuzu-flavored condiments you can try out. 
Yuzu ponzu –

A Japanese citrus-seasoned soy-based dipping sauce that has the perfect balance of acidity, saltiness, umami, and just a tad bit of sweetness. 

Yuzu kosho –

A seasoning paste made of chili peppers, yuzu peel, and salt. Though it contains peppers, it only has a mild spicy flavor but is also salty and citrusy at the same time. 

Yuzu salt –

Combines powdered yuzu and salt to make the ultimate citrusy and flavor-packed seasoning.

Yuzu jam –

You can enjoy yuzu in jam or marmalade form. Spread it over a piece of toast or cake, or even make a cup of yuzu citron tea by combining a little bit of the jam with hot water.  
Where to buy Yuzu?
Real yuzu fruit is not commonly sold in grocery stores outside of Japan due to strict regulations. However, there are other countries that cultivate yuzu such as China, Korea, France, Spain, Italy, and Australia. In the United States, yuzu can also be found growing in California, but real fresh yuzu fruits may still be hard to find for many people. If you cannot find fresh yuzu where you live, you may be able to find bottled yuzu juice located in the Asian section of your grocery store or online. For authentic yuzu condiments straight from Japan, you can purchase them from the Japanese Taste website. 
The more you learn about yuzu, the more you realize what a wide range of uses it has. Have you tried yuzu or yuzu flavored products before? Let us know what you think about yuzu in the comments below!