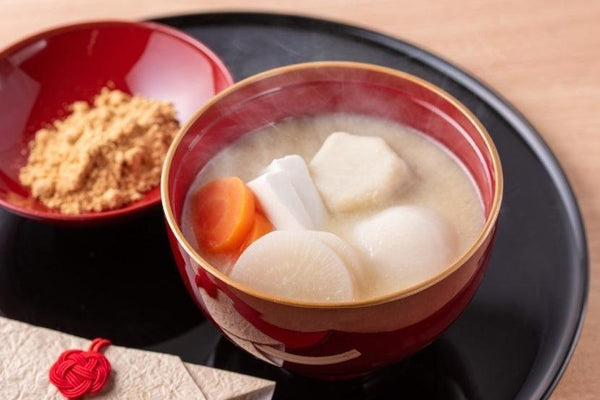 Miso soup is the most commonly eaten soup dish in Japan. It is made by simmering ingredients such as vegetables, seaweed, and tofu in dashi broth and then dissolving miso paste into the broth. 
Miso is a fermented food made by adding salt and koji (malt) to grains such as soybeans, rice, and wheat. It was introduced from China about 1,200 years ago and has since been used in Japan as an everyday seasoning. Depending on the ingredients used to make miso, it can have a different flavor, color, and umami depending on where it's made, what ingredients are used, and the production method. 
Miso soup is mainly served as a home cooked dish or as a side dish in Japanese restaurants. In fact it is said that most Japanese consume miso soup everyday! There are even instant miso soup varieties available in supermarkets and convenience stores that can be made simply with the addition of hot water.
Since there are so many different types of miso pastes available in Japan and an infinite amount of ingredients that pair well with the taste of miso, you can mix and match both the pastes and ingredients to find your favorite combination. 
Throughout the next few recipe posts, we will be introducing different miso soup recipes. 
Today, we will introduce a miso soup recipe using white miso, or shiro miso (白味噌). White miso is fermented for a shorter period of time, relative to other varieties of miso. It has a rich sweetness due to the large amount of rice malt included. White miso is commonly used and loved in prefectures such as Kyoto, Okayama, Yamaguchi, Hiroshima, and Kagawa. 
Our recipe will include include hearty root vegetables and chewy mochi, which pair lovely with the sweetness of white miso. We hope you'll enjoyour simple yet delicious recipe for white miso soup, and try making it at home!
Overview
Prep time: 10 mins
Cook time: 10 mins
Total time: 20 mins
Total servings: 4
Difficulty: Easy
Ingredients
500 ml Water
5 cm Kombu (Kelp)
2 Japanese Taro (Satoimo)
Half of a Carrot (medium-sized)
3 Round Mochi (rice cakes)
3 Tbsp White Miso
Expert's Tip
The Tomoe Hokkaido Shikomi Shirotsubu is a white miso paste that is made with agricultural crops from Hokkaido, a region famous for its high quality crops. Compared with other miso pastes with a darker color, this type of miso a has milder and sweeter flavor. It is the perfect miso to use when making white miso soup.
Instructions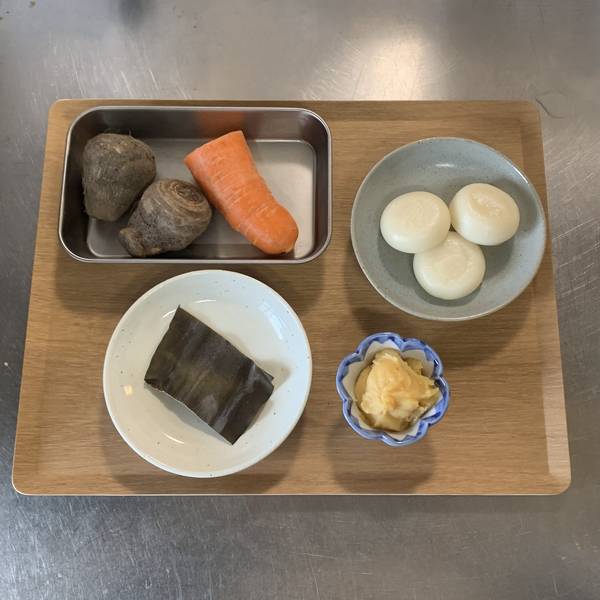 1) Gathering the Ingredients
Gather all of the ingredients together.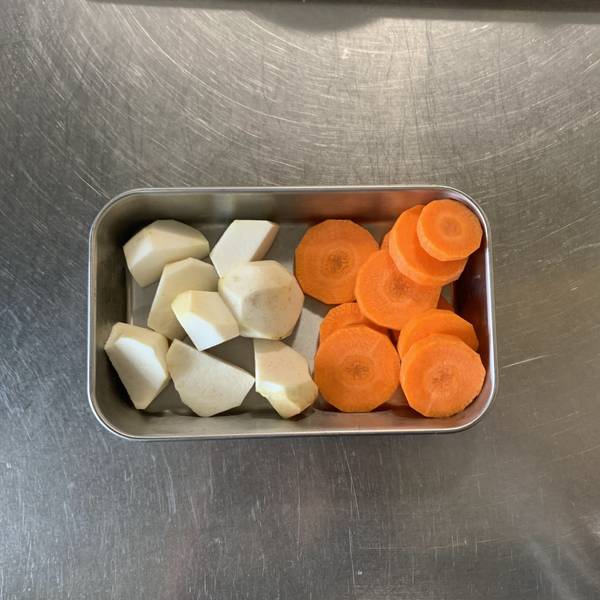 2) Preparing the Vegetables
Wash and peel off the skin of the taro and carrot. Cut both into bite-sized pieces.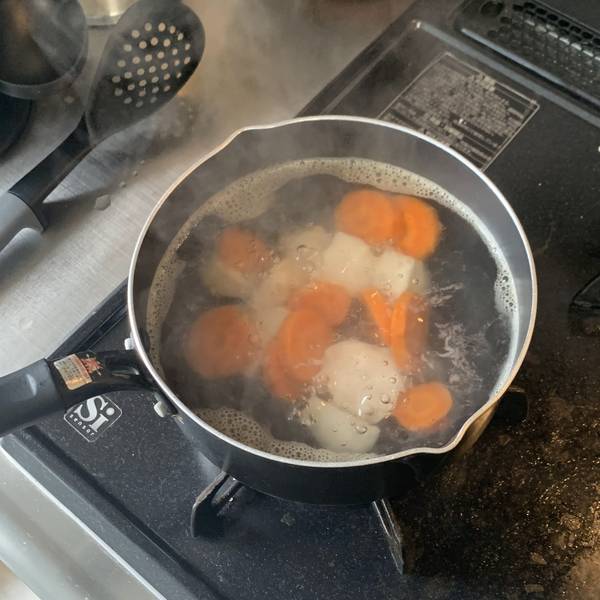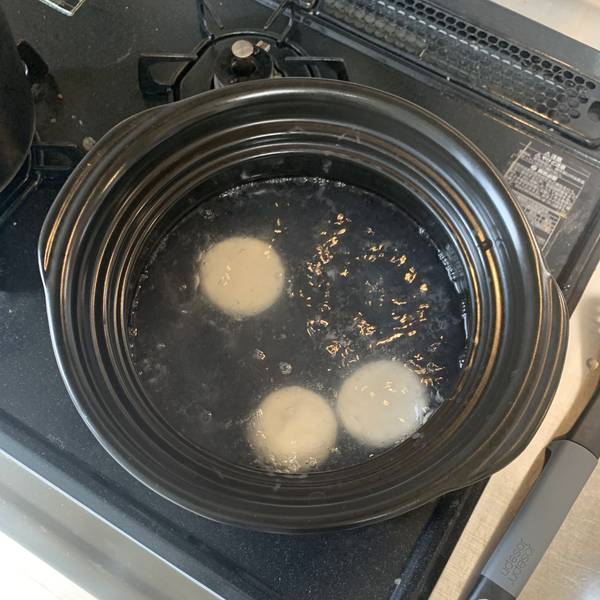 3) Boiling the Ingredients
Boil the prepared vegetables and mochi separately until they become tender.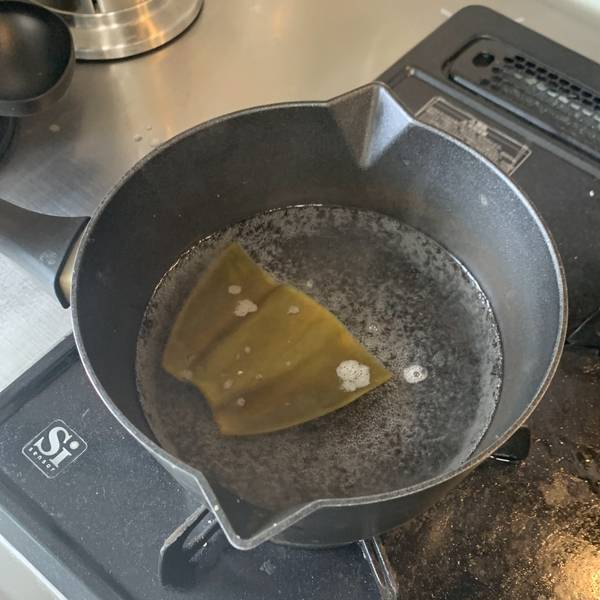 4) Making the Dashi Broth
In a separate pot, add the kombu and cold water. Take out the kombu before the water comes to a boil.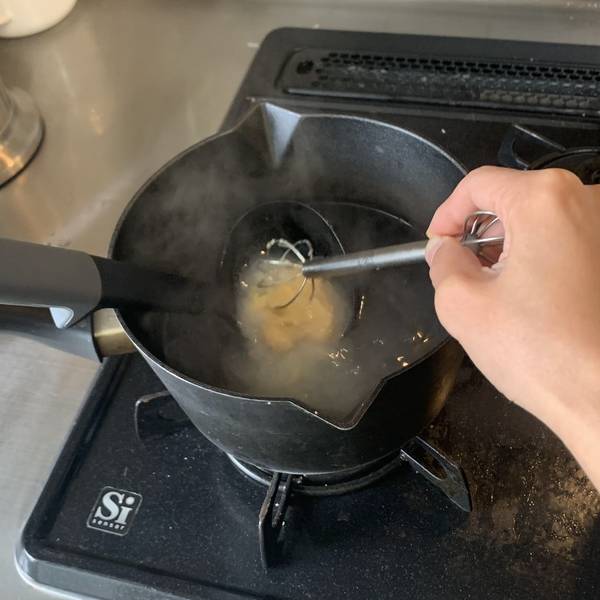 5) Mixing in the Miso
Add the miso paste into the kombu dashi broth, and be sure to dissolve it evenly.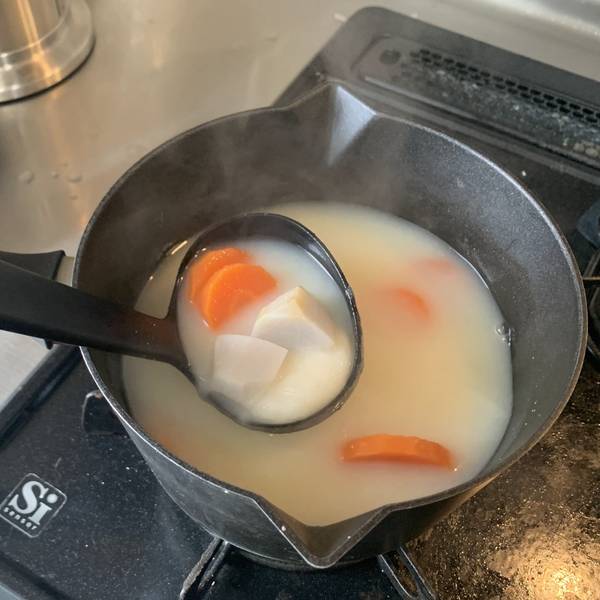 6) Combining Everything Together
Add in the vegetables and mochi into the soup. Allow all of the ingredients to simmer together for just a minute or two, so that the flavors can come together. Then it's done!