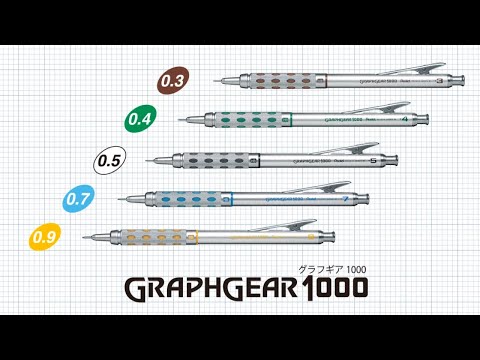 Are you looking for a high-quality mechanical pencil for technical work? GraphGear 1000 is designed to facilitate drafting and drawing, so you will love its functionality.
Containing anti-slippage rubbers, its stylish knurled grip facilitates precise writing and smooth line drawing with a ruler without fatigue. The pencil's thin lead sleeve enables you to easily check the lines and letters you have written.
Between the grip and sleeve, there is a small window that shows a lead grade. This enables you to easily identify the type of lead the pencil has. Furthermore, by rotating the sleeve, you can change the lead grade: each pencil has prints of HB, H, B, and 2B.
No more pushing back with your finger or pressing it against a hard surface: you can easily retract the lead by pressing it with a large-sized pocket clip. This retractable lead sleeve prevents damaging or blotting of your shirt even when stored into a chest pocket.
Its metallic body not only gives you a high-grade feel, but also can cater to heavy use and has little risk of breakage in case of being accidentally dropped or crushed.
We offer five different variations according to a lead diameter: 0.3mm, 0.4mm, 0.5mm, 0.7mm, 0.9mm.
Model number: PG1013 (0.3mm) / PG1014 (0.4mm) / PG1015 (0.5mm) / PG1017 (0.7mm) / PG1019 (0.9mm)
Materials: Aluminum (sleeve) / stainless steel (knock button) / steel (clip) / brass (lead sleeve) / brass, silicon rubber (grip)
Size: 150mm (overall length) / φ10mm (sleeve)
Weight: 20g
Made in Japan
Sign in to write a review / ask a question
Sign in