10 Best Japanese Milky Lotions For Smooth And Radiant Skin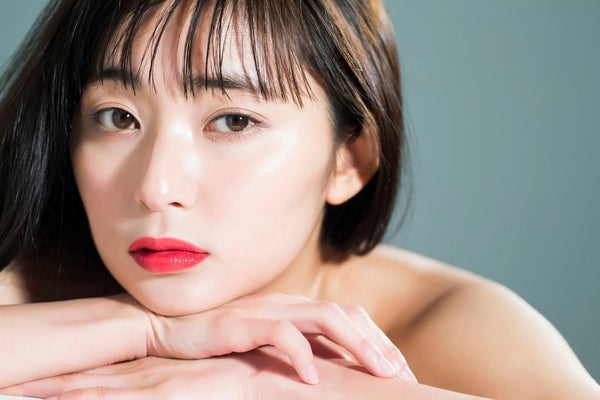 Jump to:
When it comes to skincare, there is certainly no shortage of Japanese beauty products to try. Among the many different types of Japanese skincare products on offer to consumers, one particular category stands out – milky lotions. 
These luxurious lotions have gained popularity for their unique properties and exceptional ability to improve the skin's appearance and texture. In this article, we will delve into the world of Japanese milky lotions, exploring what sets them apart from other types of lotions, why they are a must-have in your skincare routine, and recommend some of our favorite products that you can try at home. 
What Is Milky Lotion?
Milky lotions are a kind of lightweight cream popular in Japanese beauty regimes that are typically used for moisturizing and hydrating the skin. They have a creamy, milky appearance and texture. Milky lotions are designed to be easily absorbed by the skin, providing hydration without leaving a heavy or greasy residue.
What Makes Milky Lotion Different From The Other Kind Of Japanese Lotion?
Whilst in Western countries we tend to think of lotions as cream like products, in Japan, lotions usually refer to watery or toner-like products. These are normally used after cleansing and before applying moisturizers as part of the 'double cleansing' skincare routine. These lotions are typically lightweight and watery in consistency, serving to hydrate and prepare the skin for subsequent skincare steps.
On the other hand, milky lotion, is a specific type of moisturizer in the form of a creamy emulsion. It differs from the watery lotions in that it provides more substantial moisturization and acts as a standalone moisturizer rather than a pre-moisturizer step. Milky lotions are usually thicker in texture, offering a richer blend of hydrating ingredients and often containing nourishing oils.
Benefits Of Using Japanese Milky Lotion
Incorporating a Japanese milky lotion into your skincare routine can help to provide your skin with a deeper level of hydration, with lotions often containing nourishing ingredients such as plant extracts and vitamins to support overall skin health.
Milky lotions can also help to soften and smooth the skin, and for users with sensitive skin, they may find using a milky lotion less irritable than using a thicker heavier moisturizing cream.
Best Hydrating Milky Lotion
Described as a must-have item by consumers for anyone with dry skin and particularly during the winter seasons, Hada Labo Gokujyun Premium Super Hyaluronic Acid Hydrating Milky Lotion instantly hydrates skin and helps preserve its optimum moisture balance.
Applied after cleansing, this product's additive-free formula features a blend of 5 types of hyaluronic acid to deeply replenish skin, leaving you with a softer, and more supple complexion. 
Ideally suited for more sensitive skin, this lotion is free from irritants such as fragrances, mineral oil, alcohol, and colorants.
Rohto Hada Labo Gokujyun Premium Super Hyaluronic Milky Lotion 140ml
$14.99
Best Milky Lotion That Can Be Used All Over The Body
FANCL Body Milk is a 3-in-1 milky lotion combining moisturization, skin brightening, and aging care. As well as moisturizing, this lotion can be used to brighten dull skin and for treating dry areas such as elbows and knees, in addition to sunburn.
This milky lotion contains natural ingredients such as soybean extract and has a non-greasy feeling. It is best applied all over the body twice a day, ideally after a bath or shower. FANCL has been making skincare products designed to relieve skin problems since the 1980s and this lotion is free from antiseptics, aromatics, synthetic colorants, oil-based surfactants, and UV absorbers.
FANCL Body Milk Anti Aging Skin Brightening Milky Lotion 150g
$18.95
Best Luxury Milky Lotion For Normal Skin
Albion Exage Moist Advance Milk II is a premium Japanese milky lotion ideally suited for consumers with normal skin and is designed to give the skin's outer layer an additional moisture boost. This product has a smooth melty texture and is designed to be applied after cleansing the face.
Albion is a premium Japanese cosmetic brand usually only sold exclusively in high-end department stores and specialty shops in Japan. This product is perfect if you are looking to add a bit of luxury to your daily skincare routine.
Albion Exage Moist Advance Milk II Emulsion for Normal Skin 200g
$59.00
Best Affordable Milky Lotion
Chifure milky lotion is packed with moisturizing ingredients such as hyaluronic acid and trehalose, to create a soft and dewy complexion. It has a non-greasy texture that leaves skin feeling deeply hydrated and nourished. Free from fragrance, alcohol, and artificial colorants this product can be used on sensitive skin without irritation. 
Chifure is a Japanese skincare brand that specializes in making high-quality products at affordable prices, with all products made using carefully selected ingredients at their factory in Japan. 
Chifure Milky Lotion Moisture Emulsion 150ml
$13.85
Best Milky Lotion For Brighter Complexion
Kosé Sekkisei Medicated Milky Lotion is enriched with a blend of botanical ingredients including coix seed, inula flower, and moutan bark, to provide maximum long-lasting hydration and luminous skin. This product works deep into the skin without leaving any sticky feeling behind.
Beyond its exceptional hydration effects, this medicated milky lotion also works to suppresses melanin production, assisting to prevent freckles, dark spots, and dry, rough skin often caused by UV rays. The result is a brighter and more even-toned complexion.
Kosé Sekkisei Medicated Milky Lotion 140ml
Best Milky Lotion For Sensitive Skin
Matsuyama moisturizing milky lotion is formulated with soybean-derived ingredients which support the skin's outer layer that serves as a barrier between the body and the environment. Other ingredients include squalane and five types of ceramides to create supple, moisturized skin. 
This lotion has a thick, creamy texture and blends smoothly into the skin, and controls oil and water balance while leaving a soft and smooth complexion. It can also be used on sensitive skin as it is free from irritants such as alcohol, parabens, fragrance, color, and mineral oils.
Matsuyama Hadauru Moisturizing Emulsion Milky Lotion 95ml
$21.98
Best Milky Lotion With Skin Protection Benefits
Hirosophy Sakura Yuri Milky Lotion is formulated with Japanese cherry blossom and clove extract to restore the skin's barrier, moisturize the skin, and prevent dryness and roughness. This product also helps treat acne, brighten skin, and prevent dark spots and signs of aging.
Cherry blossom extract contains antioxidants that help to prevent collagen breakdown and suppress the formation of wrinkles. Additionally, this milky lotion contains other plant extracts known for their anti-aging and anti-pigmentation effects such as Madonna Lily extract and Plantago major seed extract.
The Cherry Blossom milky lotion also contains other natural ingredients that have skin healing effects such as prunus mume fruit extract (Japanese apricot) to improve the dullness of skin and acerola fruit extract to protect your skin from UV damage.
Hirosophy Sakura Yuri Cherry Blossom Milky Lotion 100ml
$49.00
Best Whitening Milky Lotion
This popular whitening milky lotion from Rohto Hada Labo helps to prevent mottled and freckled skin by suppressing the production of melanin. It contains skin nourishing ingredients such as Japanese and Chinese Natural Medicine Coix Lacryma-jobi (job's tears) to soften and smoothen skin, as well as Vitamin E and Vitamin C.
This new improved formulation of Rohto Hada Labo's Shirojyun Medicated Whitening Milky Lotion also contains 1.5 times more hyaluronic acid than previous versions to effectively moisturize skin. 
Rohto Hada Labo Shirojyun Medicated Whitening Milky Lotion 140ml
Best Milky Lotion For Glowing Skin
This lightweight airy moisturizer from SK-II is packed full of skin-nourishing ingredients and is absorbed quickly into skin for a healthy and supple complexion. The Skin Power milky lotion is ideally suited for oily skin and warm climates and utilizes the latest developments in skincare technology to create a plumped up and glowing complexion.
This product's unique formula contains an exclusive cocktail of skin hydrating ingredients such as calla lily extract, dokudami extract, and peony extract along with pitera, a powerful moisturizing ingredient derived from yeast fermentation.
SK-II Skin Power Airy Milky Lotion 50g
$149.00
Best Anti-Aging Milky Lotion
This milky lotion delivers deep, nourishing hydration while also offering firming and smoothing benefits for the face and neck. Part of the renowned Hada Labo Gokujyun series, it works to keep your skin hydrated and resilient, giving it a lifted appearance from within. 
This versatile product can be used as a standalone moisturizer or in combination with other Hada Labo Gokujyun Aging Care products for enhanced results. With a combination of niacinamide and three hyaluronic acids, it effectively locks in moisture, improves wrinkles and spots, and promotes a smoother texture. The thick yet smooth texture ensures easy application, reaching deep into the cell layer to support resilient and moisturized skin. 
Additionally, its mild acidic formulation reduces the likelihood of irritations and is fragrance-free, colorant-free, mineral oil-free, alcohol-free, and paraben-free.
Rohto Hada Labo Gokujyun Anti-Aging Milky Lotion 140ml
$17.95
Want to discover more transformative Japanese skincare products? Check out this article on 10 of The Best Japanese Lotions to Make Your Skin Look Radiant and the 10 Best Japanese Skincare Serums and Their Benefits.