5 of the Best Matcha Cafes in Kyoto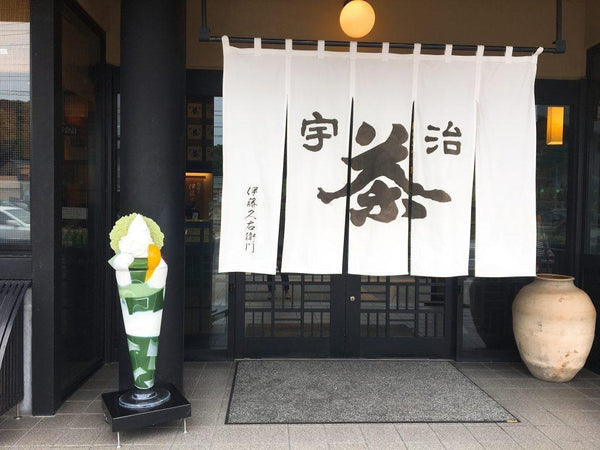 Jump to:
Matcha is a powdered green tea that has been consumed in Japan for more than 1,200 years, initially by Buddhist monks to help them keep awake during long periods of meditation. Unlike other kinds of green tea, matcha is grown in the shade, resulting in a more bitter flavor, which pairs perfectly with Japanese confectionary and desserts, creating a harmonious balance between sweet and bitter. Matcha is not only delicious, but also has several health benefits thanks to its high volume of antioxidants and vitamins.
The most famous matcha comes from Uji in Kyoto, so it's no surprise that you can find numerous cafes within the region specializing in matcha flavored items, from drinks to desserts. In this article we'll introduce five of the best cafes within the Kyoto region to indulge in luxurious matcha desserts!
The Ultimate Matcha Parfait at Saryou Suisen in Kyoto
Saryou Suisen is a Kyoto based traditional teahouse, cafe and shop specializing in Japanese matcha desserts. High-quality desserts are guaranteed as Saryou Suisen only uses the freshest matcha directly harvested from Kyoto surroundings.
The Vibe
Saryou Suisen looks like a traditional Kyoto house from the outside. Inside, expect dark brown tones and minimalist decoration typical of Kyoto-style.
What to Eat at Saryou Suisen
There are a variety of green tea powder-based sweets to choose from, but our recommendation is the Suisen Matcha Parfait. This parfait is truly unique because it is made with many types of handmade Japanese sweets complemented with rich matcha from Kyoto. It's also beautifully presented and there is so much there you won't need to eat again for a while! 
Just on the top of the parfait we can distinguish seven kinds of traditional Japanese sweets; green tea soft ice-cream, matcha wafer, matcha dorayaki, dango (the glutinous rice dumplings), anko (sweet red azuki beans paste), matcha warabimochi, and matcha Baumkuchen.
The contrasting textures of this dessert from the softness of warabimochi or the sponginess of the baumkuchen in combination with the stickiness of the dango, make it a feast for the tastebuds!
Saryou Suisen (茶寮翠泉) Access:
Saryou Suisen is in Takatsujicho, a secondary street of Kyoto about 350 m. away from Shijo Station or Hankyu Karasuma Station.
Matcha Sweets at Tsujirihei Honten in Uji, Kyoto
Tsujirihei Honten is a traditional matcha teahouse situated in the picturesque town of Uji in Kyoto Prefecture. Uji is famous for producing high-quality Japanese green tea and for its temples, including the Byodo-in temple, a UNESCO World Heritage site. This historic teahouse was first established in 1860 and is well worth a visit if you are in the area just to see the house and gardens.
The Vibe
The teahouse is housed within a former tea factory featuring many traditional Japanese design elements and is divided onto two floors. On the basement-floor lives a souvenir and gift shop with a matcha delicatessen selling traditional Japanese sweets. On the same floor, you can sit and enjoy the different Japanese desserts from the menu.
On the second floor there are more rooms mainly used for events such as tea ceremonies. If you are visiting during the spring, try to get yourself a seat in front of the floor-to-ceiling windows that face out onto cherry blossoms.
What to eat at Tsujirihei Honten
You can't visit this teahouse without trying some of their matcha desserts. Some of our favorite dishes include the Uji matcha Mont Blanc – sweetened chestnut puree with a matcha twist, and the Uji matcha chocolate cake, containing three layers of chocolate and matcha goodness.
Other recommended desserts include the selection of parfaits, like the hojicha (roasted green tea) parfait and the Uji matcha parfait. The Uji matcha parfait is a decadent dessert to indulge in – a true work of food art made of matcha sweets that starts with a foundation of jelly, followed by layers of crisp flakes, matcha jelly, matcha sponge cake, green tea soft ice-cream, shiratama dango, a matcha chocolate covered chestnut, some azuki anko and a crunchy green tea cookie.
Tsujirihei Honten (辻利兵衛本店) Access:
To get to Tsujirihei Honten, take the JR or Kintetsu train to Uji Station.
Shaved Ice and Perfect Parfaits at Shimizu Ippoen in Kyoto
Shimizu Ippoen is a Kyoto based traditional teahouse, cafe and shop specializing in Japanese matcha desserts made from fresh matcha powder harvested and refined locally in Kyoto Prefecture.
The Vibe
The café's exterior has a black façade and resembles a traditional Kyoto house – known as a machiya in Japanese, whilst the interior features minimalist décor and comfortable seating areas.
What to eat at Kyoto Shimizu Ippoen Cafe
Shimizu Ippoen uses different kinds of matcha powder for their desserts and sweets depending on the dish and season. For example, during the summer months one of the most popular items on offer is the matcha kakigori – a refreshing shaved ice dessert designed to help fight back against the heat and humidity of Japanese summers. The dessert's matcha topping is unsweetened so you can taste the strong Japanese matcha flavor. It also comes with dango and sweet azuki beans, ingredients you can add on the dessert while you eat.
Ippoen's take on the matcha parfait is also quite unique, with textures and ingredients not seen in other cafes. From the top down – a scoop of matcha soft ice cream sits upon dango (glutinous rice dumplings), green tea jelly, a matcha cookie, and a candied chestnut. The second layer is composed of rich matcha ice cream followed by crunchy pieces of puffed rice chocolate. The bottom of the parfait features a layer of plain cream followed unusually by Japanese mushrooms, kinako cream, and coffee jelly. Surprisingly, the mushrooms work, trust us!
Shimizu Ippoen (茶匠 清水一芳園) Access:
Shimizu Ippoen is located in Higashiyama ward, very close to Hyatt Regency Kyoto, and is 10 minutes' walk from Shichijo station, or 12 minutes' walk from JR Tofukuji station.
Matcha Jelly at the Historic Nakamura Tokichi
This historic green tea shop and café located in Uji dates all the way back to Japan's Meiji Period (1868-1912) and is a designated National Cultural Property. There are many branches of Nakamura Tokichi in Japan, but the Uji property is their flagship store. Originally a shop selling popular tea leaves, today it specializes in matcha sweets and operates as a café.
The Vibe
This traditional building features old-fashioned noren curtains, dark wooden panelling, and heavy beams with a sleek, sophisticated feel. A beautiful, landscaped garden surrounds the café with pine trees that have stood on the same site for hundreds of years.
What to Eat at Nakamura Tokichi
There are often long lines of customers at Nakamura Tokichi, many of whom are waiting to try the Namacha Jelly dessert. Served in an aesthetically pleasing natural bamboo bowl (which you can also purchase), this dessert features smooth matcha jelly served with rice-flour dumplings, azuki red bean paste, and matcha ice cream.
Another popular menu item you can try is the Maruto Parfait, a treasure trove of a dessert that sees a matcha flavored castella cake filled with cream, ice cream, jelly, sweet red beans, berries, and lemon jam.
Nakamura Tokichi (中村藤吉本店 宇治本店) Access:
You can find Nakamura Tokichi just a one-minute walk from JR Uji Station.
Ten Japanese Café
This rustic yet stylish café specializing in matcha desserts is located in the Higashiyama area of Kyoto and is situated close to Kiyomizu-dera, one of Kyoto's most famous temples and a UNESCO World Heritage Site.
The Vibe
This dessert café features lots of natural materials incorporated within its design and has a comfortable and relaxing atmosphere. Expect lots of handmade mismatched ceramics and pottery as tableware, which can also be purchased at the adjoining gift shop next door.
What to Eat at Ten Japanese Café
Visitors flock to Ten for one dessert in particular – the matcha rare cheesecake. Definitely a dish fit for Instagram, this rich and soft cheesecake has an elegant marbled white and green design and is served on a simple black slate plate to create a striking contrast, framing it as if it were a piece of art.
If you're not a fan of cheesecake, then you could also try one of the other dessert items on offer such as the matcha and white chocolate terrine served with green tea ice cream or a matcha parfait.
Ten (天) Access:
Ten Café is situated a short walk away from Kiyomizu-dera temple or 18-minutes' walk from Kiyomizu-Gojō Station.
Other Unique Matcha Desserts You Can Try in Kyoto
Also worth mentioning here is the Jouvencelle confectionary shop, situated a couple of minutes' walk from the Yasaka Shrine. Although not strictly a matcha café, they do have one unique matcha item on the menu – a matcha fondue dip served with seasonal fruits and wagashi sweets made inhouse.
Over at Umezono Café near Kyoto's famous Nishiki Market you'll find a variety of matcha desserts but the one that stands out the most is the matcha hotcake – pancakes made with matcha powder from nearby Uji. 
Where to Buy Japanese Matcha Online and How to Make Your Own Matcha Desserts
If you can't make it over to Kyoto right now to try some of the amazing desserts we have mentioned in this article, don't despair! You can buy premium quality matcha powder directly from Japan through the Japanese Taste website to make your own desserts at home, along with creamy instant matcha latte drinks and sweet treats such as matcha covered chocolate strawberries and matcha cookies.