All About The Shinkansen – The Fastest Train In Japan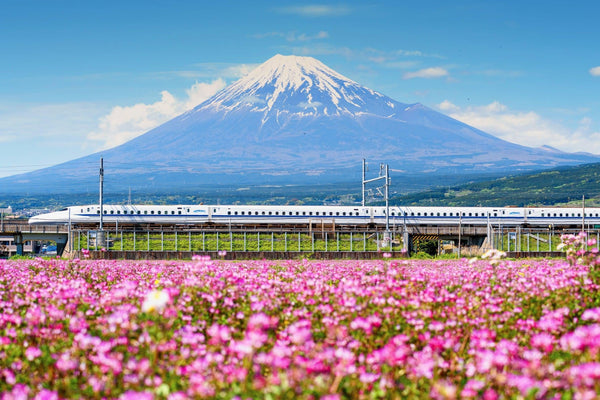 Jump to:
You've probably heard of the Shinkansen before - although maybe by a different name. It's often called the "bullet train." Whatever you prefer to call it, the Shinkansen is a great way to travel around Japan and - depending on where you're going - it can be even faster than going by plane.
The Shinkansen is one of Japan's many great technological achievements. It was the first commercial train in the world to reach such high speeds. Because it's so fast, it allows residents and visitors the ability to get between major cities in rapid time. All of this while providing a pleasant riding experience with some amazing views.
This article will tell you all about the Shinkansen – from tickets to seating and more.
What Is The Shinkansen?
The Shinkansen is a high-speed train used to travel throughout Japan. There are multiple Shinkansen lines going to and from various major cities. The first Shinkansen line (the Tokaido Shinkansen) was completed in 1964 - just in time for the first Tokyo Olympics.
Shinkansen Tickets
Shinkansen tickets are not difficult to buy. You can purchase them online or in-person. However, you should purchase your ticket in advance, especially during peak travel times. Sometimes there aren't seats available.
Japan Rail Pass
If you're a visitor to Japan, the Japan Rail Pass can save you a ton of money. It works for both local trains and the Shinkansen. For the purpose of the Shinkansen, you should buy the Japan Rail Pass if you plan on making at least one (or more) round-trip in Japan.
There are various Japan Rail Pass packages available. You can choose one based on the area you plan to travel in on the Japan Rail (JR) website. Each pass covers a different geographical area and allows a certain number of days in which you can use it. The prices vary, depending on where in Japan you plan to travel and if you want to travel by green car (like "first class" seating) or not.
To give you an idea of pricing though, one of the passes you could buy is the "JR East Pass" (about $150 USD or ¥20,000 YEN). It gives you 5 days of travel on all trains and the Shinkansen in the Tohoku area. If you're not familiar with the area, Tohoku includes Tokyo and much of the northeastern part of the main island of Japan (called Honshu).
If you buy this JR East Pass, let's say you want to go to Tohoku's Zao Fox Village. This is an interesting place in Tohoku where you can see lots of cute foxes (and other animals). If you were to pay for just the Shinkansen and local train alone from Tokyo Station to Zao Fox Village, you would pay about $176 round trip (¥23,990 YEN). That's more than the cost of the Japan Rail Pass itself! You can imagine the savings you get when you consider that this would likely be just one of the trips you would take during those five days. So, definitely consider the Japan Rail Pass.
Note: If you are a foreigner living in Japan, you can use some of the Japan Rail Passes, too.
In-Person
You can buy Shinkansen tickets in-person at ticket machines or at counters at a train station that a Shinkansen stops at. The ticket machines somewhat resemble ATMs and are usually near the train station gates. Just make sure you pick the ticket machines for the Shinkansen, and not the regular, local train lines. If you prefer talking to a real person, the JR Ticket Offices and Travel Service Centers at train stations will have staff at a counter to help you. Just look for these logos at the counters for help with the Shinkansen.
Online
You can purchase Shinkansen tickets online, but you can't buy them directly through the JR websites in most cases. You'll need to go through a separate website. The main online ticketing sites for each Shinkansen are eki-net.jp (JR East) and smart-ex.jp (JR Central, West, and Kyushu). However, be aware that some people find the websites and apps a bit difficult to use. There have also been some issues with foreign credit cards reported, so you may want to buy them in-person.
Types Of Shinkansen Tickets And Seating
There are two primary types of tickets for the Shinkansen - reserved seats and unreserved seats. There are also different classes of seats - green car (like "first class" seating) and regular. The green cars are certain cars on the Shinkansen that have reserved first-class seating only. Other cars on the train provide regular seating where people can use reserved or unreserved tickets.
Reserved and Unreserved Seating
Buying a reserved seat guarantees that you will have a place to sit on the Shinkansen. It doesn't offer any higher class of seating. The actual seats themselves are the same as the unreserved seats, but with reserved seats, you can actually choose where on the train you want to sit. This could be useful if you prefer a window seat or want to be near the bathrooms. It can also be good if you want to get a nice view of Mount Fuji or want to sit on a certain side of the train.
On the other hand, unreserved seats are a bit cheaper. This is because you don't know exactly where you'll be sitting. You just take whatever seat you see available when you get on the Shinkansen. Keep in mind, however, that sometimes the train is full. If that happens, you won't have a place to sit. You can stand, though, and a seat may become available if someone gets off the train on your way to your destination.
Overall, if it's not a big holiday time in Japan (like Golden Week), unreserved seating is usually fine. There are - more often than not - seats available. However, if you want a guarantee - go with the reserved seating.
Green Cars and Ordinary Cars
In the case of "green cars" and ordinary Shinkansen cars, there is a difference between the two. Green cars provide a bit more space. They are the "first-class" of Shinkansen seating. Green cars usually have bigger seats, more legroom, and small luxuries like a small chair table. Take a look at the JR East site to get an idea of the difference - they include photos.
Green cars are also reserved seating only, so you can't pick unreserved seating if you plan to be in a green car. However, most people feel that the ordinary car has a very similar quality to the green car. So, you will probably be fine going with the ordinary seats and saving a little cash.
Names of Shinkansen "Services" (Nozomi, Hikari, Kodama)
When you purchase tickets for the Shinkansen, you may notice that some of the trips available have different names. These are called services. There are three different services to choose from: Nozomi, Hikari, and Kodama. Note: Not all destinations have multiple services available. 
Nozomi

- This is the fastest service. It has limited stops, so it skips many stations.

Hikari

-This is the second fastest service. It skips some stops.

Kodama

- This is the service that stops at every station, so it takes the longest (unless you're traveling a short distance).
How Much Do Shinkansen Tickets Cost?
The price of the Shinkansen varies depending on which Shinkansen you're taking and how far you're riding it. It also depends on whether or not you want reserved seating or if you're riding first class (in a "green car"). Also note that a round-trip ticket can be more affordable than buying two one-way tickets.
To give you an idea of prices, here is the pricing for a few popular Shinkansen routes. All prices were calculated at the time of this posting, and these are all one-way trips from Tokyo Station on a regular (not green) car in unreserved seating:
Tokyo to Osaka (Shin-Osaka Station) - $102 USD (¥13,900 YEN)

Tokyo to Kyoto Station - $98 USD (¥13,320 YEN)

Tokyo to Hiroshima Station - $135 USD (¥18,380 YEN)

Tokyo to Fukuoka (Hakata Station, Kyūshū) - $163 USD (¥22,220 YEN)
Baggage
There is generally plenty of room for baggage on the Shinkansen. For example, if you have bags that are fine to take on an airplane, they will generally fit into the overhead compartments on the train. However, if you think you have oversized luggage, you should reserve a spot on the Shinkansen specifically for this purpose. Oversized luggage, according to the Central Japan Rail Company, is "baggage with total dimensions ... between 160 and 250 cm." (that's between 5.25 and 8.2 feet) Reservations for oversized baggage can be made online, in-person or at a ticket machine.
Tokyo To Osaka Shinkansen
The Shinkansen that runs between Tokyo and Osaka is the most popular Shinkansen route in Japan. It's called the Tokaido Shinkansen. It is also the first Shinkansen route to be completed in Japan (1964). According to the Japanese government, the train is ridden by almost 200 million passengers annually. That is more than double the number of passengers of the second most popular Shinkansen, the Sanyō Shinkansen (about 77 million passengers annually).
The Tokaido Shinkansen gets you from Tokyo to Osaka in only two and a half hours. This is a huge time-saver when compared to driving. In the case of flying, it's debatable which one is faster. Make no mistake, flight time between Tokyo and Osaka is shorter. However, when you take into consideration the time it takes to get to and from the airport versus the Shinkansen station, your total travel time may vary.
Shinkansen Lines
There are various Shinkansen lines throughout Japan. They all run in different parts of Japan on different routes. The most popular Shinkansen lines are:
Tokaido Shinkansen

- This is the Tokyo to Osaka Shinkansen.

San'yō Shinkansen

- It runs between Shin-Osaka (Osaka) and Hakata (Fukuoka, Kyūshū).

Tōhoku Shinkansen

- This train travels from Tokyo to Shin-Aomori (northern Japan - just under Hokkaido).

Jōetsu Shinkansen

- It takes you from Ōmiya (about 30 minutes northwest of Tokyo) to Niigata (far northwest of Tokyo - facing the Sea of Japan).

Hokuriku Shinkansen

- Running between Takasaki (about an hour northwest of Tokyo by Shinkansen) and Kanazawa (also far northwest of Tokyo).

Kyushu Shinkansen

- Going from Hakata (Kyūshū Island) and Kagoshima-Chūō (about as far south as you can go without flying to Okinawa).
The Hello Kitty Shinkansen
If you like cute - or just interesting - things, you might want to try the Hello Kitty Shinkansen. It's actually pretty amazing - especially its interior design. It's decorated in the Hello Kitty motif (if you don't know Hello Kitty - gasp! - she's a cute little cat with many friends). This includes lots of adorable pink, purple, and pastel seats, baggage areas, and even a souvenir shop!
The Hello Kitty Shinkansen runs on the same route as the regular Shinkansen going from Osaka to Fukuoka (Kyūshū). It's not its own train line, it's just a novel Shinkansen car experience. If you want to try it, just check the Hello Kitty Shinkansen website for details on what days and times it's running. Have fun!
Shinkansen Speed
The Shinkansen is famous for being very fast - and it is! Shinkansen speed varies by train, but some can go as quickly as 200 miles per hour. Japan's high-speed trains were the first of their kind to move so rapidly. This is how the Shinkansen got its nickname, the "bullet train." It was a technological marvel when it was introduced to the world and is still admired for its incredible speed today. Impressively, while being such a fast form of transportation, it's also one of the safest. There have been very few accidents involving the Shinkansen. 
Other Shinkansen Tips
Purchase Food on the Train

- The Shinkansen has food and drinks available for sale on the train. Just wait in your seat, and you'll eventually see someone walking down the aisle with a cart. They'll stop by to ask if you want anything (it's a lot like an airplane).

Bring Your Own Food

- You can also bring your own food or drink onto the Shinkansen (yes, even alcohol!). The station has many shops where you can buy things like bento boxes, beer, and more.

Charge Your Electronic Items

- There are usually electrical outlets and USB charging ports available on the Shinkansen. However, please be aware that not all trains have this feature available. If it's very important to you, purchase your tickets from a real person at the train station who can confirm whether or not you can charge your electronic items.