From Beans to Brews: A Guide to the Best Japanese Coffee Products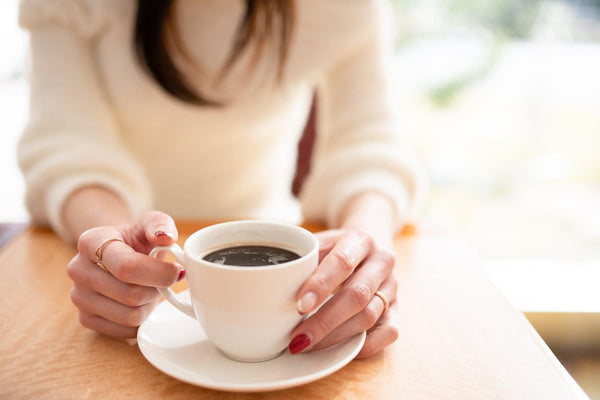 Jump to:
Japan is often associated with green tea and matcha, but did you know that it is also a bit of a haven for coffee lovers too? With a rich history of coffee culture that dates back to the 19th century, Japan has been perfecting the art of brewing coffee for decades. 
From traditional pour-over methods to cutting-edge gadgets, Japanese coffee products offer a unique and delicious experience that is definitely worth exploring. The good news is that you don't need to visit Japan to sample all the coffee products either. 
In this article, we will take a closer look at some of the best Japanese coffee drinks including drip coffee, instant coffee, pod coffee, and canned coffee that you can order online and easily try yourself at home! 
Best Japanese Instant Drip Coffee
Experience the rich and aromatic flavors of Japanese coffee with Key Coffee's Drip On Variety Pack. This pack includes 12 premium Japanese drip coffee bags, each individually wrapped and ready to brew in your coffee cup.
Featuring six different blends of coffee, each pack offers a unique taste and aroma, allowing you to savor a new coffee experience with every cup. The six blends include Classic Blend, made with beans from Brazil and Colombia, and the Kilimanjaro Blend, made with beans from Tanzania and Colombia. 
With the convenience of coffee drip bags, you can easily brew a fresh cup of coffee anytime and anywhere. Simply add hot water to the bag and let it steep for a few minutes, and you'll have a delicious cup of coffee in no time. 
Our customers love this product for its flavor and convenience making the coffee bags suitable even for outdoor trips and camping!
Key Coffee Drip On Variety Pack Drip Coffee Bags (Pack of 3)
$28.95
These great tasting drip coffee bags from UCC are filled with a rich and delicious ground coffee full of aroma and deep flavor. This flagship product allows you to enjoy barista-standard coffee in your own home.
UCC Craftsman's Coffee uses a unique double roasting method; known as W Roast, where coffee beans are roasted separately for richness and aroma. The roasted coffee beans are then blended together for maximum richness and aroma.
The innovative drip coffee technology makes high-quality coffee in the same amount of time as it takes to make a cup of tea and the portable and compact bags help to keep the coffee tasting and smelling fresh. 
UCC Craftmans Drip Coffee Bag Rich Special Blend 50 Bags
$22.76
This Japanese drip coffee blend from AGF has a fragrant aroma and a good balance of richness and mellowness. The coffee is made in Japan with selected coffee beans sourced predominantly from Vietnam and Colombia.
This coffee has been rated five stars by our customers for its delicious taste and convenience, making it the perfect coffee to transport to the office.
AGF Blendy Drip Coffee Special Blend 18 Bags
$11.98
Best Japanese Instant/Freeze-Dried Coffee
The AGF Maxim Instant Coffee has been freeze-dried and roasted with AGF's latest technology to retain all of its great taste and aroma. This instant coffee comes highly rated by our customers who love it for its rich flavor and warm, chocolate-like aftertaste. Just one jar makes approximately 85 cups of coffee.
AGF Maxim Freeze Dried Instant Coffee 170g
$14.99
This pack of 100 instant Blendy coffee sticks is a quick and convenient way to make your morning coffee and ideal for transporting during traveling or to the office. This coffee features carefully selected coffee beans to achieve a mellow taste and rich aroma.
AGF Blendy Stick Instant Coffee 100 Sticks
$24.00
Capture the taste of Japanese Starbucks at home with this instant creamy latte mix.
Developed by Starbucks and Nestlé Japan, this premium instant drink is exclusive to Japan and comes in a new convenient format that tastes just like the lattes you can buy in Japanese Starbucks stores. 
This item is hard to find outside of Japan and offers a taste of the Japanese Starbucks experience without having to travel beyond your kitchen! The pack of three mixes will make around 12 servings and requires almost no prep work – simply add the mix to boiling water and stir.
Starbucks Creamy Cafe Latte Premium Mixes (Pack of 3)
$14.79
These premium cold brew coffee bags from Key Coffee are made from a blend of arabica beans which have a clean taste and rich aroma, important characteristics for cold brewed coffee. Each coffee bag contains 20g of coffee and can make up to 500 ml of cold coffee anywhere at any time.
Key Coffee Premium Stage Cold Brew Coffee Bags 80g
$7.95
Best Japanese Coffee Pods
Designed for the NESCAFÉ® Dolce Gusto® coffee machine, these Flat White Dolce Gusto capsules make the perfect creamy-tasting flat white coffee from the convenience of your home. Create a rich, deep-tasting espresso with a thick crema and velvety notes in seconds.
Nestle Nescafe Dolce Gusto Capsules Flat White Coffee 16 Pods
$17.95
Inspired by the popular Starbucks Caramel Macchiato, these Nescafé Dolce Gusto Capsules allow you to enjoy this creamy coffee beverage at home anytime. This product comes with 12 pods, so that you have 12 chances to customize your caramel macchiato with flavor enhancers like syrups, cinnamon, and chocolate flakes.
Starbucks Caramel Macchiato (Nescafé Dolce Gusto Capsules) 12 Pods
$18.95
Make perfect tasting iced coffee in an instant with your Nescafé Dolce Gusto machine using these delicious, iced coffee capsules. Simply add the capsule to the machine and when it's ready, add ice to your cup for a refreshing summertime brew.
Nescafé Dolce Gusto Iced Coffee Blend 16 Capsules
$17.95
Best Japanese Coffee Cans And Bottles
Boss Rainbow Mountain Blend Coffee is one of the most popular canned coffee beverages found in Japan and is a legendary vending machine favorite.
With the use of both Guatemalan coffee and espresso beans, this canned coffee has a rich and full-bodied flavor, designed to give you a quick energy boost when needed. The canned coffee comes pre-mixed with milk and sugar providing a sweeter taste and is ideal for busy people on the go who want to grab a coffee to take with them in the morning.
Suntory Boss Rainbow Mountain Blend Canned Coffee (Box of 30 Cans)
$119.00
This beverage version of the popular Calorie Mate dietary supplement and energy bar is perfect for very busy people who don't have time to spend on meal prep. This mild coffee drink comes in a milk café au lait flavor and is a fantastic energy booster, containing 11 kinds of vitamins, 6 kinds of minerals, and protein.
Each can contains just 200 calories and provides a balanced source of energy wherever you need it – at work, whilst studying, or playing sports.
Otsuka Calorie Mate Drink Cafe au Lait Coffee Milk 200ml (Pack of 3)
$14.95
For coffee purists, this black coffee shot from Starbucks is the perfect canned coffee as it doesn't contain any milk or sugar in it. Full of flavor, a rich aroma, and a refreshing aftertaste thanks to Starbucks' unique roasting methods, consuming this coffee in the morning feels like you're drinking freshly brewed Starbucks, even though it's straight from a can! 
Starbucks Black Coffee Shot Canned Coffee (Box of 30 cans)
$119.00
Best Japanese Coffee Base And Coffee Concentrate
Part of the popular Boss series of coffee products produced by Suntory, this sugar-free coffee base can be blended with milk to make delicious café lattes in the comfort of your own home. 
Made from 100% arabica beans, this full-bodied coffee has an aromatic flavor even when diluted with a large quantity of milk. By adding water instead of milk, you can also enjoy this product as a black coffee drink.
Suntory Boss Cafe Base Thickened Sugar-Free Coffee Base 340ml
$9.78
This highly-rated sugar-free coffee concentrate comes in a pack of 24 small, convenient capsules and can be used for multiple purposes. In addition to using the capsules to make hot coffee drinks with milk, it can be used to make iced coffee, or as a topping for desserts such as ice cream and kakigori (Japanese shaved ice). Our customers love this product for its great taste, convenience, and ease of use.
AGF Blendy Coffee Concentrate Unsweetened 24 Pieces
$12.99
Best Japanese Ground Coffee And Coffee Beans
Starbucks' House Blend Medium Roast Coffee is made from a fine blend of Latin American coffee beans that have been roasted together to create a peak toasted brown color. Featuring strong flavors of nuts, cocoa, toffee, and with a mild sweetness, this is the original blend coffee that Starbucks first created back in 1971. 
By grinding these beans yourself, now you can enjoy this Starbucks fan favorite in the comfort of your own home, too!
Starbucks House Blend Medium Roast Whole Coffee Beans 250g
$19.95
This popular ground coffee from UCC is rated 5-stars by Japanese Taste customers who love its high quality, smooth taste, and delicious aroma. Suitable as an everyday ground coffee drink, the special blend contains the perfect balance of aroma and taste. 
If you're looking to brew coffee from freshly ground coffee beans at home, then check out this article where we share some of the best pour-over coffee makers.
UCC Gold Special Ground Coffee Special Blend 1000g
$27.95
Complementary Japanese Coffee Products
In addition to the Japanese coffee products recommended within this article, other products you may want to consider trying include AGF Marim Creaming Powder for Coffee Milk for a smoother and creamier brew, or Nestlé's Krematop Coffee Creamer Singles which contains convenient single portion-sized pods of coffee creamer.
Want more Japanese coffee-related recommendations? Be sure to check out our article on 15 Japanese items perfect for coffee lovers!