10 Pour Over Coffee Makers That Will Change Your Coffee Game For Good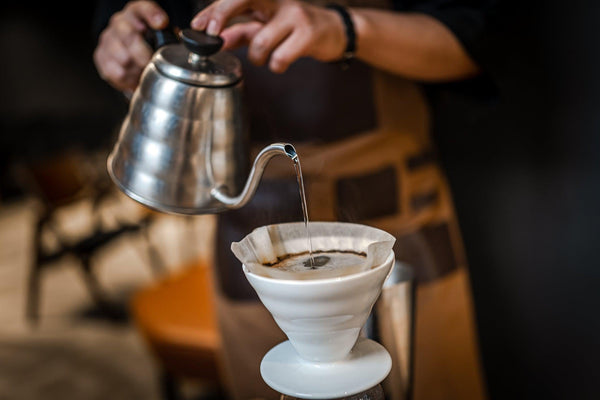 Jump to:
Are you looking for a way to elevate your coffee at home? Are you tired of drinking tasteless coffee? Yes, many people are out there who mainly drink coffee for its caffeinating benefits, but plenty of people actually enjoy coffee for its taste too! While many people opt for coffee pots or automatic-brewing machines to enjoy their morning cup of joe, they are missing out on some insanely delicious coffee. While the aforementioned appliances may be convenient, the convenience factor sacrifices the flavor of the coffee. 
Why Is Pour Over Coffee Better?
Not only is the method of making pour-over coffee extremely calming and a great way to start the day, but pour-over coffee equipment is much easier to keep clean compared to coffee pots or coffee machines. You don't need to wash as many parts with pour-over coffee makers as compared to brewing machines, and coffee drippers can be cleaned quickly. This is especially beneficial for those who do not own dishwashers in their homes. 
Of course, taste is also a huge (if not the biggest) factor in why pour-over coffee is better. Pour-over coffee is one of the most popular methods for brewing coffee in Japan. In fact, when you visit Japanese coffee shops and cafes, you will notice that many of them offer hand-dripped pour-over coffee on their menus. This is because pour-over coffee is believed to deliver a richer and more full-bodied product. The pour-over method of brewing coffee is so popular that instant-drip coffee products have been created as time-saving versions for pour-over coffee. (But, that's a topic for another blog post.) 
In this article, we'll go over 10 of the best pour-over coffee makers on the market that will aid in making your delicious coffee. Once you find yourself in the world of drip coffee, you might not be able to go back to machine-made coffee. 
Most Classic Pour Over Coffee Maker
Starting out strong with this beautiful Ceramic Coffee Dripper from Kalita, which is one of the leading coffee accessory companies in Japan. We believe this to be the most classic pour-over coffee maker. Besides its chic color and elegant appearance, this ceramic pour-over coffee maker has a classic wedge shape design, encouraging a smooth coffee extraction. 
Its ergonomic design, ribbed inner walls, and three holes at the bottom (a signature Kalita design) of the dripper allow for the well-functioning coffee dripper to brew the perfect cup of hand-drip coffee. For those looking for a smaller ceramic coffee dripper, check out the Kalita Ceramic Coffee Dripper 101 in Brown.

Kalita Ceramic Coffee Dripper 102 Brown
$19.99
Best Glass Pour Over Coffee Maker
Pour-over coffee makers can be made with different materials such as ceramic, plastic, and in the case of this pour-over coffee maker, glass. Glass pour-over coffee makers are not only easier to clean compared to pour-over coffee makers made of other materials, but they can also handle heat (aka boiling hot water) with no problem. 
This Glass Pour Over Coffee Maker from Hario, another well-recognized Japanese coffee accessory brand, is made with heat-resistant glass, meaning that it will handle all of your coffee brewing needs with ease. 
This pour-over coffee maker also has more of a deep cone shape, meaning that the top and middle areas of the dripper are wide, allowing for plenty of contact between the hot water and ground coffee beans. (More contact = more flavorful coffee.) 
Finally, we can't forget to mention how simply elegant this pour-over coffee maker looks as the bottom piece is made of olive wood. The olive wood not only adds a layer of security but also gives the coffee dripper a high-end and luxurious appearance. 
Hario V60 Glass Coffee Dripper with Olive Wood 1-4 Cups VDG-02-OV
Most Elegant Pour Over Coffee Maker
This Copper Wave Coffee Dripper from Kalita not only gets points for being made out of copper but also for its very elegant appearance! If you did not know, copper has excellent heating properties meaning that this pour-over coffee maker will have absolutely no problem making your hot cup of joe. 
This coffee dripper in particular is another product made in Tsubame City, Niigata Prefecture, which is a small city known for its high-quality metalworking. The heat conduction of this product, as well as its efficient functionality, are honestly enough to justify this as a quality pour-over coffee maker, but then its beautiful appearance takes everything over the top. This copper coffee dripper will truly become the statement piece in your kitchen. 
Kalita Wave 185 Coffee Dripper Copper WDC-185
$89.00
Most Environmentally-Friendly Pour Over Coffee Maker
When using a pour-over coffee maker, coffee filter paper is also required (in most cases.) But, what if we told you that there is a Japanese pour-over coffee maker out there that you can purchase that does not require coffee filter paper? That's right! A product like that really does exist!  
If you want to get into the world of hand-drip coffee but are looking for something that is a bit more environmentally friendly, then check out this Ceramic Coffee Dripper Filter Set from Tsuki Usagi. This innovative pour-over coffee maker is made out of a ceramic material that has countless porous holes, allowing for adequate drippage of coffee. All you need to do is simply add coffee grounds to the coffee dripper and then top with water and voila! You have a fresh cup of hand-dripped coffee. 
Fancy pouring your freshly hand-brewed coffee into a pour-over coffee pot? Then check out this chic drip coffee pot from Tsuki Usagi. 
Tsuki Usagi Black & White Ceramic Coffee Dripper Filter Set
$65.00
Most Cafe-Esqué Pour Over Coffee Maker
This Porcelain White Donut Coffee Dripper from Torch just gives such chic coffee shop vibes. It has a slim and minimal design but is still elegant at the same time. The wooden base that it comes with just puts the whole coffee dripper together. You'll feel like you've been transported to your favorite coffee shop when you make hand-drip coffee at home. 
Torch Donut White Porcelain Coffee Dripper
$48.00
Best Stainless Steel Pour Over Coffee Maker
Many coffee aficionados claim that stainless steel drippers are the way to go when it comes to choosing a pour-over coffee maker. While that may not be the case for everyone and yes there are great pour-over coffee makers that are made out of glass, ceramic, or even plastic, stainless steel is still a foolproof option. 
Besides being made out of a heat-resistant material, the wave design of this pour-over coffee maker allows for excellent extraction. Even if hot water is not evenly distributed throughout the maker, the waved design still allows for the water to moisten and spread around the coffee grounds evenly. Like other Kalita coffee drippers, this stainless steel pour-over coffee maker features three holes at the bottom of the base, creating a rich, full-bodied cup of coffee. 
Kalita Wave 185 Coffee Dripper Stainless Steel 185S
$67.00
Best Larger Pour Over Coffee Maker
Maybe making a single cup or two of coffee at a time can be an annoying process for those with larger families. (Or those who really love caffeine.) For people like this, we recommend going with a pour-over coffee maker option that can brew 3 to 4 cups of coffee at a time. This hand-crafted Minoware (a style of pottery from Gifu Prefecture) Coffee Dripper is the perfect larger pour-over coffee maker! In fact, this coffee dripper is actually a hand-crafted piece intended for cafe use, meaning it will get the job of making multiple cups of coffee at once without sacrificing any of the flavor. 
The fact that this pour-over coffee maker is also ceramic means that it is a sturdier and more hygienic pour-over coffee maker option. Its uniquely crafted design also has a hollowed bottom allowing you to check the amount of coffee being dripped. You'll never make the mistake of accidentally spilling your precious hand-dripped coffee again with this one. We also carry this coffee dripper in four different colors, so you can choose the color that best suits you!
Zero Japan Hand Crafted Minoyaki Pottery Pour Over Coffee Dripper 3~4 Cups
$24.98
Best Coffee Pour Over Coffee Maker For Beginners
For those that are new to the world of hand-dripped coffee, we recommend this simple acrylic resin plastic coffee dripper from Kono Meimon. This pour-over coffee maker has all of the essential features that a pour-over coffee maker should have. It has a cone shape that allows for water to pass through the filter easily and the bottom portion of the dripper has grooves resulting in improved airflow, meaning that it will make rich hand-dripped coffee. 
The reason why we recommend this pour-over coffee maker option for beginners is because it is extremely easy to use and foolproof! You'll be able to enjoy a delicious cup of hand-dripped coffee with this coffee dripper anytime you want. 
Kono Meimon Coffee Dripper for 2 Cups MDN-21
$19.99
Best Budget-Friendly Pour Over Coffee Maker
Depending on the material, some pour-over coffee makers can be a bit on the pricey side. If you're feeling a bit weary about spending big bucks on a coffee dripper, then this Plastic Coffee Dripper from Kalita may be the best option for you. 
With this coffee dripper, you can feel rest assured knowing that you're getting a quality product (because Kalita is one of the leading coffee equipment manufacturers in Japan.) Also, this pour-over coffee maker features Kalita's signature wedge shape and three holes on the bottom design that its other coffee drippers also have. You'll still be able to enjoy a deliciously rich and full-bodied cup of coffee with this one. 
If you prefer this pour-over coffee maker in a smaller size, then check out the Kalita Plastic Coffee Dripper 101 size. 
Kalita Plastic Coffee Dripper 102 Clear
$6.99
Best Drip Coffee Set
If you've been converted and are now on board the pour-over drip coffee train, your next step may be to look for some accompanying equipment for your pour-over coffee maker, like coffee filter paper and a server. Well, you've come to the right place! Kill three birds with one stone with this Kalita Coffee Dripper set because you will not have to worry about purchasing three separate items. The great part about this set is that it comes in both stainless steel and copper options, so you can choose the set that perfectly matches your preference. 
Kalita Stainless Wave Coffee Dripper + Glass Server + Paper Filters Set
$116.00
After you've decided on a pour-over coffee maker, the next step is to create a space in your kitchen for a home coffee or tea station for optimal brewing. If you're curious about how to create an ideal and personalized home coffee or tea station, then check out this article from Hire A Helper. 
Which pour-over coffee maker piqued your interest the most? Let us know in the comments below!