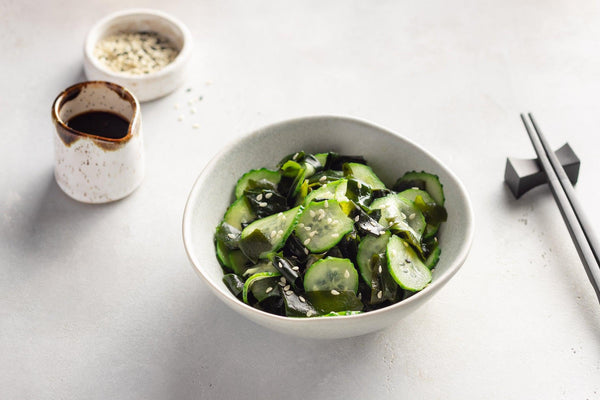 How To Make Cucumber Sunomono Salad With Wakame Seaweed
Salad
Healthy
Cucumber
Wakame
Summer
Vegetable
Vegetarian
Vegan
Japanese cucumbers are often recognized for their long, thin, and crunchy texture. Cucumbers, in general, are a fresh vegetable, reminiscent of summer dishes. They also have high water content and are one of the most common Japanese summer vegetables. There are many Japanese salads that contain cucumbers, but "Cucumber Sunomono" is one of the most popular ones.
Cucumber sunomono is a salad made of sliced cucumbers that is then dressed with soy sauce, vinegar, and other seasonings. This kind of salad has a light flavor, making it the perfect side dish for a hot summer day. The freshness of the cucumber makes this salad the perfect companion for fried foods like tempura or karaage.

If you have cucumbers on hand, you can easily make this dish at home with seasonings that you have in your pantry. Cucumber sunomono is also a staple in the deli section of Japanese supermarkets and is commonly included on izakaya menus because it goes well with beer too.

It is recommended to eat this dish as soon as possible after you make it or at least on the day of preparing it, as the water of the cucumbers will seep out and cause the flavor of the salad to weaken. A fresh cucumber sunomono is very enjoyable especially when it's hot outside!

Today, we will introduce a cucumber sunomono recipe including wakame seaweed. You can also add other ingredients like boiled octopus pieces or canned tuna to bulk up the salad if you wish. We hope that you will enjoy our simple recipe, and try it out for yourself too. Let us know in the comments how you liked this cucumber salad!
Overview
Prep time: 15 mins
Cook time: 5 mins
Total time: 20 mins
Total servings: 4
Difficulty: Easy
Ingredients
2 Cucumbers
3g Wakame Seaweed
1 Tbsp Sesame Seeds
2 tsp Soy Sauce
1 tsp Vinegar
1 tsp Sugar
Expert's Tip
These sesame seeds are no ordinary sesame seeds. They are actually organic toasted sesame seeds made by a Japanese company that has been running for many generations. Sesame seeds are a very useful topping for salads because they are nutritious and add a unique texture and aroma.
Instructions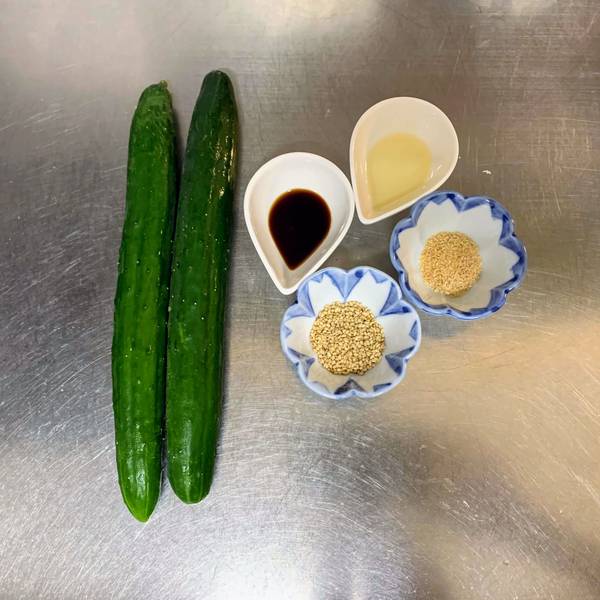 1) Gathering the Ingredients
Gather all of the ingredients together.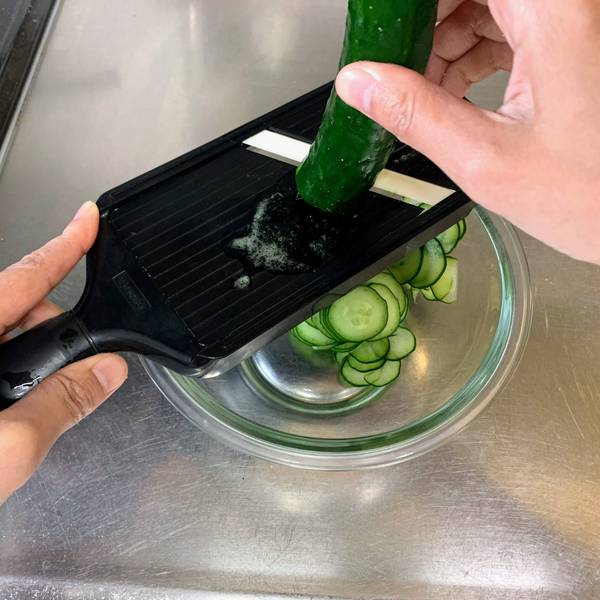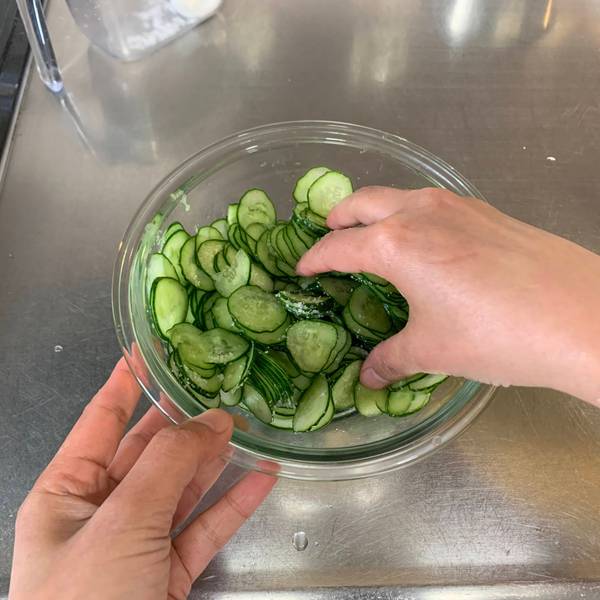 2) Slicing and Salting the Cucumbers
Wash the cucumbers and slice them thinly using a mandoline. Sprinkle them with 1tsp of salt, mix well, and let the cucumbers sit for about 10 minutes.
Tip: The salt will make the excess water of the cucumbers come out, giving them a crunchier texture.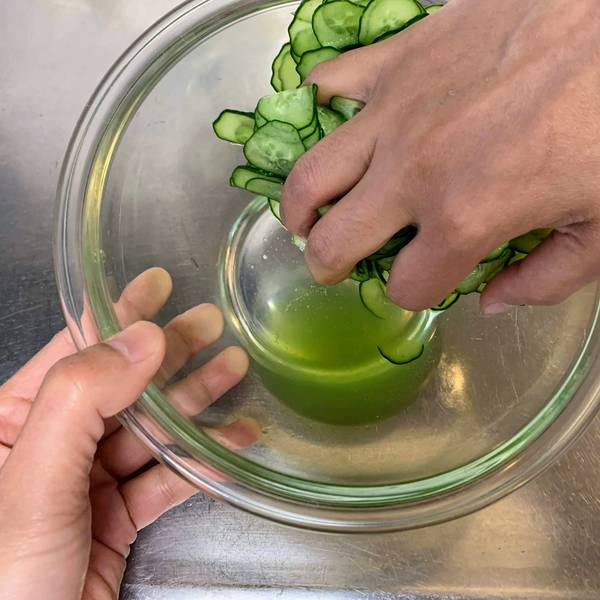 3) Draining the Cucumbers
Drain all of the excess water from the cucumbers.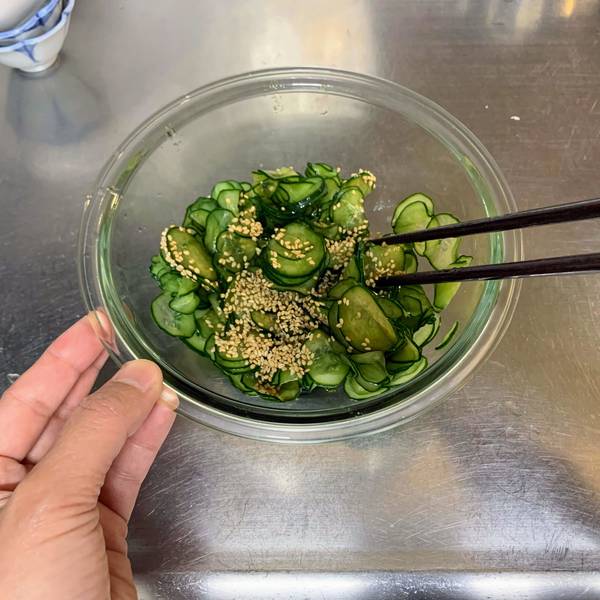 4) Adding the Seasonings to the Cucumbers
Add the vinegar, soy sauce, sugar, and sesame seeds to the cucumbers and mix well. The standard variation of cucumber sunomono is done!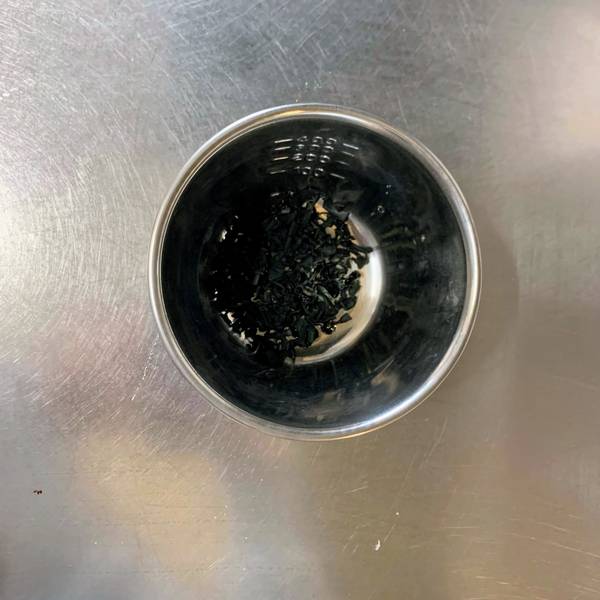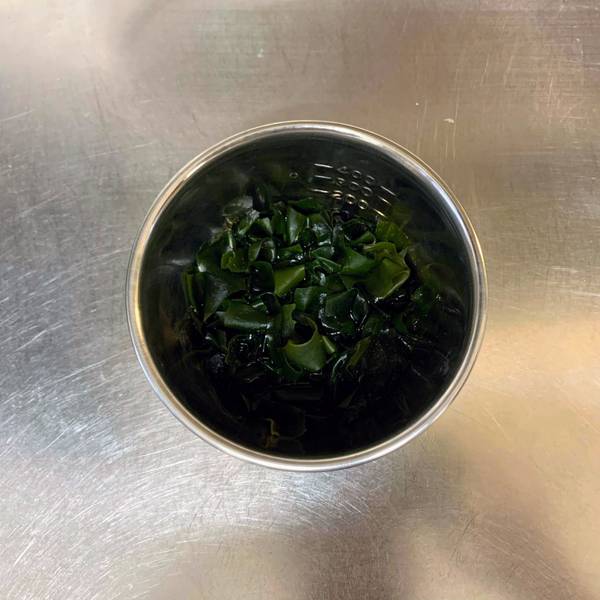 5) Preparing the Wakame Seaweed
Put 3g of dried wakame seaweed into a bowl and add water. After about 10 minutes, the dried wakame seaweed will expand in size and become fresh. Drain the water.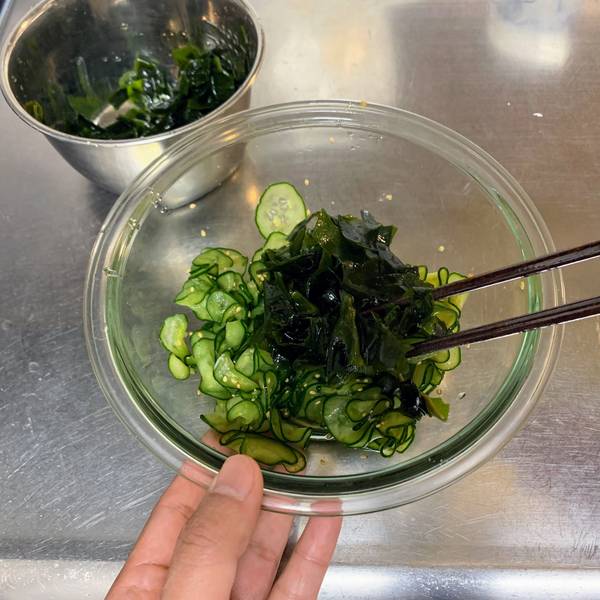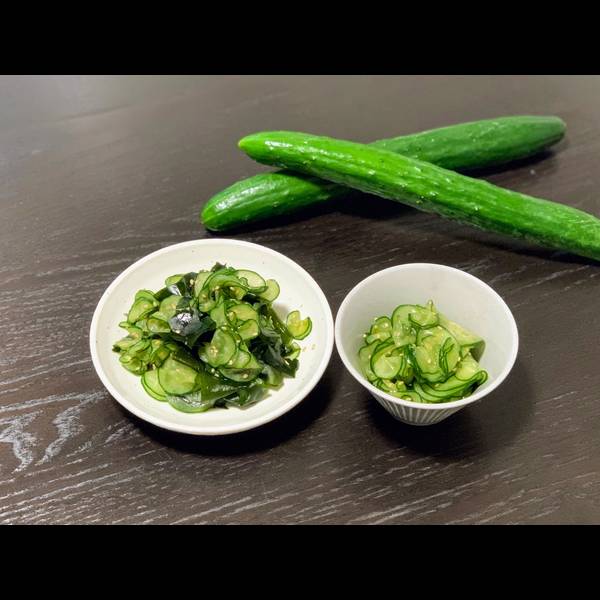 6) Adding the Wakame to the Sunomono
Add the hydrated wakame seaweed to the cucumber sunomono, and enjoy!