The Best Japanese Makeup Brands You Need to Know About and Their Top-Rated Products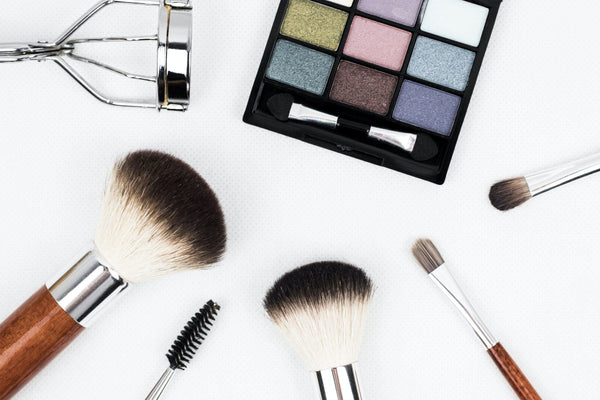 Jump to:
Japanese beauty products are famous for their high-quality and efficient design. They often combine cutting edge technology with natural ingredients native to Japan and Asia to create unique products. They need to be durable so they can withstand the hot and humid summers too.
Walk into any Japanese drugstore and you'll find a huge selection of home-grown cosmetic brands and products to choose from, as well as the more premium brands you can find in Japanese department store beauty counters.
Japanese consumers tend to take a preventative approach to beauty and skincare to produce radiant looking skin naturally without the need for a lot of makeup. According to a report by Statista, the most purchased cosmetic products by Japanese women in 2021 were skincare products such as face wash and sun cream.
Despite this preventative approach, there is still huge demand for makeup, with the following items being the most popular: foundation, eyebrow mascara, makeup base, eyeshadow, eyeliner, face powder, and mascara.
In this article we'll look at some of the best-selling Japanese beauty brands and highlight a selection of their most popular products.
Shiseido
Shiseido is probably the most famous Japanese beauty brand of all time, with a history of more than 140 years. Their extensive range of sub-brands and products includes everything from skincare products like moisturizer and anti-aging serums, to sunscreen and makeup.
When it comes to makeup, Shiseido best-selling products include:
This mascara is a favorite product among beauty bloggers, earning high praise for its long-lasting effect that lengthens lashes without feeling too heavy. The mascara is filled with fibers that help to lengthen each lash by attaching to them, creating a fuller and longer lash. The Shiseido Majolica Majorca Lash Expander is also resistant to water and sweat so it won't smudge at all. The mascara wand is a curved comb design to stop clumps from forming, and the light texture dries quickly and lasts up to 12 hours without any reapplication needed.
Shiseido Majolica Majorca Mascara Lash Expander Long EX Black 6g
$17.99
This convenient and functional Japanese pressed powder smoothens and brightens the skin by controlling skin oil excretion as well as covering pores. It helps prevent pimples, acne, breakouts and absorbs excess any oil excretion from the skin. It is specially made for people with sensitive skin and has a matte and translucent finish after application.
Shiseido Baby Powder Medicated Pressed Powder 50g
$5.95
This popular waterproof eyebrow pencil by Shiseido comes in four different shades including brown, dark brown, black, and gray.
It easily creates smooth and delicate eyebrows that last for hours, and the product is both water and sweat resistant. It has a light weight and compact size, ideal for travel.
Shiseido Eyebrow Pencil – Black / Dark Brown / Brown / Gray
$3.95
Koh Gen Do
Koh Gen Do is a high-end cosmetics brand founded by a Japanese actress with stores across Japan. Their makeup combines healing plant-based ingredients with skincare technology to create products that protect and nourish skin. The company's philosophy is that every product that you put on your skin should nurture it and improve its radiance, leaving it soft, smooth, and flourishing.
Koh Gen Do's makeup is ideal for sensitive skin, and best-selling items include their Maifanshi Foundation, available in six different shades. The foundation's ultralight texture enables smooth application and covers unevenness as well as pores.
This foundation has been designed to last for long durations and has a fine water-repellent coating. It also contains saltwater using French sea salt and various natural ingredients which prevent your skin from dryness and UV damage.
Koh Gen Do Maifanshi Aqua Foundation Liquid Foundation 30ml SPF25 PA++
$59.00
Kanebo
Kanebo is a Japanese cosmetics company that has been operating since 1923. They pride themselves on making cosmetics that are safer than other brands, while still creating products that reflect the latest beauty trends from Japan and overseas. Each season Kanebo develops innovative new products in collaboration with designers.
Kanebo are known for their best-selling eye makeup, like the KATE Double Liner eyeliner, a huge hit among Japanese consumers, beauty bloggers, and beauty magazines. Other popular products include the Allie range of waterproof eyebrow pencils and mascaras, which are resistant to sweat and tears, perfect for those humid Japanese summers!
Kate Double Line Expert Eyeliner is a Japanese eyeliner designed to make your eyes more defined. With only a few strokes you can easily highlight your eyes.
This popular eyeliner featured in a super light brown color creates a shadowy tone which makes your eyes look bolder but with a natural finish.
The ultrathin pen tip makes it easy to create lines on the tear duct, crease, and lower lash line.
Kanebo Kate Double Line Expert Eyeliner LB-1 Ultralight Brown 0.5ml
$12.99
Ettusais
This younger brand of Shiseido was first introduced to consumers in 1991. Ettusais features a range of makeup products including lip tint, mascara, and eyeliner in a variety of colors to suit different occasions. Some of their most popular products include:
This Japanese mascara base features a fine brush that is quick to apply, separates the lashes, and lifts from the root to prevent clumps from forming. The lightweight formula contains beauty ingredients such as amino acid and hyaluronic acid to hydrate eyelashes and keep long-lasting curls in place. Ettusais Eye Edition Mascara is also waterproof and resistant to sweat and tears, meaning you don't have to worry about it smudging. Use this product regularly to achieve thicker, darker lashes.
Ettusais Color Filter Jelly is a hybrid multifunctional cream which combines BB (Beauty Balm) cream and CC (Color Control) cream. You can use this product as a foundation, makeup base, and beauty serum.
The cream covers pores, reduces skin unevenness, and improves skin tone and brightness with a natural finish. This product also functions like a barrier: it protects your skin from sunburn as well as tiny particles and materials that may aggravate the skin.
Isehan
Isehan are best known for their mascaras and eyeliner under the Heroine Make range of products, easily recognized on drugstore shelves in their anime style packaging. The company has a long history in Japan, having originally started as a family shop back in 1825. One of their bestselling products in Japan is their award-winning waterproof mascara, along with their Komachi-beni lip color, a vivid red extracted from the petals of safflowers, in a technique that has been used for hundreds of years by geisha.
This popular mascara is available in two types: Long & Curl or Volume & Curl. Featuring a curved shaped wand that helps to separate lashes without becoming clumpy, the Long & Curl product elongates lashes whilst the Volume & Curl mascara focuses on creating thick, curly lashes. Both types of mascara are smudge-proof and have the same curl-lock ingredients to keep your eyelashes looking great all day long. The Isehan mascaras are also waterproof and resistant to sweat and rubbing and contain six types of beauty serums to nourish the eyelashes.
Isehan Kiss Me Heroine Make Super Waterproof Long & Curl Mascara Jet Black 6g
$13.95
Canmake
This Tokyo based company is a popular cosmetics brand, recognizable by their feminine and cute style packaging. The concept behind their makeup brand is 'girly, pop, and shiny', fun products designed to add a bit of sparkle to your life. Canmake's collection of products includes items like their best-selling base makeup range where you can find concealer, powder, foundation, highlighter, and primer.
Canmake's Stay-On Balm Lipstick is also a consumer favorite, it comes in nine different shades and provides the moisturizing ability of a lip balm, the sheen of lip gloss, plus UV protection.
Canmake Cream cheek color has a gel-like texture and moisturizes skin. It spreads smoothly onto the skin and comes in a range of 11 natural colors, some of which can also be used on the lips.
This product is highly compatible with foundation and can be used on top of both powder and liquid foundation with its instant drying formula.
Canmake Tokyo Cream Cheek Color
$11.99
Shu Uemura
Although the company is now owned by the Loreal Group, Shu Uemura was born in Tokyo in 1928 and became the first Japanese makeup artist in Hollywood. He created cosmetic products that are known for their high quality, precision, and attention to detail, while combining traditional Japanese heritage with modern trends.
All Shu Uemura products are crafted in Japan, and they are also famous for their award-winning eyelash curler, a favorite among celebrities and makeup artists thanks to its precision and unique design that fits various eye shapes.
The Shu Uemura Hard Formula Eyebrow Pencil is smudge-proof and delivers perfect hardness and precision, working well with foundation after it's applied. It creates natural and defined long-lasting brows and features a unique oil activated formula that only shows with natural oil already on the eyebrow.
Shu Uemura Hard Formula Eyebrow Pencil
$25.99
Uzu/Flowfushi
Flowfushi was founded in 2011 by childhood friends Imamura and Masayuki Kuwajima, despite having no experience in the beauty industry. This gave them a unique perspective that allowed them to listen more to their customers than experts, and they quickly became known for their innovative makeup products at affordable prices, such as their best-selling Mote Mascara series.
One of Japan's most popular mascaras, this range of products from Flowfushi features nine different kinds of mascara with unique 'smart' brushes to create different finishes and effects.
Each Mote Mascara formula is made from 100% naturally derived minerals, so it won't damage your eyelashes. The Mote Mascara series also incorporates technology that helps to curl lashes and is waterproof without being difficult to remove. The range of mascaras is also available to purchase in different colors such as navy blue and brown. Expect more voluminous, longer lashes by using this product.
Uzu by Flowfushi Mote Mascara Vol. 9 Volumizing Japanese Mascara 5.5g
$26.00
This popular eyeliner features a fine brush that lets you define eye lines with precision and is inspired by traditional Japanese brush-making techniques. It is resistant to sweat and tears and has an ergonomic handle that is designed to easily fit into your fingers for a steady and stable application.
Uzu by FlowFushi Eye Opening Liner Liquid Eyeliner
$24.38