The Top 10 Places To See Autumn Leaves In Tokyo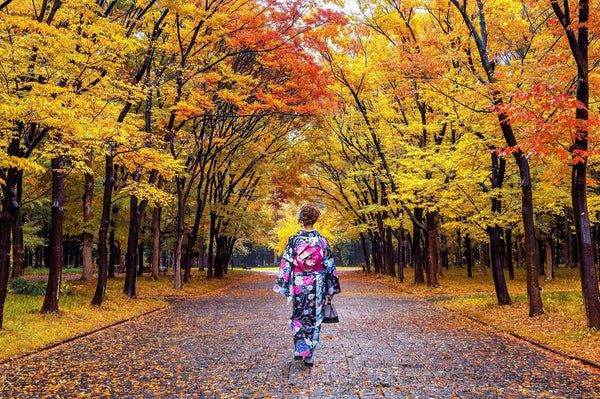 Jump to:
If you're wondering about the best time to go to Japan — fall might just be it! The beautiful fall foliage will soon reveal itself, and it's a great time to join the locals in one of Japan's most popular fall activities: viewing the autumn leaves. This article will tell you about the tradition of Japanese leaf viewing and the top ten spots to see the colorful trees in Tokyo.
Why Is Leaf Viewing Important In Japan?
So, as you may know, there are quite a few traditions that focus on the appreciation of nature in Japan — there's hanami for cherry blossom viewing, tsukimi for moon viewing and (today's topic) momijigari for fall leaf viewing. Momijigari is one of the oldest fall traditions in Japan. It started out as a popular activity among the aristocrats over a thousand years ago and was eventually practiced among the general population — and it's still popular today! 
Top 10 Spots for Autumn Leaf Viewing in the Tokyo Area
There are so many places you can see the beautiful autumn leaves in Tokyo. Here are the top ten (in this writer's opinion). 
Note: Directions to each location will all start from Shinjuku Station. Also, these are not the only routes you can take, so feel free to use your map apps!
Mount Takao
Why does Mt. Takao (Takaosan in Japanese) take the number one spot on this list? Well, there are several reasons: the views are spectacular, it's a real mountain (in Tokyo proper) and the train ride over is not too far (relatively speaking). Plus, there are red, green and yellow trees everywhere you look. Located near Hachioji (west of Tokyo), this place is a local favorite.
Things to Do
Once you arrive, you can hike up to the top of the mountain by foot, take a cable car or even take the chair lift. On the lift, you'll get a view of the trees and mountain from above — plus a photo will be taken of you that you can buy (in a frame) once you get off. 
At the top of Mount Takao, you can hike around a bit, take pictures and even buy some omiyage (souvenirs) at the local shops. There are plenty of places to eat and drink, too. Mt. Takao Beer Mount is one option, and it's higher up on the mountain than any of the other restaurants (so . . .  better views!).
Getting There
You can get to Mt. Takao by train on the Keio Line for just ¥390 yen (about $3 USD). At Shinjuku Station just check for the express line to Takaosanguchi Station (the nearest station to the mountain). It takes about 55 minutes to get there. Once you arrive, you can do a 90-minute hike up the mountain (for free!), take a 6-minute cable car or hop on the chair lift for 12 minutes. The cable car and chair lift are the same price at ¥490 yen (or about $3.50 USD). 
Shinjuku Gyoen National Garden
Shinjuku Gyoen is popular not only in the fall, but really any time of the year. There's an entrance fee of ¥500 yen (around $3 USD), but it's worth it. You can see all the colors of fall with big and tall ginkgo trees that turn a beautiful gold, bright red maple trees and more. 
Things to Do
This park is absolutely gigantic, and has various sections with different types of plant and tree life — so you should check the map to see what areas you'd like to visit. There are even multiple tea houses, several restaurants and a greenhouse. Also, why not have a picnic with some Japanese fall foods while you're there? 
Getting There
To get there, you can easily walk east from Shinjuku Station in about 10 minutes. If you don't feel like walking, you can take a train on the Marunouchi Line and get off at Shinjuku Gyoemmae Station for ¥180 yen (about $1 USD). The train takes about 3 minutes, and the park will be just a couple of blocks south of the station. 
Lake Okutama
Lake Okutama has fantastic views and a lot to do — especially outdoors. You'll see the multi-colored foliage of fall everywhere you look, and although this one is a bit further out, it's definitely worth a day trip.
Things to Do
There are so many things to do here — from outdoor activities to going to the onsen. You can check out Lake Okutama's floating bridges, go fishing or even do some river rafting! Hiking up nearby Mt. Mitake is also popular. One recommended onsen, according to GoTokyo (the official Tokyo travel guide), is Okutama Onsen Moegi-no-Yu. 
Getting There
About two hours by train from Shinjuku Station, plus a 15-minute bus ride, this one isn't exactly close. You'll get on the Chuo Line in Shinjuku and switch to the Ome Line at Ome Station. Then you'll arrive at Oku-Tama Station where you can catch the number 9 bus that takes you straight to the lake. The train ride will cost you about ¥1120 yen (around $7.50 USD) and the bus is about ¥530 yen (approximately $3.50 USD).
Jingu Gaien Ginkgo Avenue
Okay, back to autumn foliage spots that are within Tokyo city limits — this one is a well-known street lined with ginkgo trees. According to the official visitor guide, "The Ginkgo Avenue is about 300 meters long. In that span, 146 ginkgo trees are planted about 9 meters apart, creating unique scenery when walking through this tunnel steeped in yellow." 
Things to Do
The main thing to do here is walk down the avenue and admire the giant gingko trees. You can relax, take pictures and enjoy the colors. There is a festival here, too (usually between November and December), but this year's dates aren't confirmed yet.
Getting There
From Shinjuku Station, just hop on the Oedo Line for a 14-minute train ride and get off at Aoyama-Itchome Station. From there you'll walk about 8 minutes west. You'll know you've arrived when you see the big golden gingko trees!
Rikugien Garden
Rikugien is arguably the most beautiful example of a traditional style garden in Tokyo. In the fall you can see the colors of the maple trees changing to red. There is a ¥300 yen entrance fee (around $2 USD), but can you put a price on beauty?
Things to Do
The main attraction of this Edo-style garden is just enjoying the scenery. You can take a leisurely walk through the park, cross over its bridges or even visit one of its teahouses. See the park map to get an idea of where to go.
Getting There
Just take the Yamanote Line from Shinjuku Station. It's about a 25-minute ride (¥180 yen or about $1 USD), and you'll get off at Komagome Station. From there, just walk south a few minutes.
Yoyogi Park
Yoyogi is an extremely famous park in Tokyo, and there are people here all year round — plus, it's the home to the very famous Meiji Shrine. For autumn leaf viewing, SagasWhat Tokyo recommends, "​​In particular, ginkgo trees on the right side of the Harajuku Gate, zelkova trees in the central field, [and] Japanese maple trees (Momiji) around the fountain pond . . ." 
Things to Do
In addition to just walking around and enjoying nature (and people watching), there are often festivals going on. This fall you can catch events like the Africa Festival in October or the Philippine Festival in November. 
Getting There
To get there from Shinjuku Station, just take the Yamanote Line for a 5-minute train ride and get off at Harajuku Station (¥150 yen or about $1 USD). Exit on the south side, and the park will be right in front of you.
Hama Rikyu Gardens
This large garden is near the bay in central Tokyo. You can see maple and ginkgo trees changing colors and get a great view of the city at the same time. Also note that there is a ¥300 yen entrance fee (about $2 USD). 
Things to Do
This is a great park to walk around in and enjoy the beautiful garden design. There is a teahouse here, as well, and in October there is a moon-viewing event you might want to check out.
Getting There
From Shinjuku, take a 30-minute train ride on the Oedo Line and get off at Tsukijishijo Station (¥280 yen or about $2 USD). The park is a 7-minute walk southwest of the station.
Koishikawa Korakuen
This garden park is well known for its beauty — especially in the fall. According to Japan Guide, "Dozens of maple trees are planted around the garden's three ponds which turn vibrant shades of orange and red. There is also a small, almost hidden grove of ginkgo trees near the southeast corner of the garden that turn a golden yellow during autumn." There is a ¥300 yen entrance fee (about $2 USD), too — so have your coins ready.
Things to Do
Simply take a stroll and enjoy the traditional Japanese beauty all around you. There's also a bridge you can cross called the "Full Moon Bridge." See the park map to get an idea of the layout.
Getting There
From Shinjuku Station, hop on the Chuo-Sobu line and get off at Suidobashi Station. It's a 14-minute train ride and it costs ¥180 yen (about $1 USD). Walk 4 minutes northwest and you're there!
Inokashira Park
In Inokashira Park you can see the whole spectrum of colors in the trees (red, green, orange and yellow). It's in a great location (near the hip Kichijoji) and a place that keeps people coming back for more — check out the Google reviews.
Things to Do
So much to do! If you're a Ghibli fan, you can go to the Ghibli Museum. If you like the water, you can take a boat out on the lake (although the boats are currently suspended until mid-December 2023). They even have a mini amusement park (tea cup ride, mini train and more) and a zoo! 
Getting There
From Shinjuku, take the Chuo Line to Kichijoji Station. It takes about 15 minutes and costs ¥230 yen (around $1.50 USD). Walk 11 minutes southwest and you're there!
Hibiya Park
This park in central Tokyo is most famous in the fall for one single tree — the 400-500 year old giant gingko. Its leaves turn golden in the fall and you can see the changing colors of many other trees, too.
Things to Do
What you definitely want to do while you're here is see the huge, old gingko tree (called "Risky Gingko" or kubikake icho). It's in the center of the park, and you can find it on this map. Hibiya park also has some Edo period castle ruins (nice!), fountains and sculptures. Check it out!
Getting There
From Shinjuku, take a 13-minute train ride on the Marunouchi Line to Kasumigaseki Station (¥180 yen or about $1 USD). The park is about 4 minutes southeast of the station by foot. 
A Little Leaf-Viewing Vocabulary
Just thought you might want to know a few vocabulary words related to leaf viewing in Japan. This handful of words might help you in your "hunt" for the autumn leaves!
Momijigari - The Japanese word,

momijigari

, directly translates into autumn foliage "hunting." But a more natural translation for "hunting" might be "viewing" — because it's similar to other nature viewing and admiring events in Japan (like cherry blossom viewing). 

Koyo - Another word you might hear in the fall is

koyo

. Koyo are the autumn leaves themselves as they change colors. 

Momiji and Icho - Lastly, a couple of trees that are particularly popular this season are the maple (

momiji

) and ginkgo (

icho

) trees. You'll be seeing a lot of these!