An Introduction to Japanese Makeup Brushes and Why You Need Them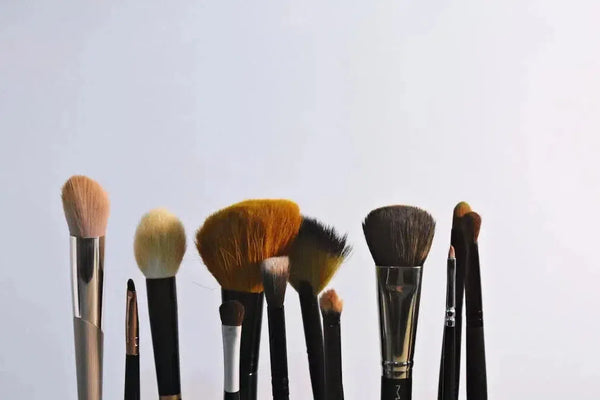 Jump to:
As Japanese cosmetics continue growing in popularity outside of Japan thanks to their high-quality, unique formulations, and attention to detail, so too are the tools that are used to apply them. The history of brush-making in Japan dates back more than 1,300 years, from calligraphy and paint brushes to makeup brushes. 
Once a secret among makeup professionals, Japanese makeup brushes are becoming fast favorites among consumers and beauty bloggers. This article will introduce Japanese makeup brushes to use alongside all your favorite makeup items. Read on to learn about:
Popular types of Japanese makeup brushes

The best Japanese makeup brush brands

Why Japanese makeup brushes are so good

What Japanese makeup brushes are made from

Where to order Japanese makeup brushes online
Popular Kinds of Japanese Makeup Brushes
Japanese makeup brushes or keshoufude (化粧筆) as they are known in Japanese come in many varieties designed for different functions, but in this article, we'll focus on the most popular types of products:
Powder brushes

Blush brushes

Eye brushes

Foundation brushes 
Japanese Powder Makeup Brushes 
Designed for applying finishing powder to set makeup in place and provide a matt effect for oily skin or a contouring effect, powder makeup brushes are usually round with quite soft and fluffy bristles making it easy to blend powder without applying excess product. Japanese powder brushes are also available in several different shapes such as tapered, flat, and angled for different desired effects. 
For example, flat powder brushes can be used for more precise contouring and sculpting effects, angled brushes can be used for shading and blending, whilst tapered brushes are effective in a more precise application and blending of powder.
Japanese Blush Makeup Brushes 
Blush makeup brushes are usually smaller in size than powder brushes, rounded in shape, and soft and fluffy like a powder brush. A more densely packed brush will create a bolder color effect on cheeks, whilst a rounded kabuki-style brush allows you to easily pat on color like a sponge and is particularly good for blending and accentuating cheekbones. 
Different-shaped blush brushes will also create different effects – a round and flat-shaped brush is best for applying color gradually in layers, round-shaped brushes tend to be better for stronger color, and angled brushes are better for shading.
Japanese Eye Makeup Brushes 
When it comes to applying eye makeup, you can find a specialist brush produced for each specific function, eyeshadow, eyeliner, and eyebrows. Eyebrow brushes are usually short and stiff with angled tips so that you can draw thin lines precisely that mimic hairs and can be blended with ease to create natural-looking brows.
Eyeshadow brushes also come in different shapes and can be used to perform different functions. For example, a small, pointed brush is best for adding definition to eyes and smudging eyeshadow whilst a small, flat, round brush is better for applying strong color, shading, and blending eyeshadow. A larger brush is better for applying color to the entire eyelid such as a base color and for shading.
Japanese Foundation Brushes
Foundation brushes are primarily used for applying foundation evenly onto the face and are used ideally for blending into the skin after applying foundation to the forehead, cheeks, and chin. Like the other types of brushes, the different shapes perform different functions. Flat brushes are good for spreading foundation quickly and thinly, whilst angled brushes are great for achieving natural-looking coverage.
What Are the Best Japanese Makeup Brush Brands?
There are many high-quality Japanese makeup brush brands, with around 80% of them all coming from the small town of Kumano in Hiroshima Prefecture. Makeup brushes from Kumano are known as kumano-fude in Japanese. Here are five popular brands to get started with: 
Hakuhodo is one of Japan's biggest makeup brush manufacturers based in the makeup brush capital of Kumano in Hiroshima Prefecture and is widely considered to be one of the best brands. Hakuhodo manufactures around 500,000 brushes each month and produces high-quality brushes for leading cosmetics brands in addition to selling their products directly to consumers. 
Each Hakuhodo brush is made by experienced and skilled craftsmen and their huge range of products encompasses everything from basic foundation and powder brushes to brush sets for professional makeup artists. 
Chikuhodo
Another of Japan's leading makeup brush brands, Chikuhodo was established in 1971 and produces brushes for cosmetics brands like Shiseido and their own products. Each brush is made with carefully selected materials and the company has a reputation for using highly skilled craft workers in the production process. Chikuhodo's range of makeup brushes is extensive, ranging from concealer to lip brushes. Their makeup brushes are also available at a range of different prices starting from the more affordable 'Passion' series made from goat hair, to the indulgent and luxurious 'Z series', made from squirrel hair and considered to be the pinnacle of brush collections.
Mizuho Brush
Another brush manufacturer to come out of Kumano town, every Mizuho makeup brush is handmade by skilled craftspeople and undergoes strict quality control procedures. Each stage of the production process is handled with extreme care, from selecting and sorting hair to setting the hair and mounting the handle. Their wide range of products mainly uses goat, squirrel, weasel, and pony hair with each performing a different function depending on the brush type. Some of Mizuho's most popular products are their signature 'MB' series of brushes.
Koyudo
Koyudo is a Kumano-based brush company whose roots lie in making Japanese calligraphy brushes. Due to Japan's declining population and the decrease in children learning calligraphy at school, the company expanded into creating makeup brushes, using the same careful techniques used in making the calligraphy brushes. Their range of high-quality products includes powder, blush, eyeshadow, and lip brushes.
Uyeda Bisyodo
Uyeda Bisyodo was founded in 1945 and differs slightly from other brush manufacturers because it also imports the hair used in its makeup brushes. Among their range of products, you'll find several different series of brushes. Their Alba and Futur series recreate the softness of animal hair using synthetic hair. It is therefore suitable for vegans who still want to appreciate a high-quality makeup brush without using animal products.
Why are Japanese makeup brushes so good?
There are several reasons why Japanese makeup brushes are considered to be among the best in the world and Kumano brush sets are often given as gifts in Japan.  The main reasons Japanese makeup brushes are worth investing in include heritage, quality, variety, and performance. Let's dig a bit deeper into these reasons below:
Heritage – Japan's tradition of brush-making dates back more than 1,300 years, with Kumano in Hiroshima as the center of high-quality brush manufacturers today. During Japan's Nara period and the rise of Buddhism, the demand for brushes increased for copying Buddhist texts and scrolls. Later on, during the Heian period, the famous Japanese monk Kūkai introduce the latest brush-making techniques to Japan from China, initiating the beginning of a long tradition of Japanese brush-making.
Quality – Japanese makeup brushes are known to be among the best quality makeup brushes in the world, with the majority of manufacturers using only highly skilled craftspeople to make each brush tip by hand. 
During the production process, the brush hair is carefully selected and sorted, and any damaged or misaligned hairs are removed. Next, the hair is arranged into a mountain shape and inserted into the frame before it is delicately threaded to set it in place within the frame. Once the tip of the brush has been fully inserted into the handle, it must pass a final inspection to ensure it meets the high standards of the manufacturer. 
Variety – there are a huge variety of Japanese makeup brushes to choose from, with each brush designed to perform a specific function. Not only is there a brush for each function, but these brushes are also made from a range of materials with varying shapes to create different desired effects.
Performance – there's a reason why professional makeup artists have been using Japanese makeup brushes for years, they perform much better than other brushes. All of the care, skill, and attention to detail that goes into making each Japanese makeup brush simply means it is a superior product.
What are Japanese makeup brushes made from?
Japanese makeup brushes are usually made from natural animal hair, with different hair types used for different kinds of brushes. Horse, squirrel, goat, and weasel are some of the most popular types of hair used. Squirrel is the softest type of brush so is best for sensitive skin and is good for applying powder makeup, whilst goat hair is more resilient and can be found in the foundation and eye makeup brushes.
Horse hair is strong and durable and makes light work of blending products so it is often found in eye and cheek brushes. Weasel is a firm kind of bristle that works well in eyeshadow and lip brushes.
Although animal products are often used, many Japanese brush companies follow a cruelty-free policy and only use the hair from animals that have been exterminated anyway, for example, if the animal has already been exterminated for meat. Collections of Japanese makeup brushes that feature 100% synthetic hair have become more popular recently.
Where can I order Japanese makeup brushes online?
You can now order a selection of premium quality Japanese makeup brushes through the Japanese Taste online store. A good quality Japanese makeup brush that is well-used and cared for can last up to five years. Check out our range of products here!