Sample Japan's Sweetest Souvenirs: Top 5 Cookies and Local Experiences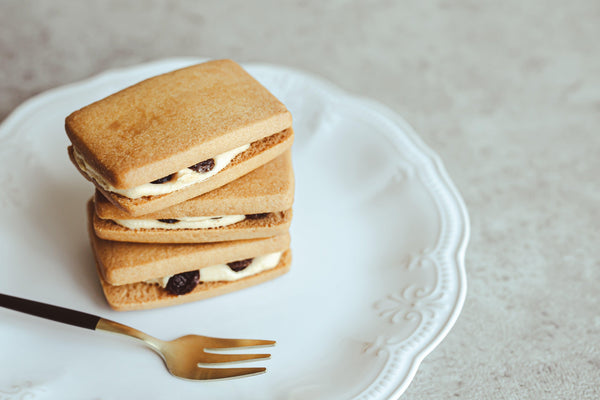 Jump to:
We recently got everyone in the Japanese Taste office to eat and review fifty different Japanese cookies. Everyone wanted to stop eating cookies and get back to their work, but we're willing to do the tough jobs here! At the end of our selfless journey, the tens of thousands of taste buds of 20 different people from 8 different countries came together to pick the best of the best.
All of the cookies in this article came in toward the top of our ranking, and all of them are popular souvenirs from across Japan. We're going to cover each souvenir cookie, where you can find them, and some unique things you can experience in the areas that made them famous.
Of course, if you're not planning a trip to Japan any time soon, each and every one of these cookies can be purchased here at Japanese Taste to be delivered safe and sound to your door anywhere in the world.
Rokkatei's Marusei Butter Sandwich is one of the most popular souvenir cookies from Hokkaido. Hokkaido actually has a number of popular souvenir cookies, the most well-known being Shiroi Koibito, but in the end Marusei Butter Sandwich got the better of all of them to become the number one cookie from Hokkaido, as voted by Japanese Taste staff.
Marusei Butter Sandwich features a thick and generous serving of buttercream, sandwiched by two soft and crumbly cookies. The buttercream filling is mixed together with rum, brandy, and raisins to create a delightful rich and creamy combination of festive flavors.
These cookies are a perfect balance of sweetness, creaminess, richness and freshness, and are largely carried by the quality of their ingredients. Hokkaido's milk is famous across Japan for being of high quality, and Rokkatei uses plenty of it in their buttercream, as they consider Hokkaido to be Japan's "dairy-farming paradise". 
Where to Find Them
Rokkatei opened their first store in Obihiro City in the Tokachi subprefecture of Hokkaido in 1933, and it's still running in its original location. You can visit the store to purchase some Marusei Butter Sandwich cookies, as well as other items that are only available in that store.
Obihiro is located in the south-east of Hokkaido, about a three hour drive from Sapporo – but it's well worth the trip, especially if you're a nature-lover. Obihiro is famous for having one of Japan's cleanest rivers, and for its expansive fields and forests.
While You're There
Make a wish at "Happiness Station" in the south of Obihiro to make all of your dreams come true.
When Kofuku Station closed in 1987 it was purchased by the local citizens association and transformed into a popular tourist attraction. Kofuku uses the chinese characters 幸福, which translates to "happiness" – which is exactly what locals say you'll get if you make a wish there!
Simply purchase a souvenir train ticket, write your wish on it, and stick it to the wall of the station building with all the others. You never know what will happen!
Rokkatei Marusei Butter Sandwich Cookies 10 Pieces
$29.95
Uji, in Kyoto, was one of the first places in Japan where green tea was cultivated, and is now famous for the high quality tea produced there. 
Itohkyuemon opened as a tea shop in Uji in the 1800s, and now sells a wide variety of tea and tea products. Their matcha sweets are especially popular, like matcha roll cake, matcha nama chocolate, and the topic of today: Uji Matcha Butter Sandwich cookies.
Two crispy matcha cookies, with a rich filling of sweet matcha butter and Japanese kuromame black beans. The deep emerald color of these cookies makes them wonderful to look at, but they're even better to eat! If Kyoto could be packaged and sold as a snack, Itohkyuemon's Uji Matcha Butter Sandwich cookies would be the result – and that's why they ended up so high in our blind tasting of Japan's top 50 cookies!
Where to Find Them
Itohkyuemon's main store and tea house is located in Uji, Kyoto, in an area full of interesting little shops, cafes and restaurants. You can buy their Matcha Butter Sandwich cookies at the store, and many other products such as Uji Matcha Tiramisu and Uji Matcha Roll Cake. Their non-smoking tea house has 21 tables, and parking spaces for up to 40 cars, so access is really easy and there's plenty of space. You can enjoy not only sweets, but also some very unique lunch dishes such as matcha soba, matcha curry, and matcha udon!
Uji is just a 20 minute train ride from Kyoto station, and the Itohkyuemon teahouse is a short walk from the World Heritage Site Byodo-in Temple and the Tale of Genji Museum. So there's no shortage of things to do in the area.
While You're There
Have a cup of matcha at Japan's oldest tea house, just a five minute walk from Itohkyuemon.
Tsuen Tea has been in the same location, and managed by the same family since it opened in 1160–that's nearly 900 years ago! It has a very long and storied history, so much so that it's been mentioned in numerous Japanese plays and folktales.
The tea shop was opened by Tsuen Masahisa, a retired samurai, but just 20 years after opening he was called out of retirement to fight in the Genpei War, in a battle famously recounted in the 14th century epic The Tale of the Heike. His story was retold in the Japanese Noh drama Yorimasa, and the Kyogen comedy play Tsuen.
Tsuen Tea was popular with the famous Buddhist monk Ikkyu, and was also said to be a favorite of Japanese feudal lord Toyotomi Hideyoshi. So if you're a tea lover or a history buff you can't miss Tsuen Tea.
Itohkyuemon Uji Matcha Butter Sandwich Cookies 5 Pieces
$29.99
Sweet potato probably isn't the first thing you think of when you try to list your favorite cookie flavors, but it will be after you try Tokyo Baked Base's Sweet Potato Langue de Chat cookies. You're not going to get smacked in the face with sweet potato flavor when you bite into it, don't worry.
The flavor is subtle, and it's hard to put your finger on just what it is. The sweet potato white chocolate filling has a sweet and floral flavor, almost like Earl Grey tea. It's very pleasant, even if you don't like sweet potatoes. The soft filling is sandwiched between two crispy, crumbly, buttery cookies to create an elegant and balanced snack.
These cookies came toward the top in our tasting of fifty Japanese cookies, not just because they're so unique (there were a lot of unique cookies on the list), but because the quality of Tokyo Baked Base's ingredients really shows with every bite.
Where to Find Them
Tokyo Baked Base is a rarity in Japan, being an "online first" store. Most of their sales are made through their website, but they have opened one small kiosk in a department store in Tokyo. Their brick-and-mortar kiosk is in the Tokyu Machida Twins department store in Machida, Tokyo, and they sell a range of baked goods such as their famous Apple Butter Tart, a gooey Double Chocolate Tart, and a delectably creamy Fromage Terrine.
Machida is a city in the far west of Tokyo Metropolis, near Kanagawa Prefecture, it takes about an hour on the train to get there from the Shibuya/Shinjuku area. It's a popular area with young people studying or working in Tokyo, as the rent is much cheaper than in the city center, but you can still commute there pretty easily. This means it's full of trendy restaurants, cafes and bars to check out while you're there.
While You're There
Learn the art of the samurai from Japan's last samurai.
Yoshioki Sumida, who calls himself "Japan's last samurai", has a school based in Machida called Bizenkai where you can experience what it's like to be a samurai. Mr. Sumida is a descendant of a great samurai family, and has spent his life practicing and perfecting the samurai lifestyle. He's a 6th Dan Iaido sword drawing and striking master, a 5th Dan Toyama-ryu swordsmanship master, and a Yabusame horseback archery master.
You can book a training session at his dojo, where you will wear samurai training clothes, learn about swordsmanship, and even practice cutting bamboo mats with a real samurai sword. The perfect way to burn off those sweet potato cookies!
Tokyo Baked Base Sweet Potato Langue de Chat Cookies 30 Pieces
$33.95
Royce' Baton Cookies come in a box containing two different flavors: coconut and hazel cacao. Both were popular with Japanese Taste staff, but the coconut flavor ended up being the better of the two!
It's a thin, golden baton cookie which has been blended with rich and nutty roasted coconut before baking. The underside of the cookie has been coated with Royce' signature chocolate to make it a decadent and irresistible treat. These cookies come in a large box of 50 (25 of each flavor), but it's hard not to eat right through all of them in one sitting. They're that good!
The cookies have only a handful of natural ingredients, making them not only tasty, but guilt-free too. It's an ingredient list that anyone can understand, free from chemicals, packed full of ordinary things you'd find in your own fridge or at the supermarket. 
Where to Find Them
Royce' original chocolate factory is in Tobetsu, Hokkaido – a short drive from Sapporo. 
Hokkaido's cool climate, open fields and low humidity is ideal for producing top quality milk, and also for making soft and creamy chocolate. Royce' most popular product in Japan is their nama chocolate – a soft and gooey, melt-in-your-mouth chocolate ganache. And they've recently had a lot of success with their chocolate-coated potato chips.
Royce' has seven different stores in Sapporo selling all of their hit products, including these great cookies, so take your pick! Their largest is their Higashi-Naebo store, which was renovated in February 2023.
There you can find all of their best products, and many limited products such as Nama Chocolate Donuts. There's also a dine-in area where you can enjoy your chocolatey goodies, fresh-baked bread, coffee and soft-serve ice cream.
While You're There
Experience the unique culture of northern Japan's indigenous Ainu people, and try traditional Ainu food at the Ainu Culture Promotion Center.
The Ainu are the indigenous people of Hokkaido, who have a rich culture and history distinct from mainstream Japanese culture. As there are only around 16,000 Ainu people left in Japan, and only a handful of native speakers of the Ainu language, the Japanese government has started taking steps to preserve their culture.
One of the ways they're doing this is by setting up museums and cultural centers, like the Ainu Culture Promotion Center in Sapporo. Learn about one of Japan's lesser-known cultures by visiting the center, seeing traditional clothing and tools, and hearing the Ainu language first-hand.
You can even see traditional Ainu festivals and celebrations, and try Ainu food – something not many people get to experience in their life!
Royce' Baton Cookies Coconut & Hazelcacao 50 Pieces
$26.00
Japan opening up to the west in the 1860s introduced many new foods to the local diet – one of which was the humble apple.
The Japanese government started importing apple seedlings from the United States, and Aomori just happened to have the perfect climate to grow them. Now Aomori produces over 50 million tons of apples annually, so it's no wonder that Aomori's souvenir cookie would be apple-based.
These soft cookies use real, natural apple juice and fiber from Aomori apples to pack in the flavor and aroma. As soon as you open the packaging, you're greeted with the scent of a summer orchard. The chewy caramel chocolate center is the pièce de résistance – capping off a delightful flavor journey with an indulgent treat.
These cookies rank very highly out of the fifty we reviewed, and many of our tasters chose them as a personal favorite!
Where to Find Them
Ragueneau started as a candy store in Hirosaki City, Aomori Prefecture, in 1882. Now, they run many apple orchards in Hirosaki, and over 70 stores and kiosks around Japan. Their focus has shifted away from conventional candy, and toward baked goods like pies, cookies, and cakes – with a heavy bias toward products using apples.
Their main store is in Hyakkoku-machi in Hirosaki City, where you can buy these Aomori Apple Soft Sable cookies, and other packaged baked goods like apple pies, cakes and brownies, as well as hot food from their cafe for lunch. There's even a vending machine outside the store to buy your favorite Ragueneau goodies when they're closed.
While most popular Japanese cookies are hard and crumbly, the Apple Soft Sable is a soft and chewy American-style cookie. That makes a lot of sense for Hirosaki. Walking through the city's streets, you might think you've been transported out of Japan. Hirosaki is famous for its many American and European-style buildings.
Aomori was aiming to become an industrialized and westernized hub after Japan's introduction to the rest of the world in the 1800s. So its agriculture, its architecture, and even its cookies are uniquely western-inspired.
While You're There
Visit one of Japanese literature's "sacred sites", the boarding house of Osamu Dazai.
If you have even a passing interest in Japanese literature, you've certainly heard of Osamu Dazai. In a 2022 Japan-wide survey to determine the most popular literary masters in Japan, Dazai ranked third under Natsume Soseki and Ryunosuke Akutagawa.
Dazai lived a strange and tragic life, which was summed up in his quasi-autobiographical best-seller No Longer Human. Many of his most troubled years were spent just before his career took off, in Hirosaki, Aomori.
Dazai spent three years living in a boarding house in Aomori while he attended the literature department of Hirosaki University in the 1920s. Today, that boarding house has been transformed into a museum, and has become a pilgrimage site for Dazai's most dedicated fans.
The boarding house, which is free to enter, is a great example of Japan's romantic vintage Taisho Roman style, and was designated a national Tangible Cultural Property because of its architecture. You can even see some graffiti Dazai left behind in the 1920s on the walls of the second floor.
If you're interested in Japanese literature, Japanese architecture, or Japan's Taisho Roman style (which is making a comeback!) be sure to check out Osamu Dazai's boarding house in Hirosaki.
Ragueneau Aomori Apple Soft Sable Cookies 10 Pieces
$16.98