The 15 Best Japanese Cookies You Need To Try!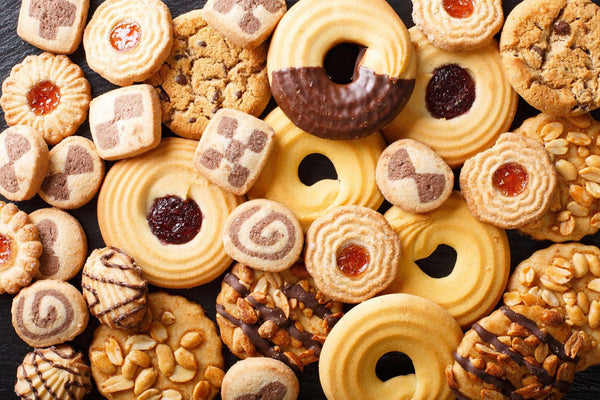 Jump to:
Are you a lover of Japanese cookies? Or have you ever wondered which Japanese cookie is actually the best? With so many brands, varieties, and flavors of cookies on the market, it can be difficult to know which cookie is actually good or which one to try first. Of course, there are famous cookies that make popular souvenirs, and popular cookies that seem to be loved across Japan. But are they actually good? 
We wanted to put those questions to the test and learn for ourselves; what is the best Japanese cookie? In order to do this, we had the whole Japanese Taste team of 20 members try a plethora of Japanese cookies. 
From cookies that can easily be found in grocery or convenience stores, to luxurious cookies that can sometimes only be found in particular regions in Japan, we tasted more than 50 different Japanese cookies. We tested each cookie in a blind taste test and rated them on factors such as quality, texture, aroma, and taste. We even had each member write their opinions anonymously in a survey for each cookie. In collecting this data, we came up with our uniquely curated list of the 15 Best Japanese Cookies. 
Our list works a little bit differently than traditional ranking lists though. Instead of numerically listing the cookies, we noticed that each cookie naturally fell into its own unique category. We also felt that there is no one-size-fits-all to the best cookie, as everyone has their own taste preferences.
We hope that you'll enjoy reading this article and find a Japanese cookie that you want to try for yourself! If you do find something you like, all of the cookies can be purchased from our website. Read on to discover some insanely yummy Japanese cookies.  
Highest Quality Japanese Cookie
Starting off with the highest quality Japanese cookie – the Rokkatei Marusei Butter Sandwich Cookie. If you're unfamiliar with this cookie, it is basically a sandwich cookie consisting of two rich, buttery cookies filled with luscious buttercream and raisins. It is nothing short of a luxurious cookie. 
The cookie itself has a crunchy texture that manages to melt in your mouth when you take a bite. In fact, these cookies have become so popular in Japan that Rokkatei created a stand-alone version that can be purchased.
The buttercream filling of the cookie is rich without being overly sweet and has a light cinnamon flavor. The raisins not only add a bit of sweetness to the cookie, but also make it more texturally balanced while giving the cookie a rum-raisin vibe. Thus, creating the perfect indulgent snack!
This popular Japanese cookie is a popular omiyage or souvenir item from Hokkaido. It is made using dairy products local to Hokkaido, making it extra delicious. In fact, Hokkaido is quite well known in Japan for producing top-tier dairy products. 
Even if you're not a fan of raisins, we would still recommend trying this cookie at least once! We know that you'll fall in love with this cookie once you experience the combination of rich buttercream, warm spices, rum raisin aroma, and the crunchy yet melt-in-your-mouth cookie. 
Rokkatei Marusei Butter Sandwich Cookies 10 Pieces
$29.95
Best Looking Japanese Cookie
The Yokohama buttercream sandwich cookies from Takara Seika are not only delicious, but they are also quite aesthetically pleasing. Each cookie has a unique-to-Yokohama digitally printed image display of iconic sightseeing spots. 
Yokohama, which is just south of Tokyo, is the second largest city in Japan. As it is a port city, it was one of the few Japanese cities that opened up to trade with the West during the mid-19th century. Because of this, the city naturally has a lot of foreign influence, both from the East and West. Therefore, you can enjoy sites that are both modern and historic, while feeling cultural Japanese and international vibes from the city. 
Of course, the cookies themselves are quite tasty too. The cookies are light and crispy, and have a slight sprinkling of salt, making the buttercream filling extra tasty. The cookies and buttercream also have a natural buttery flavor without being overly sweet. 
There are 19 variations of unique Yokohama scenery in total featured on these cookies, so you can have fun playing Yokohama site-seeing while enjoying a tasty treat. 
Takara Seika Yokohama Butter Cream Sandwich Cookies 72g (Pack of 3)
$11.86
Cookie With The Best Aroma
It's no secret that apple-flavored baked goods have a naturally enticing aroma. These unique and soft Aomori Apple-flavored Sablé cookies are no exception! The moment you open these cookies from their packaging, you will be instantly greeted with a pleasant aroma of fresh apples and cinnamon. 
These sablé are also unique in texture compared to most Japanese cookies, as they resemble soft, American-style cookies, a rarity in Japan. They are soft and chewy, making them extra delectable. 
Containing real apple juice from Aomori apples (the apple capital of Japan), these cookies are definitely not lacking in authentic apple flavor. Paired with warm spices like cinnamon and a soft and chewy caramel-chocolate center, the combination of flavors is a match made in heaven. If you're a fan of soft cookies or apple-flavored sweet treats, definitely give this one a go!
Ragueneau Yakkoi Sable Aomori Apple Soft Cookies 10 Pieces
$16.98
Cookie With The Best Texture
Textural experiences are definitely a key component in deciding what makes a great cookie. Royce' Baton cookies not only come in two different flavors – Coconut and Hazelnut Cacao, but they also have the perfect textural balance. 
A sweet, buttery cookie is coated on one side with luscious chocolate, and depending on the cookie, is sprinkled with bits of desiccated coconut or crunchy cacao nibs. When you take a bite of this cookie, you instantly experience a flavor explosion of the buttery cookie paired with chocolate, and notes of coconut or hazel nuts and cacao. The cookie is crunchy while the chocolate coating is soft and creamy. 
If you've never heard of Royce', they are a Japanese confectionery company based in Hokkaido, specializing in chocolate treats. Aside from their flagship Nama Choco product, they specialize in sweet treats containing high-quality chocolate. If you'd like to learn more about Royce' be sure to check out our Best Japanese Chocolate Brands article. 
Royce Baton Cookies Coconut and Hazelcacao 50 Pieces
$26.00
Best Souvenir Cookie
Possibly one of the most popular souvenir choices in Japan are these Shiroi Koibito Langue de Chat cookies from Ishiya. These cookies have been a favorite among Japanese people for more than 40 years and are an iconic cookie from Hokkaido. In fact, these cookies have become so popular that one Japanese Taste customer even reported that they purchase these cookies every time they visit Japan.  
These Shiroi Koibito cookies are light, crispy, and buttery and come filled with either white or dark chocolate. The cookie itself literally melts in your mouth the instant you take a bite and the sweet chocolate filling is so delicious that it is impossible to eat only one of these cookies. If you're looking for the perfect Japanese souvenir, then be sure to add these cookies to your list. 
If you're looking for other Japanese souvenir ideas, then definitely check out our recommendations in our Best Japanese Souvenirs article.
Ishiya Shiroi Koibito Cookies Dark & White Chocolate Sandwich Cookies 24 pcs.
$28.99
Best Traditional Japanese Cookie
While cookies may not be thought of as the most traditional Japanese sweet, there definitely are traditional Japanese cookies out there that you should not miss trying out. We recommend trying the Soba Boro cookies from Kawamichiya. 
Soba Boro cookies are in fact traditional Japanese cookies made from buckwheat flour and have a biscotti-like texture. These historic confections are famous in Japan and are local to Kyoto. 
Buckwheat flour has a natural nuttiness, which comes across clearly in the taste of the cookies. The cookies themselves are also not too sweet and are crunchy. They pair perfectly with a cup of hot green tea. They also come in cute plum blossom and round shapes, making them even more pleasant to enjoy. If you're looking for a traditional Japanese cookie experience, then you must try these special soba boro cookies.
Kawamichiya Soba Boro Japanese Buckwheat Cookies 190g
$13.75
Most Nostalgic Japanese Cookie
We're nominating Fujiya Home Pie as the most nostalgic Japanese cookie not only because it has been a best-selling snack in Japan since 1968, but also because it is so well-loved by both Japanese adults and children. 
If you're trying Home Pie for the first time, you may be slightly underwhelmed by its appearance. However, once you take that first bite, you'll realize why this cookie is such a bestseller. Home Pie is a pie crust-like cookie that is loaded with real butter flavor. In fact, each cookie has approximately 700 layers of pastry! Texturally speaking, these cookies are also quite light and crispy. 
Fujiya Home Pie Japanese Old Fashioned Pie Snack 38 Pieces
$6.95
Best Langue de Chat Cookie
Sweet potato may seem like a weird flavor for a dessert, but hear us out. You need to try these Sweet Potato Langue de Chat Cookies from Tokyo Baked Base! 
Like all Langue de Chat cookies, these cookies consist of a white chocolate filling sandwiched between two buttery cookies. However, these cookies are extra special because they feature the yummy flavor of Japanese sweet potatoes! The combination of Japanese sweet potato and white chocolate has a mellow sweetness yet surprisingly floral flavor, which matches perfectly with the buttery and crunchy cookies. 
Of course, if you're still not 100% on board with the idea of eating a sweet potato-flavored cookie, Baked Base also offers this cookie in a chocolate banana flavor, so there's a flavor for everyone.
Tokyo Baked Base Sweet Potato Langue de Chat Cookies 30 Pieces
$33.95
Best Chocolate Cookie
When we first tried this cookie in the office, we all thought it was going to be underwhelming to be quite honest. While yes, the cookie does have a pretty appearance with its elegant feather pattern, we thought that the taste was going to be subpar. We also thought that the chocolate flavor probably wouldn't taste that strong or high-quality. But we were pleasantly surprised by just how yummy these cookies are! 
First of all, these delicious chocolate cookies from Tohato are double-coated in Venezuelan cacao-made chocolate. Doesn't that just sound so fancy? The cookie itself is also a chocolate cookie, but the chocolate coating doesn't make the experience overly rich at all. The best part is that these cookies are not overly sweet! In fact, the chocolate and sweetness of the cookie are perfectly balanced. You can enjoy rich chocolate flavors in both the biscuit and coating of this cookie. 
Tohato Choco Melise Double Coated Chocolate Sandwich Cookies 14 Pieces (Pack of 3)
$14.68
Best Matcha Cookie
When making an article all about Japanese cookies, it would be a sin to skip out on the best matcha cookie category. If you're a fan of all things matcha, then you need to try the Matcha Langue de Chat Cookies from Itohkyuemon. 
These matcha langue de chat cookies consist of a matcha-flavored white chocolate layer sandwiched between two freshly baked matcha cookies. The cookies are light and crunchy and pair perfectly with the white chocolate filling. Itohkyuemon has strived to make these cookies even more delicious by using only the highest quality matcha from Uji, which is the most famous place for producing matcha in Japan.  
Whether you're a matcha lover or are new to matcha sweets, we think you'll love this cookie because the matcha flavor is quite present without being too overwhelming or bitter. The white chocolate also provides the cookie with a mellow sweetness. 
These cookies come individually wrapped in cute and traditional packaging, making them the perfect authentic Japanese gift!
Itohkyuemon Uji Matcha Langue de Chat Cookies 10 Pieces
$29.99
Best Underdog Cookie
Many of us (including myself) were completely shocked when trying this cookie for the first time. This is hands down the most well-balanced chocolate sandwich cookie out there. The cookies are crispy and loaded with chocolate-y flavor, and the caramel filling is not lacking in flavor at all either. It's even slightly salty! 
This is a normal cookie that is commonly sold in grocery and convenience stores in Japan, which is why the quality in taste of this cookie was so surprising for us. It seriously tastes like a high-end cookie from a department store! The well-balanced bitter and sweet caramel filling paired with the cocoa cookie gives this cookie somewhat of a mocha flavor. Once you try these cookies for yourself, you'll know exactly what we mean. 
If you're not the biggest fan of caramel, no worries. Meiji also makes these cookies in other flavors like matcha and strawberry, which can both be purchased from our site.
Meiji Rich Caramel Chocolate Sand Caramel Filled Sandwich Cookies (Pack of 5)
$19.99
Best Biscuit
When it comes to choosing the best biscuit, it may be a bit tricky since the flavors and texture of biscuits are often times more similar than that of cookies. However, we can confidently say that these biscuits from Sapporo Nogakko Agricultural College are the best Japanese biscuits out there! 
These biscuits are only made with the highest quality butter, flour, and fresh milk all from Hokkaido, which as you know, is the dairy capital of Japan. They also have a unique texture that is crunchy, light, and melt-in-your-mouth all at the same time. Of course, they are also not overly sweet, making them the perfect afternoon treat paired with a cup of hot coffee or milk tea. 
If you want another reason why we nominate these as the best biscuit, these biscuits won the Monde Selection Gold Medal, an exclusive certification for high-quality food and drinks awarded in Belgium, for three consecutive years. 
Sapporo Nogakko Agricultural College Hokkaido Milk Cookies
$14.99
Best Sandwich Cookie
These tasty and crispy cookies are made with a blend of different grains including cereal, whole grains, and rye, and are filled with creamy white chocolate, making them quite a unique sandwich cookie and also a best-selling Japanese souvenir. 
These cookies are not lacking in texture or flavor at all, as the cookies are coated in butter and sugar before being baked and sandwiched with a layer of white chocolate. They also contain browned butter, giving the cookies a wonderful nutty aroma. These are definitely a unique and delicious sandwich cookie that you can't find outside of Japan!
Sugar Butter Sand Tree Cookies 14 Pieces
$32.00
Best Shortbread Cookie
Of course every cookie ranking needs to include a shortbread cookie. If you're looking for the best Japanese shortbread cookie, then look no further than the chinsuko cookie. Chinsuko cookies, or Okinawan Shortbread Cookies, have been made in Okinawa since the Ryukyu Kingdom. Besides being a cookie with a long history, these cookies are also delightfully sweet and crispy. 
The main ingredient of chinsuko cookies is usually lard, which gives them their iconic crumbly texture. However, this version of chinsuko contains yukishio or snow salt, a special kind of salt from Miyakojima in Okinawa. Nanpudo chinsuko cookies also come in assorted flavors like matcha and chocolate, if you're looking for a new flavor experience. 
If you love snacks that are both sweet and salty or are looking for the best shortbread cookie out there, chinsuko is calling your name.
Nanpudo Yukishio Chinsuko Okinawan Shortbread Cookies 48 Pieces
$15.98
Most Unique Japanese Cookie
Last but certainly not least is the most unique Japanese cookie, which is definitely the original Yoku Moku Cigare Cookie. While these rolled butter cookies may seem simple, once you take a bite and experience their luxurious, buttery flavor with slight vanilla aroma, you will realize just how unique they truly are. 
The reason why these cookies come in a rolled-up cigare-like shape is because the cookie recipe contains plenty of raw milk butter from, you guessed it, Hokkaido. The amount of butter used in the cookie is so much that it cannot be baked into a cookie unless it is rolled up. In fact, these cookies contain so much butter that if any more butter was added to the recipe, it may not be a cookie anymore. 
Yoku Moku Cigare Japanese Cigar Cookies 30 Pieces
$35.95
Have you tried any of the cookies we listed? If not, which one do you want to try first? Be sure to let us know in the comments below. Also, let us know if there is any other category of snacks that you'd like us to review.