Unlocking Healthy Hair: The 12 Best Japanese Silicone-Free Shampoos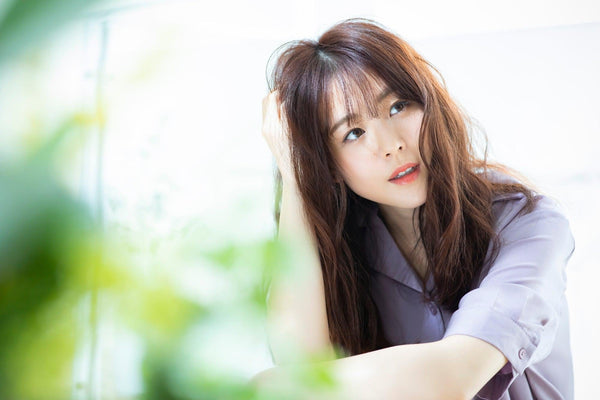 Jump to:
When it comes to Japanese haircare products and shampoos, the choices can be overwhelming. Many Japanese shampoos also contain silicone as one of its ingredients, which may not be the most suitable kind of product depending on your hair type. In this article, we'll uncover the best Japanese silicone-free shampoos, exploring their benefits and the reasons why you should give them a try, especially if you have fine hair!
What Is Silicone-Free Shampoo And Why Should I Use It?
In its simplest terms, silicone-free shampoo refers to shampoo that does not contain silicone as one of its ingredients. Silicones are synthetic compounds commonly used in hair care products due to their ability to create a smooth, shiny appearance and provide a temporary coating on the hair strands. Whilst silicone can improve the hair's appearance in the short term, there are disadvantages to using it long-term.
Silicones can build up on the hair over time, leading to a heavy or greasy feeling, and may weigh down the hair making it more difficult for other beneficial ingredients, such as natural oils or nourishing treatments, to effectively penetrate and nurture the hair. They can be particularly problematic if you have fine hair, leaving hair looking flat, lifeless, and greasy.
Silicone-free shampoos use alternative ingredients that cleanse the hair without leaving behind a silicone residue. These shampoos often prioritize natural or plant-based ingredients, aiming to provide a gentler and more nourishing cleansing experience for the hair and scalp.
By choosing a silicone-free shampoo, the hair can better absorb moisture, retain natural oils, and reveal its true texture and shine. Furthermore, silicone-free shampoos align with the growing demand for clean and sustainable beauty products, as they eliminate the use of synthetic compounds that may have environmental implications. Research has shown that silicones build up in the environment and don't break down easily.
Read on to discover the best Japanese silicone fee shampoos to transform your hair!
Best Shampoo For Nighttime Repair
This shampoo by Yolu aims to provide your hair with intensive care during the night, when friction between your hair and bed linen may lead to dry and rough hair.
The silicone-free shampoo's active ingredients coat your hair to protect it from friction while you are sleeping, and it is formulated with nemunoki-based extract that contains vitamins, iron, and calcium to help nourish hair and promote healthy growth.
This shampoo also contains soothing aromatic fragrances: the top notes comprise fruity scents of neroli, orange, and cassis (blackcurrant), the middle notes include floral scents of peony and lavender, and the base notes have woody scents including musk and sandalwood.
Yolu Calm Night Repair Silicone Free Shampoo for Damaged Hair 475ml
$23.98
Best Shampoo Featuring Japanese Camellia Oil
Oshima Tsubaki premium hair shampoo is formulated with Tsubaki oil (Camellia Japonica Flower seed oil) to keep your scalp hydrated and retain moisture in your hair. Camellia oil has many benefits for hair and is rich in oleic acid, which is similar to the natural oils produced by our scalp. This makes it highly moisturizing and nourishing. It helps to seal in moisture and keeps the hair hydrated and soft.
Tsubaki oil has a lightweight texture that is easily absorbed by the hair, adding a natural sheen and gloss to it. It smooths the cuticles, allowing light to reflect off the hair surface, resulting in a more lustrous and shiny appearance.
Oshima Tsubaki Camellia Premium Hair Shampoo 300ml
$14.95
Best Vegan Friendly Shampoo
This vegan-friendly silicone-free shampoo is ideally suited for damaged hair and uses Japanese plant extracts such as rose and camellia to provide deep moisturizing effects to hair whilst restoring damage from the inside.
This shampoo has an intense, fruity fragrance and in addition to being silicone free is also free from chemical aromatics, colorants, mineral oil, paraben, UV absorbents, and animal-based components. No animal testing is conducted during its manufacture.
RinRen Shampoo Rose & Tsubaki Vegan Hair Repair Shampoo 480ml
$28.95
Best Shampoo For Damage Repair
LUX Luminique's non-silicone shampoo uses natural ingredients such as ylang ylang oil to intensively repair any damage to your hair. It has a restorative effect on hair when used regularly and a refreshing aroma of rose and peach.
When lathered up, the fine foam of this shampoo softly removes dirt and impurities while the ingredients deeply penetrate the core of the hair. With this process, it repairs the hair cuticles providing a coating effect that makes your hair more resistant to damage; then provides a moist and glossy finish.
In addition to its strong moisturizing effect, the product smoothens and softens your hair thanks to ingredients including hydrolyzed keratin, hydrolyzed collagen solution, and squalene.
Lux Luminique Damage Repair Non-Silicone Shampoo 450g
$15.95
Best Suited For Frizzy Hair
Kracie Dear Beauté Himawari Oil in Shampoo features premium sunflower oil to moisturize and repair damaged hair. Free from silicone and sulfate-free, this shampoo is especially suitable for consumers with dry, wavy, frizzy, or unruly hair to help it become smooth and shiny.
Sunflower oil helps to keep the hair moisturized without making it greasy, and thanks to its high content of vitamin E, it can help to repair damaged hair and restore its shine and luster. The anti-inflammatory properties in sunflower oil can also prevent any irritation to the scalp and sunflower oil also helps to keep frizzy hair and breakages at bay. 
Kracie Himawari Dear Beauté Oil In Shampoo Rich & Repair 500ml
$19.99
Best Shampoo For Tangled Hair
This citrus-fragranced shampoo is ideally suited for consumers with fine, flat, or tangled hair. It features nine botanical ingredients sourced from Japan, such as yuzu from Kochi prefecture and bitter orange (neroli) to help transform your hair from knotted and tangled to silky smooth locks that you can run your fingers through.
RinRen's vegan-friendly shampoo also uses environmentally friendly coconut-derived cleansing ingredients along with other natural ingredients said to bring elasticity to the hair. 
RinRen Shampoo Yuzu & Neroli Vegan Hair Smoothing Shampoo 480ml
$28.95
Best Shampoo For Dry Hair
This premium shampoo is formulated especially for dry hair to help it reverse damage and become shinier. Formulated with rice-based beauty essence, sake lees, and selected Japanese herbs, it transforms dry hair to moist and glossy with regular usage.
This product has a cherry blossom fragrance and also contains a special heat repair coat formula – a silk-based formula that accelerates hair repair benefits when it makes contact with the heat from a hair dryer. In other words, this shampoo is expected to be more effective when combined with heat!
Kracie Ichikami The Premium Shampoo Shiny Moist (Japanese Shampoo for Dry Hair) 480ml
$17.95
Best Shampoo For Gentle Cleansing
This silicone-free shampoo makes fine and gentle bubbles to clean your hair and scalp effectively, removing impurities and build-up without stripping away essential moisture.
It also has a refreshing smell derived from a blend of lemon and ylang-ylang essential oils combined with gardenia.
The organic shampoo contains multiple plant-based cleaning ingredients and moisturizes hair to help it look really glossy and have a smooth texture.
Tamanohada is one of Japan's oldest soap companies, having been founded in 1892. With over a century of expertise, today they provide consumers with gentle, eco-friendly products enriched with essential oils.
Tamanohada Shampoo Gardenia 004 540ml
$26.00
Best Shampoo With Plant-Based Ingredients
Ichikami Moisturizing Shampoo is a silicone-free shampoo made of nourishing Japanese botanical ingredients and has a lovely fruity fragrance of sakura (cherry blossom) and apricot. It is designed to repair damaged hair while also providing a silky-smooth finish and provides a rich lather to repair hair follicles.
This shampoo is packed full of natural ingredients such as Angelica keiskei leaf/stem extract, rice bran oil, apricot kernel oil, tea leaf extract, dianthus seed extract, Indian soapberry extract, rice germ extract, leopard flower extract, camellia seed extract, and rice bran extract.
Kracie Ichikami Japanese Plant Based Moisturizing Shampoo 480ml
$16.95
Best Suited For Rough And Dry Hair
The Botanist series of shampoo combines botanical hair care with state-of-the-art beauty technology, and this particular product gives your hair deep moisturization and has a pleasant scent of apricot and jasmine.
This premium shampoo is made with carefully selected botanical ingredients including white birch, sugar cane, licorice, soybean, soap nut, and soap wort that help to alleviate hair roughness and dryness whilst providing moisture and a glossy finish to your hair.
Botanist Botanical Hair Shampoo Moist Apricot & Jasmine 490ml
$26.00
Best Shampoo For Treating Itchy Scalp
Kumano Yushi Horse Oil Shampoo contains natural oil from horses which has the closest composition to human sebum and is gentle on the hair and scalp, leading to shiny and glossy hair.
This Japanese silicone-free shampoo is ideally suited for consumers who want to improve their hair quality and scalp health, or for people with itchy scalps or unruly hair. Horse oil has long been used as an ingredient in Asian beauty products and its benefits are said to include moisturizing hair and stimulating hair growth.
Kumano Yushi Horse Oil Shampoo 600ml
$17.99
Best Shampoo Suitable For Sensitive Scalps And Children
This flagship product from premium brand Allna is a silicone-free shampoo formulated with organic ingredients and contains natural botanical fragrances such as tea tree, lavender, and orange.
Allna specializes in supplying haircare products for Japanese hair salons and is committed to producing high-quality organic cosmetics. This shampoo has a gentle cleansing formula and is suitable even for children to use thanks to its mild acidity.
Allna Organic Shampoo Salon Exclusive Hair Smoothing Shampoo 500ml
$28.00
Want to learn more about Japanese haircare products? Check out this article on the best Japanese Hair Conditioners & Treatments or this article on the best Japanese Shampoos for Dry & Damaged hair.