10 Of the Best Japanese Hair Conditioners and Treatments for Beautiful Shiny Hair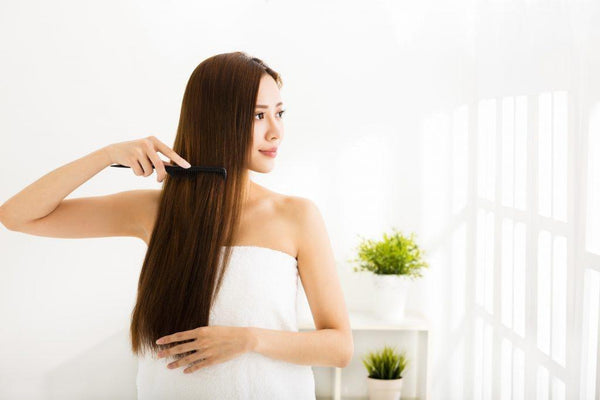 Jump to:
For shiny, smooth, frizz-free hair, check out our recommendations for Japanese hair conditioners and treatments.
Japanese haircare products often contain unique ingredients native to Japan such as the Camellia japonica extract (tsubaki oil), a flowering tree which is also a member of the tea family. 
The oil derived from Camellia japonica has been used in Japanese beauty products for hundreds of years and is packed full of oleic acids, proteins, and glycerides, which help to make hair healthy, stronger, and shinier.
Another example of a natural ingredient found in many Japanese beauty products is the citrus fruit yuzu. When it comes to benefits for hair, yuzu contains potassium which helps to keep hair strong, and encourages growth.
Whether your hair is damaged from using too much heat or feels dry from coloring, we have a recommended hair care product that's perfect for you!
Mucota Adllura Aire 03 Light Veil Hair Conditioner Lithe 200g
$21.00
Recommended for: normal, wavy, and permed hair
For a salon-quality treatment that will improve the texture and condition of your hair, try Mucota Adllura Aire 03. The professional grade ingredients help to provide volume and keep hair feeling silky, and this Japanese hair mask also has a refreshing apple and peach scent.
The Adllura Aire collection is designed to prevent dryness whilst keeping hair moisturized, and Mucota specialize in making products that are of salon quality but that can be used easily at home. The popular Adllura Aire range features a wide selection of products which vary according to the consumer's hair type and length, so you can find the treatment best tailored for you.
Kao Asience Extra Rich Hair Mask Treatment 180g
Recommended for: damaged and dry hair
This hair mask treatment by Kao repairs and moisturizes dry and damaged hair to leave it feeling soft and supple. The Asience Extra Rich Hair Mask is also packed with luxurious botanical ingredients such as argan oil, jojoba oil, orange peel, sunflower seed, eucalyptus, and yuzu.
ViCREA &honey Organic Moisture Treatment 2.0
$24.95
Recommended for: dry and dehydrated hair
ViCREA's &honey series is the most popular honey-based cosmetic brand in Japan. This organic hair treatment has been specially formulated to help lock in moisture to leave it feeling silky and smooth. 
It has a luxurious texture and a wonderful lavender and honey scent which is no surprise considering it contains an exclusive blend of honey which includes 50% manuka honey, 30% acacia honey, and 20% Japanese raw honey.
This made in Japan treatment also features several other natural moisturizing ingredients such as Moroccan argan oil, shea butter, coconut oil, and royal jelly extract.
Milbon Plarmia Enriched Hair Treatment for Hair Breakage 500ml
$58.00
Recommended for: hair prone to breakage, split ends, mature and colored hair
The manufacturer of this anti-aging Japanese hair treatment believes that one of the main issues when it comes to hair is dryness and split ends and so this product has been designed specifically in mind with challenging these problems and boosting elasticity.
Milbon Plarmia Enriched Hair Treatment is formulated with keratin-based protein that has a natural affinity with hair, so it adheres to and is absorbed by hair with ease to provide intensive damage restoration.
Shiseido Tsubaki Premium Repair Hair Mask 180g
$10.95
Recommended for: lifeless, damaged hair
This luxurious hair repair mask by Shiseido repairs ripped cuticles and damaged hair to leave it feeling silky smooth as if you just stepped out of a salon! This top-rated product has also won awards in 2019 from Cosme, Japan's most popular beauty review site.
One of the Shiseido Tsubaki Premium Repair Hair Mask's most unique features when compared to other hair treatments is that it works instantly – you can rinse it off straight after application, making it the perfect quick fix if you are in a hurry.
The Shiseido hair mask is also packed with beauty enhancing and repairing ingredients that work deeply into damaged hair to nurture it and restore movement and life.
Oshima Tsubaki Hair Cream Moist 160g
$14.99
Recommended for: dry, coarse, thick hair
For moisturized hair with a lustrous finish, try this cream treatment made from Camellia oil. Ideally suited for consumers with thick or coarse hair, this smoothing treatment will help you to control the volume and achieve a moisturized finish. 
The camellia ceramide ingredient works to repair any hair damage, whilst the camellia oil coats the surface of each hair strand for a glossy and lustrous finish. This treatment is great value for money and the convenient tube packaging makes it easy to apply and control the amount of product that comes out too.
The Oshima Tsubaki Hair Cream can be used not only as a hair treatment, but also as a styling product before blow-drying hair to make it easier to control and style and give it a moisturized look.
Within the same range of products, you can also find the Oshima Tsubaki Camellia Premium Hair Conditioner.
Milbon Jemile Fran Hair Treatment for Fine Hair 500g
$45.00
Recommended for: fine hair
The Jemire Fran hair treatment is designed especially for fine hair to give it a silky and shiny finish without weighing it down and leaving hair looking flat. It contains a special formula that is close to that of your hair cuticles, so it repairs damage to your hair from the inside and keeps it looking radiant.
Shiseido Tsubaki Premium Japanese Camellia Moisturizing Conditioner 490ml
$16.95
Recommended for: dry hair
This high-quality conditioner by Shiseido comes in a vibrant red pump bottle for easy application and contains tsubaki oil to make your hair nourished, glossy, soft, and shiny. The oleic fatty acids (omega 9) contained within tsubaki oil are highly effective at retaining moisture making this product great for dry hair.
The Shiseido conditioner works to soften and moisturize dry hair deep from the roots, as well as repair damage and breakage, and form a protective veil against pollutants.
Kaminomoto Medicated Conditioner B&P 300ml
$19.99
Recommended for: irritable scalps 
This medicated conditioner by Kaminomoto is recommended for consumers with irritable and sensitive scalps because it has an antiseptic and anti-inflammatory effect. It will also moisturize your hair and scalp whilst preventing any itching and dandruff. 
The Kaminomoto Medicated Conditioner helps make your scalp healthy for optimal hair growth and moisturizes the hair and scalp, helping to prevent split ends. The moisturizing effect of this conditioner also protects hair from heat when using hair dryers or other styling products. 
Kao Merit Conditioner Pump Bottle 480ml
$15.99
Recommended for: itchy scalp
This great value for money hair conditioner by Kao comes in a handy pump bottle and is designed to moisturize your scalp, helping to prevent any itchiness and dandruff. It also works against tangled hair and creates a protective barrier once applied to repel any dust and dirt from being absorbed by hair. 
Kao Merit Conditioner contains natural ingredients such as plant derived licorice, which is a bit of a superstar when it comes to hair. Licorice contains soothing properties which help to rid the scalp of itchiness and it can also help to stimulate hair growth and repair damage.
This conditioner also contains eucalyptus and chamomile for moisturizing and refreshing the scalp and has a lovely floral fragrance.
For more recommended Japanese haircare products, check out our full range of products here.