6 Best Japanese Mirin You Can Buy Online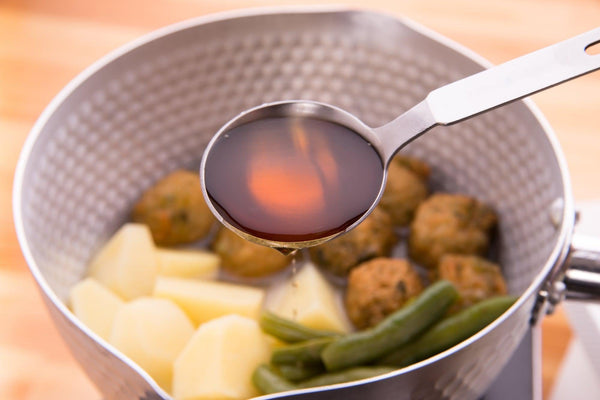 Jump to:
Are you looking to elevate your Japanese cooking or familiarize yourself more with Japanese ingredients? If you answered yes to either (or both) of those questions, then you've definitely got to check out mirin. In this article, we'll introduce you to 6 of the best handmade and traditional Japanese mirin. We are going to cover rare varieties of Japanese mirin that can't be found anywhere else, so you won't want to miss out on reading this article! 
What Is Mirin Sauce?
Mirin is a sweet rice wine and is one of the most prevalent staple Japanese condiments. It is used to season many Japanese dishes. High-quality mirin tend to be darker amber-like in color and have a thick syrupy texture. If you want to learn more about mirin in greater detail, then check out this article. 
What Makes The Mirin On This List Better Than Conventional Mirin?
All of the mirin we will look at in this article are made from only natural ingredients and can be used outside of cooking. In fact, all of these mirin can be enjoyed as beverages or even be used as healthier sweetener alternatives. Most importantly, all of these mirin have undergone traditional brewing processes, something that is becoming increasingly rare in Japan. Now without further ado, let's dive into our top 6 curated mirin picks. 
Starting out with this Hakubishi Hon Mirin from Takashima which is an authentic and handcrafted mirin sauce made from only glutinous rice, rice malt (koji), and shochu. This mirin is far different from grocery store mirin which is often full of additives and sweeteners. What sets this mirin apart from conventional mirin is that the previously mentioned ingredients are fermented for 60 days. During this time, the starch from the rice is broken down which creates natural sugar and amino acids, yielding a flavor like no other. 
This hon mirin has a genuine flavor that cannot be found in other mirin products. It is also a versatile ingredient that can be used in cooking, but can also be enjoyed as a beverage. However you decide to use this mirin, we're sure you'll love it! 
Takashima Hakubishi Junmai Hon Mirin Sauce 500ml
$19.99
Lovers of Japanese cuisine definitely need to check out this 1-year aged traditional mirin from Sugiura. Sugiura is a traditional maker that was founded around a century ago in Hekinan city, Aichi prefecture, the birthplace of mirin. Therefore, you know that Sugiura mirin is the real deal. 
This special Hon Mirin is additive-free and is made of only natural ingredients that come from Mikawa in Aichi prefecture. Mikawa is one of the most ideal places for brewing mirin because of its pristine weather and the soft water that flows from the local Mikawa river.  
Additionally, this Hon Mirin has been aged for one year, to really bring out its flavor and aroma in your cooking. Through its long brewing process, this Japanese rice seasoning has a unique sweetness and aroma that cannot be found in other Hon Mirins. It also has a beautiful amber color which will enhance the flavor and color of your dishes.
Sugiura Hon Mirin 1 Year Aged Traditional Sweet Rice Seasoning 500ml
$19.84
Another superb 1 year-aged mirin option is the Shippou Artisanal 1 Year Aged Mirin from Yoneda. One of the most unique points about this mirin is that it is made using techniques for hand making mirin that have been used for centuries. There are very few mirin makers in Japan that still stick to these kinds of traditional techniques. 
Concretely; the ingredients used to make this mirin – Japanese glutinous rice, Japanese malted rice, and sake lees shochu, are all made locally and processed by the manufacturer. These ingredients are left to ferment together for four months and then are aged for another year before being sold to consumers. 
One of the special characteristics of this mirin is that it uses sake lees shochu distilled in the old traditional way which involves making a paste-like mixture made of sake. The manufacturer uses its own flagship sake called "Toyo no Aki" for this purpose. Then the mixture rests and ferments for several months when rice hulls are added to help the steam pass through the lees mixture. Finally, a special wooden steamer with a device on top cools the vaper and collects the liquid.
Through its long preparation and brewing process, this Japanese rice seasoning develops a deep flavor with sweet notes and complex and woody aromas. Being slightly sweet, it balances saltiness and acidity in dishes. Its beautiful amber color and complex flavor will enhance the flavor of your foods.
Yoneda Hon Mirin Shippou Artisanal 1 Year Aged Mirin Sauce 720ml
$29.95
Experience the unique nuance of traditional Japanese cooking with Fukumitsuya Junmai Hon Mirin. Carefully brewed with steamed rice, koji (Japanese rice malt), and homemade rice shochu, this authentic mirin is aged for more than 3 years for a flavor that can only come from using the highest quality ingredients. 
Crafted with brewed alcohol and rice shochu, it has been aged for 3 years for a rich, full-bodied flavor. A true culinary delight, its complex taste profile is complemented by a smooth finish. Fukumitsuya Junmai Hon Mirin is such a renowned mirin, that it even received a grand prize in the Mirin category of the 2018 Seasoning Championship! 
This mirin is carefully made from 100% glutinous rice from Ishikawa Prefecture and Fukunohana sake rice from Hyogo Prefecture using precise cultivation methods, this special wine features a distinct aroma and a rich, concentrated taste. Expertly produced by the oldest brewery in Kanazawa, this sweet wine will bring out the best in all of your meals. With this mirin, you'll be able to recreate restaurant-quality dishes in the comfort of your own home. 
Use this genuine hon mirin for cooking or include it in your next cocktail. Replace shochu or sake with this delicious hon mirin for a refreshing drink or mix with soda for a unique highball. 
Fukumitsuya Junmai Hon Mirin 3 Years Traditionally Aged Sweet Rice Wine 720ml
$32.99
If you're looking for a mirin product that can be used in cooking, baking, or even drunk on its own, you won't want to miss out on this mirin! 
This special 3 year aged mirin is called Aizakura Mirin. It is made by traditional mirin maker Sugiura and only contains glutinous rice and rice malt from naturally cultivated rice grown in Hekinan city, Aichi Prefecture. 
The ingredients undergo a natural fermentation and are then left to age for 3 years. This process of naturally aging the mirin gives it a refreshing sweetness. Whether you use it for cooking or decide to drink it, you can taste a unique umami and rich flavor. 
What also makes this mirin unique is its slightly lighter color compared to other aged mirin. This makes it easier to use in cooking or even baking where keeping the original colors of the dish is important. 
The rice used in this hon mirin has been naturally cultivated without the use of pesticides or chemicals, making it a safe choice for consumers who are worried about pesticides. Only glutinous rice, rice koji (malted rice), and high-quality shochu are used in making this hon mirin. 
Sugiura Aizakura Hon Mirin 3 Years Aged Naturally Cultivated Sweet Rice Seasoning 300ml
$17.99
Last but certainly not least is this special hon mirin called Shirataki made by Gyokusen, a Japanese sake brewery in Gifu prefecture. What sets their hon mirin apart from other authentic Japanese hon mirin is the fact that they use their own homemade shochu for making this hon mirin. 
When it comes to making artisanal mirin, shochu is an indispensable ingredient. Many mirin makers opt to use premade shochu to cut down on time, but Gyokusen is adamant about making their own shochu in order to make authentic and high-quality mirin.
Along with homemade shochu, good quality rice (Yamada Nishiki 75% polished glutinous rice and Takayama 82% polished mochi rice, to be exact), and rice koji (malted rice) are used for crafting this mirin. These ingredients are aged together for 3 years to create Gyokusen's signature 3-year aged mirin. 
This intense and detailed crafting process creates a hon mirin that is soft in sweetness, has an elegant mellow flavor, and deep, dark brown color. The natural process of aging the mirin also gives a mirin a natural sweetness and unique flavor unlike other mirin. 
Of course, this mirin can be used in any dish you like, or you can drink it as well! Enjoy using this hon mirin in simmered dishes, soups, stews, sauces, and more! You can even use this mirin in sweet applications like when making caramel or even jam. 
Gyokusen Shirataki 3 Years Aged Hon Mirin Pure Sweet Rice Seasoning 500ml
$24.98
Which mirin on this list piqued your interest the most? If you want to learn even more about mirin, then be sure to check out our mirin vs rice vinegar and sake vs mirin articles.