A Beginner's Guide to Dashi: Learn All About this Essential Japanese Ingredient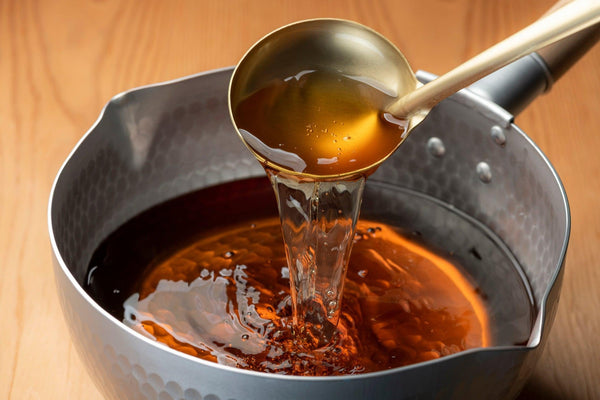 Jump to:
Dashi is a traditional Japanese broth and a fundamental ingredient in Japanese cuisine. It is used as a base for many soups, stews, sauces, and other dishes.
Dashi stock is used to add umami, or savory flavor, to Japanese dishes. It is an important ingredient in many traditional dishes, such as miso soup, noodle soups, and simmered dishes like sukiyaki and oden. Dashi is also used in sauces like teriyaki and ponzu, and as a flavoring for rice dishes like takikomi gohan.
Dashi holds significant importance in Japanese cuisine because it is a key element of the fifth taste, umami, which is considered one of the fundamental tastes in Japanese cuisine. It is also a versatile ingredient that can be used to enhance the flavor of many different types of dishes. The quality of dashi is considered important in Japanese cuisine, and many chefs take great care in preparing it from scratch using high-quality ingredients.
In this article, we'll explore which ingredients are typically included within dashi, what kind of dishes it's used in, and how dashi can be used outside of Japanese cooking too. We'll also give top recommendations of ingredients you can use to make your own dashi at home. Stay tuned to learn everything you need to know about this flavor-packed stock that is a base in Japanese cuisine. 
What Is Dashi Made From?
Dashi is a simple, yet versatile Japanese stock usually made from simmering a combination of the following ingredients:
Kombu (Dried Kelp)
Kombu is a type of seaweed and an essential ingredient in dashi, providing a rich umami flavor. Kombu seaweed is found in cold currents such as the North Sea and the Sea of Japan. It has high levels of iodine and can be used in many dishes or eaten raw. You can read more about it in this article about Japanese seaweed.
Katsuobushi (Bonito Flakes)
Katsuobushi is dried, fermented, and smoked skipjack tuna flakes. They add a smoky flavor and aroma to the dashi. The fish is dried and fermented to create a deeper, richer flavor during a process that takes several months. Whilst most people buy readymade katsuobushi you can also make your own!
Dried Shiitake Mushrooms
Shiitake are Japan's most popular mushrooms and are sun-dried to intensify the taste before being soaked in water to create a delicious dashi stock. The drying process boosts the mushrooms' umami flavor and can be used if you're looking to make a vegetarian-friendly dashi stock.
Niboshi
Niboshi are small, dried fishes such as anchovies or pilchards. They are traditionally sun-dried and then cooked in water to create the stock, providing a strong and slightly bitter taste.
Types Of Dashi
There are several variations of dashi that combine different ingredients including:
Kombu Dashi – made with dried kelp (kombu) and water, this is a good option for a vegetarian-friendly dashi.
Bonito Dashi – made with dried bonito flakes (katsuobushi) and kombu (kelp), this is the most common type of dashi, also known as "ichiban dashi" (first brewed dashi) in Japanese.
Niban Dashi – this is a second brewed dashi made using the leftover kombu and bonito flakes from making the first round of dashi. The ingredients are simmered again in around half the amount of water as the ichiban dashi to create a lighter flavor that can add depth and complexity to dishes.
Shiitake Dashi – made with dried shiitake mushrooms and kombu, this is another vegetarian option for dashi.
Niboshi Dashi – this can be used instead of katsuobushi to create a dashi with a stronger fishy taste.
What Kinds Of Dishes Is Dashi Used For?
Dashi is a key ingredient in many Japanese dishes, as it forms the base of many soups, stews, and sauces. Here are some of the most popular Japanese dishes that use dashi as a main ingredient:
Miso Soup
A traditional Japanese soup made with dashi, miso paste, and various ingredients such as tofu, scallions, and seaweed.
Nikujaga
A hearty stew made with dashi, thinly sliced beef, potatoes, carrots, and onions that is simmered in a sweet and savory broth.
Oden
A warming winter dish made with various ingredients such as boiled eggs, daikon radish, and fish cakes that are simmered in a dashi-based broth.
Noodle Soup
A simple and comforting soup made with dashi can be used for various noodles including soba and udon.
Gyudon
A popular rice bowl dish made with thinly sliced beef and onions that are simmered in a dashi-based broth and served over a bed of rice.
Nabemono
This traditional Japanese hotpot is made by simmering various ingredients together in a clay pot of broth. Dashi is often used as the base for the broth and depending on the type of nabe dish you are preparing, other ingredients such as vegetables, meat, seafood, and tofu are added to the pot and left to simmer. Check out this article on nabe to learn more.
Chawanmushi
This savory Japanese egg custard is made by mixing eggs with dashi, soy sauce, and mirin (sweet rice wine), and then steaming the mixture in small cups. The dashi gives the custard a subtle umami flavor, which is enhanced by the other ingredients that are added to the custard, such as chicken, shrimp, and mushrooms.
How Can Dashi Be Used Outside Of Japanese Cooking?
Although dashi is a traditional Japanese ingredient, it can also be used in other cuisines and recipes to add depth and flavor. For example, it can be used as a soup base in other Asian cuisines, or as a marinade for meat or seafood. It could also be used to add umami flavor to salad dressings, stir fries, and rice dishes.  
Recommended Products – Ingredients For Making Dashi
If you'd like to try making your own dashi (and you should!) then here are a few recommended authentic Japanese ingredients to get started:
Rated 5-stars by our customers for its high quality, this versatile variation of kombu seaweed known as Hidaka kombu, has a soft texture and mellow flavor perfect for using in dashi stock. 
Dried Japanese Kombu Seaweed Hidaka Kombu 100g
$14.99
This big bag of katsuobushi flakes will keep you stocked up so that you can make all your favorite Japanese dishes from miso soup to okonomiyaki. These dried bonito flakes are made from premium bonito caught in Japan and are produced by the Yamaki corporation, one of Japan's top katsuobushi manufacturers.
Yamaki Katsuobushi Japanese Dried Bonito Flakes 15g
$3.99
If you're looking to make a seriously umami vegetarian-based dashi, then you won't go wrong with these shiitake mushrooms. Most shiitake sold are cultivated on artificial substrate, but these certified organic dried Japanese shiitake mushrooms are cultivated outdoors on real logs in Japan. These naturally grown shiitake contain rich "Guanosine monophosphate (GMP)" creating a more intense umami flavor. The Shiitake mushrooms are cultivated on sawtooth oak, absorbing the nutrients from the logs and the moisture from the deep fogs of the forest.
Sugimoto Dried Organic Japanese Shiitake Mushrooms 70g
$12.95
How To Make Dashi – An Easy Dashi Recipe
Making your own dashi is easy to make and unlike many ready-made dashi broths, doesn't contain any artificial substances. You can learn how to make your own dashi from kombu and katsuobushi in this dashi recipe here. 
If you don't have time to make dashi at home but still want to recreate Japanese recipes at home, check out this article where we introduce the best instant dashi products available on the market.
Have you tried dashi or dishes that contain dashi before? Let us know your thoughts about dashi in the comments below!