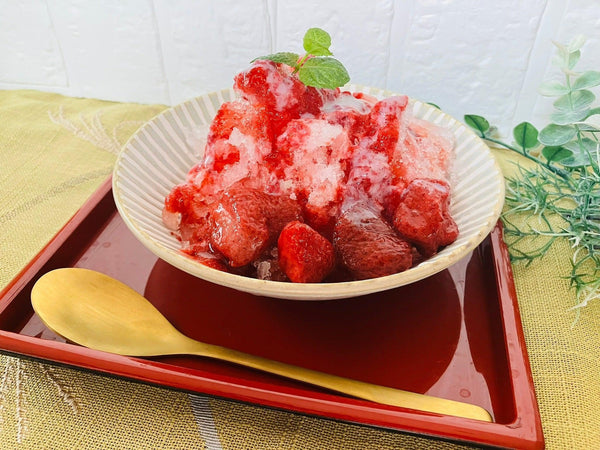 How To Make Strawberry Kakigori (Shaved Ice) With Fresh Strawberry Syrup
Shaved Ice
Kakigori
Summer
Strawberry
Fruit
Kid-friendly
Vegetarian
Gluten-free
During the summer months, Japanese people love enjoying kakigori, or shaved ice. It's a popular dessert sold all summer long, and you can find it on restaurant and cafe menus all over Japan.
Kakigori looks like a mountain of shaved ice, and it is always topped with a generous amount of fruity, colorful syrup. When you take a bite, you instantly feel the slightly crunchy yet fluffy texture of the ice followed by the sweet fruitiness from the syrup. It's like eating fruity-flavored snow.
We've previously shared a recipe for Uji Kintoki, which is a more traditional way to enjoy kakigori with matcha. In this recipe, we'd like to share a fruitier way to enjoy Japanese shaved ice – strawberry kakigori!
We will be making homemade syrup for our kakigori with real strawberries. It has the perfect balance of sweetness and sourness and just the right amount of fruity strawberry flavor – perfect for strawberry lovers!
When making kakigori at home, you don't need to run to the Japanese or Asian supermarket to purchase any special ingredients. As long as you have ice cubes, fruits, sugar, and a shaved ice maker or blender that is capable of blending ice, you can make kakigori at home. You can also use sweetened condensed milk to make your homemade kakigori a little bit sweeter if you wish.
We will be using frozen strawberries to make the kakigori syrup, but you can also use fresh strawberries if they are available. You can make the syrup in advance and keep it in the refrigerator for up to a week. You can also use it as a topping for ice cream, pancakes, or whatever your heart desires.
We hope that you'll enjoy our strawberry kakigori recipe and try making it for yourself at home. Let us know in the comments below how it turns out!
Overview
Prep time: 5 mins
Cook time: 15 mins
Total time: 20 mins
Total servings: 2
Difficulty: Easy
Ingredients
150g Ice Cubes
100g Frozen Strawberries
30g Sugar
Few drops of Lemon Juice
Sweetened Condensed Milk (to taste)
Expert's Tip
If you want to make kakigori all summer long (or anytime you want, really,) then this Kakigori Machine is a great option. You'll be surprised at how fluffy the ice will turn out every single time! This machine is easy to use, and anyone can make delicious, cafe-like Kakigori at home. What we love about this machine is that it does not require the use of electricity and does not need to be plugged in, so you can make kakigori both in and outdoors.
Instructions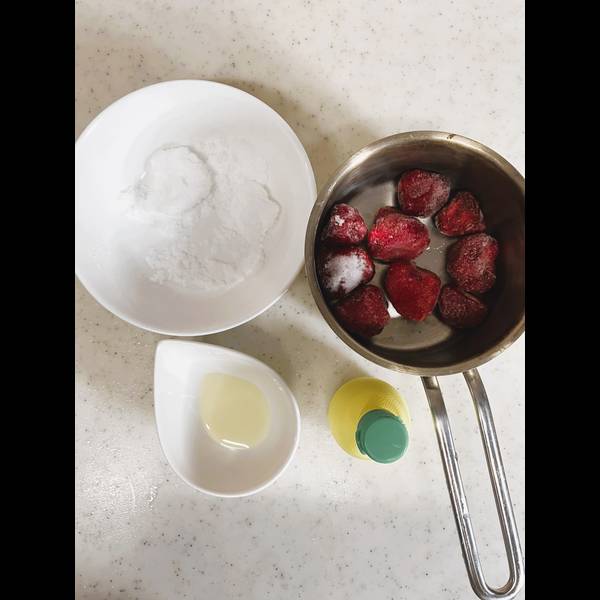 1) Gathering the Ingredients
Gather the ingredients for the strawberry syrup together.
Note: Keep the cubes in the freezer until ready to use.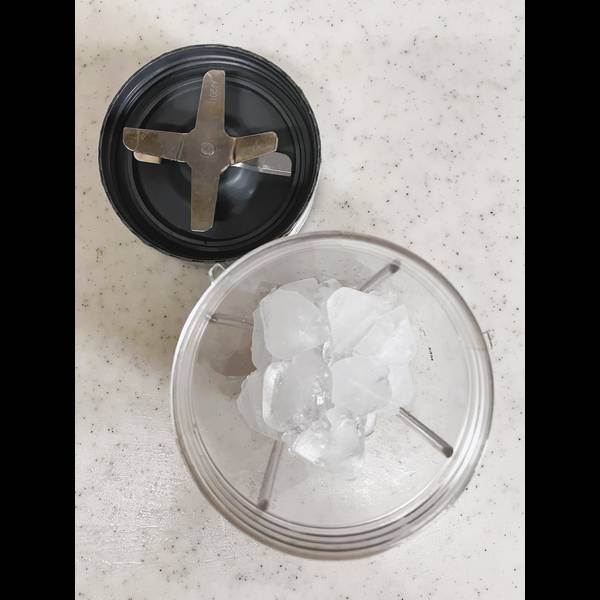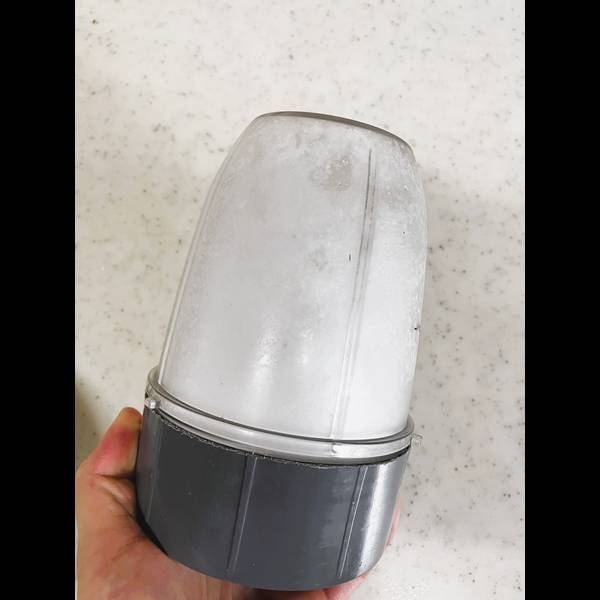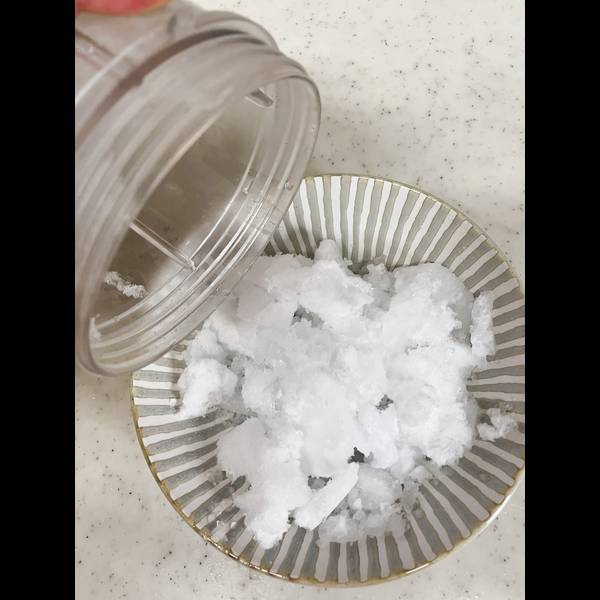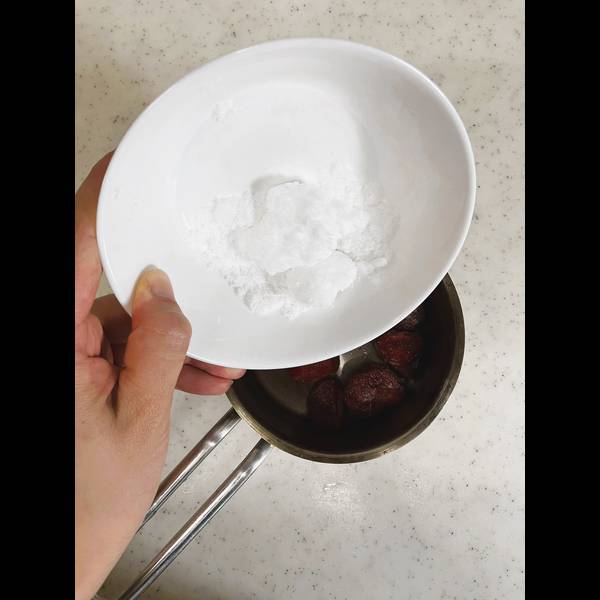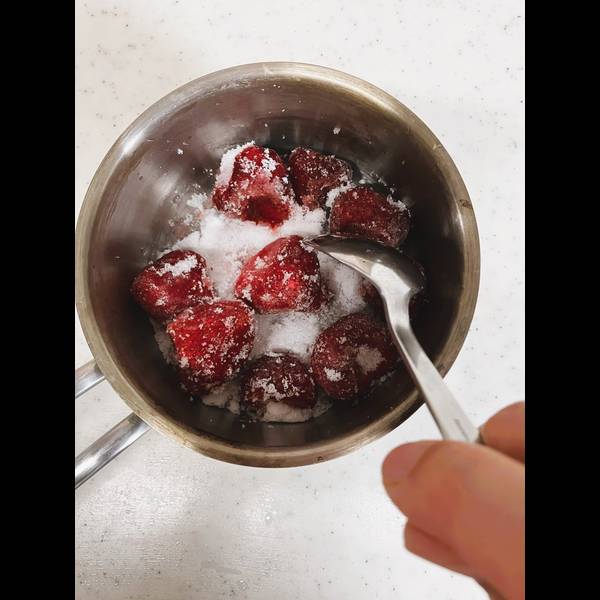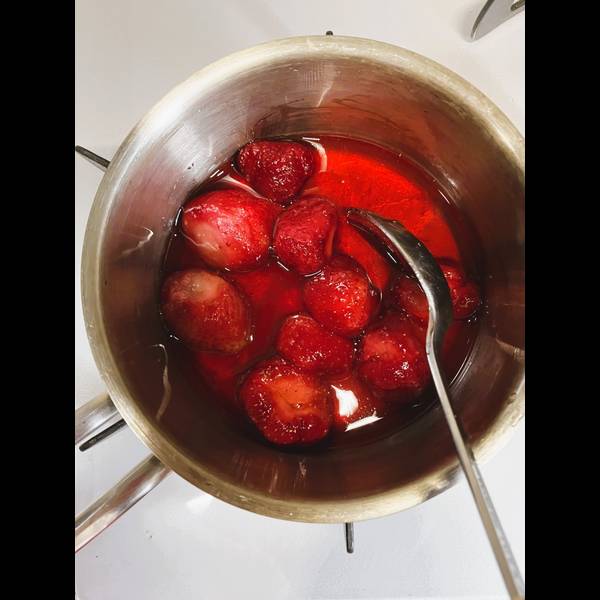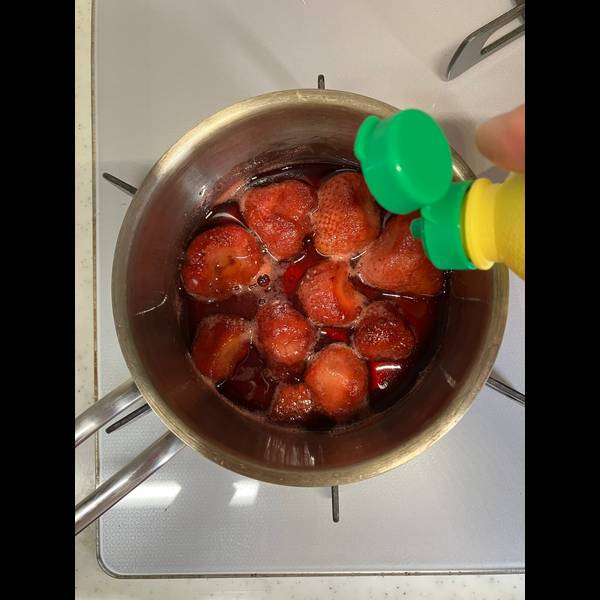 2) Making the Strawberry Syrup
Add strawberries and sugar to a saucepan and allow the strawberries to defrost for about 30 minutes. After 30 minutes, set the heat to low and stir the sugar and strawberries together until the sugar has fully melted. Once the sugar has dissolved, add in a few drops of lemon juice and turn off the heat.
Note: Be sure to stir gently so that the strawberries keep their shape.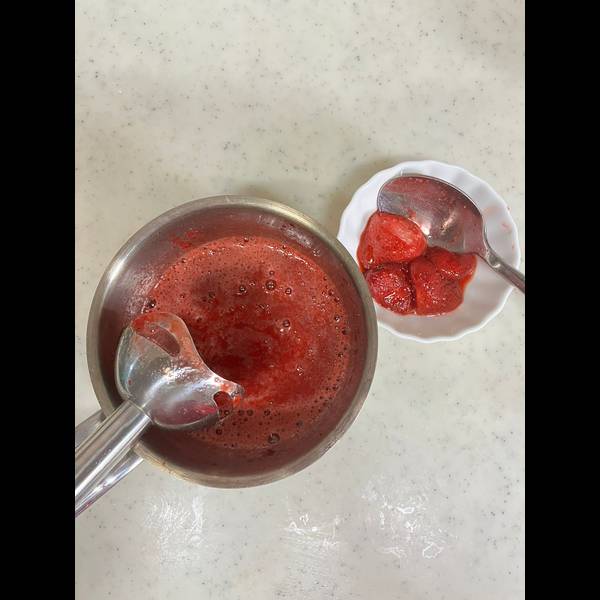 3) Blending the Strawberry Syrup
Blend the strawberry syrup using an emersion blender or regular blender until it is as chunky or smooth as you like. Be sure to take a few strawberries out before blending to use as decoration.
Once blended, transfer the syrup into a container with an airtight lid and chill in the refrigerator.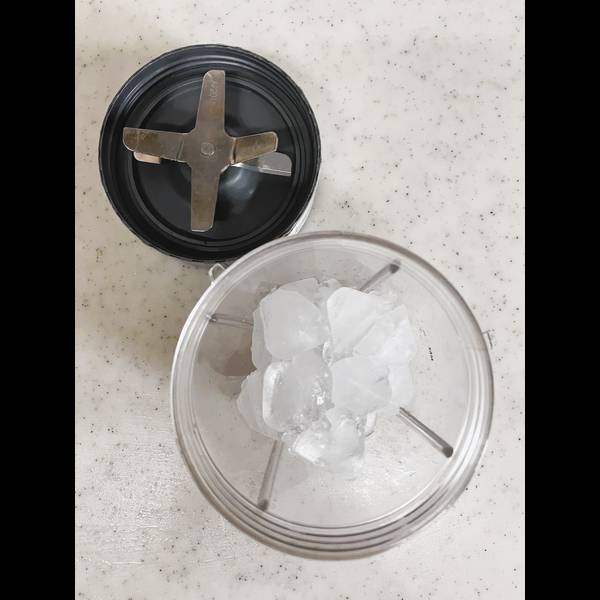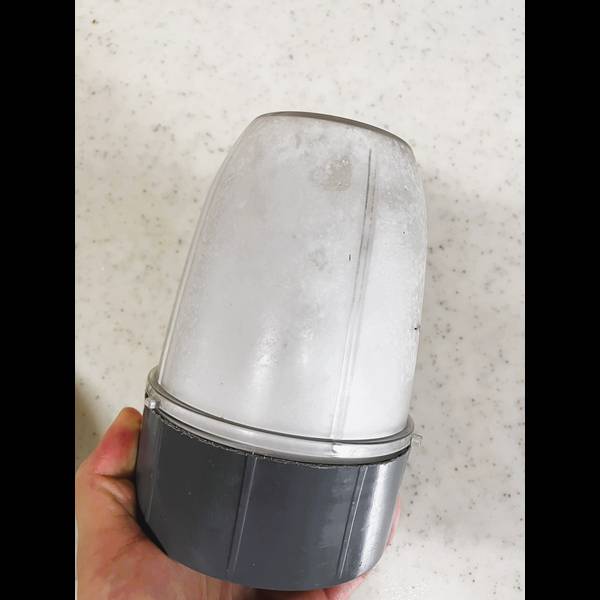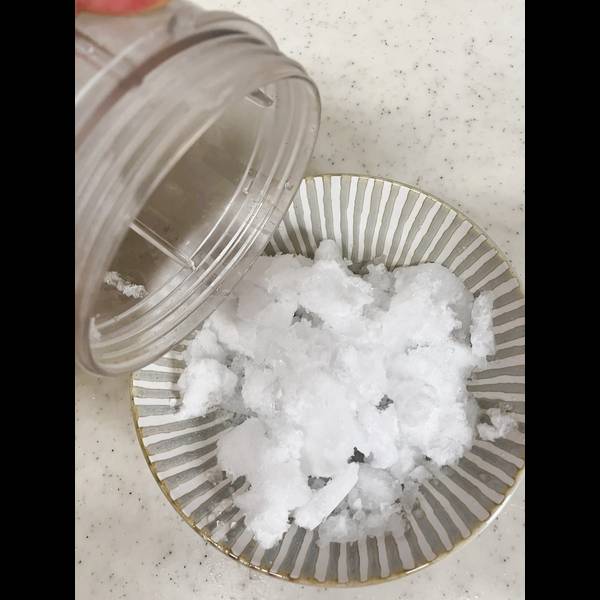 4) Shaving the Ice
Transfer ice cubes into a blender and crush the ice. It should take only around 10 seconds for the ice to reach a fluffy texture. Once the ice has reached your preferred texture, transfer it to a serving plate or bowl of your choice.
Note: Make sure that your blender has an "ice cush" feature, otherwise the ice could damage the blades of your blender.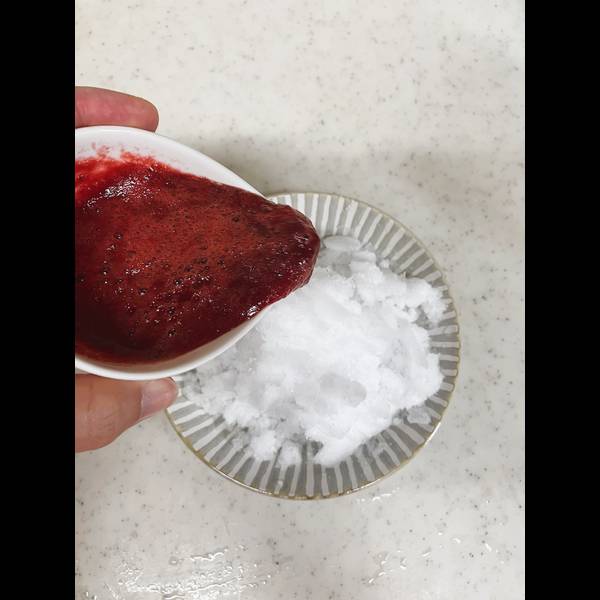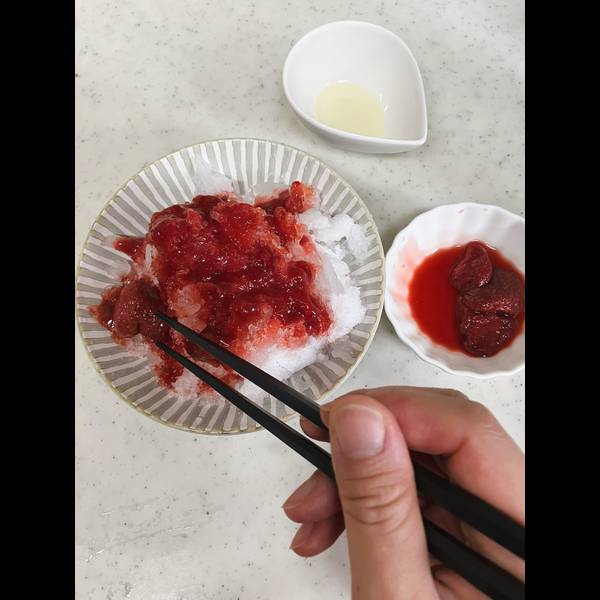 5) Decorating the Shaved Ice
Pour the strawberry syrup onto the shaved ice, and then decorate with the remaining whole strawberries that were used earlier to make the syrup. Then, drizzle over as much condensed milk as you like.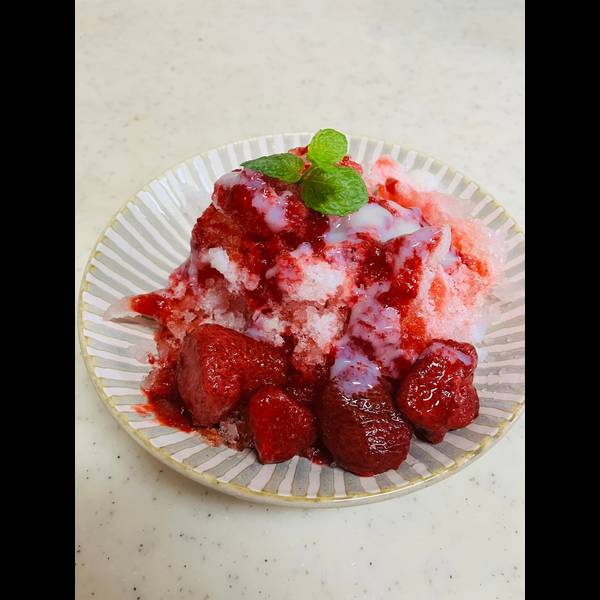 6) Finished Shaved Ice
Now all there's left to do is enjoy it before it melts!