The Ultimate Japanese Kit Kat List - Unveiling 50 Flavors!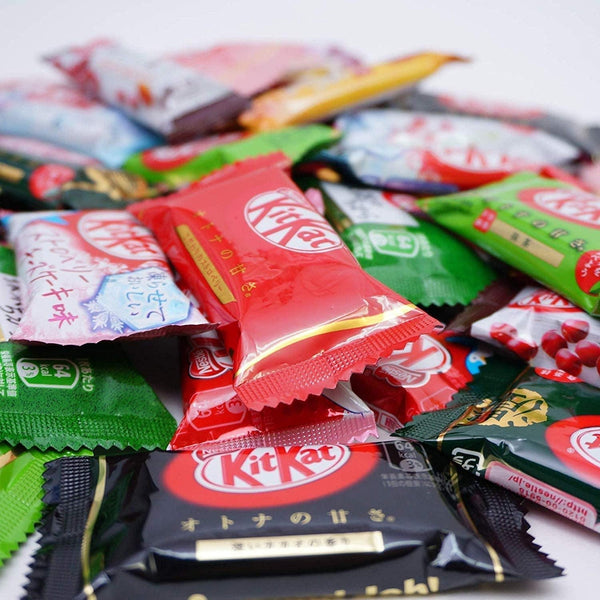 Jump to:
We're sure many of you already know that Japanese Kit Kats are much different (and are far superior) to their Western counterparts. But did you know just how big of a deal they actually are in Japan? Currently, there are more than 400 flavors of Kit Kats in Japan with new flavors constantly being released. While there are already so many existing Kit Kat flavors in Japan, many of them are related to the season and region of Japan, making the country somewhat of a Kit Kat scavenger hunt. 
In this article, we'll take a deep dive into the world of Japanese Kit Kat and introduce 50 flavors! We'll also introduce Japanese Kit Kat flavors that you can find at Japanese Taste. 
A Brief Background On Japanese Kit Kats
Kit Kats, a Nestlé product everywhere except in America, originated in England in 1935. Introduced to Japan in 1973, they began domestic production under Nestlé Japan in 1989. The aim was to tailor Kit Kats to the Japanese market—different flavors, slightly less sweetness, and smaller sizes compared to those in other countries.
Notably, Kit Kat has a specific meaning in Japanese. Pronounced 'kitto katto,' it sounds like 'kitto katsu,' which translates to 'you're definitely going to win' in English. Due to this spirited nature, Kit Kats are often given to students during entrance exam periods to act as motivation. Kit Kats are also thought to hold good luck, so it's not uncommon to see them being used as good luck charms or given out as small gifts. Just a little food for thought!
Regular Kit Kat Flavors
Starting out with what are known as the "regular flavors" of Kit Kats. Many of these flavors can be found in supermarkets, convenience stores, and drug stores across Japan. 
Original
The classic Kit Kat, reimagined to match the Japanese taste palette—less sweet, more chocolatey.
Chocolate Orange
 A classic flavor combination of chocolate and orange - aromatic yet indulgent. 
Milk Tea
 
Strong milk tea flavor featuring real black tea leaves, a delightful alternative to the original. 
Whole Wheat Biscuit
A unique and surprisingly delicious flavor with wafers made from whole wheat flour and toasted grains for a nuttier, health-conscious twist.
Cookies & Cream 
Another classic flavor combination, but in a Kit Kat! Apparently, if you freeze these, they'll taste just like cookies & cream ice cream. 
For Cafe
A specialty Kit Kat by Le Patissier Takagi's owner-chef, Takagai Yasumasa, for an on-the-go cafe experience with a blend of sweet coffee and chocolate.
Melon
Hokkaido melon flavor gives this Kit Kat a punch of refreshing melon taste.
Cheesecake
Kit Kats in a cheesecake flavor… need we say more? 
Kit Kat Flavors For Adults (Otona no Amasa)
This series of Kit Kats was created to be more suited for the adult palette, meaning that these Kit Kats are less sweet than traditional Kit Kats and tend to have more of a bitter flavor. Though they are marketed towards adults, they are a beloved fan favorite across Japan. 
Strawberry
These strawberry-flavored Kit Kats have the perfect balance of sweet and tart flavor and taste like real strawberries!
Raspberry
 
Similar to the strawberry ones, these Kit Kats have a good balance of sweet and tartness, and real raspberry flavor. Unfortunately, they have been discontinued though. 
Matcha
The original matcha flavor featuring real Uji Matcha, though now discontinued.
Dark Matcha
This is the newer and improved version of the Matcha Kit Kat, which has a stronger matcha flavor and color and is only moderately sweet. 
Yokubari Double Dark Matcha & Original
A Kit Kat designed for someone who loves the original chocolate flavor and dark matcha flavor but doesn't know which flavor to choose - with this one, you can have both at the same time!
Dark Chocolate
These are slightly less sweet than the (Japanese) original Kit Kat and contain cacao-scented black biscuits to give them a "darker" flavor. 
Matcha Kit Kats
Japan offers around 10 different versions of Matcha Kit Kats, reflecting the nation's serious dedication to matcha-flavored treats. Some are regional or seasonal, but each showcases Japan's commitment to matcha-infused delights. Here are a few noteworthy ones:
Matcha Whole Tea Leaves
These Matcha Kit Kats were only available for a limited time, but they took the matcha flavor to a whole new level as real matcha tea leaves could be found in the already matcha-flavored chocolate.
Everyday Luxury Matcha Double Berry & Almond 
Another limited edition matcha Kit Kat (sigh) which were topped with cranberries and almonds for added crunch. Maybe this one would not have been everyone's cup of tea, but it was still an interesting and more luxurious concept. 
Sakura Matcha
These are regional Kit Kat that can only be found in Tokyo airports. The sakura adds a nice floral touch to the matcha flavor!
Matcha Latte
These matcha latte Kit Kats were created for people who wanted to enjoy the flavors of Uji Matcha with milk. They don't have as strong of a matcha flavor as other Matcha Kit Kats. Note that these have already been discontinued. 
Yuzu Matcha
A blend of two iconic Japanese flavors, Yuzu and Matcha. Unfortunately, this flavor also appears to be discontinued.
Seasonal Kit Kats
As the name suggests, these are seasonal Kit Kats that can only be purchased during certain times of the year, depending on the season. 
Autumn Chestnut
A toasted chestnut flavor mixed with white chocolate that's only available during the fall months. 
Sweet Potato
Sweet potato is another seasonal flavor, and it's a huge deal in the fall, making it extremely fitting for it to come in a Kit Kat flavor. 
Sakura Mochi
This flavor only comes around during the spring. Delicately flavored pink white chocolate is gently floral, while an earthy sweetness comes from the azuki bean powder blended in. 
Pistachio
This flavor seemed to have only been around during the spring months for a couple of years. The pistachio flavor comes from the cream in between the wafers.
Caramel Pudding
Limited to May 2023, these Kit Kats boast a rich caramel flavor and can even be baked in the oven.
Shio Lemon
These were only around in July 2023, and the flavor or shio (salt) lemon might sound a bit questionable to some. 
Peach Parfait 
Peach flavor mixed into the white chocolate and cream filling to create a peachy fruity sensation! 
Chocolate Mint Ice Cream (Baskin Robbins Collaboration) 
These Choco Mint Ice Cream Kit Kats were made in collaboration with Baskin Robbins. 
Ice Cream
Milky ice cream and white chocolate come together to make this flavor possible. It seems to only be available during the winter months. 
Strawberry Gateau Chocolate 
Another winter-only Kit Kat is this Strawberry Gateau Kit Kat. It has a richer chocolate flavor compared to the original Kit Kat and is infused with strawberries and rum. 
Souvenir Kit Kats
Some of the most famous Japanese Kit Kats are the ones that can be purchased as souvenirs. Depending on the region of Japan you're visiting, you may be able to find:
Hokkaido Azuki & Ichigo
Starting with a Kit Kat local to Hokkaido, the Azuki & Ichigo Kit Kat. This one might sound a bit strange to some, but it combines the flavor of sweetened red beans and strawberries into a Kit Kat bar. 
Shinshu Ringo 
Found in Nagano prefecture, this Kit Kat features an apple flavor at its core, nestled between wafers and coated in chocolate.
Rum Raisin 
Exclusive to Tokyo, this unique Kit Kat incorporates real rum, offering a delightful treat for rum raisin enthusiasts.
Tokyo Banana 
Combining the iconic Tokyo Banana treat with Kit Kat, this version provides a fusion of both flavors in one delightful bite. 
Tokyo Shima Lemon
A specialty Kit Kat from Tokyo featuring Shima Lemons from the Izu Islands in Tokyo Bay.
Strawberry Cheesecake 
A strawberry cheesecake-flavored Kit Kat… need we say more? This Kit Kat is local to Yokohama. 
Tochiotome 
These strawberry-flavored Kit Kats are local to Tochigi Prefecture using their signature Tochiotome strawberries. Tochiotome strawberries are one of if not the most popular strawberry types in Japan. 
Tamaruya Wasabi
 
Local to Shizuoka, this Kit Kat boldly combines real wasabi root from Tamaruya with white chocolate for a unique taste experience.
Azuki Sando 
The Azuki Sando Kit Kat is inspired by the breakfast/coffee shop culture of Nagoya. It's flavored with azuki red beans and is wrapped in milk chocolate. 
Kyoto Uji Matcha
 
A Kyoto-only Kit Kat made with real Uji Matcha powder from Itohykuemon, one of Kyoto's most renowned tea companies. You already know that the matcha flavor in this Kit Kat is going to be legit! 
Kyoto Ito Kyuemon Hojicha 
This is another Kyoto-specific Kit Kat which comes in a Hojicha (roasted green tea) flavor. The hojicha used for these Kit Kats is also made by Itohkyuemon, meaning that the hojicha flavor is absolutely aromatic and delicious!
Amaou Ichigo 
Local to Fukuoka, this Kit Kat showcases Amaou strawberries, often considered the king of strawberries for their superior flavor and size.
Momiji Manju
This Kit Kat pays homage to Hiroshima's Momiji manju, a maple leaf-shaped cake usually filled with sweetened red beans. You can enjoy the perfect blend of maple, red bean, and Kit Kat crunch with this one.
Beni Imo
Hailing from Okinawa, these deep purple Kit Kats get their color from the Beni Imo sweet potato, offering a creamy and sweet flavor mixed with white chocolate. 
Strawberry Cheesecake (Mt. Fuji Edition)
These strawberry cheesecake Kit Kats are essentially the same ones as the Yokohama strawberry cheesecake Kit Kats, but they come in a Mt. Fuji-shaped box! This Mt. Fuji version is more readily available throughout the Kanto region of Japan. 
Kit Kat Chocolatory
A recent venture by Nestlé Japan, the Kit Kat Chocolatory introduces a premium series of Kit Kats. This line features carefully selected ingredients, embodying a concept of "new discoveries and surprises beyond the preconceptions of chocolate." Crafted by Japanese chefs trained in Europe, these Kit Kats boast a more bitter flavor, thanks to cacao aged in whiskey barrels.
Alcoholic Japanese Kit Kats
Yes, there are a series of Kit Kats in Japan that are made with real alcohol. However, not just any alcohol is used! The flavors found in this series of Kit Kats come from local Japanese sake & alcohol breweries that only use the best ingredients and traditional brewing methods. 
Sake 
This might be the most famous Kit Kat on this list, and yes, they are made with real sake! In fact, the sake comes from Masuizumi Brewery in Toyama Prefecture.
Yogurt Sake
The Yogurt Sake Kit Kats features a powdered yogurt liquor made from rich milk from Niizawa Brewery in Miyagi Prefecture.  
Yuzu Sake 
Another interesting alcoholic Kit Kat is this Yuzu Sake one which fuses Japanese sake and real yuzu from Kochi Prefecture, delivering a citrusy blend, encased in delectable white chocolate. 
Umeshu (Plum Wine)
A collaboration between top plum producers and former football star turned premium sake producer Hidetoshi Nakata, this Kit Kat combines the bittersweet essence of Japanese plums with sake, all embraced by a layer of white chocolate.
Sakura Sake 
These Kit Kats are technically seasonal/limited edition Kit Kat because they're only around during sakura season (typically the end of March to the beginning of April). They contain sake strength with cherry blossom delicacy, all encased in white chocolate, showcasing quintessentially Japanese flavors.
Kit Kats Available On Japanese Taste
While Japan offers a variety of unique, seasonal, and weird Kit Kat flavors, many of them are only accessible in certain areas or at certain times of the year, and it can be very hard to find them overseas. Not to mention, many of them are limited editions and are only available for a certain period. However, some Kit Kat flavors are readily available year-round in Japan, and can also be found on Japanese Taste. 
Nestlé Koicha Green Tea Kit Kat (Japanese Dark Matcha Kit Kat)
$5.65
A classic and common Japanese Kit Kat flavor, the Koicha (dark matcha) version offers a deeper matcha experience, catering to the preferences of matcha enthusiasts. Available in both single and pack of 3 options. 
Nestlé Japanese Dark Chocolate Kit Kat
$5.65
For those who crave a genuine chocolate taste without excessive sweetness, the Dark Chocolate Kit Kat is an ideal choice. Layered with finely crushed black chocolate biscuits, it presents a stronger cacao aroma. Available in both single and pack of 3 options.
Nestlé Japanese Strawberry Kit Kat Bars
$13.89
Catering to fruity preferences, this Kit Kat combines white chocolate and strawberry cream for a luscious and creamy strawberry flavor. 
Nestlé Japanese Kit Kat Chocolate Orange Flavor
$5.65
The Chocolate Orange Kit Kat has gained popularity for its perfect balance of sweetness and bitterness, harmonizing with the citrusy notes of orange. A classic combination in Japanese sweets.
Nestlé Japanese Kit Kat Milk Tea Flavor
$5.65
Here's another exclusive-to-Japan Kit Kat flavor you won't want to miss out on. This Milk Tea flavored Kit Kat incorporates real black tea leaves, delivering an authentic tea experience with a perfect blend of sweetness, milkiness, and creaminess. Ideal for wintertime indulgence.
Nestlé Japanese Kit Kat Original Chocolate
$5.65
While similar to the original found in other countries, the Japanese version caters to local tastes with a less sweet profile. Some even argue it surpasses its Western counterpart. Try it and share your thoughts with us in the comments!
Nestlé Kit Kat Double Matcha & Chocolate Combo
$5.65
For the indecisive, this unique combo-flavored Kit Kat allows you to savor both matcha and chocolate in one delightful bite.
Nestlé Japanese Kit Kat Whole Wheat Biscuit
$5.65
Despite its unconventional sound, this best-selling Kit Kat in Japan combines toasted grains and whole wheat flour wafers wrapped in creamy white chocolate—a delicious and slightly healthier sweet treat.
Have you already tried any of the Kit Kats we mentioned? If not, which Kit Kat flavor are you most tempted to try? We'd love to hear from you in the comments!