10 Best Japanese Kettles for Brewing Delicious Hot Drinks Every Time!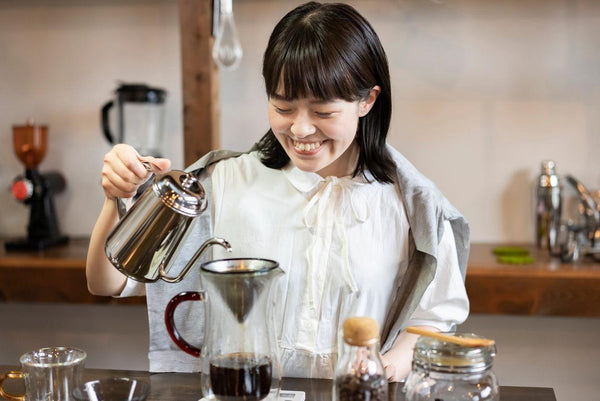 Jump to:
Japanese kettles have been a staple of Japanese culture for centuries, and they are still popular today. They are known for their unique design, well-thought-out features, and high-quality materials, making them a great addition to any kitchen. But how do you choose the right one for your needs, and what should you look for when buying one? In this article, we will compare the best Japanese kettles, so you can feel confident when choosing the next addition to your Japanese-inspired kitchen! 
We'll look at the following products in detail:
Sori Yanagi Stainless Steel Kettle Matte – best-selling fast-boiling stainless-steel kettle
Melitta Aroma Kettle Pour Over Goose Neck Kettle MMK20-1S – high-quality gooseneck kettle for pour-over coffee 
Takahiro Kettle Shizuku Coffee Drip Pot – pour-over coffee kettle loved by baristas
Iwachu –high-quality yet simple cast iron kettles
Hario V60 Drip Kettle Buono Matte Black – affordable yet high-quality kettle for drip coffee
Noda Horo Drip Kettle II Japanese Enamel Gooseneck Kettle – enamel retro-looking kettle 
Oigen Nambu Tetsubin Cast Iron Kettle – larger capacity cast iron kettle for boiling water for tea 
Tsuki Usagi Enamel Drip Coffee Slim Pot – handcrafted high-quality enamel pour-over coffee kettle
KAI Coffee Drip Pot Stainless Steel Kettle – compact coffee pot for drip coffee
Kalita Copper Drip Coffee Pot Slim – copper coffee pot with good heat conductivity
If you're looking for a stylish kettle that boils water quickly for the perfect cup of tea, then the Sori Yanagi Stainless Kettle is the kettle for you! 
This elegant best-selling stainless-steel kettle features a minimalist design complete with useful and unique features that have been carefully considered by the manufacturer, solving many of the inconveniences that come with other kettles.
For example, the kettle is designed for optimal heat conduction, so it boils water much faster than many of its competitors and contains built-in holes to release steam so that the kettle handle doesn't get too hot when the water has boiled. Additionally, the ergonomic handle makes it easy to pour water without straining your wrist or fingers, even when the kettle is full.
This kettle can be used on either a direct flame or an induction hob, and like other stainless products, should be cleaned and dried thoroughly after use to avoid rusting.
Sori Yanagi Stainless Steel Kettle Matte
$110.00
Fans of pour-over coffee will already know that a gooseneck kettle is essential for precise and controlled pouring, making coffee that tastes more delicious and richer in flavor than other kinds of automatic drip coffee pots.
The Melitta Aroma Kettle is made in the small city of Tsubame in Niigata Prefecture, an area of Japan renowned for its metalware production. This pour-over gooseneck kettle is made entirely from stainless steel to achieve the optimal balance of heat conduction, hygiene, and durability.
It has been carefully designed for the best user experience whilst maintaining ease of use and features handy markings to let you know where to tilt the kettle whilst pouring.
Melitta Aroma Kettle Pour Over Goose Neck Kettle MMK20-1S
$89.00
The Takahiro pouring kettle is used by professional baristas but is also suitable for making pour-over coffee at home thanks to its ease of use and minimalistic design that looks good in any kitchen.
This premium Japanese pour-over coffee kettle holds enough water to make approximately 5-6 cups of coffee and features a superior and thinner spout for even more control over the flow of water. With this improved spout you can release the water drop by drop if you wish. In addition to the extra thin spout, the kettle has a wide opening to make it easier to clean, and it can be used on any type of stove.
Takahiro Kettle Shizuku Coffee Drip Pot 0.9L
$138.00
This cast iron kettle is made from Nambu ironware, a traditional cast iron that originated in Iwate prefecture and is considered to be some of the best metalwork in Japan. This type of cast iron is known for its impressive durability and high quality.
Nambu ironware is a popular material for making kettles and for use in tea ceremonies as cast iron is said to play an important role in the flavor of the tea and can help to replenish your iron levels. This simple cast iron kettle from manufacturer Iwachu has an elegant arare pattern and shape inspired by the moon.
If cared for correctly, this beautiful kettle will last a lifetime.
Iwachu Tetsubin Arare Patterned Cast Iron Kettle (IH Compatible) 0.9L
$199.00
This affordable yet high-quality stainless-steel pour-over coffee kettle from Hario features an elegant and slim gooseneck spout for great precision and easy control of the hot water flow. Ideal for fans of drip coffee, this kettle is durable, easy to clean, and can also be used on gas and electric stoves.
The V60 kettle is popular and highly rated amongst baristas, coffeehouses, and at-home coffee lovers. The design features a low-mounted spout and easy-to-grip handle to allow for total control of the flow of water whilst pouring.
Hario V60 Drip Kettle Buono Matte Black 800ml
$50.00
This enamel gooseneck kettle is made by Noda Horo, a Japanese expert in enamelware since the 1930s, known for their simple products from plates to cookware, which are manufactured in Tochigi, Japan.
This kettle is designed for brewing water for preparing drip coffee and despite its sleek black color, has a rather nostalgic appearance. The enamel coating on the kettle enhances heat conductivity, and enamel is also resistant to dirt and odors so it's easy to keep clean, wash and care for, and difficult for bacteria to grow.
Noda Horo Drip Kettle II Japanese Enamel Gooseneck Kettle Black DK-200BK
$69.00
This cast iron kettle has high durability and features a pouring spout, lid, and handle crossing over the top. Similar to the Iwachu kettle, it also has an arare pattern and shape as part of its simple design, inspired by the moon. If making tea is part of your daily ritual, then this kettle is a great choice for you.
This kind of Japanese kettle is mainly used for boiling and pouring hot water for making tea and drinking water boiled in this kettle helps to supplement iron in the diet. The Oigen kettle can also be used on an induction hob in addition to a gas stove. 
It comes at a higher price point than the Iwachu kettle mentioned earlier because of its size. This model can hold almost two liters of water compared to the Iwachu version, which has a capacity of just 0.9 liters.
Oigen Nambu Tetsubin Cast Iron Kettle Kangetsu Arare H-159 1.85L
$249.00
Make your morning coffee extra special with the Tsuki Usagi Enamel Drip Coffee Pot. Known for their high-quality products, Tsuki Usagi is a famous Japanese enamelware brand whose items have a classic French influence in their design. 
Crafted with exquisite attention to detail, each piece is handmade, so you know you're getting a truly unique product. With the thin spout for precision pouring, you can now make the best drip coffee with ease - every time!
This coffee kettle is designed for use with gas stoves only.
Tsuki Usagi Enamel Drip Coffee Slim Pot Black 1.2L
$59.00
Master the art of coffee brewing with KAI's Coffee Drip Pot Stainless Steel Kettle. This simple yet elegant kettle is designed with a thin spout to control the amount of water when dripping, so you can get your ideal cup every time. 
With its compact size and wide mouth for easy cleaning, it's perfect for anyone looking to make delicious drip coffee hassle-free. KAI is a famous Japanese kitchenware brand based in Seki City; the knife capital of Japan located in Gifu Prefecture. They are renowned for their high-quality products. 
KAI Coffee Drip Pot Stainless Steel Kettle 390ml FP5155
$37.98
Kalita is a well-known Japanese coffee-making equipment manufacturer specializing in all manner of products to help make the perfect cup of coffee, from coffee bean grinders to filters and coffee kettles.
This particular coffee pot is made of copper, which is known for its good thermal conductivity and heat retention, and it is well-suited for hand drip precision pouring with its thin spout. Thanks to a plating process, the copper material does not affect the quality of water, and this kettle is designed for use on a gas stove.
The Kalita Copper Drip Coffee Pot Slim 700CU is made in Tsubame, an area of Japan famous for its high-quality metalware, and comes engraved with the "Made in TSUBAME" mark as proof of the strict quality control procedures it has been through.
Kalita Copper Drip Coffee Pot Slim 700CU
$199.00
Check out Japanese Taste's full range of kettles here.