10 of the Best Japanese Furikake Toppings to Dress Up Any Dish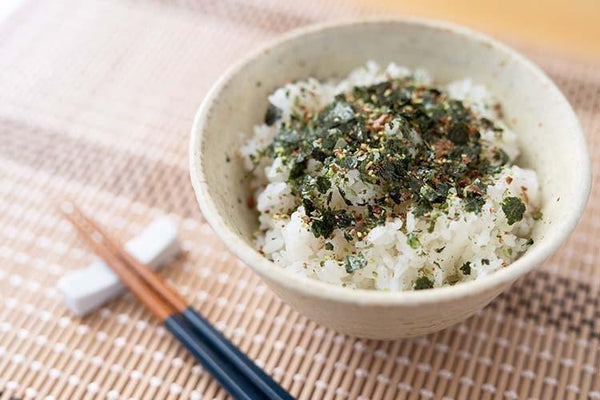 Jump to:
What Is Furikake and How Do You Eat It?
Furikake is a Japanese topping which is usually sprinkled on top of finished dishes. The most common ingredients are dried seaweed, dried fish, sesame seeds, salt, and sugar. 
It was originally created by a Japanese pharmacist as a calcium supplement to be used with plain rice, but these days it can be found on top of many other dishes too. 
Furikake has become popular outside of Japan in recent years for its delicious taste and the fact that it has many nutritional benefits. For example, furikake is a great source of iodine which is helpful in fighting thyroid problems, protein, calcium which is good for bone density, and vitamin B. 
What is Furikake Eaten With?
Furikake is a versatile seasoning and can be used on top of rice, in sushi rolls or onigiri rice balls, on top of yakisoba, pasta, pizza, salads, and even on popcorn. Traditionally, furikake has a savory, umami seafood taste thanks to the presence of dried nori seaweed and bonito flakes.
Some of the most common types of furikake you'll find in Japanese cuisine are furikake on top of rice – for example salmon or nori and egg, and furikake for onigiri which usually contains wakame seaweed and another ingredient like fish or vegetables. Other popular types of furikake include furikake for making ochazuke (boiled rice soaked with tea), and furikake for cup noodles which usually contains aonori (dried seaweed) and sesame.
In addition to traditional furikake, there are also a variety of other flavors to try. Read on to discover 10 of our favorite furikake seasonings that will improve any dish! 
Best Furikake For Bento Lunch Boxes
This delicious furikake with crumbled sockeye salmon and crunchy nori seaweed transforms ordinary rice into a tasty Japanese dish. It can be sprinkled directly on top of rice to create an instant topping which also goes well with salads, noodles, and soups.
The Nagatanien Otona no Furikake series is a popular product in Japan and this furikake contains real pieces of freeze-dried salmon as well as a generous amount of high-quality nori seaweed. 
This furikake comes in single-serving packets ensuring that it stays fresh and is ideal for adding to a lunchbox too.
Nagatanien Otona no Furikake Rice Seasoning Benizake Sockeye Salmon 11.5g
$3.99
Best Furikake For Seafood Lovers
Another furikake seasoning with fish-based ingredients, this furikake by Ninben features real pieces of katsuo (bonito) seasoned with soy sauce and sesame, perfect to mix in with your onigiri, plain rice or even salad to make it taste even more delicious.
With this product, Japanese bonito flakes are slowly boiled with premium soy sauce and sugar to create a soft, moist furikake.
Ninben are a Japanese food manufacturer with a long history and whose roots can be traced all the way back to the 1600s! They specialize in producing food products with bonito flakes – known as katsuobushi in Japanese. 
Ninben Fine Chopped Katsuo Furikake 40g
$4.99
Best Furikake For Spice Lovers
For a furikake seasoning with a little bit of a spicy kick, try this wasabi (Japanese horseradish) furikake by major Japanese seasoning brand Marumiya. The ingredients include wasabi, seaweed, sesame, and dried bonito flakes to create a punchy and umami flavor. 
This furikake comes packaged within a glass bottle which makes it easier to add the flakes than a packet and can be kept on the table conveniently as a seasoning or condiment. This product has been rated 5-stars and 'delicious' by Japanese Taste customers, who also recommend trying it with rice and avocado!
Marumiya Wasabi Furikake Rice Seasoning 100g
$7.68
Best Furikake For White Rice
The Yukari Shiso Furikake is Mishima Foods' best-selling product, whose ingredients include shiso, sugar, salt, and plum vinegar.
Shiso is a Japanese herb which has long been used for healing purposes, as well as for beauty products and in food. It comes from the same family as mint, and there are two types, green and red. This furikake contains red shiso which has a more bitter flavor, although it looks purple in its appearance. 
To make the furikake, red leaves are dried and pulverized into flakes, then mixed with salt to make a seasoning called yukari, an ancient Japanese term for the color purple. As well as its vivid purple color, this furikake has a fresh aroma and distinctive taste.
Mishima Yukari Shiso Furikake Rice Seasoning 200g
$11.00
Best Furikake For Any Rice Dish
This nori seaweed and egg furikake by Marumiya is one of the most popular kinds of furikake you can find in Japan and is a must-have item for any fans of Japanese cuisine.
Included within the list of ingredients in addition to nori and dried egg is the perfect balance of sesame, mackerel flakes, and matcha salt, creating the ideal flavor enhancer for any rice dish.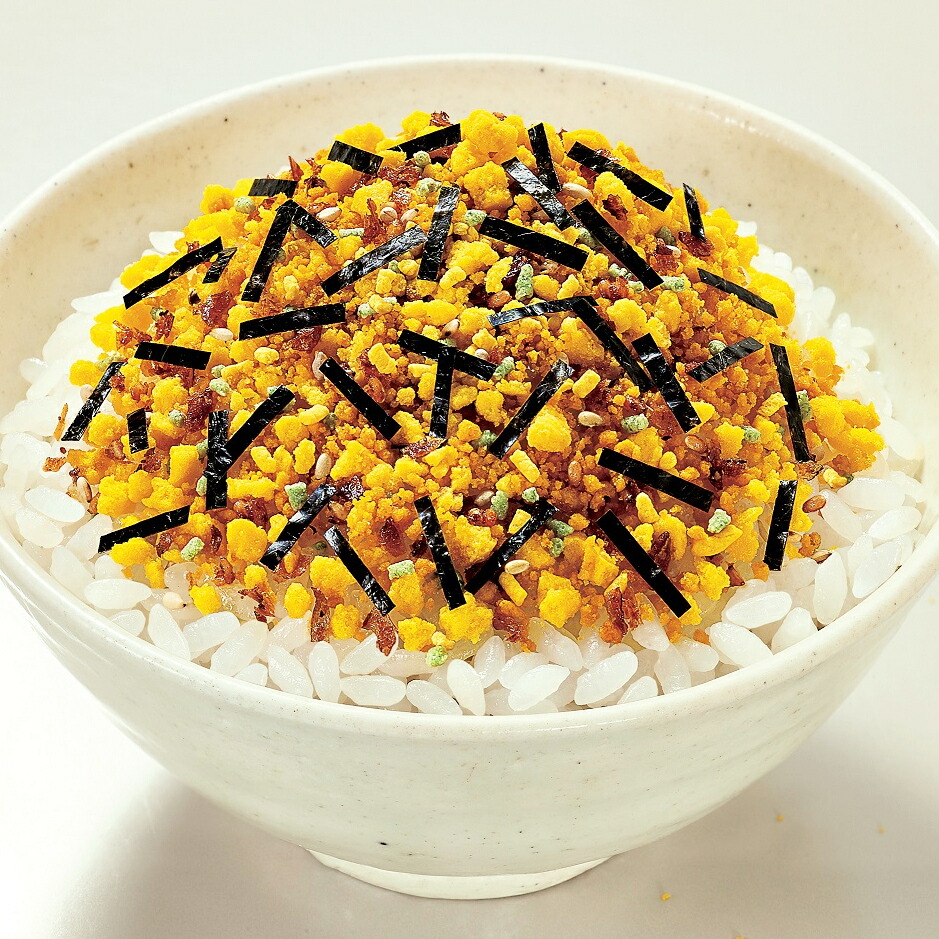 Marumiya Noritama Furikake Nori Seaweed & Egg Rice Seasoning 250g
$11.98
Best Furikake For Seaweed Lovers
This furikake seasoning contains aosa seaweed or sea lettuce, an edible kind of green algae which is high in protein and iron. It's usually eaten with salads or soups, but here it is included as a seasoning for white rice. 
The manufacturer Ohmoriya are experts in producing seaweed-based products, and their furikake seasoning flakes feature the rich aroma of these algae, which is reminiscent of the ocean. 
As well as sea lettuce other main ingredients include other kinds of seaweed such as nori, kombu, aonori, and wakame, as well as fish and shellfish flavors such as small shrimp, bonito, clam, scallops, and oyster. A seafood lover's delight!
Ohmoriya Aosa Sea Lettuce Furikake Rice Seasoning 30g
$3.99
Best Furikake For Meat Lovers Or Hot Pot
Unlike many other furikake seasonings which contain fish, this product from Marumiya contains real beef flakes and is seasoned with sesame seeds, nori seaweed, and dried egg. The Sukiyaki flavored furikake is a best-selling product having first launched in 1963 as the first meat-based rice seasoning.
Sukiyaki is a Japanese dish served with marbled beef and usually prepared in a cast iron pot. Thin slices of beef are simmered at the table along with ingredients such as tofu, long green onions, cabbage, and mushrooms, cooked together in a soy sauce broth. Traditionally in Japan the ingredients are then dipped in raw egg after cooking before being eaten.
This furikake replicates the taste of sukiyaki and pairs nicely with rice or salads.
Marumiya Furikake Rice Seasoning Sukiyaki Flavor 84g x 3 Packs
$14.98
Best Furikake For Making Onigiri Rice Balls
This simple yet tasty rice seasoning is made from roasted sesame and salt and is ideal for adding flavor to onigiri (Japanese rice balls).
The salt included within this furikake is sourced from the Seto Inland Sea, which is a well-known area of salt production in Japan and whose salt has a milder taste. The balance of sesame seeds and salt create plenty of umami flavor sure to level up the taste factor on any rice dish!
Marumiya Gomashio Furikake Sesame & Salt Rice Seasoning 46g
$2.99
Best Furikake For Seafood & Spice Lovers
Another furikake from food manufacturer Mishima, this product is made with a spicy cod roe flavor for adding an extra kick to your rice dishes! The seasoning includes chili pepper as one of its main ingredients and in addition to rice dishes, makes a tasty flavor enhancer for dishes like spaghetti, pizza, and potato salad! It can also be added to mayonnaise to make a delicious tasting dip for raw veggie sticks.
Mishima Akari Furikake Spicy Dried Cod Roe Rice Seasoning 12g
$3.98
Best Furikake For Natto Fans
This furikake seasoning is sure to delight any fans of Japanese natto as it contains real dried fermented soybean bits and high quality Japanese nori seaweed. This furikake is salty and goes especially well with rice but is also great with salads too.
 
Daihoku Norisuke Natto Furikake Rice Seasoning 40g
$5.65