12 of the Best Japanese Bath Products to Transform Your Bathroom into a Serene Oasis!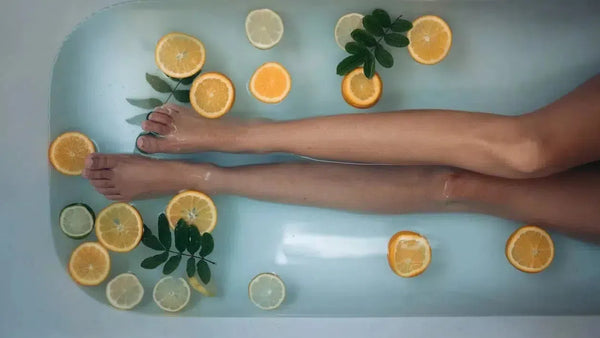 Jump to:
From the deep soaking tubs in Japanese homes to the public sento (bathhouses) and onsen (hot spring) towns, if there's one thing that Japan knows how to do well it's bath time! 
Bathing culture in Japan can be described as a ritualistic and meditative practice, with the tradition of communal bathing in bathhouses and hot springs dating back thousands of years and is a popular pastime even today. 
Visiting a Japanese hot spring is a deeply relaxing experience where you can take time to soak in the mineral rich waters and reflect whilst overlooking beautiful landscapes or scenes of nature. 
Luckily you don't need to visit Japan to create your own luxurious Japanese-style bathing experience – read on to discover the best Japanese bath products that you can use at home.
Create your own Japanese onsen experience at home with this beautifully crafted wooden bath stool which would make the perfect addition to any washroom.
One of the most important etiquette rules when it comes to entering a Japanese hot spring or public bath is that you must wash your entire body first before entering the bath. Usually, a small bath stool is provided for this purpose, like this wooden one from manufacturer Umezawa.
Made of Japanese hinoki wood (also known as Japanese cypress), this stool is resistant to humidity and bacteria, so it is more hygienic and long-lasting, and it also has a lovely natural aroma. Hinoki is a high-quality timber often used as a building material for building temples and shrines and is highly resistant to rotting.
The wooden seat is larger than the average standard Japanese stool making it comfortable to sit on and has good stability too.  
Umezawa Japanese Hinoki Cypress Wooden Bath Stool
$129.00
An affordable beauty treatment that's good for your soles, designed for use in the bathroom! The elastomer brushes work as an effective foot grooming and massaging device to give the soles of your feet some care and attention – an area that is often neglected! This patented innovative massager features aluminium oxide and semi-precious stone tourmaline which are known for their exfoliating properties and suitable for delicate skin.
The Sunpac Foot Groomer also enhances blood circulation, warms up cold feet, clarifies skin discoloration, soothes swollen feet, relieves muscle stiffness, and exfoliates old keratin. When not in use, the device can be conveniently stored in the bathroom by simply sticking it to the bathroom wall.
Sunpac Foot Groomer Manicure Elastomer Brush Feet Massager
$99.00
This premium quality Japanese bath towel set will add a luxurious touch to any bathroom. The towels are made in Imabari in Ehime Prefecture, a region famous throughout Japan for its high-quality and soft towels, and the center of towel production in Japan for more than 120 years.
Rated 5-stars by our customers for their high-water absorbency, excellent quality, and quick- drying capability, the design on the white bath towel set features an attractive jacquard pattern with waves. This towel set also comes packaged in a beautiful wooden box if you're planning to purchase it as a gift.
Alternatively, if you don't have the budget to stretch to bath towels, check out this more affordable Imabari towel set which contains a face towel and washcloth instead.
Imabari Towel Bath Towels Set White
$49.99
High quality washclothes and towels are necessities for every spa-like experience. These Japanese high quality nylon towels, which come in three colors, have the ability to lather really well in the bath, and are not roughly abrasive on the skin. What's more is that these nylon towels can be used as exfoliating washclothes in the bath, or exfoliating towels after the bath. There is no doubt that your skin will be left feeling refreshed after bath time if you add these towels into your spa routine.
Salux Exfoliating Washcloth Nylon Shower Towel HS-380
$7.65
Available to purchase in three different sizes, this stone bath mat is made from diatomaceous earth sourced from Japan's Akita Prefecture. Diatomaceous is an organic material that is highly effective at absorbing moisture, avoiding all the problems you get with ordinary bath mats such as damp smells and mildew. 
Stylish and sophisticated in appearance with its minimalist white design, the natural breathing properties of the mat's material easily absorbs puddles to help to prevent mold and damp, and the material is also eco-friendly since it is 100% recyclable.
Soil Japan Diatomaceous Earth Bath Mat Gem
$129.00
Known as sunoko in Japanese, this high-quality wooden bath mat is made from hinoki cypress, which is known for being particularly resistant to moisture, bacteria, and mold, and is designed to promote drainage and prevent slippage. 
The bathmat is manufactured using traditional Japanese woodworking techniques so there are no nails contained within the product, making it extra safe and minimizing risk of injuries. Hinoki wood is highly durable and provided the product is well cared for, should last for a lifetime of use.
Umezawa Wooden Sunoko Hinoki Bath Mat
$129.00
This long-selling soap from Pelican has a Japanese cypress fragrance and is made with fine powdered charcoal and a natural porous clay called bentonite to cleanse skin whilst still maintaining a moisturizing effect. 
This charcoal soap was originally released back in the year 2000 back when charcoal-colored soap was still considered an unusual product. Thanks to Pelican's customers who began using the soap in Japanese hot springs, it became popular through word of mouth, and now charcoal-based skincare products are very common.
Pelican Deitanseki Charcoal Soap 150g
$9.99
Another Pelican soap, this product is designed especially for cleansing your hips and backside and comes in a cute heart-shaped bar. In Japanese, this soap is called koisuruoshiri, which translates to 'falling in love with your hips'. 
The soap comes in a fresh peach fragrance and is blended with ingredients such as konjac and fermented rose honey, as well as moisturizing components including kiwi extract, aloe vera, and peach leaves.
Pelican Loving Butt and Hip Care Soap 80g
$8.49
When treating yourself to a full body spa treatment at home, it is also important to include your underarms. Luckily, this Clear Wash Underarm Scrub from Wakilala does just the trick. This scrub will help to keep your underarms feeling extra smooth and odor free by removing dead skin cells as well as unwanted dirt and oil. 
Fine powder that contains nourishing ingredients such as papain, grape fruit extract and isoflavone thoroughly cleanse the skin, while leaving it feeling soft and smooth. 
Wakilala Clear Wash Underarm Scrub 90g
If you're looking for a body scrub to exfoliate and keep your skin extra smooth, then you need to check out this Japanese Body Scrub from Leaf & Botanics. This body scrub uses natural ingredients like salt, ground walnut shells and white clay which will leave your skin feeling soft after bath time. As an added bonus, this body scrub is eucalyptus and lemongrass scented, which makes for the ultimate spa-like environment. 
Leaf & Botanics Japanese Body Scrub Salt 155g
$14.45
Next time you are taking a relaxing soak in the bathtub why not take the time to enjoy a Japanese beauty treatment like this rice face mask from skincare brand Ishizawa Lab. This Japanese sheet mask minimizes the appearance of enlarged pores whilst nourishing your skin. Available to purchase in packs of 10, the thick sheet masks make your skin feel plump and firm and are ideally suited for consumers who suffer from dry skin.
The Nadeshiko rice mask is packed with Japanese rice serum, an ingredient well-known for its moisturizing and anti-aging effects. Rice serum has a range of beauty boosting benefits such as brightening skin and can be found as a key ingredient in many Japanese beauty products. Rice contains amino acids, minerals, and vitamins that help to restore skin elasticity.
Ishizawa Lab Keana Nadeshiko Japanese Rice Face Mask 10 Sheets
$9.99
Add a pleasant fragrance to your bathroom with these cherry blossom scented Japanese incense sticks. Produced by Nippon Kodo, one of Japan's biggest incense manufacturers, one stick lasts about 25 minutes – the perfect length for bath time! 
Nippon Kodo Japanese Incense Usuzumi Sakura 200g
$29.99
Other Recommended Japanese Bath Items
Looking for a total Japanese bathroom makeover? Why not consider adding the following Japanese bath products to your home!
Hinoki Bucket and Soap Dish
In addition to the hinoki wood bathroom accessories mentioned within this article including the bathmat and stool, you could add additional items such as a hinoki soap dish and bucket which is traditionally used to pour water over the body before entering the bathtub.
Onsen Bath Salts
In Japanese, bath salts are called onsen no moto, and are used at bath time by children and adults alike. Japanese bath salts are available to purchase in a wide range of scents and colors, and often contain minerals and moisturizing ingredients to benefit skin. Why not try using bath salts with a refreshing citrusy fragrance from Japanese fruits like yuzu or buntan! 
Slippers and Yukata
Recreate the traditional onsen bathing experience at home by purchasing your own Japanese slippers and yukata (casual style kimono) to lounge around in before and after bathing!