20 of the Best Japanese Anti-aging and Anti-wrinkle Skincare Products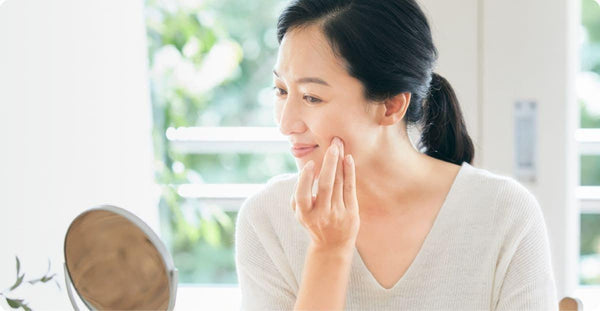 Jump to:
As we get older, it's only natural that our skin will begin to age. It is normal to develop wrinkles, dark spots, and lines on our skin. However, these days there are many skincare products that are able to tackle the concerns of aging and wrinkling of the skin. In this article, we'll cover the difference between anti-aging and anti-wrinkle products, as well as provide a curated list of our top 20 anti-aging and anti-wrinkle products. After reading this article, we hope that you'll be able to choose the perfect products to suit your skin's needs. 
We'll cover: 
Differences between anti-aging and anti-wrinkle skincare products 

Ingredients used in anti-aging and anti-skincare products 

Recommended Japanese anti-aging skincare products 
Recommended Japanese anti-wrinkle skincare products
What's the Difference Between Anti-Aging and Anti-Wrinkle?
Anti-aging and anti-wrinkle are often used interchangeably with one another, but they actually do not share the same meaning or target the same problems. In fact, anti-aging and anti-wrinkle products both tackle different concerns. Let's take a look at how these two different categories of products differ from each other. 
Anti-Aging
Anti-aging products focus on delaying signs of aging in the skin as a whole. They fight against all signs of aging, not just wrinkles. In other words, using anti-aging products can be thought of as preventative care for aging. In fact, it is said that showing signs of aging skin can start showing as early as the mid-twenties to early-thirties. While when it happens depends on each individual, it may not hurt to implement at least one or two anti-aging products in your skincare regimen early. 
Anti-Wrinkle
Anti-wrinkle products are a great option for those who already have existing wrinkles on their skin to use. Products with an anti-wrinkle focus target lighting or erasing already existing wrinkles on the skin. These kinds of products can be thought of as more in the moment care, as they are meant to be applied on already-visible wrinkles. 
What Ingredients Are Used in Anti-Aging and Anti-Wrinkle Skincare Products?
While many anti-aging and anti-wrinkle products tend to have some overlapping ingredients, there are still key ingredients that you will tend to find in one versus the other. It is also quite helpful to know which ingredients are usually included in which type of product, and their key properties. 
Anti-Aging Products tend to include ingredients such as: 
Collagen ー

one of the most important types of protein found in your skin. It aids in keeping your skin from sagging, but its production decreases as you age. 

Peptides ー

a group of amino acids that aid in the production of collagen and other proteins in the skin. 

Ceramides ー

fats in the outermost layers of your skin that disappear as you age. They aid in keeping your skin hydrated. Usually moisturizers, creams, and even toners include ceramides as an ingredient. 

Retinol/Retinoids ー

make your skin tone more even. They are especially helpful in lightening dark spots. 

Hyaluronic Acid ー

an ingredient that is known for being highly moisturizing to the skin. Many describe this ingredient to be like a sponge for a skin, because it easily absorbs and locks in moisture. 
On the other hand, Anti-wrinkle products usually contain: 
Niacinamide –

this nutrient is highly regarded for its capability of locking moisture into the skin and fading wrinkles. Niacinamide also aids in regenerating skin cells. 

Peptides ー

stimulate collagen production in the skin to reduce wrinkles. They have also been proven to improve skin texture. 

Retinol ー

known as one of the most transforming skincare ingredients for their ability to even the skin tone. This is especially helpful for wrinkles. 

Hyaluronic Acid –

the ability that this ingredient has to lock in moisture to the skin is highly necessary for reducing and erasing wrinkles. 

Vitamin C ー

included for its ability to fade wrinkles. 
Now, without further ado, let's get into our top 20 recommended Japanese Anti-Aging and Anti-wrinkle skin care products! 
Anti-Aging Skincare Products
This is a medicated anti-aging cream that is ideal for nighttime use. It is a thick cream that aids in moisturizing aging skin, thanks to the addition of 3 types of hyaluronic acid. This cream works to prevent new wrinkles and spots from forming. It is recommended to use this product as a night cream so that it can adequately nourish your skin while you sleep.
Rohto Hada Labo Gokujyun Anti-aging Wrinkle Cream
$16.95
Another anti-aging face night cream option, filled with premium ingredients such as squalene that moisturize, nourish, and rejuvenate the skin. There are also three different types of collagen packed into this cream, to leave your skin feeling plump and youthful. In order to obtain the full benefits of this anti-aging cream, it is recommended to apply it as the final step of your skincare routine to lock in moisture, and to leave your skin feeling smooth and resilient. 
Astalift Renewal Anti-Aging Face Cream
$68.00
Hirosophy Caviar Diamond Essence is an all-purpose beauty essence for people who are concerned about dry skin, or insufficient moisture absorption due to aging skin. It features many high end ingredients such as caviar extract, diamond, and EGF (epidermal growth factor) which work together to promote cell growth and regeneration in the skin, as well as help keep your skin stay moisturized and glowing.
While this is an anti-aging skincare product, those who are concerned about blemishes, wrinkles, sagging skin, or dull complexion may also want to check out this essence. An added bonus is that this luxurious essence is free of tar pigment, synthetic fragrances, mineral oils, ethanol, and silicons. 
Hirosophy Caviar Diamond Luxury Anti-aging Essence
$58.00
Rohto Obagi X Derma Advanced Lift Anti Aging Cream is a high functional anti-aging skin cream that regenerates skin's tension and elasticity. The Obagi series in particular, is a lineup within Rohto's brand, is a line of products that has been specifically created in collaboration with Japanese dermatologists. With a combination of collagen and elastin, this cream has a highly moisturizing effect. 
This is a thick, full-bodied textured cream that should be applied at the end of your skincare routine or at night to improve and firm up your skin. Obagi Derma Power X series believe the real skin care is not a mere surface treatment but is an improvement from the innermost layer of the epidermis.
Rohto Obagi x Derma Advanced Lift Anti-aging Cream
$129.00
This Japanese anti-aging lotion from Shiseido is part of their Elixir series, a lineup of products meant for those who are in their 30s and 40s. The Advanced Anti-aging lotions come in three different types - light I, moist II, and high moist III. These lotions are designed to have a long lasting moisturizing effect on the skin while preventing aging, thanks to the main ingredients of collagen and glycerin. 
Each type of lotion has a different texture, and works to adequately accommodate your skincare needs. They can be described as the following: I has a very light feeling that instantly penetrates into your skin, II has a heavier texture than that of I, yet it is comfortably moist, and III has a slight viscous texture but is not very sticky. It is suitable for very dry skin. You can also enjoy a gentle floral aroma when applying this lotion to the skin. 
Shiseido Elixir Advanced Anti-aging Lotion
$43.00
One of the main causes of aging skin is due to the lack of collagen production. As we age, it is natural for collagen production to decrease, so it is important to supplement it in some way. Domohorn Wrinkle Cream20 works by supplying high grade ingredients to inner skin and restoring collagen to create a firm and radiant skin.
This luxury wrinkle cream contains high quality collagen, changbai ginseng and other top quality components to produce more collagen in the skin. It can be used on any problem areas of the face.  
Domohorn Wrinkle Cream20
$179.00
Lululun is one of the most popular face mask brands in Japan. They've made a variety of face masks to address different skin types and concerns, but this one in particular is for those worried about aging. Lululun Precious is the upgraded version of the standard Lululun series, and this green colored variety is intended for those worried about stiff skin. With added ingredients such as bread yeast-based β-glucan and plant-based ceramide, this face mask works to decrease signs of skin aging while keeping your skin nourished. 
It's never been easier to tend to aging skin! Just plop a face mask on during your night time routine, and let the nutrients seep into your skin. These face masks are also free of aromatics, mineral oils, colorants, and alcohol. 
Lululun Precious Green Balance Anti-aging Face Masks
$9.76
Kao Curel Aging Moisture Cream is recommended for those who have visible wrinkles caused from dry or mature skin. As a highly moisturizing cream, this Japanese anti-aging face cream contains ingredients such as ceramide to replenish moisture in the skin. The added moisture will help to fight against onset wrinkles and prevent new ones from forming. 
Other ingredients in this face cream's formula include eucalyptus and glycerin to make your skin firm and to help erase visible wrinkles. This face cream is free of coloring, and alcohol, is pH balanced, and is allergy tested, so it is recommended for those with rough, sensitive, and dry skin. There is also a lotion version of this product available. 
Kao Curel Aging Care Moisture Face Cream
$32.00
When it comes to anti-aging, it is equally as important to pay attention to the eye area, as it may be one of the first areas on the face to develop wrinkles. That is where Astalift Eye Cream comes into play. This Japanese eye cream is packed with premium ingredients such as collagen, dill, and watercress extracts to uplift the elasticity and radiance of the skin around the eyes.
This particular anti-aging eye cream targets wrinkles, puffiness, dark circles, and dry spots around the eyes, to lighten them up and make you look youthful. 
Astalift Anti-aging Eye Cream
$75.00
For those looking for a product that tackles both anti-aging and anti-wrinkle concerns, this eye mask works in favor of both. It is an intensive anti-aging and wrinkle care serum eye mask formulated with highly concentrated retinol and hyaluronic acid to reduce wrinkles and dark circles around the eye area, and plump up the skin.
Kracie Hadabisei Intensive Wrinkle Care Anti-aging Eye Masks
$15.99
This eye cream from the Nameraka Honpo contains soy isoflavone extract and pure retinol to help prevent wrinkles. Feel free to use this eye cream in the morning or night. In addition, this eye cream can also be used around the mouth. 
Sana Nameraka Honpo Soy Milk Isoflavone Wrinkle Eye Cream
$12.50
This is another product from Shiseido's Elixir series which is meant to replenish moisture and firm up your skin while you're sleeping. This night cream creates a moisture barrier around your skin, which will allow your skin to feel firm and luminous the next morning. It is an ideal night cream for those concerned about dry skin and of course aging. 
One of the Elixir series targets is to achieve 'tsuyadama' – the Japanese word for inner glow, especially revealed on the cheeks. Tsuyadama can only be achieved when the skin is firm and transparent. 
Shiseido Elixir Superieur Lifting Night Cream
$52.00
The concept of this product is "cleansing aging care", meaning that this foaming facial wash was designed to cleanse the face while restoring skin cells. This mousse-type of face wash contains boost peptide and collagen that will help to attain an elastic and firm skin texture. 
Rohto Obagi X Boost Mousse Wash Foam Cleanser
$43.00
Anti-wrinkle Skincare Products
For those looking for a product that can perform multiple functions at once, this Plumping Gel Cream from Hada Labo is the perfect solution! It is an all-in-one moisturizing gel cream that acts as a lotion, moisturizer, and cream. It works to combat fine lines and wrinkles already present on the skin.
The base ingredient, niacinamide, works to erase wrinkles by accelerating the skin's turnover and collagen production. In this way, it can also slow the production of melanin. It is also packed with 3 kinds of hyaluronic acid as well as 8 moisturizing oils to reduce sagging of the skin. 
Rohto Hada Labo Gokujyun Skin Plumping Perfect Gel Cream
$19.99
FANCL Enrich Emulsion works to keep your skin wrinkle-free by wrapping it with hydration. With the aid of niacinamide which helps to lighten pre-existing wrinkles. This cream is ideal for those with normal to dry skin and are worried about wrinkles and fine lines, as well as loss in elasticity of the skin. 
FANCL Enrich Emulsion Anti Wrinkle Milky Lotion II Moist
$26.00
It is said that the areas between the upper eyelids and upper cheeks are the most vulnerable areas on the face to a decrease in elasticity, which eventually results in wrinkles. With these Eye Essence Sheet Masks from Axxzia Beauty, you can combat skin wrinkles around your eyes, with the help of added ingredients such as glycerin, collagen, and hyaluronic acid. These beauty patches can also cover the upper eyelids. 
Axxzia Beauty Eyes Essence Sheet Premium Skin Plumping Eye Mask
$84.00
This Wrinkle Lift Serum from Shiseido is a perfect choice for hydrating and firming dry skin areas around the eyes and mouth. With the help of Active Pure Retinol and hyaluronic acid, this serum will increase moisture content in your skin and make it softer. The formula used for this serum also encourages turn over of the skin, and in result ameliorates wrinkled skin. 
Shiseido Revital Wrinkle Lift AA Serum
$99.90
SK-II is well known for their addition of Pitera - a natural yeast-based ingredient which has lasting beauty effects. This SK-II Skin Power Eye cream is packed with nourishing ingredients and Pitera to effectively boost moisture in the skin as well as combat fine lines and wrinkles around the eyes.  
SK-II Skin Power Eye Cream
$129.00
While anti-wrinkle face creams packed with moisturizing ingredients are fantastic at targeting and erasing wrinkles, serums are also extremely effective. This Wrinkle Care Concentrate Serum from Kracie hydrates your skin from the inside out and makes wrinkles less visible. It also includes collagen, hyaluronic acid, placenta, and plant derived ceramide, all of which are very effective of erasing wrinkles. 
Kracie Hadabisei ONE Wrinkle Care Concentrate Serum 30ml
$19.99
Churacos Neo Warabihada is an all-in-one gel packed with highly moisturizing ingredients such as neodermyl and aloe vera to moisturize the skin and smooth wrinkles. The great thing about this gel is that it can be used as a toner, makeup base, beauty essence, and facial cream. 
Churacos Neo Warabihada All-in-One Gel