From Tokyo To Your Makeup Bag: The 10 Best Japanese Liquid Eyeliners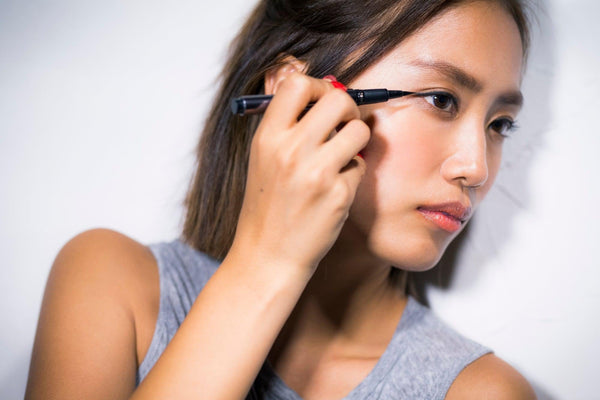 Jump to:
Whether your goal is to achieve flawless cat-eye flicks or create the perfect smoky-eyed look, nothing quite compares to the precision and artistry offered by Japanese liquid eyeliners. Japanese liquid eyeliners have become an essential item in the makeup bags of beauty bloggers in recent years, and their surge in popularity can be attributed to the careful craftsmanship and attention to detail that goes into making each eyeliner.
In this article, we'll take a look at 10 of the best Japanese liquid eyeliners and explore what makes them so special compared to their western counterparts.
Japanese Liquid Eyeliner vs Western Liquid Eyeliner
Compared to western eyeliners – the formulation of Japanese eyeliners helps to set them apart, providing intense pigmentation and a smooth application along the lash line.
The formulations often contain high-quality ingredients that are designed to provide a long-lasting, quick-drying, and smudge-proof finish.
However, the most distinguishing feature of Japanese liquid eyeliners lies in the innovative tips they are formulated with. From ultra-fine brush tips to unique felt tips, each design offers unparalleled control and versatility, so you can easily achieve your perfect look, even without the steadiest hands!
The ultra-fine brush tips enable intricate detailing and the creation of razor-sharp lines, ideal for those who seek precision and accuracy. On the other hand, felt tips provide a more effortless and intuitive application, allowing for both thin and bold lines with ease. The variety of tips available ensures that there is a perfect option to suit every individual's preferred application technique.
Below you'll find our roundup of the best Japanese liquid eyeliners that you'll want to add to your makeup bag right now from affordable drugstore favorites to premium beauty brands!
Best Drug Store Eyeliner
Isehan is a Japanese cosmetic brand best known for their mascaras and eyeliner under the Heroine Make range of products, easily recognizable on drugstore shelves in their anime style packaging. The company has a long history in Japan, having originally started as a family shop back in 1825. One of their bestselling products in Japan is their smooth liquid eyeliner which is probably one of the best drugstore liquid eyeliners available to purchase.
The Isehan Kiss Me Heroine Make Smooth Liquid Eyeliner Black features an ultra-fine, yet flexible tip for easy and precise application. The water-proof formula is resistant to tears, water, and sebum and although it is smudge proof, it washes off easily with warm water. The eyeliner also contains beauty enhancing ingredients usually reserved only for serums such as collagen, hyaluronic acid, and rosehip extract.
The Heroine Make black eyeliner is rated 5-stars by our customers who love its long-lasting effect that doesn't smudge.
Isehan Kiss Me Heroine Make Smooth Liquid Eyeliner Black
$12.99
Best Liquid Eyeliner For Beginners
The Dolly Wink eyeliner by Koji has a brush type pen with a strong yet fine 0.1mm tip, making it easy to use even for beginners. You can use this black liquid eyeliner to create beautiful thick and defined doll-like eyelines.
This Japanese eyeliner is quick drying, does not rub off easily, and is waterproof too. It also contains a variety of moisturizing ingredients such as honey extract, hyaluronic acid, Aloe vera leaf extract, and Ginkgo biloba extract.
Koji Dolly Wink My Best Liner Liquid Eyeliner Deep Black
$19.95
Best Colored Liquid Eyeliners
Flowfushi was founded in 2011 by childhood friends Imamura and Masayuki Kuwajima. Despite having no experience in the beauty industry, they quickly became known in Japan for their innovative makeup products at affordable prices, such as their best-selling Mote Mascara series.
The Uzu by FlowFushi Eye Opening Liner features a fine brush that lets you define eye lines with precision. It features a Yamato Takumi™ brush created by traditional craftspeople from the Kumano region of Japan and is inspired by traditional Japanese brush-making techniques, containing 28% more bristles of varying quality and coarseness.
The eyeliner's innovative design also features an ergonomic handle with an octagonal design that easily fits in the fingers to provide a steady and effortless application. The FlowFushi eyeliner also has a lot more variety compared to other Japanese liquid eyeliners and is available in 13 different shades. If you're looking for a high-quality blue liquid eyeliner, white liquid eyeliner, brown liquid eyeliner, or green liquid eyeliner this product is your best bet. Other shades include burgundy, orange, pink, and pastel purple.
Our customers love this product for its wide variety of colors and durability – having even tested it out during a sweaty gym session without it smudging! 
Uzu by FlowFushi Eye Opening Liner Liquid Eyeliner
$24.38
Best Light-Brown Liquid Eyeliner For Wide-Eyed Look
Kanebo is a Japanese cosmetics company known for their best-selling eye makeup, like the KATE Double Liner eyeliner, a huge hit among Japanese consumers, beauty bloggers, and beauty magazines. 
The Double Line Expert Eyeliner is designed to make your eyes more defined and appear wider with only a few strokes you of the ultrathin pen tip. The eyeliner's design makes it easy to apply to all parts of the eyeline such as the tear duct, crease, and lower lash line.
This popular eyeliner is featured in a super light brown color that creates a shadowy tone creating bolder eyes but with a natural finish.
Kanebo Kate Double Line Expert Eyeliner LB-1 Ultralight Brown 0.5ml
$12.99
Best Long Lasting Liquid Eyeliner
Avance Joli et Joli et Liquid Eyeliner helps you to create beautiful looking eye makeup that is long-lasting and resistant to sweat and tears. It comes equipped with a firm brush pen that allows you to easily draw lines to your desired thickness – no pro makeup skills required! 
In addition to being easy to apply, the Avance Joli et Joli eyeliner is easy to remove too, and can be rinsed off easily with warm water.
Avance Joli et Joli et Liquid Eyeliner Waterproof Black 0.6ml
$10.99
Best Black Yet Hydrating Liquid Eyeliner
D-UP Silky Liquid Eyeliner comes in a dark jet black color for a dramatic eyeline and has a quick-drying, smudge-proof formula that lasts all day long. This product features an extra 0.1 mm tipped fine brush to effortlessly create precise lines, allowing to reach even the most difficult corners. 
In the latest formulation of this product, the eyeliner is also infused with five beauty ingredients to hydrate your eyes such as chamomile flower extract and hyaluronic acid. Other improvements compared to the previous version also include more compact packaging.
D-UP Silky Liquid Eyeliner WP Jet Black
$17.98
Best Smudge-Proof Liquid Eyeliner
The Majolica Majorca Line Expander is an innovative eyeliner designed to enhance and define your eyes effortlessly. Meticulously crafted based on extensive research into the essence of black eyes, this eyeliner brings a new level of precision and convenience to your eye makeup routine.
It has a long-lasting waterproof and smudge-proof formula that once applied, remains intact for up to 12 hours. The eyeliner's design features a precise 0.2mm ultra-fine tip allowing you to create your desired lines and wings effortlessly.
Unlike other brands, the Majolica Majorca liquid eyeliner comes in an extensive color selection of seven colors including black, black-brown, pink greige, terracotta, mauve pink, khaki beige, and blue-gray.
Majolica Majorca Line Expander Liquid Eyeliner Pen 0.5ml
$14.99
Best Brown Liquid Eyeliner For A Softer Look
This brown-colored version of the best-selling Isehan Kiss Me Heroine Make Liquid Eyeliner 
features an ultra-fine, yet flexible tip at just 0.1mm wide for easy and precise application. Its waterproof and smudge-proof formula also contains beauty-boosting serum ingredients including collagen, hyaluronic acid, rosehip extract, and panthenol.
Whilst black eyeliner is ideal for achieving a sharp, sleek look, brown eyeliners like this product are better for adding a softer dimension to your eyes while still making them appear rich and intense.
Isehan Kiss Me Heroine Make Smooth Liquid Eyeliner Bitter Brown
$12.99
Best Waterproof Liquid Eyeliner
Elevate your eye makeup experience with the exquisite Rose of Versailles Lady Oscar Liquid Eyeliner, whose packaging features artwork by manga artist Riyoko Ikeda. This exceptional eyeliner combines the artistry of quality and long-lasting eye lines with the nourishing care of 15 luxurious beauty components, specially designed to take care of your delicate eye contour.
It features an ultra-thin brush for easy and precise application that extends right to the edge of your eyeline and a super waterproof formula that is also resistant to sweat and sebum. The eyeliner's unique formula also includes a blend of 15 plant-derived beauty components, including Hypericum extract, Lonicera extract, and raspberry extract.
The best part about this liquid eyeliner is that it comes in jet black and brown-black, so you can choose the shade that best fits you.
Rose of Versailles Lady Oscar Liquid Eyeliner Jet Black
$16.95
Best Quick Drying Liquid Eyeliner
This ultra-fine liquid eyeliner from popular Japanese makeup brand Canmake is made with a quick-drying formula that is resistant to water, sweat, sebum, and rubbing. The firm 0.1mm ultra-fine tip creates bold and fine lines that won't come off easily, even if you use an eyelash curler after applying your eyeliner.
It also contains beauty-boosting and moisturizing ingredients including dog rose rosehip extract, panthenol, sodium hyaluronate, and succinoyl atelocollagen.
Canmake Lasting Liquid Liner Ultra-Fine Tip Eyeliner - Black
$13.99
Looking for more J-beauty makeup inspiration? Check out this article on why you need Japanese makeup brushes or discover 10 of the best Japanese mascaras for extra long & curvy lashes!