The 15 Best Japanese Body Washes For Every Skin Type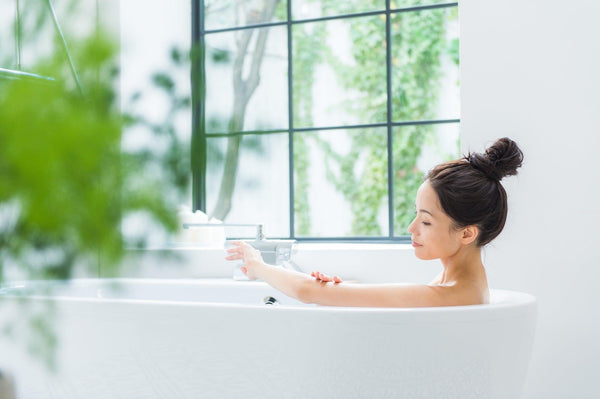 Jump to:
There are many benefits to using Japanese body washes over more traditional soaps. Some are better moisturizers, whilst others are formulated for certain skin types, or offer a deeper level of cleansing, removing excess dirt, oil, or body odors that are too deep or stubborn for regular soaps. Some of the body washes recommended in this article also offer protection against harmful pollutants for several hours after use. 
There are some key elements you can always look out for in a good Japanese body wash which include good hydration, hygiene, exfoliation, and skin-friendly ingredients. In this article we'll help you to make sure you choose the right Japanese body wash for your skin type, with recommendations for adults, children, and babies!
Best Japanese Body Wash For Easily Irritated Skin
The Naive peach-scented body wash from Kracie is a foaming body soap that moisturizes and provides a deep pore cleanse that leaves your skin feeling soft and smelling fresh. Its gentle, additive-free and moisturizing ingredients make this an ideal body wash for drier or easily irritated skin. 
Active ingredients include butylene glycol, an organic compound derived from sugar cane which helps to bind water to the outer layers of your skin to keep it hydrated. This body wash also contains peach leaf extract which helps to reduce signs of pigmentation and locks in moisture, leaving your skin looking and feeling refreshed.
Kracie Naive Peach Body Soap Wash 530ml
$12.86
Best Japanese Body Wash Suitable For Children
This Japanese child-friendly body wash comes with an easy-to-use foaming pump and forms a gentle lather over your child's skin which quickly rinses off leaving it feeling soft and moisturized. Made entirely from plant-based ingredients, and free from artificial oils, colorants, fragrances, and alcohol, this body wash can be used by the whole family.
It also contains tocopherol, which has a similar effect on your skin to vitamin E, helping improve your skin's ability to retain moisture for longer, and coco betaine, an organic compound derived from coconut oil which binds to dirt and oil to cleanse your skin as it washes off.
Kracie Naive Pure Plant-Based Foaming Body Wash For Babies 550ml
$14.29
Best Floral Scented Japanese Body Wash
The Lux Soft Rose Body Wash is a quick-foaming body soap with a gentle rose floral scent. Its key ingredients lock in moisture and nutrition to promote healthier, glossier-looking skin.
It contains essential oils which are known to have protective, antimicrobial properties and improve skin repair. Some of these oils include almond oil, which is ideal for hydrating and softening sensitive or easily irritated skin, and peppermint leaf oil, which soothes irritation and itchiness.
Lux Body Soap Soft Rose Foaming Body Wash 450g
$11.89
Best Brightening Japanese Body Wash
Marna's White Conc Body Shampoo is a moisturizing body shampoo with a skin-brightening formula that leaves behind a subtle grapefruit aroma. This exfoliating bath wash helps to remove those unwanted layers of dead skin while enhancing its natural defences. Its formula
contains kiwi fruit extract, which is an excellent antioxidant for your skin and helps to boost its natural protective barrier against external pollutants.  This body wash also featured mulberry root extract as an ingredient, which helps to reduce the visible effects of uneven skin tones and calm sensitive or irritated skin.
Marna White Conc Body Shampoo (Exfoliating Body Wash) 360ml
$18.99
Best Foaming Body Washes Suitable For Sensitive Skin
This moisturizing and foaming body wash from Rohto helps to enhance your skin's natural barrier while offering a deep pore cleanse with a subtle floral fragrance. It is ideally suited for dry or irritated skin because of its gentle moisturizing ingredients.
These include hyaluronic acid which helps to lock moisture into your skin's surface, and Chamomile extract which is high in antioxidants and helps to regenerate tired-looking skin and reduce redness. The body wash also contains ceramides which help moisturize and strengthen your skin's protective barrier against external pollutants.
Rohto CareCera Moisturizing Ceramide Foaming Body Wash 450ml
$16.95
The Curél Body Wash from Kao is a gentle foaming body wash that cleanses your skin of dirt and other harmful pollutants. It can be used on both regular and sensitive skin for adults and babies due to its unique formula which mimics the skin's natural pH balance.
The body wash contains dipotassium glycyrrhizate, a licorice plant root extract which is known to have an anti-inflammatory effect on your skin while helping to limit excess production of the oily substance it produces called sebum. 
Other key ingredients include eucalyptus extract, which helps to strengthen the skin's natural barrier by trapping water to prevent dryness, and methyl glucoside, a conditioning agent also used to help retain moisture.
Kao Curél Body Wash Pump Bottle 420ml
$21.90
Best Japanese Body Wash For Normal To Dry Skin
The Dove Premium Moisture Care Foaming Body Wash works best when used regularly on normal to dry skin because of its powerful moisturizing formula which rehydrates your skin over a prolonged period. 
The ingredients of this foamy wash focus on cleansing your skin's surface while leaving behind the unique bacteria that enhance your skin's hydration and beauty. These ingredients include myristic acid which helps to remove dirt and other impurities for softer more supple-looking skin, and potassium cocoate, a natural and gentle liquid derived from coconut oil which helps to nourish and moisturize your skin while leaving it feeling cool and refreshed.
Dove Premium Moisture Care Foaming Body Wash 500g
$15.95
Best Moisturizing Japanese Body Wash
This Japanese body soap from Cow is an intensely moisturizing body wash that produces a thick cleansing foam formulated to help your skin retain moisture and leave it feeling silky and smooth after rinsing.
It contains shea butter, a key ingredient loaded with antioxidants to help your skin retain moisture and stay smooth and supple. Other known benefits include soothing dry or irritated skin and helping to reduce signs of aging. Another core ingredient found in this body wash is hydrolyzed collagen, which helps to slow down signs of skin aging and improve skin elasticity.
The best part about this Japanese body soap is that it comes with an eco-friendly refill option which you can purchase instead of repurchasing a new bottle every single time.
Cow Bouncia Body Soap Wash 480ml
$14.99
Best Herbal Body Wash
The Mellsavon Floral Herbs Body Wash is a multi-action natural body wash that moisturizes and cleanses while strengthening your skin's natural protective barrier. Ideally suited to oily skin, the wash contains a selection of herbs and natural ingredients such as soapwort leaf extract, known for its anti-inflammatory properties which helps to soothe irritated skin, and sesame seed extract which, like many other plant oils helps trap moisture in your skin. 
This soap has been made at low temperature using the French traditional "cold press method" in which allows for the vitamins to remain in the soap, retaining its nourishing properties to help moisturize and protect your skin. It also leaves behind a natural and refreshing herbal scent.
Mellsavon Floral Herbs Moist Type Body Wash 460g
$14.89
Best Natural Japanese Body Wash
Just like the floral herbs body wash, the Mellsavon Grasse Days refreshing body wash has been developed using a cold-press method which requires it to be made at low temperatures to help the ingredients retain their natural nourishing properties.
The body wash includes a combination of natural core ingredients which are kind to the skin, such as squid ink extract, which is known for its antioxidant effects and can help protect your skin cells from damaging external pollutants, and quince seed extract, commonly used as a hydrating anti-inflammatory and as a relief for stressed skin. It also leaves behind a subtle orange floral aroma.
Mellsavon Grasse Days Refreshing Type Body Wash 460g
$14.89
Best Japanese Body Wash For Dry Skin
The Cream Care Intensive Moisturizing body wash from Nivea gently cleanses and moisturizes dry and dirt-clogged skin while protecting its outer layer from other harmful pollutants. The unique hydrating formula lathers into a milky soap with a soft honey scent which can be applied all over your skin to clean and strengthen its moisture barrier. Key ingredients such as glycerin and shea butter help your skin lock in moisture, while lanolin alcohol acts as a lubricant on your skin's surface, to leave it feeling soft and smooth.
Nivea Creme Care Intensive Moisturizing Honey Milky Body Wash 480ml
$13.95
Best Deodorizing Body Wash
The Bioré deodorant body wash from Kao is designed to work best on oily skin that sweats frequently, due to its unique deep cleansing formula. It was created to help eliminate all traces of sweat, the leading cause of body odor, and other impurities to reduce levels of sebum, the oily substance naturally produced by your body. 
This body wash also contains several key moisturizing ingredients, including coconut oil and concentrated glycerin, which help your skin to lock in moisture on its surface while it is cleaned. It also contains menthol, which leaves your skin smelling fresh and feeling energized.
Kao Men's Biore Deodorant Body Wash 440ml
$14.00
Best Japanese Body Washes And Shampoo For Babies
The Smart Angel baby shampoo from Japanese baby product retailer Nishimatsuya is a full-body shampoo that can be used on your baby's sensitive skin and scalps. Its skin-friendly plant-based formula is free from artificial colors and fragrances.
Ingredients include peach leaf extract, which is used to help soothe irritated skin, and mugwort plant extract, which helps to prevent and treat rashes and itching, while gently cleansing your baby's hair and body. The shampoo is dispensed as a gentle, light foam for easy application across your baby's skin.
Nishimatsuya Smart Angel Baby Shampoo (Foaming Hair and Body Wash) 500ml
$15.29
The second Smart Angel foaming hair and body wash from Nishimatsuya on our list is a refreshing base body soap which is ideally used after rinsing. Just like the baby shampoo, the plant-based ingredients for this body wash are also skin-friendly and free from artificial colors or fragrances. It also contains a potassium soap base which is a natural skin moisturizer with gentle and silky foaming properties, ideal for washing young sensitive skin.
Regular use of this body wash will help soothe irritated skin and reduce the likelihood of recurring skin rashes.
Nishimatsuya Smart Angel Baby Soap (Foaming Hair and Body Wash) 500ml
$17.99
Best Medicated Japanese Body Wash
From the skincare brand behind Cosmetics, the concept that skin health comes first, and all ingredients must be kind to your skin, this Japanese medicated face and body skin wash cleans and sanitizes your skin while protecting it against unpleasant body odors and sweat. 
By creating a gentle and soothing lather that can be easily applied over your face and body, key ingredients such as Dipotassium Glycyrrhizate and O-Cymen-5-ol are able to help soothe inflamed and irritated skin, while preventing the growth of microorganisms and odor on your skin's surface.
ULOS Medicated Skin Wash for Face and Body 300ml
$15.95
Want to discover more Japanese soaps and body washes? Check out our full range of products here or read this article about the best Japanese bath soaps.