15 Of The Best Japanese Bath Soaps For A Refreshing Bathing Experience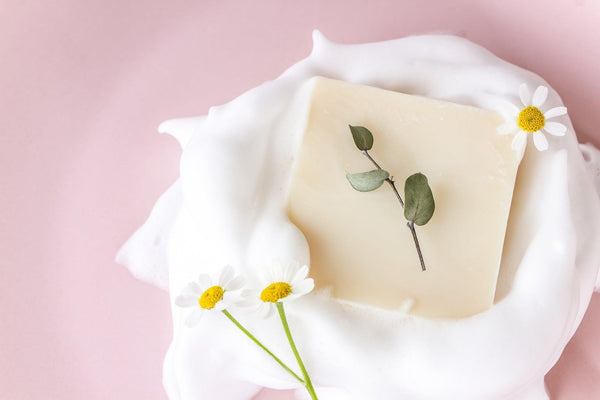 Jump to:
Japan is known for its unique and high-quality bath and skincare products, and their soap offerings are no exception. With a focus on natural ingredients and traditional manufacturing techniques, Japanese soaps provide an indulgent and luxurious experience that will leave your skin feeling soft and refreshed. 
In this article, we will introduce you to some of the best Japanese bath soaps and soap bars that are sure to level up your bathing routine. Whether you're looking for a moisturizing soap for dry skin, odor prevention, or a gentle soap for sensitive skin, we've got you covered. 
We'll look at Japanese soaps that are best at: 
Odor prevention 

Traditional soap bar made from botanical ingredients
Moisturizing soap wash in a liquid pump bottle
Exfoliating effect
Moisturizing sensitive skin
Effectively cleansing the skin yet with minimal and gentle ingredients
Acne prevention and cleansing pores
Fragrance-free soap
Eco-friendly soap
Anti-odor and anti-bacterial soap
Moisturizing liquid soap with floral fragrance
Deep-cleansing 
Cleansing pores
Whitening effect for brighter skin
Gentle soap for men
Let's dive in!
Best Body Soap For Odor Prevention
One of Japan's leading soap manufacturers, Pelican's Soaps, are known for the following characteristics: shape, foam, and scent. They produce soap bars in many different shapes according to the product with an emphasis on being easy to hold. The quality of foam is also important – with each bar designed to achieve a fine, creamy, and uniform foam quality. 
This particular medicated soap bar contains tannins from Japanese persimmons and other anti-bacterial components to help prevent body odor. It also has a refreshing aroma thanks to its combination of three kinds of essential oils.
Pelican Medicated Persimmon Tannin Body Soap 80g
Best Traditional Soap Bar Made From Botanical Ingredients
This traditional and solid soap bar from Japanese skincare brand Kao is a long-selling product and has been around for more than 130 years since its inception! 
Obviously, the soap bar has undergone many updates in its 130 years – and its base material is now 100% botanical. It has a fine, yet creamy, well-spreading foam created by natural palm milk. Only palms harvested within 24 hours are used in the soap to help eliminate any impurities and create a more refined product. The Kao Body Bar Soap also contains naturally derived squalene, which plays a significant role in moisturizing the skin.
Kao White Soap Body Bar Soap 130g
$6.95
Best Moisturizing Soap Wash In A Liquid Pump Bottle
This moisturizing body soap wash by Cow Soap contains hyaluronic acid, collagen, and buttermilk to protect your skin from dryness. It can be used to create a fine yet dense foam that cleanses skin and leaves it feeling smooth without drying it out.
This product is manufactured by Cow Soap who were founded in 1909 and became successful for their soaps containing milk fats. The company now produces a range of cleansing products, all of which are designed to keep your skin feeling fresh.
Cow Bouncia Body Soap Wash 500ml
Best Soap With Exfoliating Effect

This body scrub soap by Pelican performs multiple functions at the same time as it works to soften, exfoliate, and brighten your skin. It is also designed to remove any excess dirt on the skin which often clogs pores. 
This soap has a subtle Japanese cypress scent and contains a blend of charcoal, konnyaku, and bamboo to remove dead skin cells that cause dullness and blackheads. These ingredients are not only effective in exfoliating the skin, but they also leave it feeling more moisturized. It's particularly effective on areas such as the armpits, elbows, knees, hips, and heels.
Pelican Peat Stone Exfoliating Body Scrub Soap 100g
$8.64
Best Moisturizing Soap For Sensitive Skin
Sonbahyu soap contains Japanese horse oil as its main ingredient to cleanse dirt from the skin whilst moisturizing it and is suitable for sensitive skin and babies. This particular soap bar is also scented with Japanese Cypress.
Horse oil is a common ingredient in many Japanese beauty products, particularly in skincare products such as lotions, creams, and serums. It is believed to have several benefits for the skin, including moisturizing and anti-inflammatory properties. 
Horse oil is rich in fatty acids and has a molecular structure that is similar to human sebum. This makes it easily absorbed by the skin, where it helps to moisturize and hydrate, without leaving a greasy residue. It also contains anti-inflammatory properties, which makes it effective for soothing and calming sensitive, irritated, or inflamed skin.
Sonbahyu Japan Horse Oil Bar Soap Hinoki Cypress Fragrance 85g
$12.50
Best Extremely Gentle Cleanser With Minimal Allergens
Minon Baby Shampoo Body Soap is a gentle yet effective cleanser suitable for even the most sensitive skin. Formulated with plant-derived amino acids that mimic the pH of normal skin, this Japanese body soap is perfect for those with sensitive and dry skin. 
Minon Baby Shampoo Body Soap is designed to protect the skin's moisture barrier, leaving it feeling hydrated, soft, and smooth. This fragrance-free and color-free formula is made with minimal allergenic ingredients, ensuring a soothing and calming cleanse. With its weak acidity, this body soap is a must-have for anyone looking to achieve a gentle cleansing experience.
Minon Baby Shampoo Body Soap 350ml
$16.95
Best Soap Bar For Preventing Acne And Cleansing Pores

Mizuhashi Hojyudo Itsukano Sekken Medical Soap is designed to cleanse pores and prevent acne. Formulated with proteinase enzymes, it cleanses and removes unwanted keratin resulting in clean skin without impurities and darkened pores. It also disinfects the skin and helps prevents body odor.
This soap comes in a circular bar shape and creates a creamy foam that is gentle to the skin and free from irritants such as fragrance, artificial coloring, mineral oils, alcohol, and parabens. 
Mizuhashi Hojyudo Itsukano Sekken Medical Soap 100g
Best Fragrance-Free Soap
This fragrance-free version of the Sonbahyu Japan Horse Oil Bar Soap contains all the benefits of the scented version (mentioned previously) but has no perfume. By removing an additional potential irritant – this version of the popular soap bar makes it more suitable for young children and people with sensitive skin.
Sonbahyu Japan Horse Oil Bar Soap Fragrance-Free 85g
$12.50
Best Eco-Friendly Soap
This soap bar featuring baking soda as a primary ingredient hydrates and smoothens skin and prevents the appearance of pores. Each bar of Ishizawa soap is carefully cooked over a week by skilled craftsmen, and the baking soda works to soften old skin cells and dissolve sebum and dirt from the pores.
This soap has a 100% vegetable oil base, so it's eco-friendly, rich in moisture, and has a high-quality foam that's easy to wash off. It also contains AHA (fruit acid) exfoliate and yogurt extract to nourish your skin. 
Ishizawa Lab Keana Nadeshiko Baking Soda Soap Bar 155g
$17.99
Best For Anti-Odor And Anti-Bacterial Soap
The Deo Tanning Bar Soap is packed with persimmon tannins and other natural botanical anti-bacterial ingredients to help prevent body odor and acne. This soap bar also features bentonite clay which absorbs dirt and oil and hamamelis extract for an enhanced cleansing experience and to tighten pores.
Deo Tanning Bar Soap for Body Odor 100g
$11.99
Moisturizing Liquid Soap With Floral Fragrance
This lovely foaming body wash by Lux gently cleanses skin and has a sweet rose fragrance. Not only is it formulated with rose extract, but it also contains moisturizing ingredients including hyaluronic acid and jojoba seed oil.
Lux Body Soap Soft Rose Foaming Body Wash 450g
$11.89
Best Deep-Cleansing Soap
This non-medicated version of the popular Mizuhashi Hojyudo soap is made with non-harmful and well-balanced ingredients including 23 different complex minerals for dewy and supple skin. The proteinase enzyme ingredient will remove unnecessary keratin from the skin's surface, leaving your skin clean and free of pore impurities. 
Mizuhashi Hojyudo Itsukano Sekken Enzyme Cleansing Soap 100g
$19.99
Best Soap For Cleansing Pores
For a powerful yet gentle cleansing solution for your pores, try the Pelican Dot Washy Pore Cleansing Soap Bar. Made with plant-derived ingredients, this soap is designed to effectively cleanse your pores by washing away old cuticles and dead skin. The inclusion of Ghassoul Clay helps to absorb and wash away impurities, while Argan Oil and AHA work to cleanse excess sebum. Additionally, this soap contains honey and seven other plant extracts, which work together to hydrate and nourish your skin, leaving it feeling soft and refreshed. 
With no synthetic surfactants, coloring, synthetic fragrance, paraffinum liquidum, or parabens, you can trust that this soap won't irritate your skin.
Pelican Dot Washy Pore Cleansing Soap Bar 75g
$8.48
Best Soap With Whitening Effect For Brighter Skin
Tokyo Love Soap Premium is a moisturizing soap bar formulated with a blend of herbal ingredients that also brightens skin. This premium version of Tokyo Love Soap also features EGF (Epidermal Growth Factor) which speeds up the epidermal turnover rate to effectively regenerate damaged and oxidized skin cells, treating and preventing the appearance of scars or marks.
This soap contains ylang-ylang and damask rose extracts to provide an elegant fragrance, whilst moisturizing ingredients include hyaluronic acid, vegetal placenta, and collagen complex. 
Tokyo Love Soap Premium 100g
$22.50
Best Gentle Soap For Men
This Japanese men's soap can be used on both the face and body and has been designed to cleanse skin and prevent body odor. It has a gentle cleansing foam that cleans the skin without drying it out and is free from irritants such as coloring, fragrance, and parabens.
ULOS Medicated Skin Wash for Face and Body 300ml
Other Recommended Japanese Bath Products
 
If you're looking to take your bathing experience to the next level, consider pairing your Japanese bath soap with some complementary products. 
Japanese exfoliating towels, or salux towels, are a popular choice for many people looking to achieve a deeper cleanse. These textured towels help to remove dead skin cells and unclog pores, leaving your skin feeling silky smooth. 
Another option to consider is a bath sponge made from natural sisal hemp fibers. This scrubbing bath sponge allows you to wash your body while gently stimulating your skin. You can even use it as a massage tool by gently scrubbing areas like your back, toes, and soles of your feet as if you were massaging them.
Finally, if you're looking for a more luxurious bathing experience, Japanese bath salts can help to create a soothing and relaxing atmosphere. We love these fragrant yuzu bath salts which contains ingredients you'd usually only find in Japanese hot spring water.
Looking for more Japanese bathroom products? Check out this article on 12 of the Best Japanese Bath Products to Transform Your Bathroom into a Serene Oasis!