The Best Japanese Beauty Brands That You Should Know About
Jump to:
Japan is one of the most consumer-oriented countries in the world and Japanese beauty brands are all about the quality. Japan has a high domestic consumption rate which provides higher quality products to their consumers. Beauty brands are committed to giving their customers the best of what they have to offer, and Japanese cosmetic products are known for their high-quality and innovative designs.
Nowadays the demand for Japanese beauty products is not only found in Japan but also abroad as well. In this article, we'll explore their key traits that make them some of the best in the world!
Here are 15 of the best Japanese cosmetic brands we'll introduce:
Shiseido: best for anti-aging skincare & sun protection via their Anessa brand
Kanebo:  best for eye makeup including brow kits, eyeliner, mascara, and eyeshadow
Shu Uemura: best for eyelash curlers, cleansing oil, haircare products
Koh Gen Do: best for high-quality foundation and powder 

Cure: best skincare products for for sensative skin 

DHC: best for products following four-step Japanese skincare routine 
Isehan/Kiss Me: best for mascara and eyeliner 
Lululun: best for high quality yet affordable sheet masks

Clé de Peau Beauté

: luxury brand of Shiseido, best for eye serums, makeup primer 

Hada Labo: best skincare products for consumers with dry or dehyrated skin 
Biore: skincare brand specializing in pore removal cleansing products and lightweight sunscreens
SK-II: luxury skincare brand famous for creating high quality skincare products with lasting results using pitera 
Canmake: cute makeup products known for their base cosmetics from concealer to foundation and stay-on moisturizing lip color
Kose: expert in facial sheet masks for all skin types
Uzu: best for colorful and fun eyeliners and mascaras
Top 15 Japanese Cosmetic & Beauty Brands
Japan's leading beauty brand with a history of more than 140 years. Their extensive range of sub-brands and products includes everything from skincare products like moisturizer and anti-aging serums, to sunscreen and makeup. Some of Shiseido's best-selling products include:
Anti-aging products: among Shiseido's best-selling anti-aging products are their Benefiance Wrinkle Smoothing Cream, a moisturizing cream said to reduce the appearance of wrinkles in two weeks, and Ultimune Power Infusing Concentrate, an award-winning serum that protects skin from daily damage and premature aging.
Sunscreen: Shiseido's Anessa brand is known for their collection of sun care products using technology that blocks powerful UV rays whilst nourishing the skin. Anessa has been the number one seller of sunscreen products in Japan for more than 20 years, and best-selling products include their Perfect UV Sunscreen, a waterproof sunscreen with unique technology that increases protection upon contact with sweat or water.
Kanebo is a Japanese cosmetics company that has been operating since 1923. They pride themselves on making cosmetics that are safer than other brands, while still creating products that reflect the latest beauty trends from Japan and overseas. Each season Kanebo develops innovative new products in collaboration with designers.
Kanebo are known for their best-selling eye makeup, like the KATE Double Liner eyeliner, a huge hit among Japanese consumers, beauty bloggers, and beauty magazines. Other popular products include the Allie range of waterproof eyebrow pencils and mascaras, which are resistant to sweat and tears, perfect for those humid Japanese summers! 
Although the company is now owned by the Loreal Group, Shu Uemura was born in Tokyo in 1928 and became the first Japanese makeup artist in Hollywood. He created cosmetic products that are known for their high quality, precision, and attention to detail, while combining traditional Japanese heritage with modern trends.
All Shu Uemura products are crafted in Japan, with their best-selling products including their range of cleansing oils, which effortlessly remove makeup while keeping skin moisturized and smooth. They are also famous for their award-winning eyelash curler, a favorite among celebrities and makeup artists thanks to its precision and unique design that fits various eye shapes.
A high-end cosmetics brand founded by a Japanese actress with stand-alone stores in Japan in addition to concessions in Loft, a chain of stores selling household and everyday goods. Koh Gen Do's products combine healing plant-based ingredients with skincare technology to create products that protect and nourish skin. The company's philosophy is that every product that you put on your skin should nurture it and improve its radiance, leaving it soft, smooth, and flourishing.
Koh Gen Do's products are ideal for sensitive skin, and best-selling items include their Maifanshi Moisture Foundation, featuring innovative powder technology from Japan. The foundation has a weightless feel and its performance technology resists sweat, oil, and water to last for long periods.
5. Cure
Cure is a popular Japanese skincare brand whose philosophy lies in creating simple products which are kind to skin and formulated with powerful antioxidants and soothing ingredients. 
Their most popular products among fans are water-based and contain gentle formulations without irritating fragrances, and which are suitable for all skin types. One of Cure's most important ingredients is activated hydrogen water, an extremely effective and powerful antioxidant that many people refer to as "miracle water."
Activated hydrogen water protects the skin from sun damage and assists in the rejuvenation of skin cells. These benefits also combat aging skin and wrinkles by allowing the cells throughout your body to thrive in a healthy environment.
DHC is a skincare brand and embracer of the Japanese concept of wabi-sabi, that teaches there is beauty in imperfection. Their goal is to help consumers feel beautiful in their own skin. DHC's products are designed with the four-step Japanese skincare routine in mind that consists of two steps for cleansing, and two for moisturizing. The cleansing includes an oil cleanser to remove makeup followed by use of a foam cleanser with water to wipe away any remaining impurities. This is followed by using a facial lotion to hydrate the skin before adding a final intense moisturizer.
One of DHC's most popular products is their Olive Cleansing Oil, which features antioxidant rich organic virgin olive oil from Spain, vitamin E to hydrate, soften and protect against free radical damage and rosemary oil to invigorate and refresh.
7. Isehan/Kiss Me
Isehan Kiss me is known for their mascaras and eyeliner under the Heroine Make range of products, easily recognizable in anime style packaging. The company has a long history in Japan, having originally started as a family shop back in 1825. One of their bestselling products in Japan is their award-winning waterproof mascara, along with their Komachi-beni lip color, a vivid red extracted from the petals of safflowers, in a technique that has been used for hundreds of years by geisha and high society women.
Lululun – which means 'happy mood' in Japanese, is a specialist in producing high quality yet affordable sheet masks for daily use as well as special occasions. Within their collection of daily use masks there are three ranges, Lululun Regular, Lululun Precious, and Lululun Over 45. The Regular masks are suitable for all age groups, Precious is for consumers with slightly more mature skin who are starting to notice signs of aging, and Over 45 is for as the name suggests, women aged 45+. 
Their special care masks include Lululun ONE, a luxurious 15-minute treatment mask packed with beauty serum, and their overnight mask is designed to rejuvenate your skin while you are sleeping.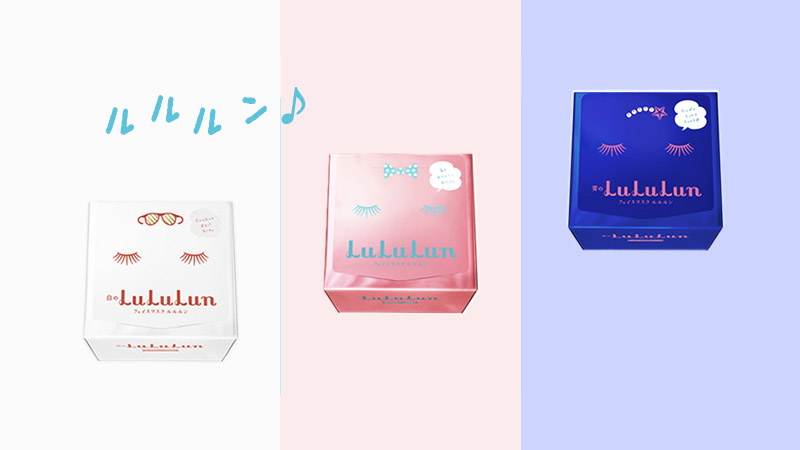 A subsidiary of Shiseido, this luxury beauty brand was founded in Japan in 1982. Their philosophy is to develop innovative products by finding new ingredients and crafting luxurious formulations to create radiant skin.
Some of Clé de Peau's best-selling products include their correcting cream, a makeup primer that offers SPF protection, corrects skin imperfections, and provides a long-lasting base for foundation that resists oiliness and creasing. Another best-selling product in their collection is the award-winning concentrated brightening eye serum that helps to reduce the appearance of dark circles under the eyes.
Hada Labo is one of Japan's best-selling skincare brands whose range of products cater especially towards consumers with dry and dehydrated skin. Hada Labo's formulas contain a special combination of hyaluronic acid ingredients including large hyaluronic acid which acts on the skin's surface to hold in moisture, standard hyaluronic acid retained in the skin's top layer, super hyaluronic acid which retains twice the amount of water than standard hyaluronic acid, and nano hyaluronic acid which penetrates deeper into the skin and plumps from within.
Among Hada Labo's most popular products is the Gokyjyun range featuring Japanese lotions (toners), face creams, and cleansers. 
Owned by the Kao Corporation, Bioré is Japan's number one cleansing brand specializing in pore care with a wide range of products that includes everything from pore strips to facial cleansing wipes. Their products are very affordable yet effective, with best-selling items such as their Kao Biore UV Aqua Rich Watery Essence sunscreen costing only around $15.00. This sunscreen is very light and non-greasy and contains moisturizing ingredients such as hyaluronic acid, royal jelly, and citrus essence.
Other products worth checking out are Biore's Charcoal Deep Cleansing Pore Strips, nose strips made from bamboo charcoal extract designed to effectively remove all the impurities, blackheads, and any other dirt from pores.
SK-II was developed in the 1970s by Japanese scientists after it was discovered that elderly workers at a sake brewery had smooth, clear, and young-looking hands from years of submerging them in the fermented yeast. After more than five years of experimentation, the scientists managed to isolate the yeast extract – which they call pitera, for use in cosmetics and SKII's products went on sale to the public in the 1980s. 
Pitera is a clear liquid rich in vitamins, amino acids, minerals, and organic acids. The combination of nutrients works to dramatically improve the skin's natural surface rejuvenation process.
 If you're going to try one product by SK-II, make it their Facial Treatment Essence, SK-II's best-selling product that softens texture, evens skin's tone, enhances radiance and reduces the appearance of dark spots & fine lines.
This Tokyo based company is a popular cosmetics brand, recognizable by their feminine and cute style packaging. The concept behind their makeup brand is 'girly, pop, and shiny', fun products designed to add a bit of sparkle to your life. Canmake's collection of products includes items like their best-selling base makeup range where you can find concealer, powder, foundation, highlighter, and primer.
Other best-selling products include the Canmake Mermaid Skin Gel UV Sunscreen, a powerful, protective Japanese sunscreen that can also be used as makeup base. This sunscreen moisturizes skin as well as provides UV protection of SPF 50+. Canmake's Stay-On Balm Lipstick is also a consumer favorite, it comes in nine different shades and provides the moisturizing ability of a lip balm, the sheen of lip gloss, plus UV protection.
Kose is a Japanese cosmetics brand that was founded in 1946 with the intention of creating quality products that gave consumers dreams and hope, despite the post-war shortages. Their collection of brands also includes Sekkisei Cosmetics, who produce base makeup like foundation and primers that brighten, soften, and hydrate skin.
Among Kose's best-known products are their wide selection of facial sheet masks, and their Clear Turn White Mask is one of the best-selling facial sheet masks in Japan. These hydrating masks are packed full of skin plumping collagen and five types of plant extract to intensely moisturize the skin.
Uzu is a make up brand under the company FLOWFUSHI. They are well known for bringing vibrant and bold colored liquid eyeliners and mascaras to the Japanese beauty market. Not only do they carry a variety of different colored liquid eyeliners and mascaras, they are also all of high quality as well. In particular, their eyeliners allow you to create precise lines without smudging. If you're interested in trying out a bold cat eye, we recommend their Eye Opening Liner series. 
Where can I buy authentic Japanese cosmetics online?
All the brands mentioned within this article can be purchased in most Japanese drugstores or department stores, or through the brand's official websites. However if you live outside of Japan, you can buy many of the most popular items through the Japanese Taste website, who will export the products directly from Japan to your door.