The Ultimate Guide To Japanese Rice Vinegar: Top 13 Picks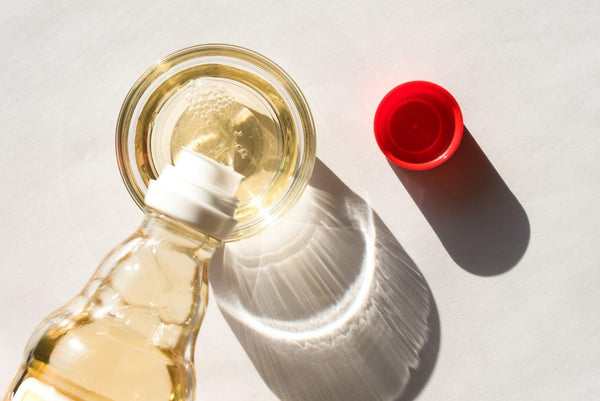 Jump to:
Rice vinegar is an extremely versatile condiment that often does not get enough praise. If you're not super familiar with Japanese rice vinegar, it essentially stems from sake production. Rice vinegar is made by taking sake and adding an extra step to transform the alcohol content into the tangy flavor we know in this popular condiment.
Rice vinegar captures the essence and fragrance of the rice it's made from. Since this aroma diminishes when heated, the best way to enjoy its delicate flavor is by using it in recipes that don't involve cooking, such as in rice dishes, salads, pickles, Japanese dressings, and even drinks. 
In this article, we'd like to introduce 13 premium Japanese rice vinegars that you can purchase online. We'll look at different premium rice vinegar, kurozu (black vinegar), specialty Japanese rice vinegar, and Japanese fruit vinegar. After reading this article, we hope to have inspired you on how you can incorporate rice vinegar into your everyday cuisine, in other ways than just using it in salad dressings or dipping sauces. 
Rice Vinegar
Marusan Rice Vinegar is a meticulously crafted rice vinegar made from non-glutinous rice, offering a pure flavor and gentle acidity that elevates not only Japanese cooking but other kinds of cuisine as well.
This vinegar stands out with its premium quality and smooth taste, achieved through a slow maturation process in a traditional storehouse, similar to the method used for making Japanese sake.
Utilizing the 'static fermentation method,' Marusan Vinegar is prepared by placing handmade vinegar, moromi, water, and acetic acid bacteria in a tank without stirring. This time-honored fermentation technique, though less common today, yields a cleaner, versatile vinegar.
Produced by Imagawa Brewery in Kanazawa City, Ishikawa Prefecture, Marusan Vinegar uses only high-quality domestic ingredients and upholds the 'static fermentation method.' While it demands time and patience, it results in a vinegar suitable for dishes, sushi, dressings, and even beverages.
Marusan Pure Rice Vinegar Artisanally Crafted Vinegar 500ml
$14.99
This version of Marusan's pure rice vinegar is specially intended for sushi. The base of non-glutinous rice vinegar is seasoned with a delicate balance of salt and sugar, perfect for making sushi rice. 
Similarly to other Marusan rice vinegar, this sushi rice vinegar is brewed using the static fermentation method, which gives it a premium and smooth flavor. 
While this vinegar is the perfect option for making high-end restaurant-quality sushi rice, its culinary applications also extend to vinegared dishes and pickles. You can use it in any way you'd like to create your own culinary adventure!
Marusan Sushi Rice Vinegar Artisanally Crafted Rice Vinegar For Sushi 360ml
$14.95
Another great rice vinegar option from Imagawa (the same company as Marusan) is this Ancient Rice Vinegar made from ancient purple and black-grained rice. It's crafted from Shikokumai rice, a rare, purple-black rice variety native to Toyama Prefecture. 
Besides being made with unique and rare (even by Japanese standards) rice, this special rice vinegar is made using traditional Japanese crafting methods.
Before this product can become vinegar, the Shikokumai rice is fermented into a special kind of sake, and then the sake product undergoes the same static fermentation process as other Imagawa (Marusan) vinegar. 
This rice vinegar is a versatile ingredient that can be used in cooking, as a condiment, or even enjoyed as a drink on its own or in cocktails.
Imagawa Purple Black Vinegar Ancient Rice Vinegar 500ml
$19.99
This special rice vinegar from Tajima Jozo is made from high-quality premium sake polished rice known as Junmai rice. This rice vinegar has a less harsh acidity than other rice vinegar, thanks to Tajima Jozo's signature slow maturation process. The clean-tasting rice vinegar can be used in sauces/marinades/dressings, simmered, dishes, and even drinks. 
Tajima Jozo is a vinegar brewery local to Hyogo prefecture famous for crafting all kinds of unique yet easy-to-consume vinegar. We'll look at a few more of their products in this article, so be sure to stay tuned! 
Tajima Jozo Organic Junmai Pure Rice Vinegar 360ml
$12.99
Kurozu Black Vinegar
This all-natural kurozu (black vinegar) from Marushige is a versatile condiment suitable for both culinary and beverage use. Renowned in Japan for its health benefits, this vinegar is often blended with soda water for a nourishing, tangy drink.
Marushige crafts this vinegar through a year-long fermentation process, combining steamed brown rice and pure local water in a traditional open-air vessel. Its rich, fermented profile not only enhances traditional Japanese dishes but also elevates the umami in Western cuisine.
Marushige Naturally Fermented Black Vinegar 1 Year Aged 900ml
$27.99
Another kurozu black vinegar option from Marushige is this premium black vinegar. This kurozu is a product they believe is best enjoyed as a refreshing, healthy beverage rather than solely for cooking.
Marushige creates this vinegar through the fermentation of steamed brown rice and local water in a traditional open-air container. It ages for 3 to 5 years, similar to Japanese sake and fine wine, resulting in a deep, rich flavor.
This additive-free, high-quality vinegar is made from natural, local ingredients and is packed with nutrients and flavor. Why not give it a try?
Marushige Black Vinegar 3+ Years Aged Premium Drinking Vinegar 185ml
$15.99
Fukuyamasu employs the traditional approach of maturing vinegar in open-air clay pots, ensuring not only high quality but also authenticity.
The result is a smooth, flavorful vinegar perfect for dipping sauces or marinades with gyoza dumplings, grilled fish, or dishes rich in oil or salt. It's a refreshing seasoning that harmonizes with robust flavors. Alternatively, mix it with water or soda for a revitalizing, nutritious beverage.
Fukuyamasu Kurozu Artisan 2 Years Aged Japanese Black Rice Vinegar 500ml
$21.99
A unique point about all three of these Japanese black vinegars is that they adhere to Geographical Indication (GI) standards, proudly displaying the GI certification seal on their bottles. This signifies its unique regional origin and adherence to authentic production methods.
Specialty Japanese Rice Vinegar
This is an extremely rare type of vinegar from Tajima Jozo – the red vinegar! While red vinegar is becoming increasingly uncommon, its history dates far back to the Edo period. 
Akazu red vinegar can be used in the same way as normal rice vinegar, adding a unique color to dishes. Use it as a seasoning for your sushi rice to enhance its color and give it a glistening red touch.
Tajima Jozo Akazu Red Vinegar 200ml
$9.99
Another unique vinegar option from Tajima Jozo is this Smoked Junmai Rice Vinegar. Tajima has taken the exquisite essence of Sakura chips and infused it into their classic pure rice vinegar adding an instant flavor elevation. 
Who knew smoked vinegar was a thing or that it tasted so good? Mix this unique smoked vinegar with soy sauce, olive oil, miso, and more to whip up your own delicious smoked dressing, instantly adding a gourmet twist to every meal. 
Tajima Jozo Smoked Junmai Pure Rice Vinegar 200ml
$9.99
Lovers of bonito (katsuobushi), Japanese dashi, and typical Japanese flavors shouldn't miss this fantastic, unique product from Marushige. High-quality Makurazaki bonito from Kagoshima prefecture and Marushige's premium rice malt are combined with local, soft water to ferment together in a traditional open-air jar to create this unique Japanese vinegar. 
This bonito rice vinegar can be used in a multitude of ways: add a small amount to natto or miso soup to boost the umami. Use it as a dressing with olive oil over salads and carpaccio. Drizzle over grilled fish or fried chicken for a refreshing taste full of Japanese flavors. Additionally, Marushige also strongly recommends making pickles with this vinegar, as it will enrich the vegetables with the flavor of bonito. However you decide to use this vinegar to spice up your dishes, we're sure the outcome will be amazing!
Marushige Naturally Fermented Bonito Rice Vinegar Seasoning 500ml
$24.99
Japanese Fruit Vinegar
This unique Japanese drinking vinegar is essentially a strawberry-flavored rice vinegar. The base of the vinegar is made with real Japanese strawberries and rice malt. If you're not familiar with drinking vinegar, it is a popular, delicious, and nutritious way to add more vinegar to your diet. 
What makes this Japanese drinking vinegar truly unique is that it is made with Migaki strawberries, a luxurious strawberry native to Miyagi prefecture. The migaki strawberry-based vinegar is then mixed with real strawberry juice to make this luxurious and healthy drinking vinegar. You can mix it with regular or sparkling water, or even into your favorite cocktails to create a unique strawberry drinking vinegar delight. 
Marushige Migaki Strawberry Premium Drinking Vinegar 500ml
$24.99
This is a blueberry version of Marushige's popular drinking vinegar. Blueberries and rice malt are aged together to create this unique fruit vinegar, and then it is mixed with real blueberry juice to give it the perfect balance of sweet and sourness. Dilute 2 to 5 times with carbonated water for a bubbly, alcoholic drink or even top yogurt or ice cream with it. You can use this blueberry drinking vinegar however you see fit! 
Marushige Blueberry Premium Drinking Vinegar 500ml
$22.99
If you're looking for another unique and possibly luxurious drinking vinegar, then you need to try this shine muscat drinking vinegar from Marushige! Shine muscat grapes are a premium white grape variety popular in Japan, and they work perfectly in this fruity vinegar. This is the best Marushige fruit vinegar to use as a base for cocktails! 
Marushige Shine Muscat Premium Drinking Vinegar 500ml
$26.99
Have you tried any of these Japanese rice vinegars? If not, which one piqued your interest? We'd love to hear your thoughts in the comments below.