A Beginner's Guide To The Best Japanese Hair Wax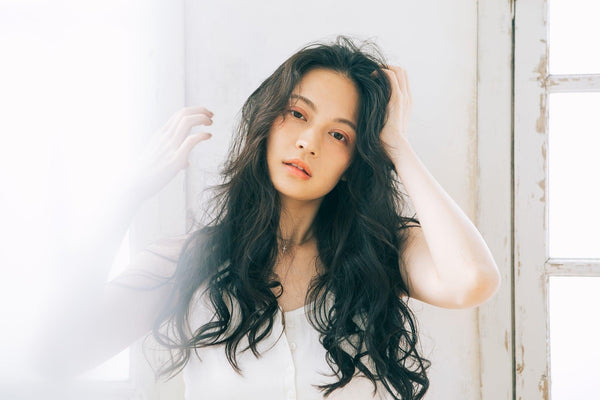 Jump to:
In this article, let's take a deep dive into the diverse world of Japanese hair wax, exploring the offerings, brands, and unique properties that make these waxes stand out from other hair styling products. 
Whether you're looking for a strong hold, a soft and natural finish, or a perfect solution for short hair, we've got you covered. From classic hair wax sticks to advanced formulas tailored for specific hair types, discover the best Japanese hair wax brands and products to improve your hairstyling game!
Best Japanese Hair Wax For Very Short Hair
Featuring a quirky design that looks similar to a black Rubik's Cube, Arimino Peace Freeze Keep Wax Black is a professional Japanese wax for styling hair.
Despite having a lightweight texture, this creamy hair wax has a strong setting power to keep your hair design in place all day long without it looking greasy. 
The wax's formulation includes cupuacu oil as one of its featured ingredients. Cupuaçu oil, derived from the seeds of the Cupuaçu tree (Theobroma grandiflorum), is a natural ingredient that has gained popularity in the world of hair care and cosmetics due to its numerous benefits.
For example, cupuacu oil has excellent moisture retention properties, helping to keep hair hydrated and prevent it from becoming dry and brittle during styling. It is also effective at combating frizz and providing a smooth finish and natural-looking shine. Additionally, it has a lightweight texture to help provide a flexible hold without weighing down your hair.
Arimino Peace Freeze Keep Hair Wax Black 80g
$19.99
Best Japanese Hair Wax For Flyaway Hair
This hair wax comes in stick form and is formulated to specifically hold loose and flyaway hair in place whilst your hair is in an updo hairstyle.
The stick-type wax can be applied directly to your hair, avoiding your hands getting sticky, and making it an ideal styling product for use on the go. It keeps hair in place using a non-sticky powder and is blended with hair-nourishing ingredients such as camellia oil, argan oil, and baobab oil for a sleek and shiny finish. 
The Utena Matomage Hairs Styling Stick comes in a compact size that easily fits in your cosmetics bag. 
Utena Matomage Hair Styling Stick Wax Strong Hold 13g
$5.95
Best Japanese Hair Wax For Short Medium Hair
Arimino Peace Hard Wax is a professional hair wax with a creamy texture, designed specifically for consumers with short medium hair. This product has a high setting power, yet its texture is surprisingly lightweight, making it easy to apply to hair. 
The Arimino Peace Hard Hair Wax has a long-lasting formula to keep your style in place without making hair look or feel greasy and features nourishing cupuacu oil within its formulation to hydrate your hair and keep it looking shiny. 
Arimino Peace Hard Hair Wax Pro Design Series 80g
$19.99
Best Japanese Hair Wax For Unruly Hair
Nakano Styling Wax 6 is an ultra-super hard Japanese hair wax designed for unruly hair to reduce hair volume and create a firm movement that gives professional-looking, long-lasting results at home.
Within the series of Nakano Styling Wax products, there are seven variations, this one features the second strongest hold in the series. Nakano Wax is a popular hair care brand in Japan, with a large portfolio of shampoos, waxes, and other hair styling products.
Nakano Styling Hair Wax 6 Ultra Super Hard 90g
$14.89
Best Japanese Hair Wax For Strong Hold And Easy Washability
The Milbon Prejume Wax 7 is an effective Japanese hair styling wax with a powerful holding capacity. Originally designed only for use by professional stylists, this product is now available for consumers to purchase directly.
This molding wax offers a firm, long-lasting hold without the immediate hardening you might expect with this type of styling product. With it, you can easily restyle your hair at will.
While it initially presents a robust and slightly greasy texture, it becomes progressively softer and less greasy, making it easy to remove with just regular shampoo.
Milbon Prejume Wax 7 Japanese Hair Styling Wax 90g
$18.00
Best Japanese Hair Wax For Long Hair
Uevo Design Cube Hold Wax is a Japanese hair salon-grade wax that will provide your hair with just the right amount of hold as well as a glossy finish. 
This hair wax features a green apple scent and pink-gold pearl ingredients to give your hair a bright and shiny appearance. It is recommended for consumers with either long or short hair looking for reasonable hold and added shine.
Also, within this series of products is the Uevo Design Cube Hold Hair Wax designed to give very short and short hair a strong hold and healthy looking shine, and the Uevo Design Cube Hard Hair Wax 80g designed for short to medium hair to give it a three-dimensional texture.
Uevo Design Cube Round Hair Wax 80g
$14.99
Best Japanese Hair Wax For Spiked Hairstyles
Gatsby Moving Rubber Spiky Edge Wax is recommended for short or very short hair and is the hardest hair wax of the Mandom Moving Rubber series of products with an excellent holding power that keeps hair spiked all day long.
Gatsby Moving Rubber hair wax series was developed in collaboration with Japan's top hairstylists in 2006. This unique product was designed to create maximum hold with moveable texture, allowing you to reshape your style throughout the day.
There are seven variations in total including Wild Shake for creating a wild, three-dimensional look, Multi Form for achieving a more reserved and natural look, and Loose Shuffle for creating movement and curls in longer hair.
The other variations in this series include Air Rise which easily creates an airy or feathered hairstyle, Cool Wet designed to create a wet look with a shiny finish, and Grunge Mat which allows you to create movement with hair bundles.
Mandom Gatsby Moving Rubber Hair Wax Spiky Edge 80g
$9.99
Best Lightweight Japanese Hair Wax For Men
Deuxer 5 Hard Wax is a popular Japanese hair wax ideally suited for short hair and known for its strong hold and smooth spread. It has a light and creamy texture that allows the hair to move but it still has a long-lasting holding effect.
Its ingredients include macadamia oil, which is known for its hydrating benefits when it comes to hair, and its ability to make it shine without looking greasy or heavy. 
Other products within the same series include the Deuxer 4 Medium Hard Wax which is better for medium-length hair, and Deuxer 6 Dry Paste Hair Wax which has a dry and light texture to allow movement.
Deuxer 5 Hard Wax 80g
$15.95
Best Japanese Hair Wax For Natural-Looking Hairstyles
Gatsby Perfect Hold Wax is a Japanese hair wax with a firm finish that creates a strong setting power but still allows for movement of the hair. This product contains hairspray ingredients to keep your hairstyle in place, in addition to nourishing ingredients to reduce hair damage and provide a more lustrous look. 
This hair wax is best suited for shorter hair to create a natural, casual-looking hairstyle.
Mandom Gatsby Perfect Hold Wax Short Hair Hard 60g
$13.98
Want to discover more Japanese haircare products? Check out this article on the best Japanese shampoos that will solve all your hair problems.