9 Japanese Miso Pastes You Should Know About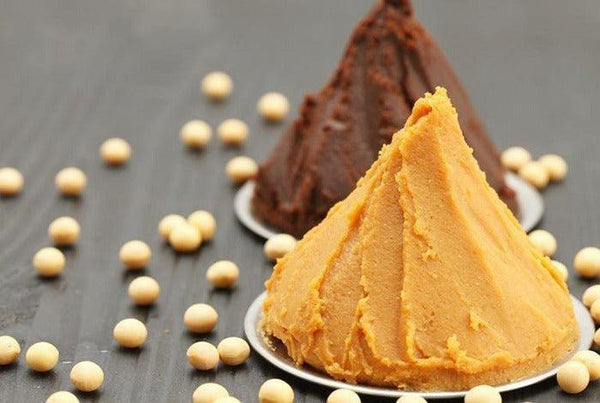 Jump to:
Miso is one of the most common Japanese seasonings, and has been a staple part of the Japanese diet for more than 1,300 years. In fact, it is said that miso paste can be found in any Japanese household, and that Japanese families usually have multiple types of miso pastes in their refrigerators! 
In case you're not familiar with miso, it is a nutritionally rich, fermented paste typically made from soybeans. However, these days, there are versions made from different types of beans, grains and mixtures of beans and grains. Each variety of miso paste goes through a different length and process of fermentation, which could last anywhere from a few months to even a few years. With so many different types and brands of miso paste on the market, it can be difficult to know which one to choose.
In this article, we're going to go over 9 of the best Japanese miso pastes available for purchase on Japanese Taste. Stay tuned to learn more about each miso paste, so that you can make an informed decision when buying one. 
We're going to introduce miso pastes in the following categories:
Best Mixed Miso Paste

Best Premium Miso Paste

Best Red Miso Paste

Best Soy-Free Miso Paste 

Best Miso Paste For Soup

Best Low Sodium Miso Paste

Best Organic Miso Paste

Best Hatcho Miso Paste 

Best Miso Paste For Gut Health
Best Mixed Miso Paste
This miso is a local product from Fukuoka Prefecture. It is a blended miso containing rice, barley, soybeans, and salt which are all produced in Japan. An added bonus is that this miso is additive free! Conventional mixed miso paste is usually made of a mixture of two or more miso pastes, but this product is made from a mixture of koji malts before it undergoes fermentation. By following this process, the end result of the miso has a flavor that is a bit sweeter and richer. 
This miso paste is a great base for miso soup or as an addition to salad dressing and marinades. It could make a great gift for your health-oriented friends or family as well.
Tsurumiso Jyozo Hakushu Additive Free Awase Miso (Mixed Miso Paste) 500g
$21.99
Best Premium Miso Paste
This premium barley miso paste is produced using a rice and barley mixture ratio of 8 to 2. The proportion of rice is greater than conventional mixed miso pastes resulting in a creamier and milder taste.
This 100% Japanese miso contains ingredients including rice, barley, soybean, and salt that have all been carefully selected and are produced in Japan. This high-quality product is hard to find outside of Japan but can be ordered online through Japanese Taste.
Since the flavor profile of this miso is on the milder side, one of the best ways to enjoy it is like a miso dip with vegetable sticks.
Hita Shoyu Saikokyu Top Grade Japanese Barley Miso Paste 580g
$24.99
Best Red Miso Paste
This is another premium product from Hita Shoyu, an Oita Prefecture based malster. This blended red miso paste is made from a sweet and light flavored barley miso and soybean miso to create a rich aroma and umami taste. Hita Shoyu has been making miso paste since 1843 and this product has been handmade by professional artisans.
The miso paste contains natural ingredients and water extracted from underground in the mountainous Hita Basin in Oita Prefecture. It already includes two dashi broths – bonito and kelp, so you can dissolve the paste straight into hot water to create an instant soup base. Just add your favorite veggies, tofu, and seaweed according to your preferences.
Hita Shoyu Aka Miso Japanese Red Miso Paste with Dashi 580g
$24.99
Best 

Soy-Free

 Miso Paste
Yamazaki Jyozo, a fermented food manufacturer based in Niigata Prefecture, that specializes in producing miso and shoyu products for those with food allergies. They believe that everyone should be able to enjoy the wonderful flavors of miso and shoyu, regardless of allergies. 
Rather than soybeans, which is one of the main ingredients of miso, this product is made with genmai brown rice. A combination of the sweetness from rice malt and umami from genmai makes this soy-free miso just as delicious as its soy counterpart. Another note about this soy-free miso is that it is also additive free. 
Yamazaki Jyozo Soy-Free Rice Miso Paste 600g
$23.95
Best Miso Paste For Soup
This miso paste is made by Marukome, an important producer of miso in Japan with more than 160 years of history. This red miso paste is made with high-quality ingredients such as Shinshu red miso, bonito, and kelp extracts.
The main characteristics of the Marukome Kyo Kaseki Miso Paste is that the dashi (broth) is made from quality bonito from Yaezu, mackerel, and kombu (kelp) from Hokkaido which has been added to the slowly matured red miso to bring out a rich flavor and aroma. This dashi-packed miso paste can also be easily turned into miso soup by simply being mixed into hot water and adding your favorite ingredients.
Marukome Kyo Kaiseki Premium Miso Paste with Dashi 650g
$19.99
Best Low Sodium Miso Paste
This best-selling low sodium version of the Ryotei no Aji Miso Paste by Marukome contains high quality red miso paste and a blend of bonito and kombu (kelp) dashi to bring out all the umami flavor. This miso paste is also great for use with ramen noodles. There is also a regular version of this miso paste sold that can be found here.
Marukome Ryotei no Aji Miso Paste with Dashi Low Sodium 750g
$18.98
Best Organic Miso Paste
Yamato Soy Sauce & Miso is a Japanese fermented food maker located in Kanazawa, Ishikawa Prefecture. One of their products, Kanae, is an organic miso paste made without alcohol.
The miso is made with organic certified soybeans and rice harvested in Japan.
It is fermented by a traditional barrel brewing for a whole year without heat sterilizing. This provides extra-rich flavor, and significant umami boost thanks to the enzymes.
Yamato offers miso whose sweetness and robustness are well-balanced. For those who prefer sweet miso paste, please also check out Yamato Miso.
Yamato Kanae Japanese Organic Miso Paste 400g
$19.99
Best Hatcho Miso Paste
This Organic Hatcho Miso Paste is a traditional mame-miso, or bean miso paste that originated in Aichi prefecture. Hatcho miso is a naturally-fermented soy paste that is made from only soybeans and salt. These ingredients undergo a fermentation process in a wooden barrel. Natural stones are then placed on top of the barrel as a weight, to safely allow the fermentation to continue for two years without interruption. These processes allow the miso to develop an intense umami with a slight sour flavor. 
You can of course use this hatcho miso paste to make miso soup, but you can also add it in small amounts to give your dishes a richer flavor. You can experiment by adding it to curry roux, ramen, or even tonkatsu sauce. According to the managing director of Kakukyu, this miso even pairs well with chocolate and milk-based products!
It includes neither wheat nor alcohol, so those with a gluten allergy or those who cannot consume alcohol for health or religious reasons can safely consume this miso paste.
Kakukyu Organic Hatcho Miso Paste 300g
$16.95
Best Miso Paste For Gut Health
This is a mellow white miso paste carefully made to bring out the original flavors of the raw ingredients. This is a versatile miso paste that can be combined with any dish, but the best way to enjoy it is to make a miso soup with root vegetables and meat or tofu.
Shiro or white miso paste basically has a light yellow color with a taste is often described as mild and sweet. This product is also a raw miso paste – so no heat processing has been used to make it. This keeps the yeast alive, which plays an important role in aiding in digestion and increasing the umami flavor.
Unlike most miso pastes, this one is more suitable for everyone as it does not contain any additives or alcohol.
Maruman Mutenka Natural Nama Shiro White Miso Paste 750g
$18.95
Which miso paste sparked your interest the most? Let us know in the comments below!