15 of the Best Hyaluronic Acid Japanese Skincare & Beauty Products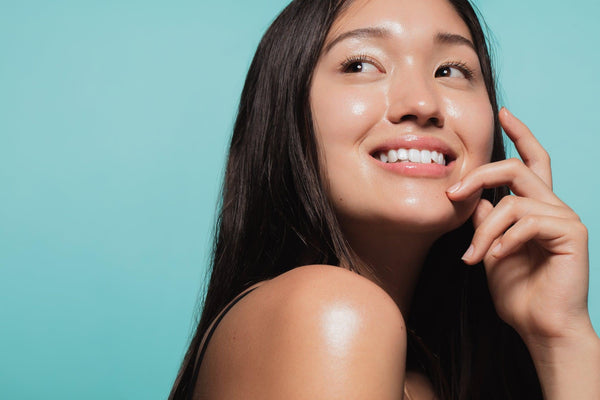 Jump to:
Hyaluronic Acid is an ingredient that skincare lovers and gurus. While it is a mouthful to say and even more of a nightmare to spell, this ingredient has earned quite the reputation in the skincare world – and for all of the right reasons! 
Many skincare products, including Japanese products, contain hyaluronic acid. What are those reasons? Why should you know about Hyaluronic Acid? We'll cover both of those questions and answer all of your concerns regarding this skincare and beauty ingredient. Later in this post, we'll also talk about our 15 favorite Japanese hyaluronic acid-packed skincare and beauty products you can purchase online. Now, let's dive into the topic of hyaluronic acid. 
What is Hyaluronic Acid?

Hyaluronic acid is one of the main ingredients produced by the body that keeps the skin moisturized. In fact, it is one of the main moisturizing ingredients for the skin, similar to that of collagen and ceramide. It is naturally produced in the skin, and can also be found in our eyes and joints. 
Hyaluronic acid was first discovered in 1934 by a Columbia University biochemist, Dr. Karl Meyer, in the fluid of a cow's eye. It was later discovered that hyaluronic acid was also produced by humans as well. In fact, it is a sugar molecule that naturally occurs in the body, found in the eyes, joints, and of course, skin. Hyaluronic acid can be found in both the dermis and epidermis layers of the skin. It is a lightweight and watery substance, so it does not clog pores. 
How Does It Work?
There are several types of hyaluronic acid, and they all have slightly different characteristics, but they all deliver intense hydration to the skin. This is because hyaluronic acid has a unique capacity to retain water which in turn plumps up the skin. It also gives the skin a glowing effect while keeping it hydrated and moisturized. 
As hyaluronic is a watery substance, it has the ability to bind with other components such as collagen and elastin, which are important for keeping the skin firm and preventing it from sagging. As it is able to connect with other important components of the skin, this is how it is able to provide a plumping effect as well as retain moisture.  
What Is Hyaluronic Acid Good For?
From learning about hyaluronic acid and how it works in the skin, we already know that it is a great natural moisturizer for the skin. We also know that it provides the skin with intense hydration. In fact, hyaluronic acid is able to absorb 1000 times its weight, meaning it can hold a ton of moisture. 
Additionally, since hyaluronic acid is able to with components such as collagen and elastin, we also know that it aids in plumping the skin. This is especially important in preventing wrinkles from forming and the skin from sagging. For this reason, hyaluronic acid has become an increasingly popular ingredient in Japanese anti-aging skincare products. 
When To Use Hyaluronic Acid
Hyaluronic acid can be found in many different skincare products such as face washes, toners, moisturizers, sheet masks, and more. As it is not an ingredient that is sensitive to light or UV rays, it is safe to use during both your morning and nightly skincare routine. It is recommended to add products containing hyaluronic acid to your skin while it is damp, rather than waiting for it to dry. 
It is also recommended to use hyaluronic acid skincare products during the wintertime or when the air is especially dry. When the air is too dry, the moisture particles in our skin tend to escape more, so it is best to combat this with hyaluronic acid. 
For those who do not want to include hyaluronic acid in their skincare routine, there are also hyaluronic acid-specialty supplements. Taking hyaluronic acid in supplement form will also deliver plenty of moisture to the skin. 
Who Should Use Hyaluronic Acid?
Hyaluronic acid brings a lot of benefits to the skin, but similarly to collagen, its natural production begins to slow as we age. It is said that the production of hyaluronic acid peaks around age 20, and steadily starts to decrease. By the age of 40, production rapidly decreases and by age 60, the body produces only half the amount of hyaluronic that it produced during its 20s. 
Due to the natural slow of hyaluronic acid production in the body, anyone is recommended to incorporate more hyaluronic acid into their routine. In fact, hyaluronic acid is great for all skin types and allergic reactions related to hyaluronic acid are highly unlikely. 
How To Take Hyaluronic Acid
Many cosmetic products contain hyaluronic acid that you can implement into your daily skincare routine. There are Japanese face washes, toners, lotions, creams, and even sunscreens that are packed with hyaluronic acid. There are even body lotions and supplements that you can take to supply your skin with hyaluronic acid. By including an ample amount of hyaluronic acid in your routine, you will be able to achieve moist and firm skin, and simultaneously slow the effects of aging in your skin. 
From here on, we will introduce 15 of the best Japanese hyaluronic acid-packed skincare and beauty products out there. Read on to learn more about the best Japanese hyaluronic acid products, so that you can pick the product that best suits your needs. 
Face Wash
The Hada Labo Gokujyun series is a line from Rohto Pharmaceutical, a leading manufacturer of Japanese cosmetic and pharmaceutical products. Hada Labo, which translates to "skin lab", is a brand that was created under Rohto Pharmaceutical with over 100 years of skincare research and technological development. The use of super-hyaluronic acid in the Hada Labo Gokujyun series was proven to bring intense hydration to the skin making it appear more youthful, healthy, and radiant. 
This foaming face wash is part of the Hada Labo Gokujyun series and has been formulated with plenty of super-hyaluronic acid. While some face washes have a tendency to dry out the skin, this hyaluronic acid face wash cleanses the skin effectively while still preserving the skin's moisture barrier. It also has a pH similar to that of the skin, so it is not abrasive.
Rohto Hada Labo Gokujyun Hyaluronic Acid Foaming Face Wash 160ml
$9.99
This cleanser from Shiseido's Uno line is another great hyaluronic acid face cleansing option, especially for men. In fact, it has the ability to remove impurities and unwanted residues on the skin without stripping it of its natural moisture. It is formulated with moisturizing ingredients like hyaluronic acid and natural clay, to leave the skin feeling hydrated while preventing it from drying out. 
Shiseido Uno Whip Wash Moist Men's Cleanser 130g
$8.48
Toners & Lotions
Another product from the Hada Labo Gokujyun series, this Super Hyaluronic Acid Lotion is a highly moisturizing Japanese lotion that serves as the base of your skincare moisturizing routine. In fact, it is moisturizing enough that it can be used as a standalone moisturizing lotion! It is light in texture and absorbs into the skin quickly. In fact, this lotion is a fan favorite among many Japanese Taste customers. 
The Gokyujyun line from Hada Labo consists of a face wash, lotion, milky lotion, and cream, so this lineup is definitely recommended for those with dry skin or who wish to incorporate more hyaluronic acid into their skincare routine. 
Rohto Hada Labo Gokujyun Super Hyaluronic Acid Lotion 170ml
$8.99
While most lotions generally have a thin texture, this is a gel-type lotion from DHC that contains four different types of hyaluronic acid to bring intense moisture to the skin. It also contains other skin-friendly ingredients such as collagen, elastin, and ceremide to keep the skin healthy and give it a radiant glow. These ingredients seep deep into the dermis hydrate and refresh the skin. 
Since the lotion has a gel-like texture, it is lightweight and is a great base for makeup application. It will help keep your makeup in place all day while preventing your skin from drying out – a win-win! 
DHC Placenta 2 Hyaluronic Acid 4 Watergel 200ml
$22.66
This hyaluronic acid-packed lotion from Juju cosmetics is a great budget-friendly hyaluronic acid lotion option to hydrate your skin. One of the hyaluronic acids in this lotion is Juju's special fermented hyaluronic acid, which is said to not only moisten the skin but also keep it soft throughout the day. 
Juju Aquamoist Fermented Hyaluronic Acid Lotion 180ml
$58.00
For those who are looking for a moisturizing cleansing lotion that can also double as a makeup remover, look no further than Hanajirushi Deep Cleansing Lotion Super Moist. This lotion can be used either as a makeup remover or as a lotion in your skincare routine. Either way, it contains plenty of hyaluronic acid and other moisturizing ingredients like aloe vera that are gentle and suitable for sensitive skin.
An added bonus of this deep cleansing lotion is that it also contains collagen to keep the texture of the skin firm. Paired with hyaluronic acid, this is a great option for those who are looking for an anti-aging lotion. 
Hanajirushi Deep Cleansing Lotion Super Moist 500ml
Cream & Body Lotion
If you are someone who does not like using too many skincare products at once or feel that having a multiple-step skincare regimen is too time-consuming but are still looking for a product packed with hyaluronic acid, then the Kokutousei Premium Perfect Gel Cream from Kose is perfect for you. This gel cream can combine the 7 functions of toner, milk, beauty serum, cream, beauty oil, face mask, and massage oil to thoroughly moisturize your skin. 
Due to the addition of hyaluronic acid and Japanese botanical oils in this gel cream, the moisture created from these ingredients are locked deep into the skin barrier. A bonus point is that this gel cream can be used as a face pack for those who are particularly worried about dry skin. 
Kose Kokutousei Premium Perfect Gel Cream 100g
$22.00
This Moisture Face Cream from Chifure is perfect for those who are looking for a hyaluronic moisture cream that has a light texture. Though this face cream is light in texture, it definitely delivers in terms of hydration thanks to the added hyaluronic acid and trehalose. It glides on easily and is not oily, so it will give your skin a healthy glow effect when you apply it. 
Chifure Moisture Face Cream 56g
$13.42
Moisturizing and keeping your skin hydrated all over your body is equally as important as moisturizing your face. Yuskin understands this and has created a best-selling body cream in Japan that contains skin-nourishing hyaluronic acid and vitamin C. 
This non-greasy and non-sticky cream will moisturize your skin and keep it feeling soft all day long. The best part is that even those with sensitive skin can use this cream, as it only contains skin-friendly ingredients. 
Yuskin A-Series Family Medical Cream for Dry Skin 120g
$18.95
Sunscreen
Skincare gurus often advocate that sunscreen is the most important product to include in your skincare routine. They certainly are not wrong by any means, but including a sunscreen with hyaluronic acid into your routine may be even more beneficial! 
This water essence sunscreen from Isehan contains three different kinds of hyaluronic acid in it to hydrate it even when you are out in the sun. On top of this, this sunscreen has the highest UV-rated protection available in Japan, which will thoroughly protect your skin from sun and UV ray damage. Many Japanese Taste customers have also noted that this sunscreen is non-greasy and has a light texture which they find to be highly appealing when looking for an effective sunscreen. 
Isehan Sunkiller Perfect Water Essence Alcohol-Free Sunscreen SPF50+ PA++++ 50g
$12.98
Shiseido's Anessa sunscreen is a fan favorite of Japanese Taste customers because it has ample UV protection and brightens dark spots on the skin's surface. This medicated version not only aids in brightening the complexion of the skin while protecting it from UV rays, but the addition of hyaluronic acid in this sunscreen gel means that your skin will stay moisturized all day long. If you are looking for a sunscreen that can brighten your skin while protecting it and keeping it hydrated, then you definitely have to check out this Shiseido Anessa Skin Brightening UV Sunscreen Gel. 
Shiseido Anessa Skin Brightening UV Sunscreen Gel N SPF50+ PA++++ 90g
Masks
Adding a good face mask into your skincare routine is a great way to add more moisture into your skin. Not only are using them a great way to get an extra ounce of self-care into your day, they also add extra nourishment into your skin. 
These Japanese sheet masks are formulated with a special hyaluronic acid blend to intensely moisturize your skin. The hyaluronic serum in this mask penetrates deeply into the skin quickly to hydrate the inner and outer layers of your skin. 
Kose Clear Turn Hyaluronic Acid Mask (Moisturizing Face Mask) 30 Sheets
$14.99
This is another hyaluronic acid-packed sheet mask option, but this time from Utena. These sheet masks are packed with hyaluronic acid and other skin-friendly ingredients like ceramide, squalane, and 8 different kinds of amino acids to intensely moisturize and repair dry skin. 
These face masks are also packed with a moisturizing serum that can be applied to the face, neck, arms, and legs so that your whole body can benefit from Utena's super moisturizing blend. 
Utena Premium Puresa Golden Jelly Face Mask Hyaluronic Acid 3 Sheets
$12.00
Supplements
Collagen powder beauty supplements are quite common in Japan, but did you know that there are also Hyaluronic Acid powder supplements as well? This Hyaluronic Acid Collagen Powder from Orihiro is a great option for those who wish to absorb more hyaluronic acid into their routines without using skincare products. 
With added collagen, this beauty supplement is great a great way to keep the skin feeling hydrated and provides anti-aging effects. This hyaluronic acid collagen powder also contains other beauty ingredients like ceramides and glucosamine, which do wonders for the skin in terms of anti-aging. The best part about this powder is that it is unflavored, so it can be mixed into yogurt, smoothies, juice, coffee, or anything else you like. 
Orihiro Hyaluronic Acid Collagen Powder 180g
$19.99
Hyaluronic acid not only has amazing benefits for the skin but also for the eyes and joints as well. For those who are experiencing joint pain, including a supplement that contains hyaluronic acid may be beneficial. 
With added glucosamine and chondroitin, the combination of these three ingredients, (including the hyaluronic acid) helps to relieve pain in the joints that are caused by osteoarthritis.
Asahi Dear Natura Glucosamine Chondroitin Hyaluronic Acid Supplement 180 Tablets
$19.99