20 Japanese Skincare Products That Will Get Rid Of Your Clogged Pores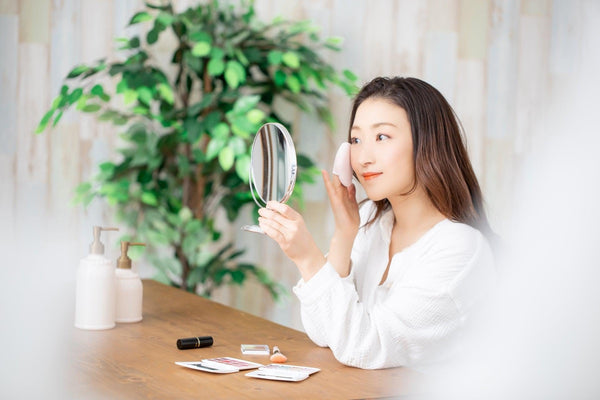 Jump to:
Pores, which are tiny openings in the skin release sweat and oil from skin glands. However, since they are small, the chance of them getting clogged or becoming enlarged is highly likely. And let's be honest, both of those are anything less than desirable. If you notice that your pores are enlarged or often experience your pores clogging, then you've come to the right place! 
In this article, we're going to explain everything you need to know about clogged pores and how to clear them up. We'll also recommend 20 Japanese skincare products ranging from cleansing oils, face washes, toners & lotions, exfoliators, pore strips, and face masks & packs that aid in unclogging pores. 
What Are Clogged Pores?
Clogged pores develop when oil, dirt, or dead skin cells build up on the skin. The buildup of one (or all) of these causes pores to appear enlarged or clogged. In addition to enlarged pores being noticeably visible on the skin, the texture of the skin may also become bumpy or rough, and the color may darken or appear irritated. 
Pores constantly produce natural oils known as sebum, which moisturize and protect the skin barrier. While sebum is important for the health of the skin, an excess amount of it will clog the pores. Our skin is also constantly regenerating itself, meaning that our skin layers are always shedding, which also causes clogged pores. Basically, experiencing clogged pores is normal, and more commonly than not, people will experience clogged pores at least once in their lifetime. 
What Causes Clogged Pores?
There are many reasons that lead to clogged pores. In fact, the skin's normal process of producing oils and shedding skin layers causes clogged pores. Pores can clog if makeup is not removed properly or if the skin is not cleansed. If you have oilier skin, you are also naturally prone to experiencing clogged pores more than those with dry skin. (That doesn't mean that those with dryer skin are immune to clogged pores though.) Hormonal changes that teenagers and pregnant women experience may lead to an imbalance in the skin's oil production, which may also lead to clogged pores. 
Where On The Skin Do Clogged Pores Occur?
Clogged pores can happen anywhere on the skin. However, they most commonly occur on the face. It is common to experience clogged or enlarged pores around the nose, under the eyes, and around the cheek areas of the face. 
Why Are Clogged Pores Undesirable?
While the appearance of clogged pores may be bothersome to many, there are also other cons that may persuade you to take your pore care more seriously. If clogged pores are left untreated, the development of pimples, whiteheads, blackheads or even cystic acne may develop. Not to mention, clogged and enlarged pores can cause your skin texture to appear irritated and feel uneven. If you wear face makeup regularly and have clogged pores, you may also experience your makeup not spreading evenly across your skin or looking blotchy.  
How To Know If You Have Clogged Pores
First, it is important to acknowledge that everyone has pores. Even people with seemingly perfect or blurred-looking skin have pores. If your pores look noticeably large or you see a lot of blackheads on your skin, then you probably have clogged pores. Another way to tell if you have clogged pores is if your skin's texture feels uneven or rough. 
How To Unclog Clogged Pores?
While many people may advise using special skincare gadgets targeted designed to minimize pores or harsh chemical products for pore care, they are likely to be unnecessary in most cases. Using the proper products, especially those that are meant for unclogging pores is the most important thing you should do. Luckily, we're going to list a variety of products that are helpful in unclogging and minimizing pores later in this article. However, it is important to use products that are gentle and do not irritate the skin. This may mean stepping away from chemical-type products. 
It is also important to keep your skin clean. This means washing your face and applying skincare twice a day, in the morning and at night. When washing your face, it is important to wash it gently and avoid scrubbing it as this will lead to further skin irritation. 
Finally, let your skin breathe once in a while. If you wear makeup such as foundation or powder on a daily basis, it may cause your pores to clog more often. Try taking breaks from wearing face makeup when possible or try to use products that contain skin-friendly ingredients.  
What You Shouldn't Do If You Have Clogged Pores 
It may be tempting to squeeze your pores to release any build-up, but we strongly advise against this. You may end up further damaging or irritating your skin. 
What Kind Of Ingredients Clear Up Clogged Pores?
When shopping for pore-unclogging or minimizing skin care products, knowing what ingredients aid in pore care may be helpful. Look for skin-friendly ingredients such as: 
Salicylic Acid – effectively removes dead skin cells, which helps minimize enlarged pores.
Charcoal/clay – removes excess dirt, sebum, and leftover makeup from the skin. 
Vitamin C derivatives – beauty essences that aid in removing dirt from pores while keeping the skin moisturized.
Glycerin – a moisturizing and skin-nourishing ingredient that does not clog pores. It is also useful in shrinking the size of pores. 
Retinol – promotes skin turnover, which in turn aids in the unclogging of pores. Also helps with eliminating blackheads and whiteheads.
Squalane – a lightweight oil that does not leave an oily residue on your skin and will not clog your pores. 
Cleansing Oils
DHC Deep Cleansing Oil, which is also an award-winning Japanese gentle cleansing oil contains many skin-loving ingredients like organic olive oil, which does not irritate the skin. This is a great product to use for thoroughly removing your makeup before washing your face. It only contains natural ingredients and does not contain any harsh chemicals. 
Even though it is an oil, it has a water-soluble formula that thoroughly removes any makeup, even sunscreen and hard-to-remove water-proof makeup, without leaving an oily residue on your skin. 
DHC Deep Cleansing Oil 200ml
$23.49
Not only is this Mild Cleaning Oil from FANCL effective at removing makeup and unclogging pores, but it is also especially recommended for those with sensitive skin. The unique and gentle formula of this cleansing oil which contains Rose Hip and Squalane glides effortlessly across your skin to remove makeup and unwanted dirt without stripping natural oils from your skin. 
FANCL Mild Cleansing Oil 120ml
$26.00
This premium Japanese cleansing oil contains 8 precious oils, including Tsubaki (camelia) oil which effortlessly removes makeup from your skin while keeping it hydrated and shrinking pores. Formulated with over 75% skin-friendly ingredients, this cleansing oil will leave your skin feeling soft and nourished while protecting it at the same time.  
Shu Uemura Ultime8 Sublime Cleansing Oil 450ml
$112.99
Face Washes
Reihaku Hatomugi W Cleansing foam is a natural cleanser that contains hatomugi or coix seed extract to cleanse your skin without stripping away its natural oils. It is a medicated face wash that has a dense lather to cleanse away excess makeup or unwanted dirt from your pores. Its medicated components prevent new acne breakouts from forming and other unwanted skin problems from occurring.  
Reihaku Hatomugi W Cleansing Foam 130g
$7.97
The Keana Nadeshiko line from Japanese skincare brand Ishizawa Laboratories is a famous Japanese line of skincare products targeted at unclogging pores by using baking soda. This baking soda scrub-type face wash, in particular, is especially successful in removing blackheads. 
Baking soda is known to lift blackheads effectively, soften and remove dead skin cells, and shrink pores without irritating the skin. It also melts easily in water and cleanses built-up keratin and sebum from the pores. It is said that this product has become popular among Japanese girls who often experience enlarged pores. 
Ishizawa Lab Keana Nadeshiko Baking Soda Scrub Face Wash 100g
$19.99
Another Japanese Taste fan-favorite powder cleanser, but this time from FANCL. This face wash turns from powder to foam when activated with water to gently cleanse your face while adequately unclogging pores. A little goes a long way with this product, and since it is a powder cleanser, it is easy to take and use on the go. 
FANCL Facial Washing Powder 50g
$18.00
If you often experience clogged pores but have dry or sensitive skin, this Jelly Hydro Face Wash may be especially suitable for you. Using advanced Japanese hydrogel technology, this jelly face wash works by penetrating into the inner layers of the skin to bring unwanted dirt and sebum out of the pores without stripping the skin of its natural oils. 
Studies have demonstrated that konjac, the notable ingredient in this face wash, gently removes impurities from the skin and unclogs pores without causing irritation. It's no surprise that this face wash is a fan favorite of Japanese Taste customers! 
Pluest Mannan Jelly Hydro Face Wash 120g
$39.98
Toners & Lotions
After cleansing your skin, it is important to follow up with a toner, which is also referred to as a lotion in Japan. In a pore-unclogging or minimizing skincare routine, is especially important not to skip this step. This is because toners and lotions allow moisturizers and creams to easily penetrate into the skin. They also aid in moisturizing the skin. 
This Super Keana Pore Care Lotion targets blackheads and darkened skin spots that have formed because of clogged pores. It removes dead skin cells and reduces roughness of the skin's texture with active ingredient royal jelly extract. It is also packed with hyaluronic acid, which is the skin's best friend. 
Dr.Ci:Labo Labo Labo Super Keana Pore Care Lotion 100ml
If your goal is to tighten and shrink your pores, then this pore care toner from Beauclair is the perfect solution. Those with dry skin should particularly consider this toner, as it contains 6 hydrating and skin-nourishing ingredients such as aloe and hyaluronic acid. 
Beauclair Pore Care Toner 150ml
Another fan favorite of Japanese Taste customers is the Mizuhashi Hojudo Emulsion Remover Cleansing Lotion, especially for pore care. This cleansing lotion cleanses and dissolves sebum, makeup, and any other unwanted dirt that remains in the pores. 
Mizuhashi Hojudo believes that enlarged and clogged pores cannot be thoroughly unclogged with face wash alone, so they recommend following up with a pore-unclogging toner after washing your face. This toner can also be applied to other areas of your skin that have clogged pores such as on the scalp or back.
Mizuhashi Hojudo Emulsion Remover Cleansing Lotion 200ml
$24.98
Exfoliators
If you're familiar with Japanese skincare products, then you might have come across this Aqua Gel Exfoliator from Cure before. This remarkable gel exfoliator uses activated hydrogen gel water and botanical ingredients to impressively remove old and dead skin cells. 
This best-selling exfoliator is often referred to as 'magic in a bottle' because it is an impressive exfoliant that doesn't contain chemicals or ingredients that will harm the skin. It is also extremely gentle on the skin, so it will not lead to skin irritation. Many Japanese Taste customers noted that including this exfoliator in their skincare routine left their skin feeling soft and gentle. 
Cure Natural Aqua Gel Exfoliator 250g
$25.49
This Peeling Gel from Ishizawa Laboratories uses baking soda as an active ingredient to gently peel away dead skin cells and dirt away from your skin. Even though it is a peeling gel, it contains skin-hydrating ingredients like glycerin to prevent the skin barrier from drying out. 
Ishizawa Lab Keana Nadeshiko Baking Soda Moist Peeling Gel 200ml
$29.00
Pore Strips
Clogged and enlarged pores commonly appear on the nose, so pore strips have become a common skincare product to get rid of them. If you don't have a lot of time to implement a multi-step skincare regimen into your daily routine but still want to target clogged pores around your nose, consider using these nose strips from Kosé.
These Softymo Black Nose Strips effectively remove all impurities, blackheads, and any other dirt from pores. They also unclog, clean, and shrink them. Keep a pack of these and use them anytime you want to minimize your pores. 
Kose Cosmeport Softymo Black Nose Strips 10 ct.
$6.95
These particular pore strips from Kao Bioré contain charcoal, particularly bamboo charcoal, which is extremely powerful in unclogging pores. These nose strips work to unclog, clean, and shrink pores. Bamboo charcoal is specifically known for absorbing sebum, one of the main substances that clog pores. 
If pores around your nose area are of special concern to you, keep a pack of these charcoal nose strips on hand and they'll work in a jiffy. 
Kao Bioré Charcoal Nose Strips Deep Cleansing Pore Strips 10 ct.
$7.95
Face Masks & Packs
Face masks, especially in the form of sheet masks, are one of the most popular ways to reduce and unclog pores. This sheet mask from Ishizawa Laboratories, uses rice serum, an original Japanese ingredient proven to shrink pores, and is also effective in anti-aging and moisturizing the skin. There is also a Men's version available. 
Ishizawa Lab Keana Nadeshiko Japanese Rice Face Mask 10 Sheets
$9.99
Another face mask option, but this time from Kracie Hadabisei uses natural hot spring water from the Izumo area of Japan, which is proven to be successful in tightening the pores. It also contains charcoal which detoxes the skin and removes any dead skin and unwanted dirt stuck in the pores. This mask will leave your skin feeling moisturized and glowing because it contains skin-friendly ingredients like ceramide and glycerin. 
Kracie Hadabisei Moisturising Facial Mask Pore Tightening 4 Sheets
$14.99
This is another great face mask option, especially for those who are searching for a product that can perform multiple functions at once. Not only does this sheet mask act as a toner, serum, emulsion, cream, face pack, and eye mask all in one, but it also effectively tightens pores. Just plop it onto your face for 5 to 10 minutes after washing your face and you'll be good to go! 
Kose Clear Turn Japanese Rice Sheet Mask EX (Pore Tightening Face Mask) 40 Sheets
$24.98
If you're looking for a non-sheet face mask option, then this Luminizing Clay Mask from IPSA is a great choice. Clay is a popular skincare ingredient for thoroughly cleansing the skin, especially unwanted dirt from pores. 
If your skin is more on the oily side, then this clay mask is especially recommended for you. You only need to implement this mask once or twice a week into your skincare routine to see positive results.  
IPSA Luminizing Clay Mask 100g
$42.00
Face packs, which are slightly different from face masks, only need to be applied to areas of concern on the face. This rice pack from Ishizawa Laboratories aims to minimize enlarged pores while improving skin texture. Therefore, you can kill two birds with one stone by using this face pack! 
Ishizawa Lab Keana Rice Pack 170g
$19.99
This facial pack from BCL is formulated with Moroccan clay to remove and cleanse impurities from your skin, which in turn minimizes enlarged pores. You can use this product as a face pack and only apply it to specific areas of concern on your face or even use it as a face mask if you like. 
BCL Tsururi Ghassoul Mineral Clay Facial Pack 150g
$16.95