25 Of The Best Japanese Vitamin C Skincare Products for Radiant Skin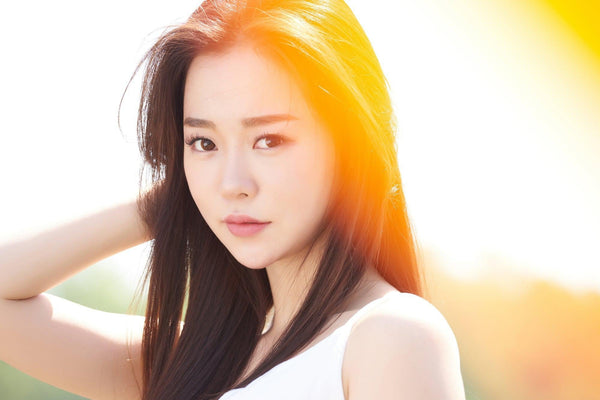 Jump to:
If you're a skincare lover or are new to the Japanese world of skincare, then you may notice that a lot of Japanese skincare products feature vitamin C. 
Japan has a huge beauty industry with great emphasis placed on a good skincare routine and taking care of skin, often taking a more preventative approach to beauty. There is also a huge range of Japanese skincare products dedicated to brightening and evening skin tone and vitamin C's ability to reduce redness and dark spots aligns well with these beauty ideals.
This article will explain some of the benefits that vitamin C has for the skin as well as introduce some of the best Japanese skincare products that contain vitamin C. 
What Does Vitamin C Do For The Skin?
Beauty products containing vitamin C have numerous benefits when it comes to skincare. Firstly, vitamin C is a powerful antioxidant that can help to neutralize free radicals that contribute to premature aging and promote healthier-looking skin.
Vitamin C also helps to stimulate the production of collagen, which gives the skin firmness and reduces the appearance of wrinkles. Vitamin C also contains skin-brightening properties which may help to reduce dark spots and uneven skin tone for a more radiant complexion.
Finally, vitamin C can also help serve as additional protection against harmful UV rays and may help to reduce sun damage, although it's important to note it should not be used as a replacement for sunscreen, but rather as an extra measure you can take.
Best Japanese Vitamin C Face Washes
This powdered facial wash is enriched with enzymes and Vitamin C and comes in convenient individual capsules which are ideal for use when traveling. This cleanser helps to remove excess sebum to unclog pores whilst moisturizing and brightening skin at the same time.
Rohto Obagi C Powder Wash Vitamin C x Enzyme 30P
$29.99
Transino Clear Wash EX is a foaming facial wash that cleanses, removes dullness, and conditions your skin to give it a clearer look and minimize pores. This Japanese facial wash is formulated with vitamin C and moisturizing cream ingredients to keep your skin hydrated even after cleansing. Its rich foam also removes dead skin cells, making your skin smoother in appearance and softer to the touch. 
Transino Clear Wash EX Foaming Cleanser 100g
$16.00
Best Japanese Vitamin C Lotions
Rohto Melano CC Brightening Lotion takes care of dark spots while thoroughly moisturizing your skin. It contains skin-brightening vitamin C to penetrate the skin cells, controlling melanin production and preventing dark spots and freckles from forming.
This lotion has a refreshing citrus scent that our customers love and is also recommended as the ideal product to use alongside a facial massage with a stone roller. 
Rohto Melano CC Brightening Lotion Rich 170ml
$12.99
This highly-rated lotion has been called a 'must-have' skincare product by our customers who love its lightweight consistency and noticeable improvements to their complexion after only a week or two of use.
This premium lotion contains White Tranexamic Acid, which suppresses the generation of melanin to prevent the appearance of mottled and freckled skin. Vitamin E and vitamin C are also included within the lotion's formula as hydrating components.
Rohto Hada Labo Shirojyun Premium Whitening Lotion 170ml
This skin-brightening lotion uses vitamin C to transform dull and dry skin into a bright and translucent complexion. It has a light and watery texture that provides long-lasting hydration with hyaluronic acid included as a key ingredient to provide an extra moisture boost.
This product also contains a combination of soy milk-based fermented liquid, three plant-derived placentas, and collagen to enhance its skin-plumping effect. 
Ishizawa Toumei Shirohada Skin Brightening Lotion 400ml
This skin care toner helps to improve your complexion and protect your skin from further acne outbreaks. It is best suited for consumers who are concerned about adult acne, with its formula featuring vitamin C to combat the generation of melanin.
This lotion's formula includes a blend of antiseptic, anti-inflammation, and whitening components to fight against acne, and it also contains moisturizing ingredients such as collagen and hyaluronic acid.
Kracie Hadabisei Medicated Whitening & Acne Care Lotion 200ml
Best Japanese Vitamin C Serums And Essences
Rohto's Obagi Series is designed to achieve healthy skin not only on the surface but also deep inside the cell's layers.
This vitamin C serum makes the skin more hydrated and smoother and prevents signs of aging by penetrating deep into the skin to reverse cell damage.
The serum's formula contains a high concentration of pure vitamin C, which is quickly absorbed by the skin, and vitamin E to help reduce pores. It has a refreshing yuzu citrusy fragrance and is available in three different strengths (5%, 10%, and 20%).
Rohto Obagi C20 Vitamin C Serum
$104.00
This highly rated and powerful anti-aging serum is formulated with a 25% concentration of vitamin C to effectively moisturize, brighten the skin, and diminish visible wrinkles caused by aging.
As well as reducing the appearance of wrinkles, it can be used to correct uneven skin tone, improve the appearance of pores, hyperpigmentation, dullness, and regain skin firmness and elasticity. It has a fast-absorbing, non-greasy texture, and refreshing grapefruit fragrance.
Rohto Obagi C25 Vitamin C Serum Neo
$114.00
This efficient and nourishing peeling gel containing vitamin C removes old skin cells without stripping away new cells. As a result, it causes less damage to your skin than other peeling products. This product's formula contains five vitamins, 11 botanical components, and seven moisturizing ingredients that improve rough skin and uneven skin tone.
Cefine Herb Clear Gel V Plus Skin Nourishing Vitamin Peeling Gel 120ml
$27.95
Rohto Melano CC Intensive Anti-Spot Essence is a Japanese serum formulated with vitamin C and vitamin E as well as anti-inflammatory and anti-bacterial ingredients to prevent and treat dark spots, hyper-pigmentation, blemishes, and acne.
This popular and great value for money essence is ideal for individuals with problem skin, helping to reduce redness and irritation whilst killing the bacteria that causes the formation of acne.
Rohto Melano CC Intensive Anti-Spot Essence 20ml
$10.99
Best Japanese Vitamin C Face Creams And Gels
This luxurious face cream is made from cherry blossom essence which helps to restore your natural skin barrier along with Vitamins A, E, and C. This product also features hyaluronic acid and collagen within the formulation to keep your skin firm and is ideally suited for consumers who are looking to brighten their complexion whilst highly moisturizing the skin.
Hirosophy Sakura Vitamin C Face Whitening Cream 40g
Hada Labo Shirojyun Premium Deep Whitening Cream is formulated with white tranexamic acid to suppress melanin and treat dark spots, freckles, and other skin discolorations. Other ingredients include hyaluronic acid, vitamin E, and vitamin C to hydrate the skin and protect it from dryness.
Rohto Hada Labo Shirojyun Premium Deep Whitening Cream 50g
$16.95
Kose Moisture Mild White Perfect Gel is a Japanese whitening gel that can make your skin brighter and more hydrated by preventing the generation of melanin and sealing moisture inside your skin.
This 6-in-1 gel that can be used as a lotion, serum, milky lotion, cream, face pack, and facial massage gel. It contains a high concentration of Vitamin C, hyaluronic acid, royal jelly, and collagen which are all renowned for their anti-aging properties and aid in protecting your skin.
Kose Moisture Mild White Perfect Gel 100g
$15.99
Kobayashi Keshimin Cream is formulated with vitamin C and suppresses the production of melanin, helping to prevent and remove sunspots, age spots, melasma, blemishes, dark spots, and freckles. This best-selling product also includes vitamin E to promote skin turnover and can be used as either a night mask or spot cream. 
Kobayashi Keshimin Whitening Cream Brightening Face Cream for Dark Spots 30g
Melano CC Brightening Gel is packed with vitamins C and E to help control melanin production and prevent dark spots and freckles from forming. This gel has a moisturizing effect on skin and contains anti-inflammatory components to help reduce acne and roughness. It is easily absorbed into the skin and does not leave a sticky or greasy residue behind.
Rohto Melano CC Brightening Gel 100g
$16.95
Best Japanese Vitamin C Face Masks
This nourishing sheet mask contains vitamin C and vitamin E derivatives to hydrate your skin daily whilst reducing damage caused by UV exposure. Made from botanical ingredients, the mask has a refreshing citrus aroma of grapefruit and lemon and adheres easily to the skin to ensure efficient distribution of the serum.
Rohto Melano CC Vitamin C Concentrated Moisturizing Face Mask 28 Sheets
$18.95
Kose Clear Turn Essence Mask White is formulated with vitamin C to control melanin and prevent dark spots and freckles from forming. The mask is designed with a close-fit so the serum can quickly be absorbed deep into the skin to give you a radiant and translucent complexion.
Kose Clear Turn Vitamin C Mask (Skin Brightening Face Mask) 30 Sheets
This facial mask made from natural cotton is packed with vitamin C, helping to generate collagen for firmer skin with more elasticity. Whilst wearing the mask it generates a gentle carbonic bubbly-feeling which leads to more resilient and hydrated skin.
Cotton Labo Bubbly Carbonic Facial Mask with Vitamin C 3 Sheets
$14.95
Best Japanese UV Products And Sunscreen With Vitamin C
This product works as a 4-in-1 multifunctional emulsion that consists of beauty serum, emulsion, sunscreen, and makeup foundation. It provides strong protection against UV rays and strengthens your skin's immunity to UV, making it less prone to sunburn and pigmentation thanks to its high content of vitamin C. It's also waterproof, creating a strong barrier effect that lasts long even after exposure to water and sweat. 
Rohto Obagi C Multi Protect UV Emulsion SPF50+ PA++++ 30ml
$34.00
Kokuryudo Privacy UV Face Mist is a spray-type product that releases ultra-fine particles which block UV rays. It provides strong protection against the sun and contains eight moisturizing ingredients in addition to vitamin C derivative. This product is ideal for consumers who want to wear makeup at the same time as sunblock. 
Kokuryudo Privacy UV Face Mist SPF50+ PA++++ 40ml
$11.99
The highly rated Hada Labo UV White Gel is a multi-functional lightweight Japanese sunscreen that hydrates your skin and defends it against damage caused by sunlight.
It is formulated with highly hydrating components such as hyaluronic acid and vitamin C to replenish moisture and is powered with SPF50+ and PA++++ providing strong protection from UV damage. Hado Labo's non-greasy texture and lack of white cast make it the ideal makeup base that can be used even on oily skin.
Rohto Hada Labo Koi Gokujyun UV White Gel SPF50+ PA++++ 90g
$11.99
Best Japanese Body Lotion With Vitamin C
This body lotion containing vitamin C can be used on all skin types but is ideally suited for consumers concerned with dull or dry skin. 
Vitamin C derivative functions as a whitening ingredient which suppresses the production of melanin and prevents age spots and freckles. The lotion's formula contains a combination of glycerin, glycogen, and glyceryl glucoside to provide long-lasting skin moisture with a glossy finish despite its light and non-sticky texture.
Nivea Japan Premium Whitening Body Milk 190g
$11.99
Pelican For Back Body Lotion is a Japanese mist-type moisturizing gel lotion that treats back acne by penetrating deep into the pores of the skin. It also contains two different types of vitamin C and AHA that help prevent skin dryness and relieve chapped skin during autumn and winter.
The non-greasy lotion is also enriched with Q10 for tightening effects and soybean extracts to soothe your skin on the back.
Pelican For Back Acne Medicated Mist Body Lotion 100ml
$11.99
Best Japanese Supplements Containing Vitamin C
Transino White C Clear is a Japanese whitening supplement to help people with skin concerns caused by sun exposure. It's also useful for individuals who need a vitamin C boost thanks to its high vitamin C content.
The tablets work by targeting melanin, which causes spots and freckles, to reduce darkening. Our customers love this product for the healthy skin glow it produces.
Transino White C Clear Whitening Supplement 240 Tablets
$11.99
Chocola BB Lucent C is a multivitamin supplement designed to fade dark spots and freckles. Vitamin C and L-cysteine work in powerful combination to reduce melanin whilst vitamins B2 and B6 normalize skin turnover, and vitamin E promotes melanin ejection. Restore your skin's natural beauty with this powerful blend of vitamins and achieve a flawless complexion. 
Eisai Chocola BB Lucent C 180 Tablets
$11.99
Interested in learning more about Japanese skincare? Check out this article on the best Japanese skincare products for dry skin.