35 Costco Japan Items That You Can Find On Japanese Taste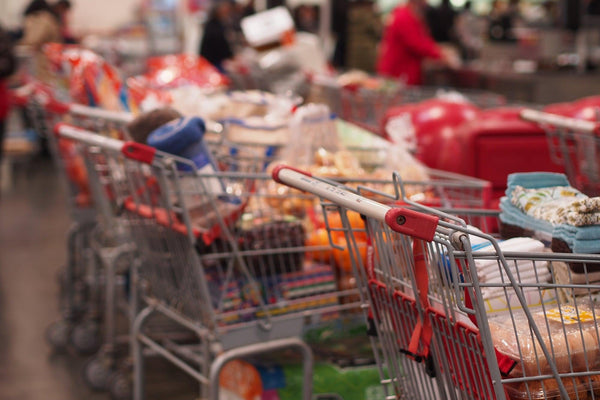 Jump to:
In recent years, Costco Japan has gained global recognition for carrying unique-to-Japan items in bulk sizes. While Costco is indeed an American retailer, they have locations around the world including Japan. No matter the location, the philosophy of carrying items in large quantities at reasonable prices remains unchanged.
These days, there are many articles highlighting Costco Japan (including our articles about the top 15 Costco Japan products and what to eat at Costco Japan's food court), but taking a trip to Costco while visiting Japan just might not be realistic for everyone. Even if you can't make a trip to Costco Japan anytime soon or don't have a Costco membership, don't worry! Japanese Taste has got you covered. We'll introduce 35 products at Costco Japan that you can find on Japanese Taste. We'll also share some similar products that are the same if not better quality than their Costco counterparts. 
Skincare & Beauty Items
This popular Japanese sunscreen has gained tons of recognition for its effective formula and eco-friendly features. It is a coral reef-safe sunscreen, meaning that no coral reefs are harmed because of its production. Many Japanese Taste customers have commented that this sunscreen also doesn't leave any type of white cast when applied –  a distinguishable feature of Japanese sunscreens! Costco Japan sells the 90g version of this sunscreen in a 2-pack, but you can also find the exact same 90g Allie Sunscreen on our website.  
Kanebo Allie Gel Sunscreen UV EX (Coral Reef Safe Sunscreen) SPF50+ PA++++ 90g
$26.00
While collagen powder has become all the hype in recent years for its anti-aging and transformative properties, this collagen powder from Orihiro kills two birds with one stone because it also contains hyaluronic acid, another important beauty & health component. Both collagen and hyaluronic acid are naturally found in the body and are important for keeping the skin looking youthful, but their levels naturally deplete with aging. 
Orihiro Hyaluronic Acid and Collagen Powder helps to supplement additional beauty by providing a concentration of super-rich skincare components, including dense collagen, ultra-fine low molecular-sized hyaluronic acid, glucosamine, and ceramide. It's the ultimate beauty supplement! The best part is that it's easy to incorporate into your daily routine because it can be mixed into coffee, yogurt, smoothies, and more. It's also tasteless so it won't ruin the quality of what you add it to. 
Orihiro Hyaluronic Acid Collagen Powder 180g
$19.99
A classic skincare cult favorite is most definitely the SK-II Facial Treatment Essence, so we weren't surprised at all to see it in Costco Japan. We've talked about this product many times in articles such as our anti-aging lotions and Japanese sake-packed skincare articles, but it's a best-selling anti-aging essence in Japan packed with Pitera (SK-II's trademarked secret ingredient). 
SK-II Facial Treatment Essence 230ml
$230.00
The Dr.Ci:Labo Aqua Collagen Gel is one of the most popular anti-aging creams in Japan, so of course it has to be sold in Costco Japan. We've covered this effective anti-aging cream in our best anti-aging creams article, so we definitely recommend checking it out if you're looking to learn more about Japanese anti-aging skincare in depth. 
We believe that Costco Japan decided to stock this particular anti-aging cream because it is a multi-use product. (It performs 8 functions in 1!) It is also highly raved about in Japan. If you can't make it to Costco Japan to get this product for yourself, you can find it in multiple sizes on our website. 
Dr.Ci:Labo Aqua Collagen Gel Enrich Lift Ex 50g / 120g / 200g
$49.00
Another popular product from Kanebo that we found in Costco Japan was a 2-pack of these Powder Facial Washes. This is a great skincare item to take when traveling because the face wash packs take up very little space. All you need to do to use this product is mix it with water and you'll have a foamy and effective face wash in no time. 
Kanebo Suisai Beauty Clear Powder Facial Wash 0.4g x 32pcs
$28.98
As this vitamin C essence has become one of the most famous Japanese skincare products, we were not surprised to find it at Costco Japan. If you're unfamiliar with this product, it's basically a skincare essence that prevents and treats dark spots, hyperpigmentation, blemishes, and acne. It's great for basically anyone to use because it targets multiple different skin troubles. It's also very affordable and is a fan favorite on Japanese Taste!
Rohto Melano CC Intensive Anti-Spot Essence 20ml
$10.99
This is a tried and true Japanese bar soap that's been around for more than 130 years. It's a classic, effective, and affordable bar soap loved by many Japanese consumers. Since bar soap is making a comeback for its ecofriendliness, why not consider adding this natural bar soap to your routine? 
Kao White Soap Body Bar Soap 130g
$6.95
This is hands down one of the best Japanese deodorants out there! It's effective, doesn't stain clothes, and is most importantly long-lasting. It's an antiperspirant and deodorant 2-in-1 product, meaning that it has both anti-sweat and anti-order properties. If you want to try a Japanese deodorant but don't know which one to choose, choose this one. 
Deonatulle Soft Stone Deodorant Double (Unscented) 20g
$18.00
Japanese Snacks
Calorie Mate is one of the most popular Japanese convenience store and supermarket staples for busy people with packed schedules. It's essentially an energy bar full of vitamins, minerals, carbohydrates, protein, and everything else you need in a nutritionally balanced meal. Both Costco Japan and us (Japanese Taste) offer Calorie Mate in a five-flavor pack of Maple, Chocolate, Cheese, Fruit, and Vanilla. With so much variety to choose from, you'll never feel bored when eating Calorie Mate!
Otsuka Calorie Mate Block 5 Flavor Assortment (Box of 20 Packets)
$59.95
These Japanese Animal Cookies are not only tasty and crunchy, but they actually have the animal names printed onto the cookies, making them a great tool for learning English vocabulary (ironically). What's more to love is that these biscuits are butter flavored (yum!), are packed with DHA and calcium, and are made without eggs so that more kids can enjoy them. Costco sells these animal cookies in a box with 50 individually wrapped packages, but you can find them being sold as a pack of 10 boxes on our website. 
Ginbis Tabekko Dobutsu Animal Shaped Cookies 63g (Pack of 10)
$23.95
Norishio Potato Chips are a classic flavor of Japanese potato chips. Seasoned simply with aonori seaweed and salt, these potato chips have the perfect balance of salty and umami flavor that you must try when you visit Japan. Costco Japan sells the super big bag version of these chips, but you can find the big bag version sold as a 3-pack on our site. 
Calbee Norishio Salted Seaweed Potato Chips Big Bag 160g (Pack of 3)
$17.95
Black Thunder is without a doubt one of the most popular chocolate snacks in Japan. Its chocolate flavor is not overly sweet and the crunch factor is just right. You can find this chocolate being sold in Costco Japan and seasonally at Japanese Taste. 
Yuraku Black Thunder Chocolate Bar 20 Bars
$17.95
Another classic Japanese snack, loved by children and adults alike. They're crispy, crunchy, and come in a unique salad flavor (don't knock it til you try it!). You can also turn them into mashed potatoes by adding hot water. Costco Japan offers this snack in a 12-pack, but you can find it in a single size, this pack of 6, or the large cup 3-pack size on our website.  
Calbee Jagarico Salad Potato Sticks (Pack of 6 Cups)
$17.95
These Jagabee Potato Sticks are like a hybrid between french fries and potato chips. Why not have one when you can have both, right? They're of course made with real potatoes and are lightly salted giving them the perfect flavor! 
Calbee Jagabee Potato Sticks Snack Lightly Salted 75g
$5.65
Macadamia nuts and chocolate – what could go wrong? We weren't surprised to see this nutty chocolate snack being sold in Costco Japan because it's a classic. The Costco version of this snack contains one package where every chocolate is wrapped individually. That might seem a bit wasteful to many, but we sell the exact same product in a pack of 10 boxes that you can share with your family and friends. 
Meiji Macadamia Chocolate Snack (Pack of 10)
$39.95
Sauces & Condiments
The Otafuku Japanese Okonomiyaki Sauce is a staple Japanese sauce that can be found in just about every Japanese pantry or refrigerator. It's of course used to season okonomiyaki, but it can also be used for other fried dishes like yakisoba or stir-fries. While Costco Japan sells this sauce in the 500g version pack of two, this size might not be feasible for everyone. If you've never tried this sauce but are curious about it, you can find the exact same product but in a slightly smaller 300g size on our website.
Otafuku Japanese Okonomiyaki Sauce 300g
$8.78
Does this even need an explanation? We're sure that you're already familiar with Kewpie Mayo, but if not, you can learn more about it here. Costco Japan offers Kewpie Mayo in a set of two 1kg bottles (now that's a lot of mayo!). You can find it in a reasonable 450g size at Japanese Taste. 
Kewpie Mayo Japanese Mayonnaise 450g
$5.56
This is not just any ordinary Shichimi Togarashi (Japanese 7-spice seasoning), it is a special blend that comes from a maker with more than 350 years in Nagano. It has the perfect blend of flavor and spice, can be used to add spice to any dish, and comes in a cool retro can! Not to mention, this is one of the most popular kinds of Shichimi Togarashi in Japan. 
Yawataya Isogoro Shichimi Togarashi Seasoning Can 14g
$5.99
We were happy and surprised to see Teraoka Ponzu being sold at Costco Japan. Teraoka is a brand that we work very closely with, and while we don't carry this exact Ponzu sauce in our store, we carry an even better version from them. The version we found at Costco Japan comes in a large 1L size and is seasoned with oyster dashi and yuzu. The version that we carry is 100% organic and is made from soy sauce, yuzu juice, junmai rice vinegar, and sugar – a real flavor explosion!
If you want to learn more about Teraoka and what makes them a truly special soy sauce brewery, be sure to check out this article. 
Teraoka Organic Yuzu Ponzu Sauce 250ml
$17.95
This is a well-known and delicious dressing from Kewpie. Its roasted sesame flavor tastes great with salad, but it can also be served as a dipping sauce for shabu shabu, noodles, and more. We offer the same 1L size as Costco Japan and we also have a smaller 380g size. 
Kewpie Roasted Sesame Dressing 1000ml
$23.98
Pantry Staples
These are a popular variety of dried udon noodles for their simple ingredients and great texture. They also have a unique texture compared to other dried udon noodles, because they are round and flat, allowing them to soak up the flavor of whatever sauce or soup they are added to much easier. Costco sells these delicious udon noodles in a 4-pack, but we also have them too! 
Ishimaru Sanuki Udon Dried Udon Noodles 400g
$23.98
While we don't carry the exact same brand of soba noodles in our store as Costco Japan, we guarantee that the ones that we do have are seriously delicious. These particular soba noodles are made with only buckwheat flour, wheat flour, and salt. They also do not contain any additives or preservatives. 
Kajino Nihachi Soba Noodles Premium Japanese Buckwheat Noodles 200g
$23.98
Instant Miso Soup is definitely a great pantry staple to have on hand at all times. Costco Japan happens to sell the same Hikari Instant Miso Soup that we offer in our store, but interestingly, Costco Japan offers it in a 50 pack and we offer it in a 60 pack. 
Hikari Miso Instant Miso Soup Assortment Box 60 Packets
$23.98
Katsuobushi is another Japanese staple pantry item as it can be used for making dashi, as a topping for okonomiyaki and takoyaki, and so much more. We offer katsuobushi from the same brand as Costco (Yamaki), but they offer a 500g-sized bag. In addition to the 70g-sized bag we offer, we also offer a smaller 15g-sized bag and individually packaged 20-bag versions. 
Yamaki Katsuobushi Japanese Dried Bonito Flakes Big Bag 70g
$23.98
Costco Japan also offers premium nori at a competitive price, but so do we. While we don't carry the exact same nori as Costco Japan, the nori sheets that we carry from Yamato are said to be top-quality because they are picked at the beginning of the nori harvesting season. Experience their premium taste for yourself! 
Yamamoto Japanese Premium Nori Seaweed Sheets 10 ct.
$23.98
What would a trip to a Japanese Costco be without picking up a giant bottle of wasabi to go with your giant platter of sushi? All jokes aside, we were surprised to find a similar version of S&B wasabi being sold in Costco Japan. The one in Costco Japan is labeled 'hon wasabi' or 'real wasabi' while the one in our store is labeled 'nama wasabi' or 'raw wasabi'. They are both basically the same product, and they both are made from real wasabi root. 
S&B Japanese Wasabi Paste Big Size Bottle 175g
$23.98
We were quite surprised to see a similar version of Hidaka Kombu being sold at Costco Japan. Hidaka kombu, a major species of kombu from Hokkaido is known for its soft texture and mellow flavor. It's a great kombu to use for making homemade dashi! 
Dried Japanese Kombu Seaweed Hidaka Kombu 100g
$23.98
Costco Japan also offers a value pack of dried shiitake mushrooms, a Japanese staple ingredient. We also offer a similar product from Sugimoto, who's famous for producing fragrant dried Japanese shiitake mushrooms. In case you can't try the Costco Japan version, we're sure that our Sugimoto version won't disappoint. 
Sugimoto Dried Organic Japanese Shiitake Mushrooms 70g
$23.98
Drinks
Costco Japan offers their Japanese green tea labeled under their staple brand Kirkland, but it actually is Itoen green tea. Their green tea is made of a blend of sencha and matcha and can be prepared in both hot and cold water. While we don't carry the exact same tea in our store, we carry a very similar Itoen green tea that contains matcha powder. 
Itoen Oi Ocha Premium Japanese Green Tea Matcha Blend 50 Bags
$23.98
Since Japan is the land of tea, there's no question that Costco Japan offers some high-quality Japanese tea like this sencha green tea. You know who else offers high-quality green tea? Yes! Japanese Taste! This loose-leaf sencha green tea that we have is made from one of the highest grades of sencha tea leaves by reputable Japanese tea maker, Suisouen. 
Suisouen High-Grade Sencha Green Tea Loose Leaf Tea 100g
$23.98
A unique-to-Japan item you'll find in Costco Japan is instant drip coffee offered in a value size. While we don't carry the same drip coffee brand as Costco Japan, we also carry instant drip coffee, but in an even larger size than Costco! We think that the AGF Blendy instant drip coffee that we have tastes even better than the one from Costco Japan! 
AGF Blendy Drip Coffee Special Blend 100 Bags
$23.98
Another uniquely Japanese and also similar-to-Costco Japan item that we offer are these coffee concentrate packs. They're perfect for making hot or iced coffee in an instant, and they're also sugar-free too. Of course, most importantly, they taste really good too. 
AGF Blendy Coffee Concentrate Unsweetened 24 Pieces
$23.98
Stationery
An item that we were really surprised to see at Costco Japan was this colored pencil set from Tombow. Tombow Color is a best-selling colored pencil maker in Japan, so it makes sense that it's on offer at Costco Japan. Of course if you can't make a trip to Costco Japan anytime soon, you can also find it on our site! 
Tombow Colored Pencils 36 Colors CB-NQ36C
$23.98
Health & Household
This was another surprising item to see at Costco Japan. These Japanese cooling gel sheets are especially handy in times when you have a fever or headache. In fact, these cooling gel sheets have even received raving reviews from Japanese Taste customers for how convenient and effective they are. 
Kobayashi Netsusama Cooling Gel Sheets for Adults 16 Pads
$23.98
Last but not least, we found Japanese brand Savas protein powder being sold at Costco Japan. They had a soy protein version in cocoa flavor, but we offer the whey version of the protein powder in both cocoa and vanilla flavors. We love and recommend Savas protein powder because it's packed full of protein (obviously) but also tastes delicious! If you're looking for a good protein powder that's effective and easy to drink, we can't recommend Savas enough. 
Meiji Savas Advanced Whey Protein Powder 100 Cocoa Flavor 900g
$23.98
If any of these items caught your attention, remember that you can find them all on our website! In case you're not familiar with us, we offer quality Japanese products straight from our warehouse in Japan and ship worldwide. Which Costco Japan product piqued your interest the most? We'd love to hear in the comments below.